This article is the third in a series on biodiversity. A United Nations meeting on biological diversity began virtually in October and will conclude in person next year in Kunming, the capital of Yunnan province. View the entire series here.
TIANJIN, North China — After the tip-off about potential trouble, Wang Jianmin and several colleagues drive to the edge of the vast pond to see for themselves. When they hear there are casualties, they take out their telescope, binoculars, and drone, and begin a search. As a hazy sun hangs low above the horizon, dull bangs — the distant sounds of invaders being repelled — fill the air.
After a short drone flight, Wang, who is the founder of local non-profit Jiangbei Wetland Protection Center, spots an oriental stork with a broken wing. Someone who witnessed what happened says the animal hit a power line. Wang suspects foul play. Not long after, the NGO's volunteers come upon another stork, lying dead among the reeds. "They must have set off firecrackers again," Wang says, furious.
Wang Jianmin shares his experience working as a photographer and conservation worker in Tianjin. By Wu Huiyuan/Sixth Tone
Oriental storks, a species listed as endangered by the International Union for Conservation of Nature, migrate every fall from their breeding grounds in northeastern China and Russia's far east to the regions in southern China where they spend the winter. Halfway through their journey, they need to refuel, and look for food in the wetlands of the Bohai Bay region, including the rural outskirts of port city Tianjin.
"The natural conditions of Tianjin make it irreplaceable not only for oriental storks, but for many other (bird species) such as plovers," Wang says.
But as wetlands have shrunk and disappeared, the birds are increasingly forced to feed on the area's fish-filled aquaculture ponds instead. Researchers have recorded similar behavior in migratory birds around the world, where habitat loss along their flight paths is making them rely on agricultural fields for food. In Bohai Bay, this dynamic has led to clashes as farmers, afraid the animals will gobble up their profits, try to scare them off, sometimes with deadly consequences.
Such human-wildlife conflicts have become one of the greatest threats to animal species and a challenge to protecting biodiversity, according to a report from the World Wide Fund and the United Nations Environment Programme published this summer.
In China, where the government has, in recent years, given protecting endangered animals greater priority, such issues are increasingly visible. By 2017, China had set up 2,750 nature reserves, covering nearly 15% of its land area. But human-wildlife interactions outside such zones remain problematic. Over the last year, there have been high-profile cases involving wild boars tearing up farm fields, wandering elephants wreaking havoc, and a lost whale that forced fishing boats to stay in harbor.
The cases are fueling an ongoing debate in China about how stricter environmental regulations without livelihood protection schemes are hurting rural residents. They risk legal trouble if they kill the animals, but aren't always compensated when animals destroy their fields. Following widespread frustration over the situation, authorities recently decided to remove wild hogs from a list of protected animals.
The Bohai Bay area's fish farmers face the same conundrum. Oriental storks are listed as nationally protected in China. In 2019, a local fish pond operator was detained by police after a pesticide he had used killed seven oriental storks as well as 14 other birds.
When, last November, oriental storks descended on the region's fish ponds in unprecedented numbers, farmers set off firecrackers to scare them away. Some startled storks flew into high-voltage power lines and died. The clashes made national headlines, raising questions about whether the birds should be better protected and the pond owners be fairly compensated.
But a year later, little has changed.
Zhai Chunhe, who is in charge of the pond where the injured and dead storks were found, frowns when asked about the uninvited guests. He claims not to have used any firecrackers. He's only there to ensure that his employees catch his fish as fast as possible. They stand in waist-deep water reeling in nets as a phalanx of oriental storks, with their long black beaks and black and white feather pattern, gathers near reed marshes at the opposite end of the water and sidles ever closer.
Zhai, whose farm is located in Tianjin, says that last November he lost about 1 million yuan ($157,000) because of the avian intruders. This year, he adapted his schedule so he could catch his fish just before the storks devoured them all. Still, he anticipates he'll end up losing money again. "We have smaller fish this year," he says. "They're bite-sized. It's perfect for them."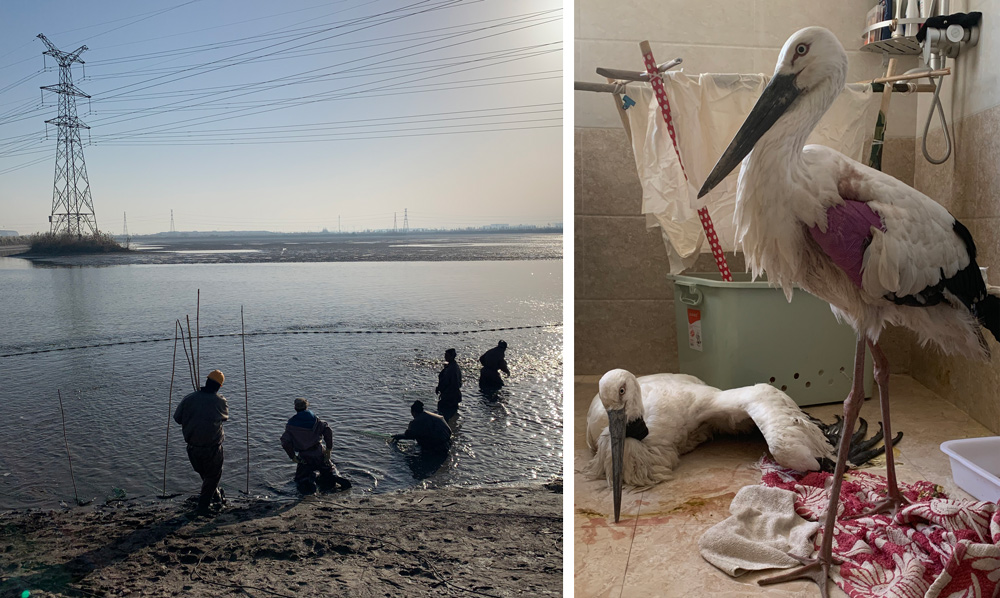 Left: Zhai Chunhe's employees work in a fish pond in Tianjin, November 2021; right: Injured oriental storks rescued by Wang's team. Yuan Ye/Sixth Tone
Concentrated
From one perspective, the growing conflict between fish farmers and storks is a positive development. The issue has gotten more pressing mostly because the number of storks is rebounding from a historical low, says Wang, who is a photographer and long-time bird conservationist. Over the last century, the global population of oriental storks declined to less than 3,000 due to poaching and habitat loss, including deforestation that robbed them of nesting sites. But this year, as of mid-December, Wang and Jiangbei's volunteers have counted 7,000 storks stopping over in Tianjin.
This increase is mainly due to repopulation efforts in the storks' breeding region, researchers say. There, the installation of artificial nests — bowl-shaped webs of wood or metal sitting on top of tall poles — has helped numbers recover little by little, according to Zhu Baoguang, conservation director at the Honghe National Nature Reserve in northeastern China's Heilongjiang province. Previously, due to a lack of tall trees, birds were building nests on top of power line pylons instead. The birds' global population has increased to around 7,000 to 8,500 individuals, Zhu tells Sixth Tone.
Despite these positively trending numbers, the situation still worries experts. More than half the global total of oriental storks relies on a relatively small area for food during their migration. "It's like in a pond that was previously enough to feed 10 birds, now we have 100 of them, then the remaining 90 birds will not have enough to eat," Mo Xunqiang, a lecturer of wetland biology at Tianjin Normal University, tells Sixth Tone. "It will cause a decline in their body functions and flight capability."
The storks' high concentration in the Tianjin area points to a reduction in other food sources along their migration route, says Zhu, the Honghe Reserve director. Many wetlands have disappeared or degraded due to land reclamation and construction projects. The Caofeidian wetlands in neighboring Hebei province, also close to Bohai Bay, are another stopover for oriental storks. But since 2020, authorities banned private ponds in the area and have let them lie fallow, lowering the amount of fish. This, Wang says, has resulted in more birds foraging in Tianjin.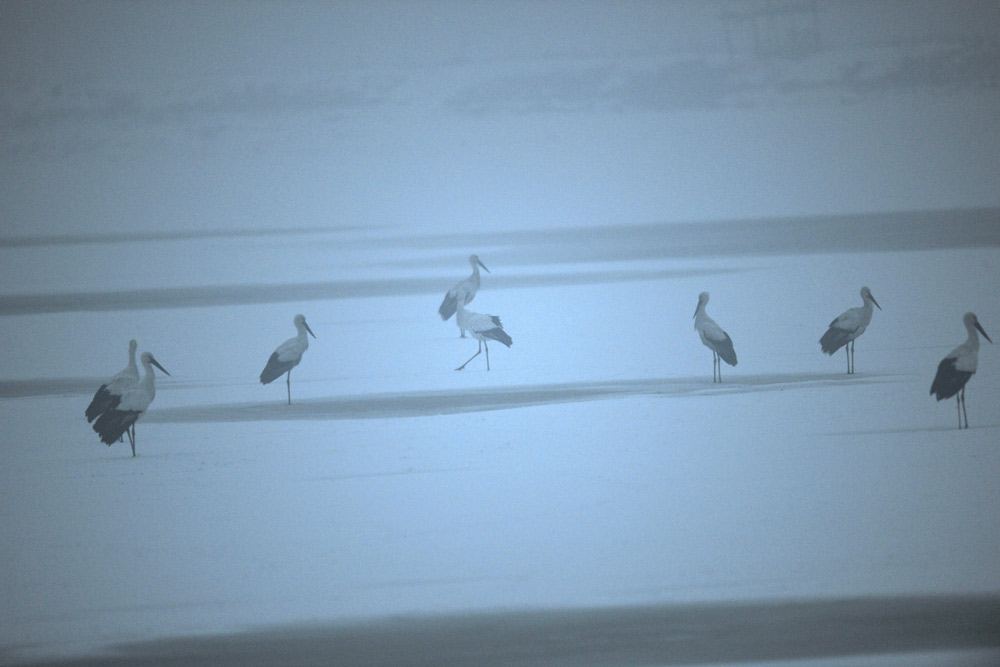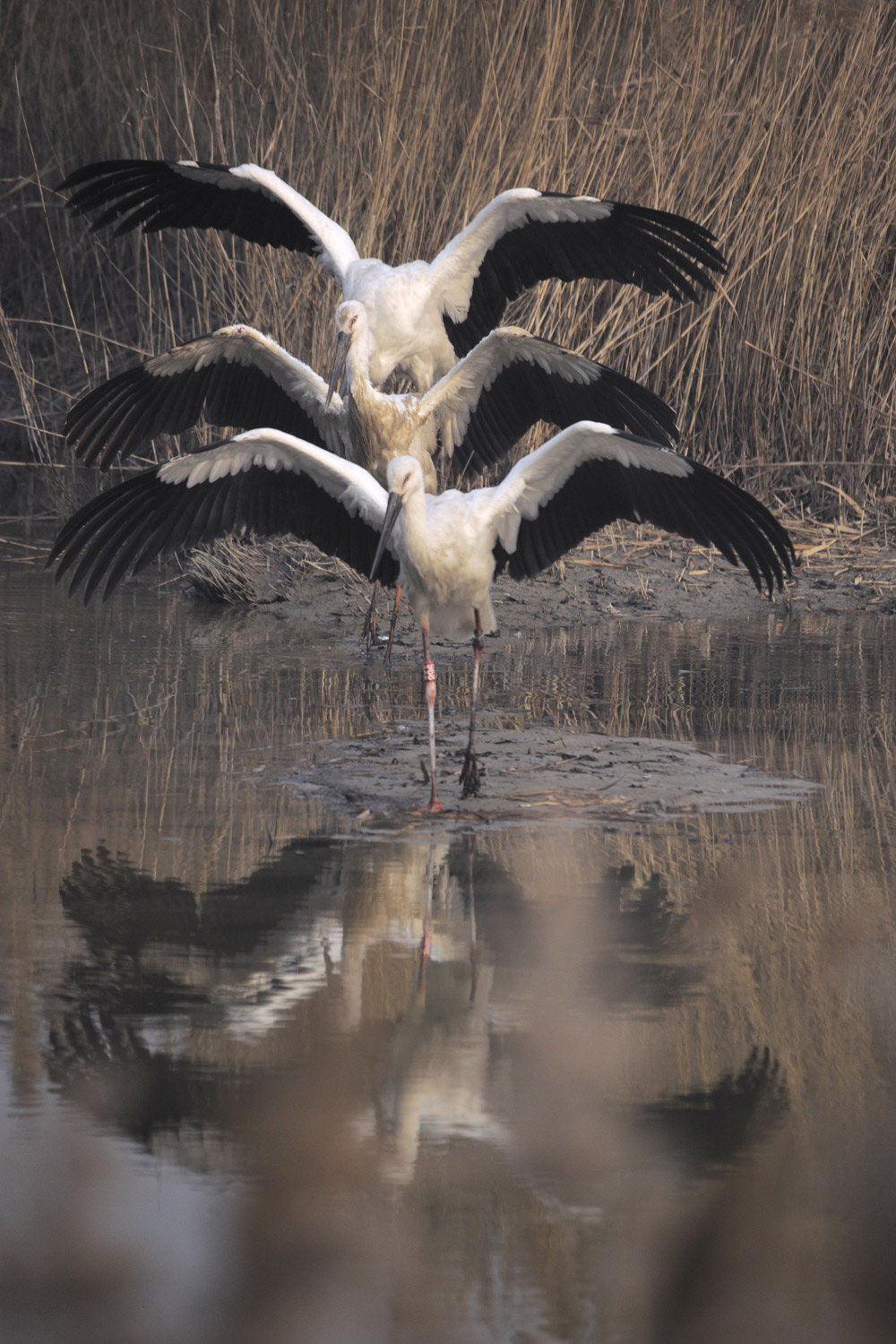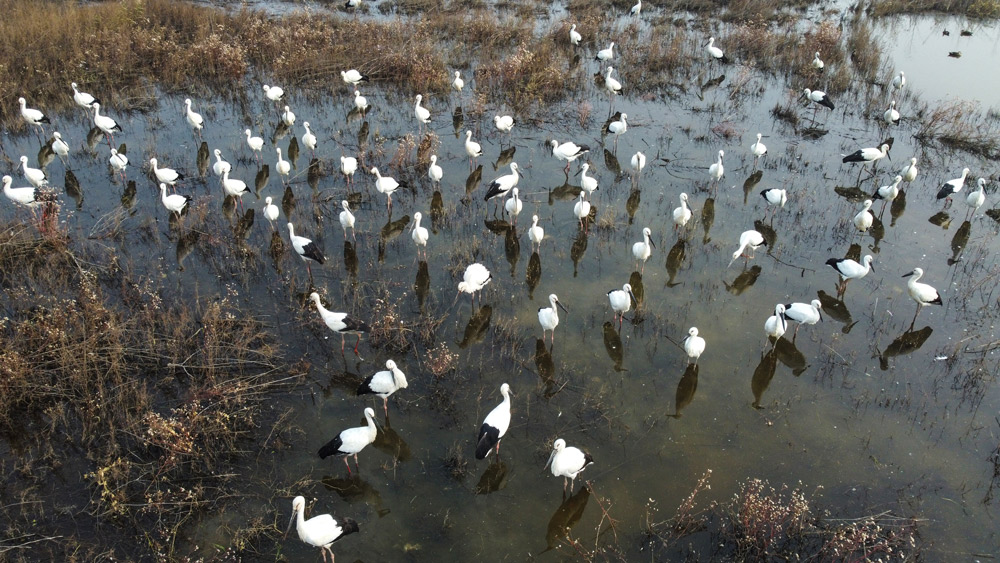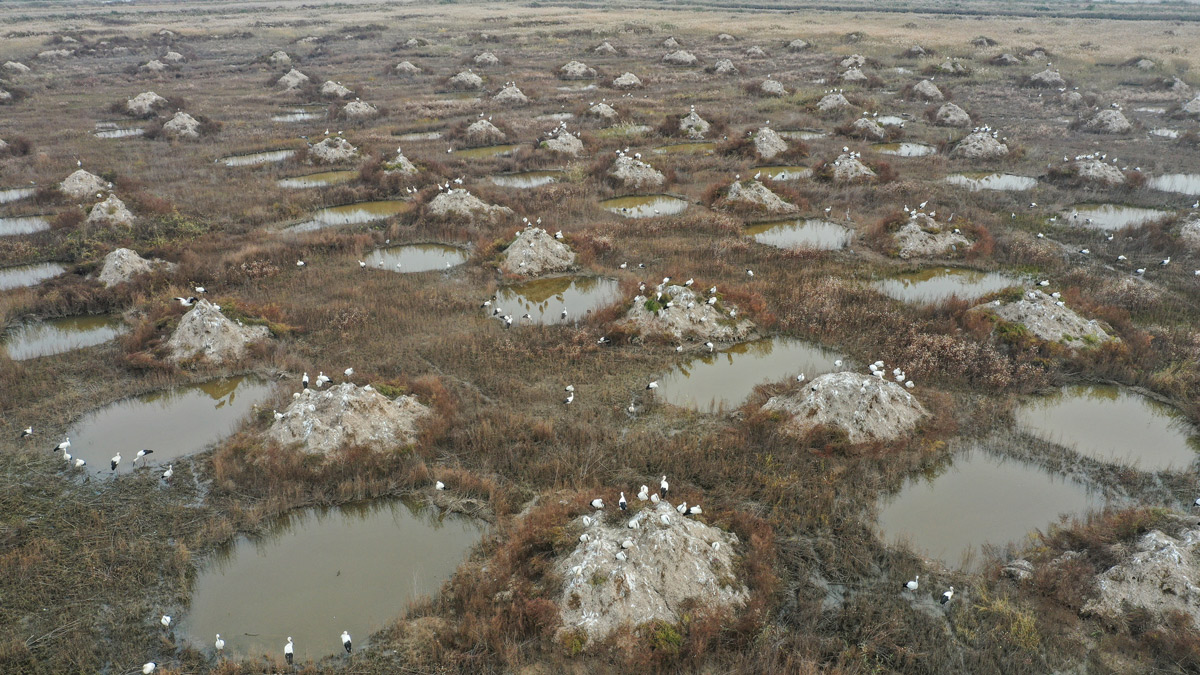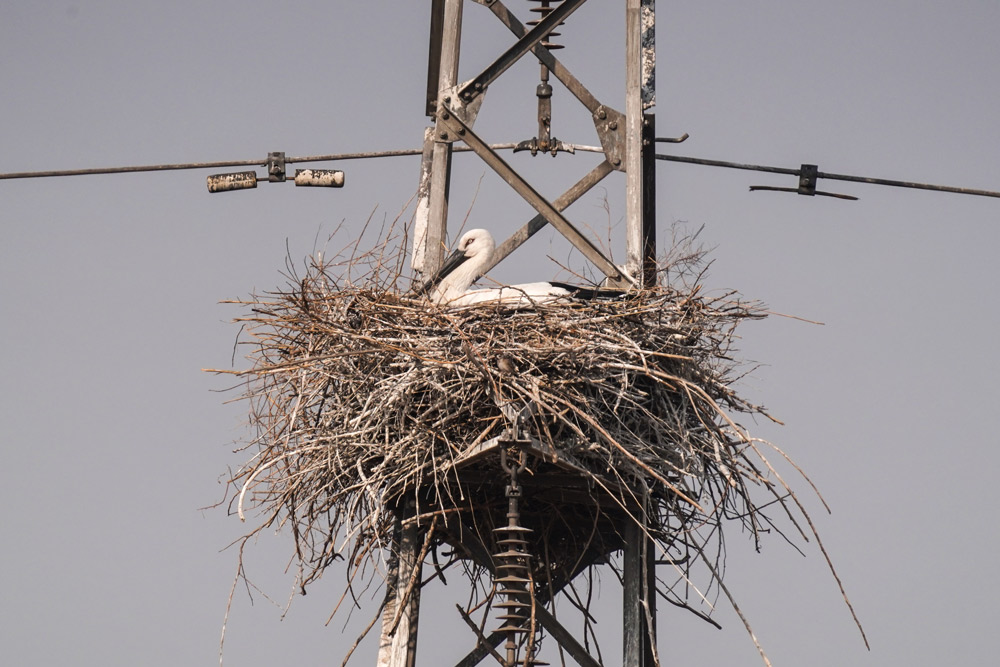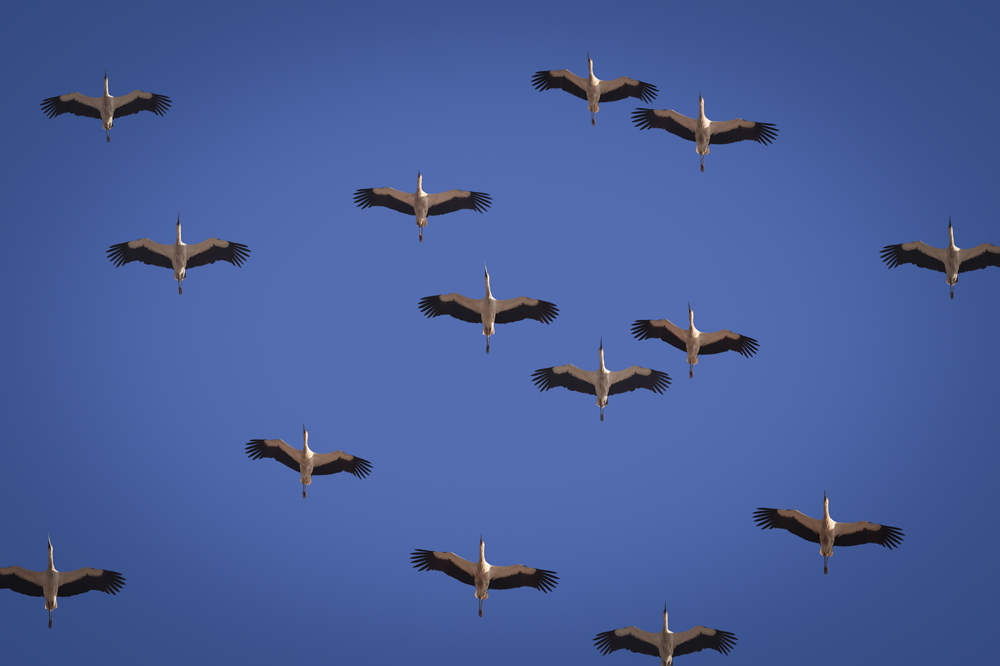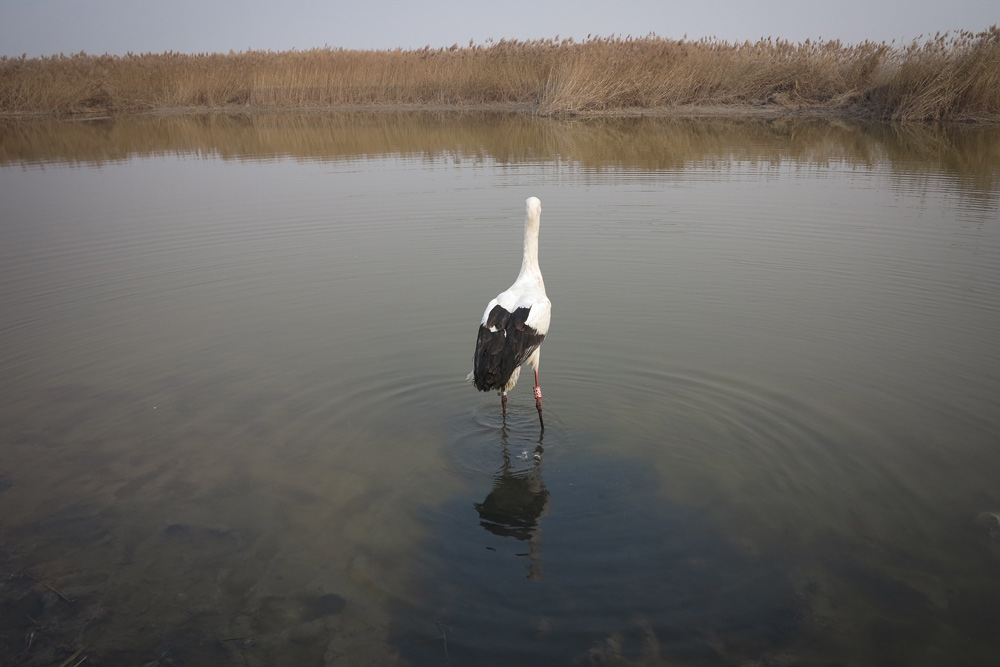 Climate change is another threat to the birds' survival. Scientists estimate that 80% of oriental stork habitats in China's northeast could become unsuitable due to changes in weather patterns. Already, some researchers have observed that some oriental storks now breed in the warmer south of the country, seemingly affected by changes in temperature and precipitation in the northeast.
Mo notes that for two straight years, oriental storks have arrived in the Bohai Bay more than 10 days earlier than usual, peaking in numbers in early November. Unusual weather patterns could increase the vulnerability of oriental storks, who normally stay in Tianjin for about two weeks and then fly south several days before Christmas, Mo says.
Late last year, when a climate change-linked phenomenon caused northern China to be hit by frequent cold snaps, lakes and rivers froze earlier than usual, making it hard for birds to forage for fish. It was a tough time for those storks who were still in the area and couldn't find enough food, Mo recalls. Weakened, they were easier prey for poachers. In the last week of November 2020, 31 oriental storks were found dead in rural Tianjin. The government ruled out poisoning, but environmentalists had their doubts.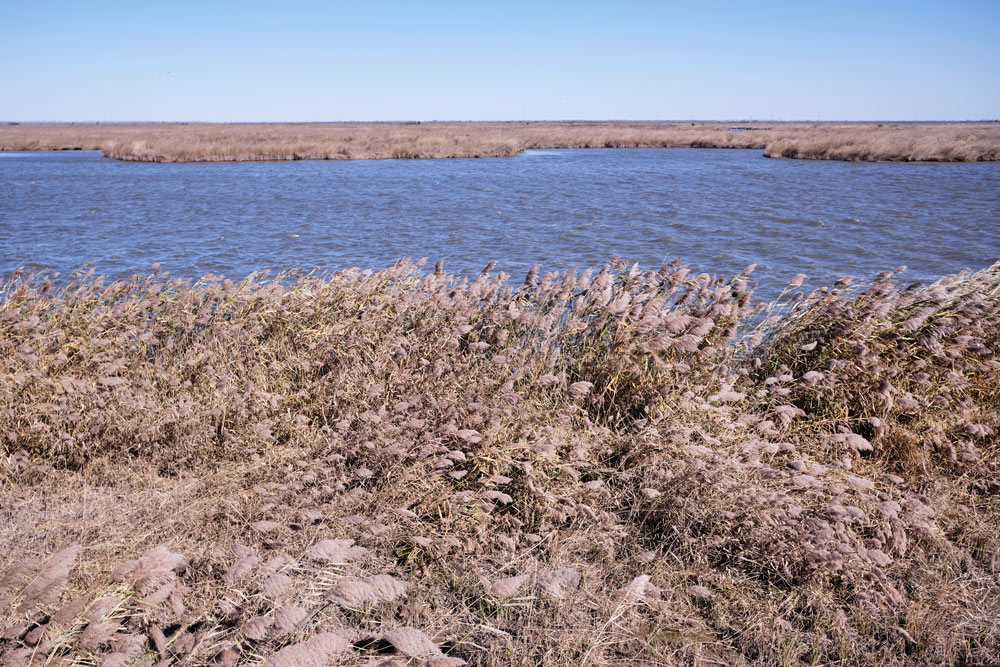 A view of the Qilihai Ancient Coast and Wetland Nature Reserve, Tianjin, Nov. 10, 2021. Wu Huiyuan/Sixth Tone
Qilihai
In earlier years, whenever the storks arrived in Tianjin, many would choose to forage in an area of protected wetlands called the Qilihai Ancient Coast and Wetland Nature Reserve, near the Chaobai River. Fish ponds were allowed, but there was strict law enforcement oversight to discourage any use of firecrackers or poison, Wang tells Sixth Tone.
In 2017, in line with national efforts to better protect wetlands, local authorities changed their approach, banning all human activity, including aquaculture farming, in Qilihai. The government of the Ninghe District, where the reserve is located, raised over 10 billion yuan, mainly by issuing government bonds, to finance restoring the wetlands.
But how the restoration work has been carried out as well as how the reserve is managed have, at least partly, resulted in fewer fish and water levels that are too high for the storks to stand in. During the migration season, the zone's managers can lower the water level to allow the animals to forage for food, but they habitually forget to unless reminded, Jiangbei volunteers complain.
Wang says the number of oriental storks has improved despite, not because of, the local government's efforts. "I once told a group of reporters that the reason Tianjin has more birds is that here we still have a patch for them. Elsewhere they have no place to go. But this concentration actually makes it riskier for them, like putting all the eggs in one basket," Wang says. "Then I got in trouble for what I said."
Gradually, local bird enthusiasts recall, the storks began shunning the nature reserve and frequenting the fish ponds, which are located just outside Qilihai. "They are smart birds. They weigh their costs and benefits," says Mo.
Both fish farmers and conservationists agree the current situation is unsustainable. Commercial fish ponds are far from ideal food sources, exposing the animals to plastic pollution and various chemical substances. The area's many high-voltage power lines form another threat.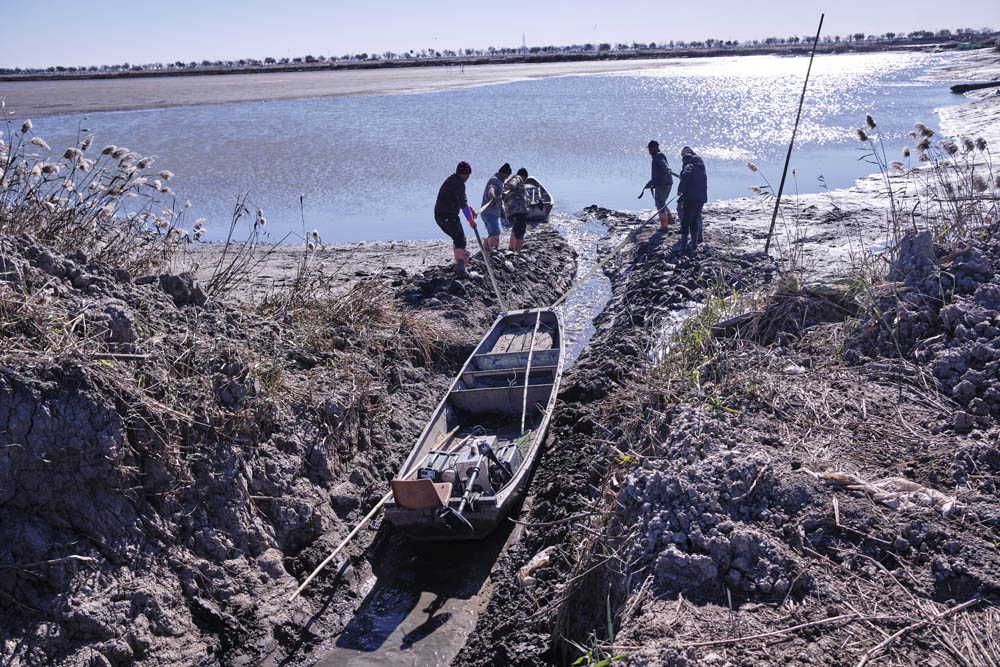 Workers catch fish from aquaculture ponds on the outskirts of Tianjin, Nov. 10, 2021. Wu Huiyuan/Sixth Tone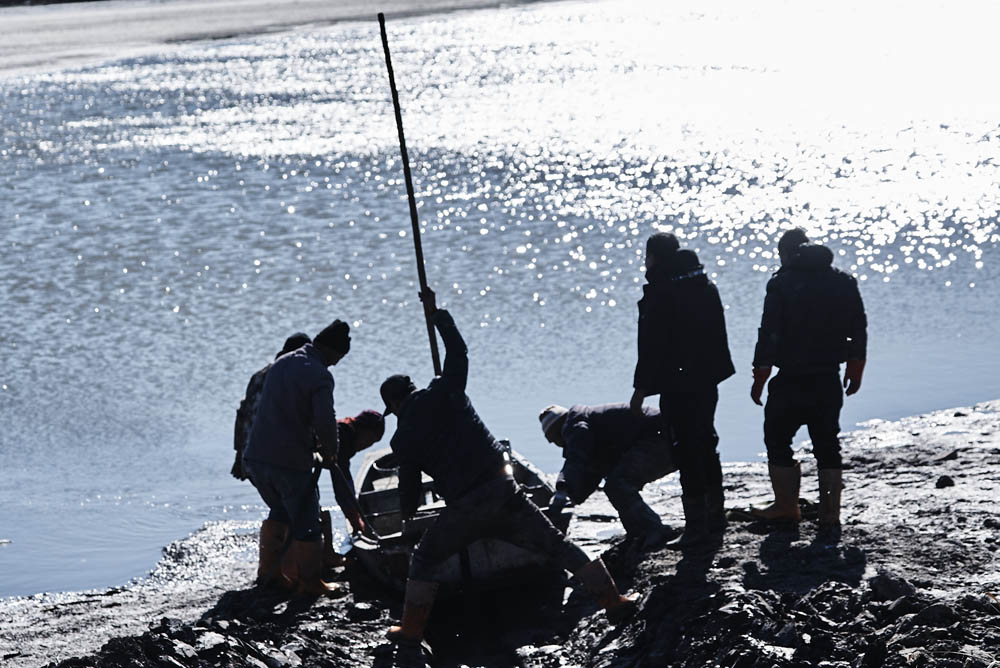 Workers catch fish from aquaculture ponds on the outskirts of Tianjin, Nov. 10, 2021. Wu Huiyuan/Sixth Tone
A fish pond in Ninghe District, Tianjin, Nov. 10, 2021. Wu Huiyuan/Sixth Tone
Zhu argues the animals' survival is at risk of becoming too reliant on the "good hearts" of volunteers like the members of the Jiangbei NGO. The central government should introduce a sustainably-financed mechanism that can protect both the birds and the farmers, he argues. Currently, fish pond operators have no choice but to protect their livelihoods. "It's not easy for them, either," says Zhu.
Right now, whenever the Jiangbei volunteers hear the water in an aquaculture pond is going to be lowered to catch fish, they will head over to make sure the farmers don't hurt the birds (as well as to count the animals). Last year, when he witnessed the farmers' constant use of firecrackers, Wang rented an idle pond for 10,000 yuan and filled it with fish they bought from the market. "Birds need safety zones," he says. "For them, ponds are terrifying places."
Last year, officials from the Tianjin Municipal Bureau of Planning and Natural Resources told domestic media that they are working on an ecological compensation scheme for affected fish farmers. But Zhai, the fish pond operator, says that he hasn't heard anything about remuneration from the authorities.
Another part of the plans for improving the Qilihai reserve also seems in limbo. Ninghe earmarked part of the money it raised to relocate five villages out of what officials regard as ecologically vulnerable areas around the wetlands. Around 25,000 residents were informed they would have to move into modern multi-story buildings to be built a half an hour's drive away. But, during Sixth Tone's visit in November, the project remained half finished. Only the village committee's office has moved.
Residents of Leshan, one of the villages to be resettled, tell Sixth Tone that they have mixed feelings about moving because they have been given few details about how they will be compensated. Zhang Yongli, a former Leshan village official, went to prison for two years for protesting against the village's croplands being requisitioned for the Qilihai natural reserve without residents receiving fair compensation. He has little faith in the project. "There are no tigers now, but you can see flies everywhere," Zhang says, using euphemisms for big and small corrupt officials.
For now, without any news of when the relocation will truly commence, the villagers are quietly living their lives in a peculiar political halfway state. Recent policies have passed them by, such as the switch to gas-powered heating to reduce air pollution, meaning villagers still rely on coal to stay warm. Conservationists see the irony in how the reserve's supposedly improved protection efforts aren't helping birds but are harming people instead.
Honghe Nature Reserve, where the birds breed during the summer, has designated the conservation of oriental storks as an indicator for the health of its wetlands. But the Qilihai reserve has not made clear what its targets are. In September, the Ninghe government said that it was compiling a detailed system of targets for the reserve, which it called the "lungs of Beijing and Tianjin," that will include indicators such as plant and animal biodiversity.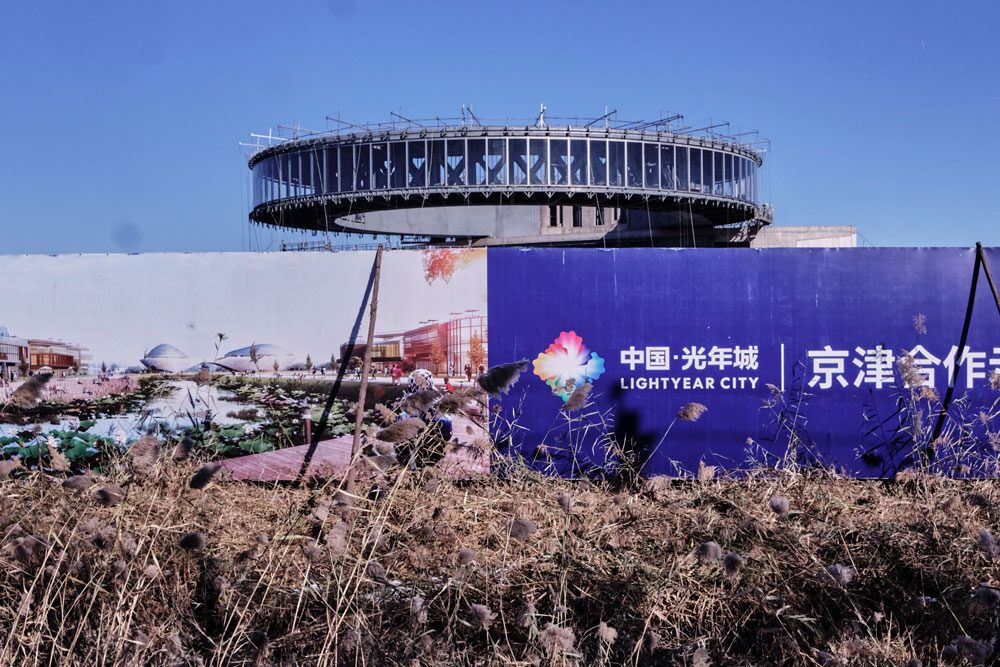 A view of the under-construction Lightyear City development in Tianjin, Nov. 10, 2021. Wu Huiyuan/Sixth Tone
Lightyear City
Close to the fish ponds of Zhai and others, seemingly lost amid the wild grass, stands a blue billboard that greets passersby with giant white characters that spell out "Lightyear City." It presents, the Jiangbei volunteers say, perhaps the biggest threat to the oriental stork.
To house up to 310,000 people, developers plan to build on what they call "an immense wasteland" of 38 square kilometers. This includes Qinghe Farm, an enclave of Beijing that used to be a reform-through-labor settlement. Located to the south of the Qilihai nature reserve, it is the site of many of the fish ponds that oriental storks depend on. Were the project to be completed, they would lose their main source of food in the region.
Inside the sales office for "Lightyear City," one wall is dominated by a giant screen that shows the planned layout, including a central park, rows of residential buildings, schools, and industrial zones. Visitors are scarce. Staff sitting behind the reception desk kill time playing on their phones.
On his frequent forays to spot oriental storks, Wang will pass by the sales office, and each time the same worries resurface. Already, some of the project's commercial areas have been completed, and companies have moved in. Will he and other volunteers be able to convince the authorities to call off the rest? "No one cares about wetlands," Wang complains.
Outside the sales office, trucks loaded with construction material rumble past.
Editor: Kevin Schoenmakers.
(Header image: Oriental storks rest on an artificial nest in Tianjin, Feb. 18, 2021. Courtesy of Wang Jianmin)