Dark, ponderous figures inch across an open field. Occasionally, one lets out an oink.
Huang Jianxiang can just make out their silhouettes against the gray sky before the crack of dawn. Yet again, a herd of wild boar has come down from the surrounding mountains to wreak havoc on his rice field.
"Shoo! Go away! Buzz off!" The 70-year-old farmer is shouting at the top of his lungs. The hungry animals eventually get the message, turning tail and fleeing. The boars are a major threat to his rice farm, which sits at the foot of the Wuyi Mountains in the eastern province of Fujian.
"In summer and fall, they come to sabotage our rice. In winter and spring, they eat our bamboo shoots," Huang tells Sixth Tone. As summer melts into fall, piglets start coming down the mountain with their mothers. They are a farmer's worst nightmare.
"Not only do they eat my rice, but they also love to roll around in the field for fun, smashing the stalks into the ground. We can't harvest them when that happens," he complains.
Huang and his nephew manage some 20 mu of fields — around the size of two soccer fields — in the town of Dabugang. For years, they've been at war with their cunning adversaries, which can grow to over 200 kilograms. The long-standing conflict took a turn in the spring, when China issued a ban on "hunting, trading, transporting, and consuming wild animals" after the coronavirus outbreak.
In 2000, China's National Forestry and Grassland Administration designated wild boars a protected species. Although the animals don't fall into the category of "special state protection" like tigers or giant pandas, they're still considered "beneficial or having economic or scientific value."
Huang certainly doesn't see the boars' intrinsic value, and he's at a loss for how to deal with them.
In the past, farmers like him protected their fields using traps. They would set up electric fences to shock the boars if they came too close, Huang says. But with this year's stricter rules and closer monitoring by local authorities, traps are no longer an option. All Huang can do is go out to his field at dusk and dawn — the boars' preferred feeding times — and attempt to drive them away with increasingly desperate shouting.
"We tried recording our voices and playing it on a loop from a speaker, but it didn't take the boars long to figure out that the sound wasn't coming from humans. They were too smart for that," Huang says. Left unsupervised, a group of four or five boars can destroy 100 to 150 kilograms of crops in a single night.
A child walks through a corn field that has been trampled by wild boars in rural Beijing, Aug. 22, 2020. Jiang Xin/People Visual
The problem of wild boars terrorizing farmers isn't unique to Fujian. They're a ubiquitous scourge in China's mountainous regions, such as Sichuan province in the southwest, Shaanxi province in the northwest, and Jilin province in the northeast.
"China's reforestation efforts in recent years have created a good environment for wildlife to proliferate," Xu Huailiang, a zoologist at Sichuan Agricultural University, tells Sixth Tone. Wild boars in particular have experienced a population boom because of their fecundity and adaptability, he says. Moreover, boars are indiscriminate omnivores whose natural predators — large carnivores such as tigers and leopards — remain relatively rare in China.
In 1999, there were an estimated 1 million wild boars in China. Nearly two decades later, Reuters calculated their number to be over 33 million in a 2018 report.
Under the country's wild animal protection law, local governments are responsible for compensating locals for physical or economic damage caused by protected animals. But there's no overarching central government policy stipulating how this should be done. Instead, provincial-level governments are tasked with setting their own rules.
Huang says his neighbors tried turning to the government for help after boars ravaged their fields, but they came away empty-handed.
An official surnamed Xie from the city that administers Huang's town told Sixth Tone that while he and his colleagues in the local government are aware of their legal obligation to provide compensation. But without specific instructions from higher authorities, they haven't been able to establish an effective system for doing so.
"It's even harder in the case of wild boars because they're not a 'special state protection' species," he says, using the designation that tends to carry greater official weight.
In the past, when there were too many boars in the region, local officials would seek permission from a higher level of government to enlist hunting teams, which would come in and cull the population. Before the wildlife trade ban was implemented in February, this expense could be partly offset by selling the hunted boars. Now, that revenue stream has been cut off.
"There's less of an incentive to do it that way now," says Xie.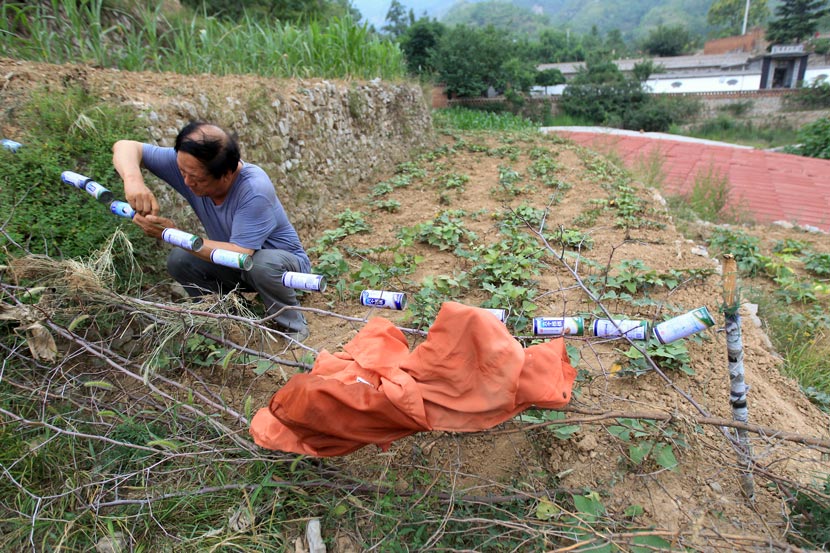 A farmer sets up an anti-boar barrier along the periphery of his field in Guiquan Village, Hebei province, July 15, 2019. People Visual
Vague and broad regulations at the national level pose major challenges for farmers seeking compensation, says Xu the zoologist. "It's difficult for local governments to follow and execute the directive," he explains. "Which government branch is responsible for paying the farmers, how the damage should be quantified, how much should be paid — all of this is undefined."
While some provinces have managed to set up effective compensation schemes, the question of whether damage from wild boars should be covered under the national decree is inconsistently answered. In Jilin province, for example, wild boars fall under "special provincial protection," and thus the damage they cause can be covered by the authorities. This isn't the case in Zhejiang, however, where local compensation rules don't cover damage from wild boars, which are classified differently in the eastern province. Authorities in Fujian, where Huang lives, did not respond to Sixth Tone's interview request.
"When these regulations began taking shape years ago, no one expected the population of wild boars to grow so dramatically," Qu Xiangdong, a civil lawyer at Anjie Law Firm in Shanghai, tells Sixth Tone. "Now they've become a bug in the system."
Creating positive feedback is a key goal of the compensation system. If farmers are paid for their losses, they'll be less likely to harm protected animals, Qu adds.
"With limited money, the government has to focus on the most important thing, which is to preserve the most endangered species," Qu says. "It's a system that needs to be improved. But this can only be done gradually, as the provinces' financial situations get better."
According to Liu Yanlin, a staff member at the Chinese Felid Conservation Alliance, a nonprofit for protecting the country's big cats, compensating farmers for damage caused by wild boars is rare due to local budget constraints.
"It's easy to cover the cost when a cow is eaten by leopards, but wild boars destroy so many crops every year. There's simply not enough money to compensate all the farmers," he says. Liu and his team have been working with farmers in the northern Shanxi province, trying to find ways to keep boars from invading farmland.
They've tried installing speakers and floodlights in the field. But as with Huang's farm in Fujian, the boars were too smart to be deterred for long.
"So far, nothing has worked consistently," Liu says. "It's a Catch-22."
With farmers unable to reliably recover their losses, much of the arable land in the mountains near Huang's village now lies abandoned. "Farming wasn't lucrative in the first place, and the boars have only made the situation worse," Huang says. "I'm just an ordinary person. What can I do about it?"
Contributions: Chen Qi'an; editor: David Paulk.
(Header image: A wild boar passes through a field in Tieling, Liaoning province, Jan. 3, 2020. Yan Dongliang/People Visual)