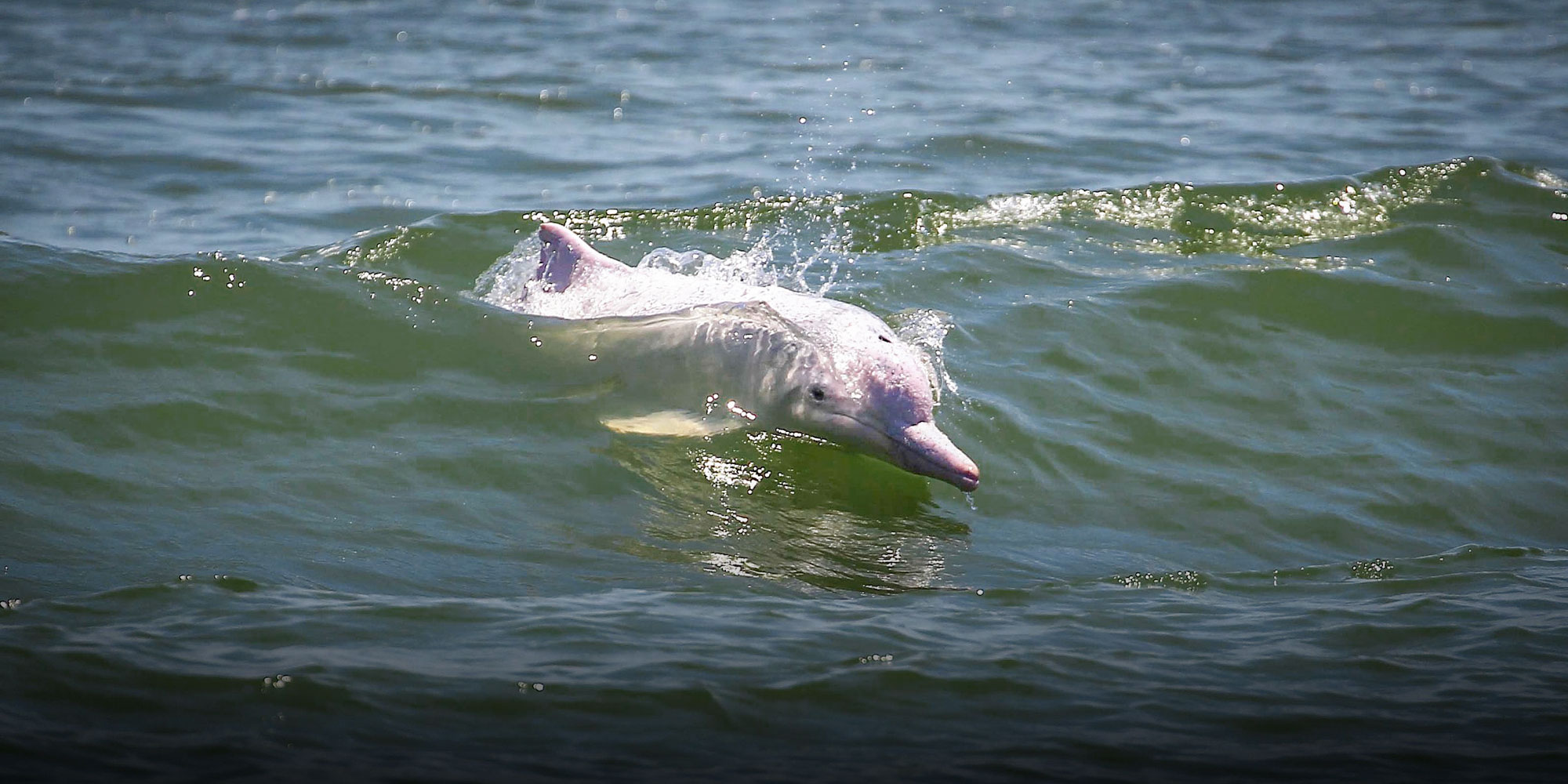 NEWS
Guangdong Theme Park's Land Reclamation Irks Environmentalists
Campaigners say Chimelong's project will threaten Chinese white dolphin's survival.
Environmentalists fear that a land reclamation project in the Pearl River estuary will endanger a near-threatened species of dolphin.
Chimelong Group, China's theme park titan, plans to spend 5 billion yuan ($740 million) to reclaim land for the expansion of its International Ocean Tourist Resort in Zhuhai, a city in southern China's Guangdong province that borders Macau.
However, the project has been met with backlash from environmentalists, who worry that yet another land reclamation project in the region will further endanger populations of the Chinese white dolphin. On Tuesday, representatives from environmental group CrossBorder Environment Concern Association (CECA) and animal welfare group Freedom for Animal Actors (FAA) expressed their concerns during a public hearing held by Zhuhai's fisheries and water bureau to gauge public sentiment about the potential environmental impact of the project.
According to a state-run research institute's environmental impact assessment report, published in May on the website of the Zhuhai fisheries and water bureau, Chimelong plans to reclaim 350,000 square meters — an area the size of 49 soccer fields — to build an artificial island in Big East Bay.
The manmade island, along with the other reclamation projects in the area, will minimize and fragment the habitat of the Chinese white dolphins, Wei Hanyang, head of Guangzhou-based CECA, told Sixth Tone. "It's a cumulative effect," he said.
In addition to the Chimelong resort, other reclamation-based construction projects are also in progress in the area, including the Hong Kong-Zhuhai-Macao Bridge and a third runway for Hong Kong International Airport. To the southwest, the beach resort town of Sanya, located on the island province of Hainan, plans to reclaim land to build a second airport.
"The Pearl River Estuary area needs collaborative ecological planning," said Wei, explaining that as all of the concurrent reclamation projects fight over resources, they will inevitably prioritize short-term profits over long-term environmental impact.
The massive project, expected to take two years, will create a tourist island featuring a permanent circus venue, luxury hotels, an ocean-themed museum, and pedestrian shopping streets. Because the area does not currently have enough land to meet demands for the project, the environmental assessment report called reclamation a "necessary" measure.
Local media, too, are on board, calling the artificial island "key" to the second construction phase of the resort, which Chimelong hopes will benefit from its proximity to Macau and its high-rolling visitors. When all construction is completed, the total area of the International Ocean Tourist Resort will be twice as large as Ocean Park, Hong Kong's marquee pre-Disneyland tourist destination.
Chinese white dolphins, listed as "near threatened" by the International Union for Conservation of Nature, are commonly found in shallow, coastal waters of the Indian and Pacific oceans, making them especially vulnerable to urban development and other human activity.
"The [Pearl River Delta] dolphin population barely manages to withstand the current levels of environmental stress," wrote researchers from the University of Hong Kong in a report about the mammals' chances of survival, published in Nature earlier this year. "Our findings indicate that the PRD population is [destined] to become extinct unless effective conservation measures can rapidly reverse the current population trend."
Chimelong did not reply to Sixth Tone's request for an interview. An employee from the Zhuhai fisheries and water bureau who did not give his name because he was not authorized to speak to media told Sixth Tone that the resort's land reclamation project is waiting for approval from the provincial fisheries and water bureau before it can proceed with construction.
Editor: David Paulk.
(Header image: Tourists observe a Chinese white dolphin in an aquarium at Chimelong Ocean Kingdom in Zhuhai, Guangdong province, Jan. 29, 2017. Zhong Fan/VCG)