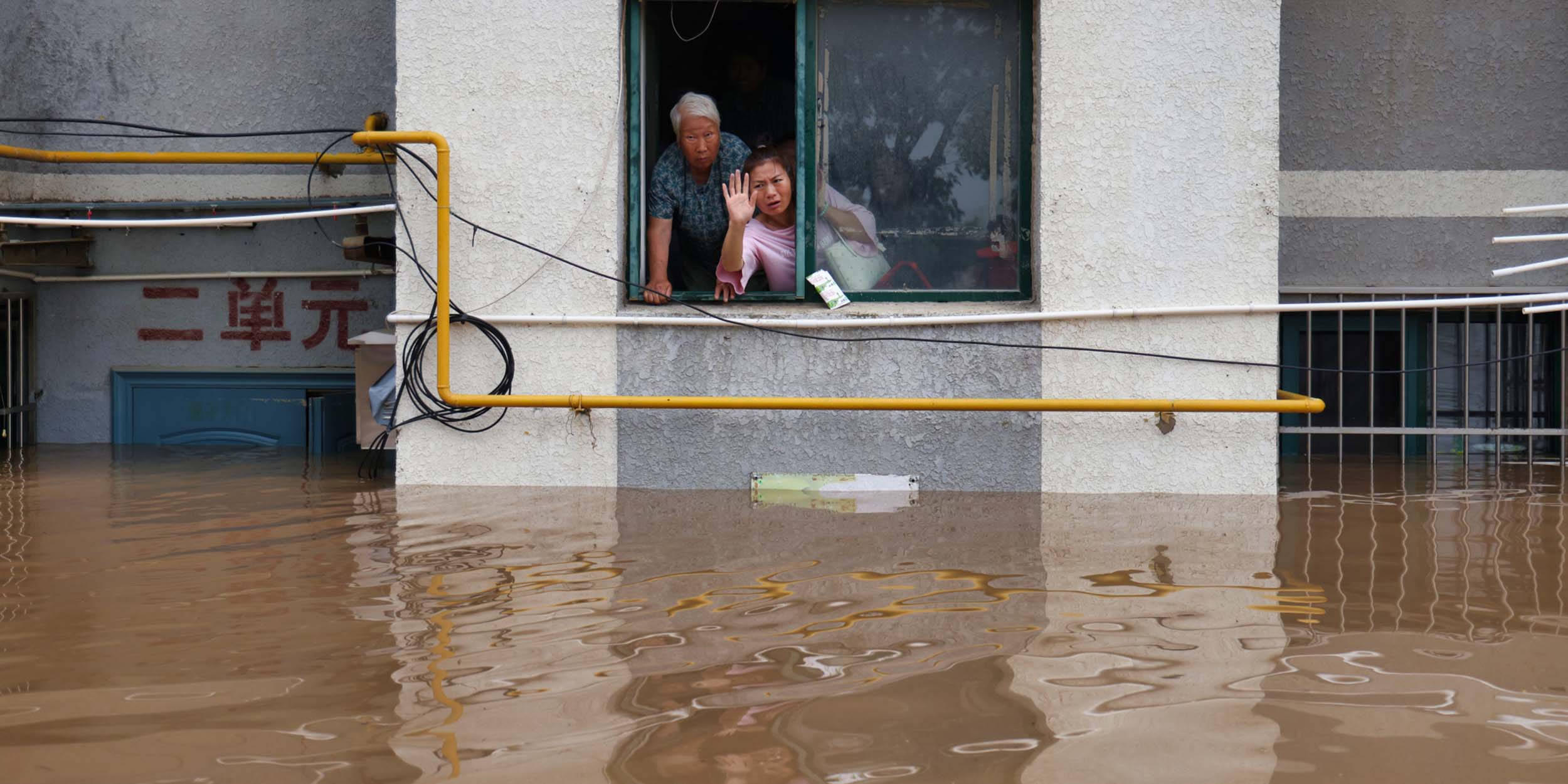 NEWS
China Floods: What Is the Cause and Why Has Rescue Been So Difficult?
Sixth Tone's News Team answers the key questions about what's happened.
China's capital and neighboring Hebei province have seen historic levels of rainfall since Saturday, resulting in devastating floods across the region. Beijing saw more than all of last year's total rainfall in less than five days, while one area in Hebei recorded two year's worth of rain in three days.   
In Beijing, the rain has stopped, allowing residents to begin tallying up the damage to their homes and businesses. Meanwhile, in the small city of Zhuozhou, the worst-hit area of Hebei province, rescue operations are ongoing as many residents are still trapped in submerged compounds and more than 130,000 people have been forced to evacuate. 
As of Thursday, the number of confirmed deaths from the floods is 21, with at least 26 people still missing. A total of 1.23 million people have been relocated in Hebei province, as of Thursday morning. The economic losses caused by the disaster have yet to be announced.  
What is the cause of the record rainfall? 
The record rainfall was mainly caused by Typhoon Doksuri, which hit China last week, and its interaction with water vapors flowing northwards, meteorological analyst Shi Yan from the China Meteorological Administration told Sixth Tone. 
At the same time, the convergence of two high-pressure systems in the Beijing-Tianjin-Hebei area caused the water vapor to condense into extreme rainfall there. Another typhoon, Typhoon Khanun, is unlikely to land in China, Shi said, but it remains important to monitor the potential impact on China's eastern coastal areas.
Is there a connection with climate change? 
China has seen several extreme weather events in recent months, including sandstorms and heatwaves, which have been attributed to climate change. 
However, officials have not linked the current situation with climate change. Jia Xiaolong, deputy director of the National Climate Center, said in a Thursday briefing that the extreme rainfall is not related to the El Niño phenomenon — the unusual warming of surface water in the eastern Pacific Ocean.
How does China's flood control system work?
According to China's Ministry of Water Resources, the country's flood prevention system largely consists of flood retention basins in low-lying areas and lakes, working alongside reservoirs and levees.
With levees and rivers used to discharge floodwater, and reservoirs to store excess water, floodwater can already be regulated to a certain extent. If these measures are insufficient, flood retention basins will be activated to store excess floodwater, minimizing levels of flooding and the consequent impact on surrounding areas. 
Ding Aizhong, the vice dean of the college of water sciences at Beijing Normal University, told Sixth Tone that China's flood retention basins are only activated under extreme rainfall conditions. 
What happened with the flood controls this time?
In response to unprecedented rainfall, authorities made use of 155 reservoirs in the Hai River Basin, which includes Hebei and Beijing. They have also activated eight flood retention basins since Sunday, covering regions in Beijing, Tianjin, Hebei, and Henan province. 
On Monday, Beijing authorities activated a reservoir to store floodwater for the first time since it was built in 1998. Ding said the reservoir was activated because the floodwater reached its threshold for the first time — something that did not occur even during the July 2012 flash floods that hit Beijing, which killed 79 people. 
As of Thursday, the floodwater in the middle of Hai River Basin is advancing downstream, and is expected to arrive in Tianjin, adjacent to the Bohai Sea, around August 9. 
Why has Zhuozhou been hit so hard? 
The heavy rainfall in the upstream rivers, which converge at Zhuozhou, is the main cause for the serious flooding situation there, according to Li Na, the deputy director of Hebei's water resources department. 
In recent days, netizens have blamed Beijing for the flooding in Zhuozhou, arguing that flood discharge from the capital has pushed floodwater into surrounding areas.
According to Ding, a country's flood control system must consider the overall balance of interest in order to minimize the damage caused by floods. 
"Given the status of Beijing, if it was flooded, the damage would have been much greater than the damage in Zhuozhou," Ding told Sixth Tone.   
However, Chen Xiaotao, the deputy chief engineer of the China Institute of Water Resources and Hydropower, told state broadcaster CCTV that it is inaccurate to say that Hebei and Tianjin received the flood discharge in order to protect Beijing.
"Generally, the use of flood retention basins is of more benefit to downstream areas (like Zhuozhou) rather than upstream areas," said Chen. 
The Ministry of Water Resources has told The Paper, Sixth Tone's sister publication, that residents located in flood retention areas have put the collective interest before their own interests and will be compensated according to the law. 
How many have been involved in rescue operations? 
In Beijing, 3,128 flood prevention and rescue teams with more than 200,000 people have been deployed, while 22,823 firefighters in the three regions of Beijing, Tianjin, and Hebei have been involved in rescue efforts. 
In the less affluent Hebei province, authorities there have made use of 153 civilian rescue teams with 1,677 personnel. Most prominent among them is the Blue Sky Rescue Team, a nationwide network of licensed rescue teams founded in 2007 with more than 30,000 volunteers nationwide. Two of its members have died during rescue operations. 
Even less official groups have been involved too. In the first few days of the disaster, an online volunteer group specializing in processing disaster information relayed more than 1,200 residents' whereabouts to rescue teams. The group has since switched to using the official government assistance request portal for information protection reasons, an organizer of the group told Sixth Tone on Thursday. 
What is the scale of the disaster relief?
On Wednesday, China's national disaster relief agencies raised the national emergency relief response level to Level 3 in response to the severe floods in Hebei.
The central government is disbursing 44 million yuan ($6.1 million) for disaster relief in affected provinces. Chinese President Xi Jinping has called for all-out efforts to rescue those missing or trapped. 
The transport and finance ministries have set out a 30 million yuan fund for emergency clearance of highways in Beijing and Hebei.
Why have rescue efforts been so difficult? 
Many of the hardest-hit areas are mountainous and difficult to access. In Beijing, damaged base stations cut off tens of thousands of residents from the outside world, while in Zhuozhou, trapped residents have been unable to communicate their locations to rescuers due to electricity outages. The ongoing volatile movement of floodwaters also means that rescuers are facing perilous conditions, leading to rescuers dying.  
Smaller cities with less disaster relief resources are also being overwhelmed by the scale of the crisis. Zhuozhou has publicly appealed on microblogging platform Weibo for more rescue resources, including lifeboats and flashlights. Its posts have since been deleted. 
Domestic media outlet Southern Weekly has reported several private rescue teams wanting to enter Zhuozhou have been delayed because of paperwork issues. In November 2022, China's ministry responsible for emergency rescue introduced rules for local governments to approve civilian rescue teams wanting to support rescue efforts, according to The Paper. 
What has been the philanthropic response? 
Several major Chinese companies have announced donations towards disaster relief, including ByteDance, Tencent, Alibaba, and Xiaomi. The total amount has exceeded 370 million yuan, according to The Paper. 
Li Zhilin, director of Charity Box, a Chinese charity assessment organization, told Sixth Tone that the impact of private donations by such technology giants is limited, as local disaster relief groups that accept corporate donations such as the Red Cross Society and the China Charity Federation have limited capacity and do not have the ability to effectively allocate resources. 
Correction: An earlier version of this article said that the El Niño phenomenon is linked to climate change. In fact, scientists are uncertain about the relationship. 
Editor: Vincent Chow. 
(Header image: People wait to be rescued from floods in Zhuozhou, Hebei province, Aug. 2, 2023. Tian Weitao/IC)