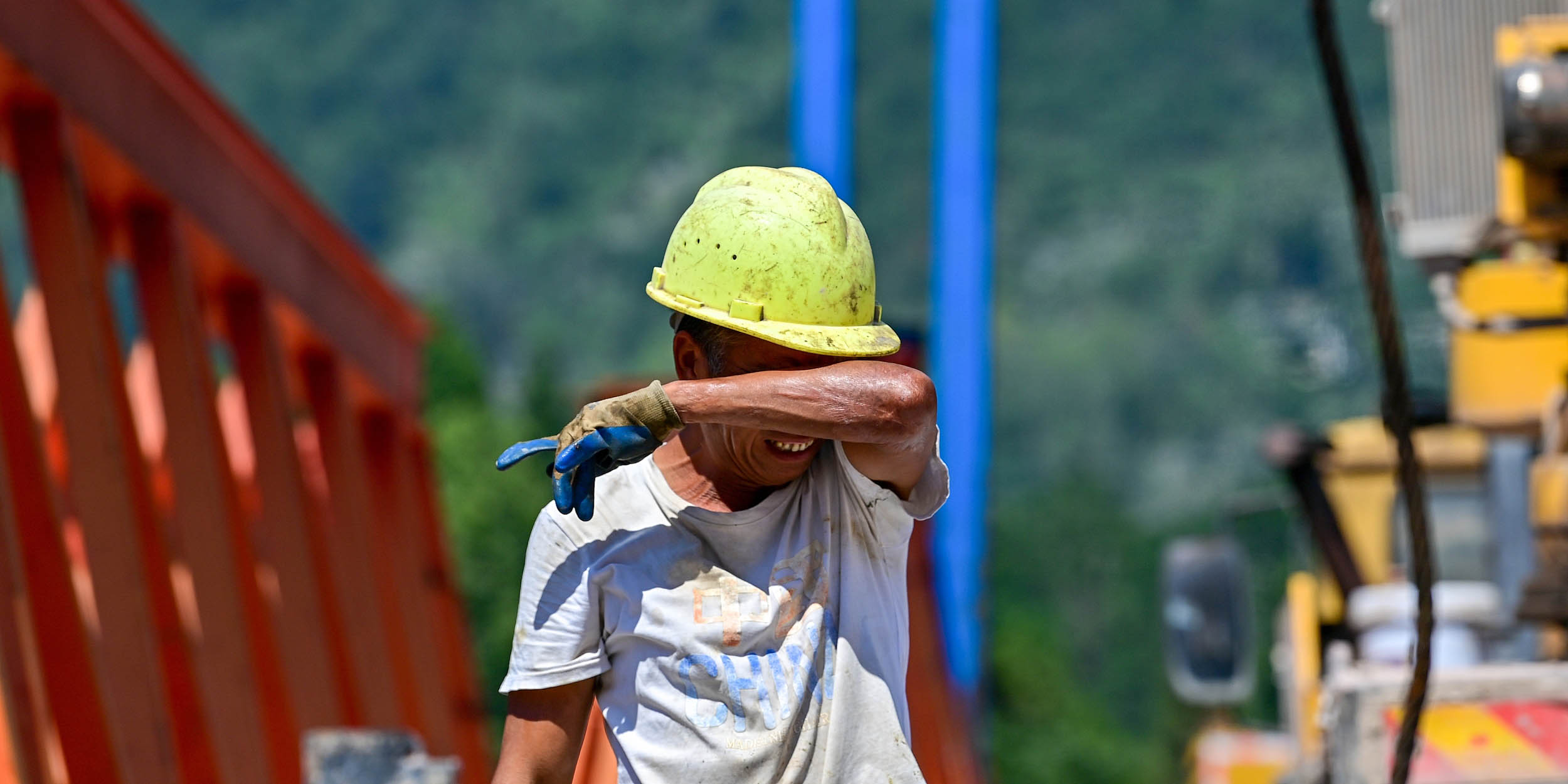 NEWS
Heatwave Sweeps Across China, Claiming Lives and Rewriting Records
In the past 10 days, multiple cities issued over 200 heat alerts amid scorching conditions, and this season also recorded the highest number of days exceeding 35 degrees Celsius since 1961.
From a remote village in the Xinjiang Uyghur Autonomous Region rewriting China's weather records to multiple cities issuing heat alerts in the past 10 days alone, a widespread and deadly heat wave across China has had devastating consequences, including the loss of at least four lives. 
According to China News Service, Sanbao Village in Xinjiang reached a scorching 52.2 degrees Celsius on Sunday, with authorities predicting temperatures will stay above 35 degrees Celsius until Friday. 
The heat wave has particularly affected northwestern and southeastern parts of the country, with multiple cities grappling with temperatures exceeding 35 degrees Celsius over the past 10 days. As a result, over 200 heat alerts were issued by weather stations across different cities on Tuesday alone. Shattering more records, this season has also witnessed the highest number of days with temperatures above 35 degrees Celsius since records began in 1961, as reported by China Daily. 
The scorching heat wave poses life-threatening risks, particularly in the form of heatstroke, which is capable of causing permanent disability or even death if emergency treatment is not promptly administered. 
Since the onset of summer this year, several cities, including Shanghai, Sanya in the southern Hainan province, and Beijing, have witnessed a surge in heatstroke patients. 
In Beijing, a 49-year-old tour guide died of heatstroke on July 2 while working at the Summer Palace, a well-known tourist spot. The temperature that day at noon was around 35 to 36 degrees Celsius, according to the Beijing weather station. His death was reported just days after a 57-year-old woman succumbed to heatstroke after nearly seven hours of rescue efforts on June 17. 
Similarly, in Shijiazhuang in the northern Hebei province, a 60-year-old person was rushed to hospital with a body temperature of 41 degrees Celsius, and died days after being admitted. It was the second death due to heatstroke in Hebei in June. 
In the eastern Jiangsu province, a construction worker in Changzhou City fell unconscious after working in scorching conditions for almost three hours on May 28, according to local newspaper the Changzhou Daily. He was diagnosed with heatstroke and multiple organ failures and was still in a coma on June 2. 
"I experienced extreme heat on my first day working as a food delivery rider. The summers are getting hotter than before," Dong Wei, a food delivery driver in Wuxi, Jiangsu, told Caixin News. "I feel powerless all over my body, and I don't want to walk anymore. I just want to lie or sit somewhere." 
In response, cities nationwide have established designated areas, often within subway stations, where people can seek shelter from the heat. 
Hefei, in the eastern Anhui province, has set up a public "cooling area" at 70 subway stations, some of which offer drinking water, books, and traditional Chinese medicine to alleviate light heatstroke. 
The mountainous city of Chongqing has established similar spots at 127 subway stations, while Changsha, in the central Hunan province, has opened 94 "cooling areas" for residents and outdoor workers. 
The National Weather Bureau told state broadcaster CCTV Tuesday that high temperatures will persist in northern China, while a gradual cooling trend is expected in southern China. 
Editor: Apurva. 
(Header image: VCG)