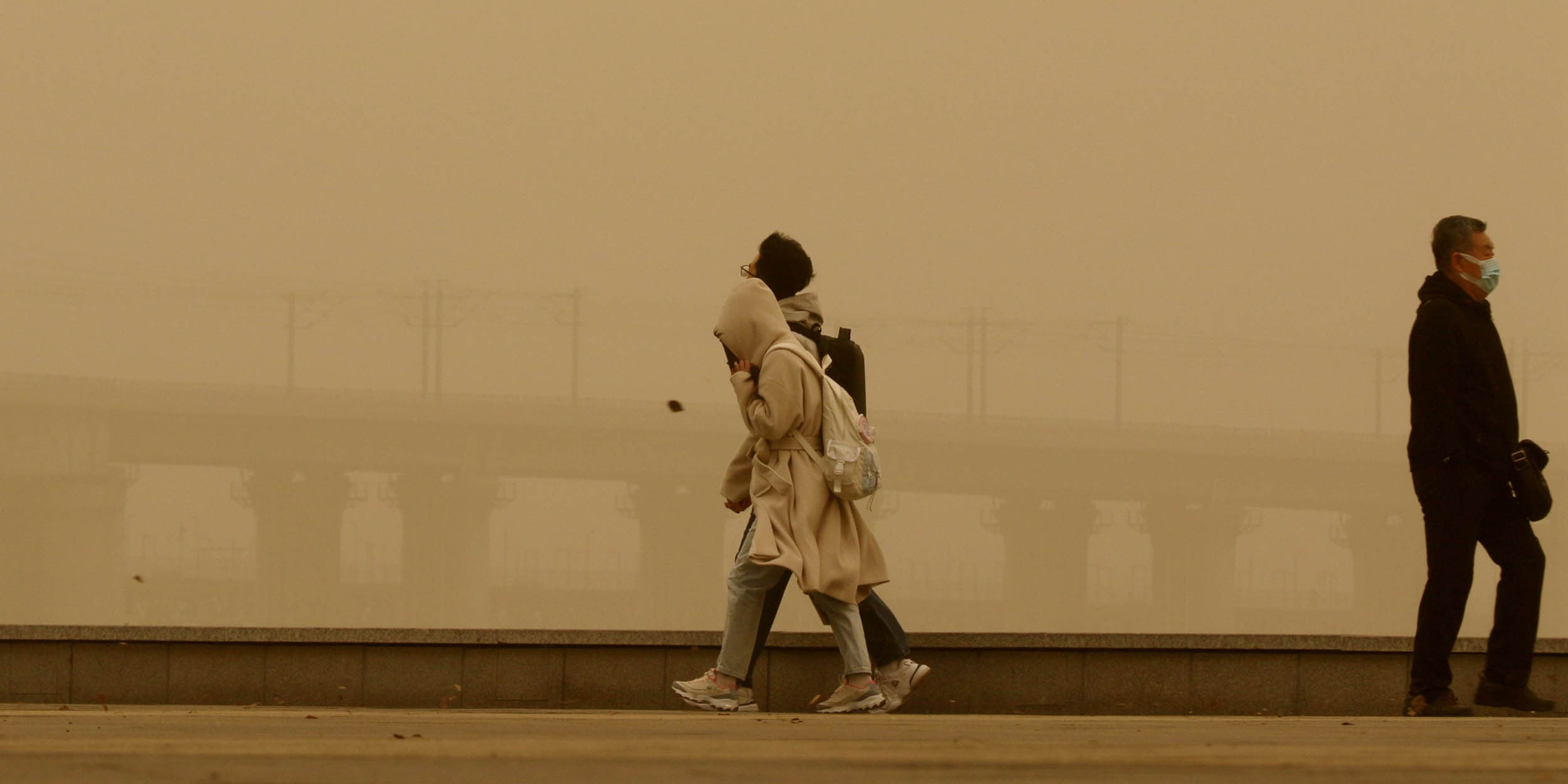 NEWS
North China to See More Sandstorms in Coming Months
Meteorological experts say that climate change has intensified weather patterns.
The ongoing dusty weather that has impacted vast parts of northern China will continue in the coming months, one of the country's top meteorological officials said, noting that climate change had contributed to the acceleration of such severe and frequent weather patterns.
Zhang Bihui, an official at the China Meteorological Administration, said that less precipitation in southern Mongolia and the western part of the Inner Mongolia Autonomous Region, coupled with higher temperatures, is likely to lead to more sand and dust storms in China during the coming months, China's Meteorological News Agency quoted him as saying Friday.
In early March, average temperatures in Mongolia, China's neighbor in the north, and deserts in northwestern China were 5 to 8 degrees Celsius higher than usual with almost no rainfall and no snow coverage on the land, Zhang said, citing data from the China Meteorological Administration.
China has recorded four sandstorms so far in March this year, twice as many as the number of storms last year and more than the average of 3.3 storms during the same period in the past two decades, domestic outlet Yicai reported, citing data from the National Forestry and Grassland Administration. The extreme heat waves and wildfires of last year and the massive flooding in 2021 have been seen as warnings of climate change, which would threaten lives and livelihoods.
Northern China has seen strong and intense sandstorms in the past week, affecting some 20 out of its total 34 provincial-level regions, state-run Xinhua News Agency reported Sunday. Meteorological experts predicted that dusty weather will last through April and May.
The storm, which lasted from March 19 to 22, affected more than 560 million people, spanning from Xinjiang, Ningxia, and Gansu in the northwest to the northeastern Liaoning and Heilongjiang provinces, a representative from the National Meteorological Center told Yicai.
As the sandstorm swept, several cities also reported a rise in air pollution. In Beijing, PM10 values — a measure of particulates that are harmful to human health — exceeded 1,500 micrograms per cubic meter on Sunday, while visibility dropped to less than 1,000 meters.
"This year's sandstorm was more intense and arrived earlier than usual," Beijing resident Xu Ying told Sixth Tone, adding that her son's kindergarten has stopped all outdoor activities. She was taking extra precautions considering the five-year-old has recovered from COVID-19 and flu in the past months.
Ding Ting, a researcher at the National Climate Center, told Xinhua Net that the warm and dry weather due to the changing climate patterns had defrosted the soil earlier than usual, making it easier to be blown around. The decrease in precipitation this year has also led to poor vegetation coverage in parts of southern Mongolia's Gobi Desert, where sandstorms that usually affect China originate.
China has invested heavily in its reforestation efforts as a means to combat sandstorms and aims to plant 70 billion trees by 2030. The country had 231 million hectares of forests in 2022 with a forest coverage rate of 24%, data from the National Forestry and Grassland Administration shows.
Editor: Bibek Bhandari.
(Header image: People walk through a sandstorm in Harbin, Heilongjiang province, March 22, 2023. The air quality index in the city hit 500 this week. IC)