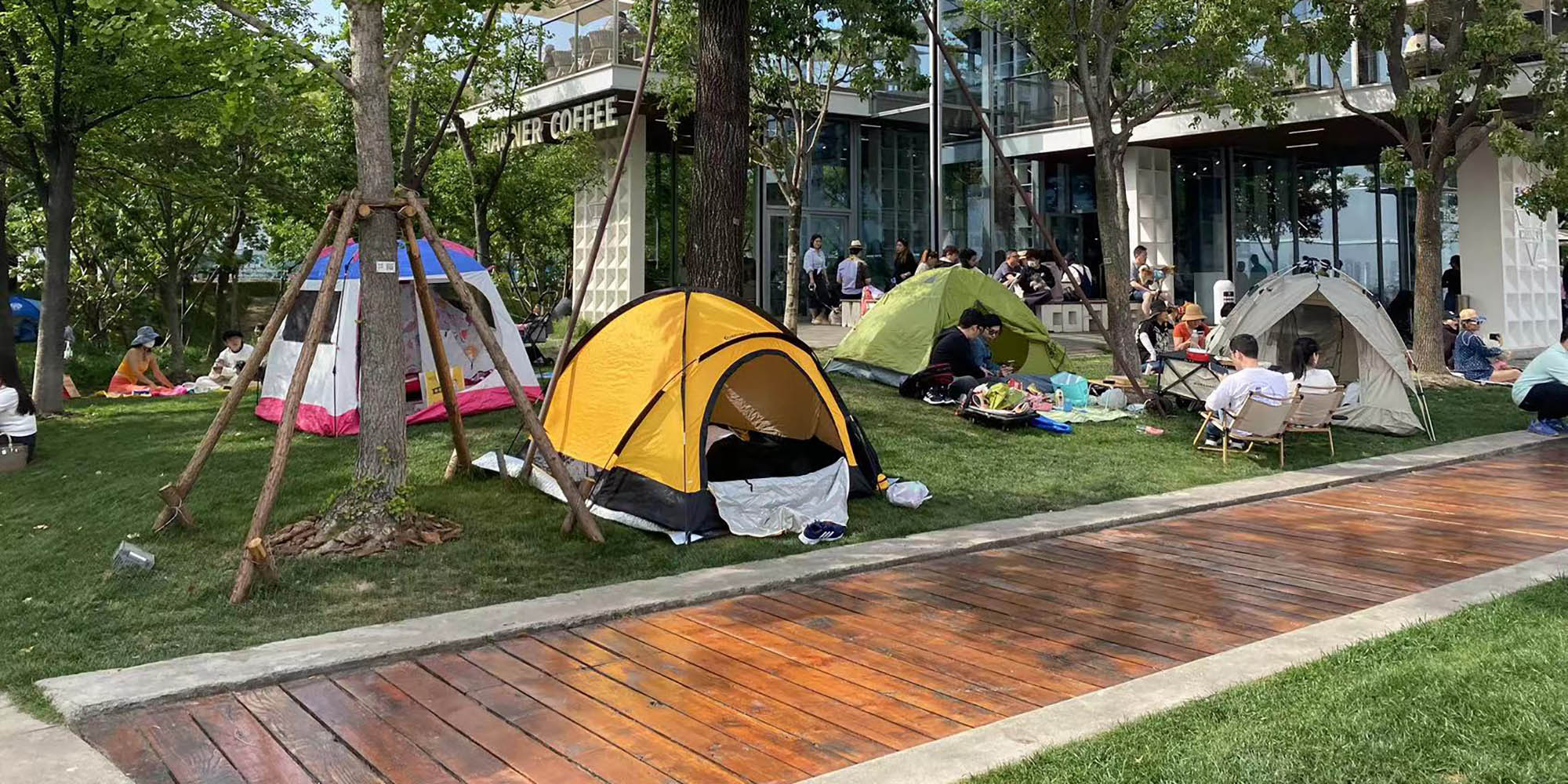 NEWS
To Beat the May Day Rush, Shanghai Stays Put to Go Glamping
Despite a wave of campsite closures, experts say the industry in China is consolidating and has a significant following among young people.
SHANGHAI — Staring at sold-out tickets to popular tourist spots, exorbitant hotel costs, and even warnings from some cities to stay away due to the unprecedented surge in travel, many in China are searching for alternatives during the Labor Day holiday season. 
In Shanghai, some turned to a more leisurely option, much closer to home: glamping. This outdoor activity that combines the comfort of hotels with the adventure of camping has been growing in popularity in China in recent years, particularly during pandemic-fueled restrictions. 
On Sunday, the second day of the five-day Labor Day vacation, 32-year-old Liu Qi expertly pitched his tent at a riverside park in Shanghai's Xuhui District. Chairs and camping carts were arranged around the tent; a camping mat with potato chips, fruits, and homemade sandwiches was laid out; and a portable coffee maker and a fruit juicer were at the ready. 
"We've formed a habit of glamping during public holidays," said Liu, a Shanghai native. He added they decided to stay in Shanghai this Labor Day after reading the news of the unparalleled influx of travelers across China. 
This year, the five-day Labor Day vacation in China started April 29. Though the riverside park in Xuhui was full of tents Sunday, it wasn't as busy as Liu expected. "Good spots are usually gone in the morning," said Liu, who was able to grab one under a large tree on Sunday afternoon. 
Glamping in China has grown more popular over the last few years amid restrictions due to the pandemic. Instead of venturing far from home during popular holidays, many opted instead for glamping, which can be experienced at a campsite, a tent room, under a starry sky room, or even in an RV. 
Along with traditional camping activities like hiking and fishing, glamping often includes open-air movies, outdoor barbecues, concerts, and tea making on a stove.
A 2022 report on China's camping industry predicted that the domestic camping market is expected to reach 178.14 billion yuan ($25.75 billion) in 2023 — a significant increase from its value of less than 30 billion yuan in 2018.
Presently, there are more than 121,000 camping companies in China, of which over 33,000 new registrations were in 2022 alone. Over the last three years, the average growth rate has reached 33.3%.
A majority of campers on Sunday told Sixth Tone that avoiding crowds was their main reason for choosing glamping. Additionally, they noticed that fewer people were posting about glamping on social media than in the past couple of years. 
"Travel is much easier now, so posting glamping or camping pictures seems tasteless," said another Shanghai resident surnamed Zhang. 
In the run up to the Labor Day holiday, a topic titled "why don't we like glamping anymore" trended on social media. The rise of camping and glamping was often attributed to the pandemic, but with the rebound in domestic tourism, some claimed that camping was "going out of business." 
Shortly after, news of a wave of campsite closures began to emerge, with many owners shutting down their businesses.
However, Jiang Xiaoliang, secretary-general of the Zhejiang Tourism Association, believed otherwise. He told state-run news agency China News that camping is still a "budding industry," where people can relax with nature, and it still has a large following, particularly among young people.
Though Jiang confirmed that many campsites had closed down this year, many such were irregular, and only sought to make quick profit. "For us, it's good that they're over," he said. 
In the past month, camping orders on China's popular travel platform Trip.com increased by over 150% year-on-year, and some popular camps were almost fully booked for the Labor Day holiday, domestic media reported. 
In comparison, camping travel bookings on Trip.com during the National Day holiday last October increased over 10-fold compared to the previous year.
The rapid increase has also led to several issues such as unqualified tents, disorderly construction, land violations, and private enclosures. In response, the Zhejiang province issued guidelines last July aimed at standardizing campsite setups across all localities. 
In November, 14 national departments jointly proposed expanding public campsites and improving their quality to better develop the camping industry.
Wu Qiyang, co-founder of Camark, a camping service provider in eastern Zhejiang, told Sixth Tone that their camping sites in Anji and Hangzhou were fully booked by early April. 
"Customers don't want to travel during the holidays. They think nature is more peaceful, and it's more enjoyable to do it yourself rather than visiting a crowded tourist spot," she said.
Wu underscored that the issues of being "out of business" and "out of order" are not mutually exclusive. She said the popularity of glamping resulted in an excessive development of land by some camping operators, which was "unreasonable." 
Wu added that the cost of general land infrastructure alone can exceed 100,000 yuan, in addition to the expenses for labor, materials, and camping equipment.
"I want glamping to become better and better, not just to be everywhere," Wu said. In starting Camark, Wu and her team hope to inspire more people to enjoy camping, and "to see the stars, mountains, and rivers."
But with international travel resuming, and more people traveling abroad for fun, Wu acknowledged that the popularity of camping would wane. To better serve and attract tourists, the camping industry needs to constantly improve and become more professional, she said. 
"It's not a farmhouse or a homestay, but a comprehensive activity area that is closer to nature and respects nature," she explained.
Over the past three years, Zheng Linlin, a 27-year-old Shanghai resident, has visited over a dozen campsites in and around Shanghai. But instead of camping this Labor Day holiday, she booked a flight to Thailand. 
"When I was stuck in China, glamping gave me a sense of freedom and travel, but now it's open again, I still prefer seeing the outside world," said Zheng. 
Editor: Apurva. 
(Header image: Glamping in Shanghai, April 30, 2023. Fan Yiying/Sixth Tone)