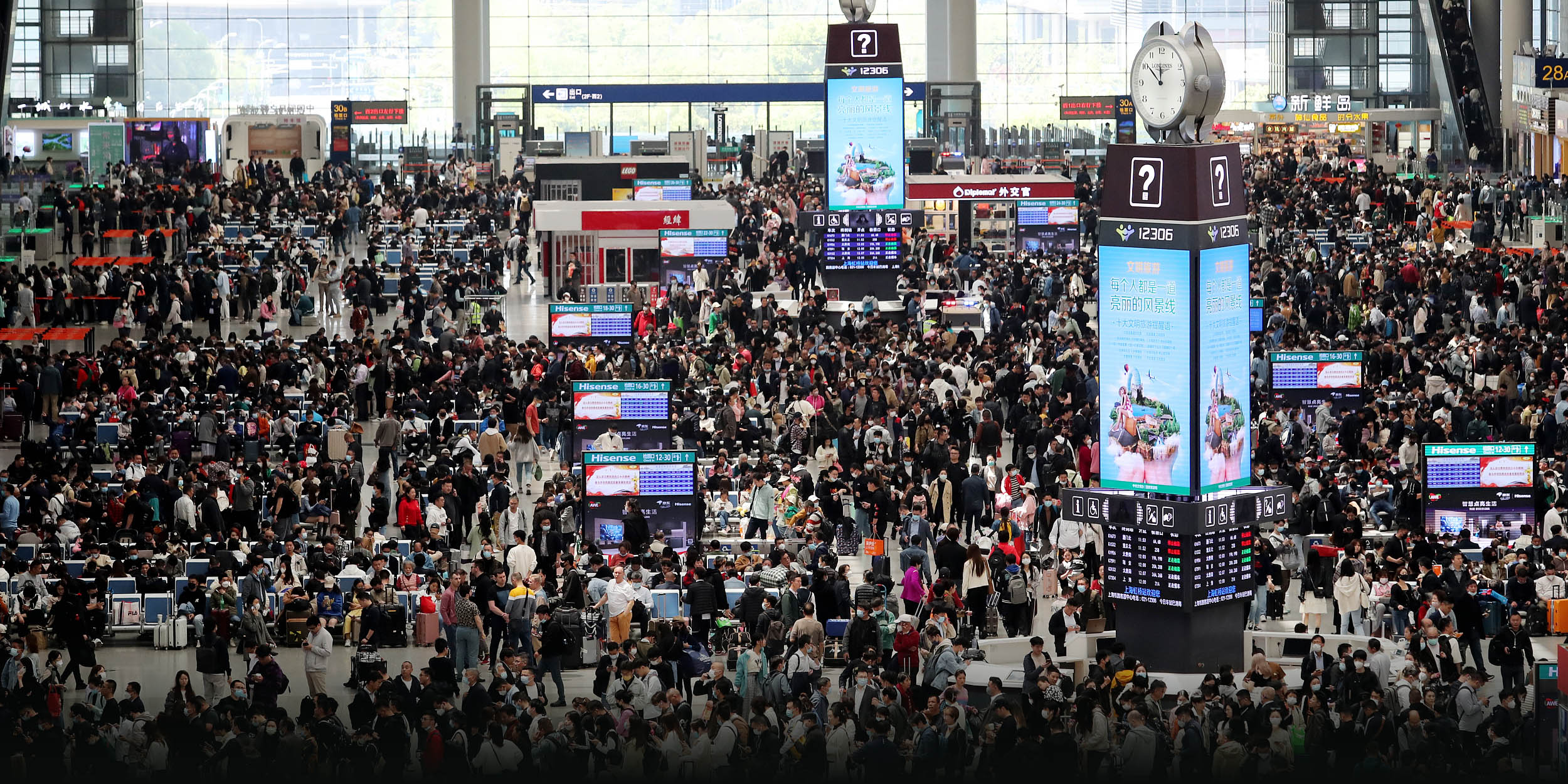 NEWS
May Day: As Millions Hit the Road, China Braces for Travel Frenzy
From extended hours at tourist sites to warnings instead of penalties for minor traffic violations, Chinese cities are rolling out the red carpet.
One city has asked its residents to stay at home so it can accommodate more tourists; another said its major tourist sites would stay open longer; and multiple local authorities have announced that minor traffic violations will attract only warnings and not penalties. 
These are among some of the measures taken by Chinese cities to accommodate an unexpectedly massive surge in travelers during the upcoming five-day Labor Day vacation starting Saturday. 
While much shorter than holidays for Spring Festival or National Day, the Labor Day holiday is crucial for the tourism sector. More so this year, as the country looks to recover economically from three years of pandemic-fueled disruptions. 
China Railway said Thursday that it expected nearly 120 million trips from April 27 to May 4 — a record high for this season and up 20% from pre-pandemic levels. And according to the national transportation department, around 54 million vehicles would take to the roads across China between April 29 and May 3 — among the most ever. 
Such is the expected influx of tourists that the Changsha city government, in the central Hunan province, has asked its residents to prepare by either staying home or traveling outside the city during the Labor Day holiday. The city is expected to host more than double the number of tourists compared with last year. 
On social media, the Changsha government posted: "If love between both sides is long-lasting, does it matter if they are apart or together?" — a line from a classic Chinese poem about lovers being separated. 
Chen Siting, a salesperson from the southern city of Guangzhou, told Sixth Tone that she still plans on visiting Changsha to attend her first music festival in three years.
"Everyone's telling me I am crazy (to travel now) but I've been waiting for this opportunity for so long," said Chen. She added that her trip has cost much more than usual this year, primarily after a major uptick in the price of plane tickets and hotels. 
According to the travel platform Trip.com, domestic bookings increased sevenfold compared to last year. The platform also said that ticket bookings for tourist sites more than tripled compared with pre-pandemic levels in 2019.
The eastern city of Hangzhou is also expected to see a record high of inbound travelers during the holiday, according to an estimation by a state-backed research lab. The city's Lingyin Temple, a major tourist spot, has announced that it will stay open for one hour longer during the holiday season. 
In Zibo, a city in the eastern Shandong province, hotels were already booked in most counties on April 25 after news of its barbecues boosted its popularity.
Expecting heavy traffic, multiple cities have also announced that minor violations would attract only educational warnings instead of penalties, according to Sixth Tone's sister publication The Paper.
In the central city of Jingzhou, police said those driving in prohibited areas or parking in illegal spaces would not be punished severely such as their licenses being revoked. In the northeastern city of Anshan, traffic police said it would adopt "soft enforcement" to ensure a more comfortable traveling experience for tourists.
Incidentally, interest in international travel is comparatively weak this year, with immigration authorities estimating that the number of people going abroad would only reach 57% of pre-pandemic levels.  
"Challenges in obtaining travel documentation, the high cost of tickets due to limited international flight routes, as well as persistent COVID-19 restrictions in some countries, have hampered interest in international travel among young Chinese consumers," Lydianne Yap, research director at RTG Consulting Group, told Sixth Tone. 
The rise in popularity for domestic tourism fuelled by social media over the past few years might have also contributed to the slow pickup, Yap added. 
However, not all plan to travel during the holiday frenzy. A Shanghai-based resident surnamed Shen said he would stay home to avoid the crowds. "Lying flat would be the best rest," he said. 
Editor: Apurva. 
(Header image: Passengers wait at Hongqiao Railway Station in Shanghai, April 28, 2023. VCG)