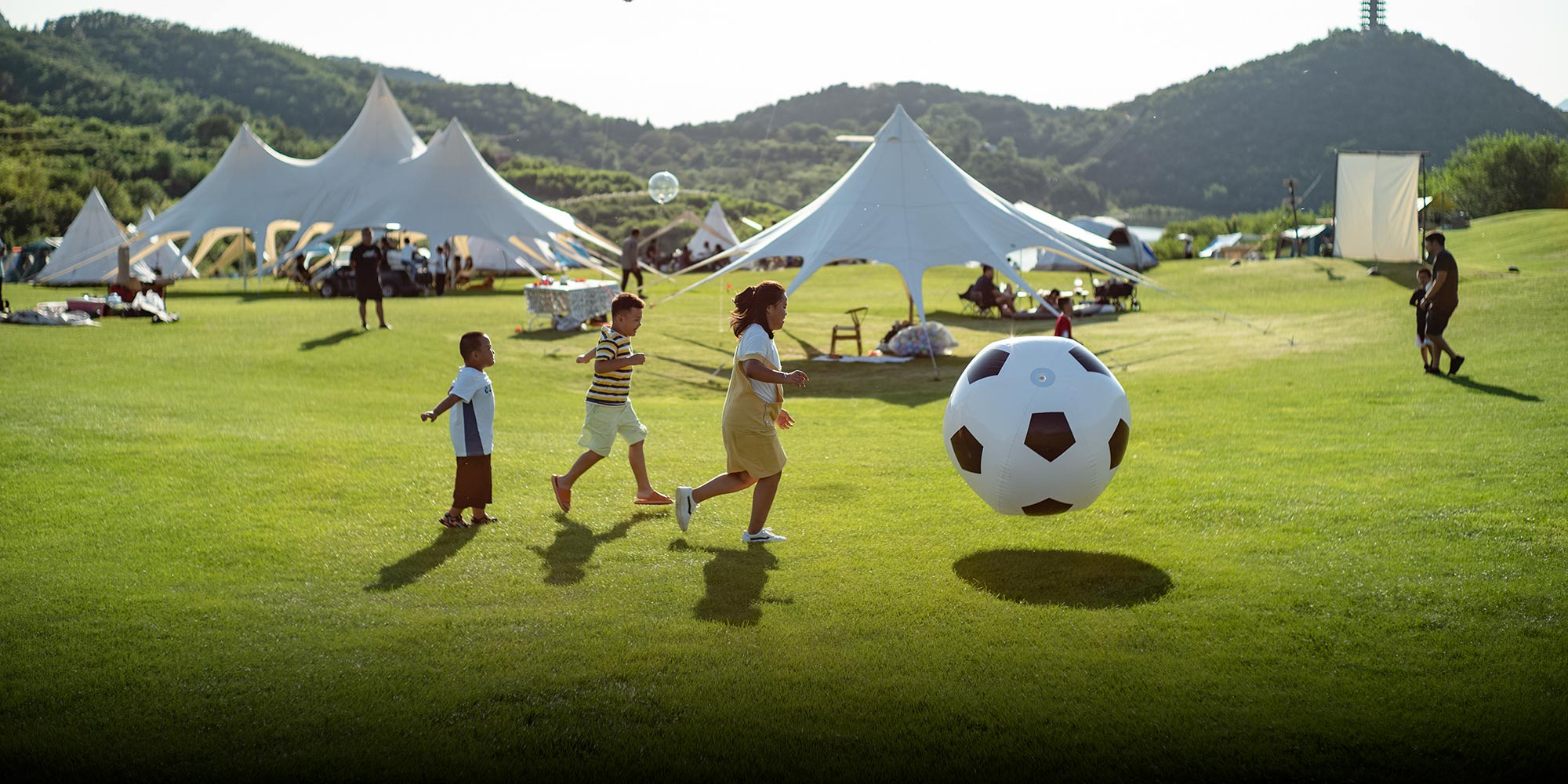 NEWS
Chinese Travelers Embrace the Glamor and Glitz of Glamping
Tour operators say the comfortable style of camping is becoming a popular vacation trend during national holidays.
Call it camping with a twist, high-end camping, or just a glamorous outdoor activity to up their social media game, Chinese travelers are increasingly adopting the idea of glamping.
Stuck within the country's borders due to COVID-19 restrictions, China's holiday seekers are searching for new experiences away from the crowded beaches of Sanya on the island province of Hainan or the touristy hilltops of Zhangjiajie in the central Hunan province. To add to their vacation woes, recent coronavirus flare-ups within the Chinese mainland mean local authorities have either asked travelers to stay away from crowded locations or abandon long-distance travel altogether.
This has led many to stay closer to home and search for new ways to unwind. Meanwhile, travel operators seeking to boost tourism revenues are repackaging camping, luring potential "glampers" with dirt-free and personalized breaks, including for the National Day holiday between Oct. 1-7.
Glamping, a portmanteau of "glamorous" and "camping," officially found its place in the Oxford English Dictionary in 2016 after growing popularity among hygiene-conscious music festival-goers in the West. However, the practice also dates back to centuries ago when the aristocrats and the ultra-rich traveled with tents in comparative luxury and comfort.
In China, meanwhile, people largely use glamping and camping interchangeably, with the former only becoming en vogue in recent years.
"We found that camping-related content started emerging on Xiaohongshu last year," a spokesperson from the lifestyle platform, known as Little Red Book in English, told Sixth Tone. "When COVID-19 inhibited urbanites from taking long-haul trips, they turned to their nearby suburbs for leisure and relaxation."
Last year, posts about glamping witnessed a 271% growth on Xiaohongshu, a trend that has only increased in 2021, according to the company. In July, the number of glamping-related searches in the app was up by 286% compared to the same period last year.
Glamping became so popular on Xiaohongshu that the platform came up with two official hashtags for the holidays this month — "let's go camping community" and "first camping trip in the autumn" — to ease relevant searches for its users.
Li Guojiang, who mostly works indoors in the auto industry in Shanghai, said she has always liked camping but "converted" to glamping for a new experience earlier this month. Along with her friend, she traveled three hours west to be among the nature and hills outside of Huzhou in Zhejiang province.
She said the group only paid 100 yuan ($15.50) each day for the campsite, though Li had shopped for glamping amenities worth around 12,000 yuan — including a tent, sleeping bag, lights, and utensils, among other items — for the trip. She is planning for another escape during the October holiday.
"As an experienced camper, I only got into glamping for the first time this year," she said. "Camping in the wild can be tough with its rough natural environment and extreme weather. But glamping is rather comfortable."
With more travelers like Li trying their hand at new thrills, camping — and glamping — trips have emerged as the dark horse in the travel industry, especially during peak holiday seasons.
According to China's leading online travel agency Trip.com, posts about "camping" and "eating and camping in the wild" on the platform had grown four-fold by September compared with the same period last year. Orders for camping trips — the travel agency uses the term interchangeably with glamping — usually starting around 400 yuan per night, have gone up by nearly 50% since the Dragon Boat Festival in June, showing an upward trajectory for the National Day holiday.
Sheng Hao, co-founder of boutique travel agency Wanna Travel, told Sixth Tone that while camping is more about serving functional needs in an outdoor environment, glamping has become "a product and experience somewhere between high-end hotels and rustic luxury lifestyle."
"Young people think it's fashionable," he added.
With growing interest, Sheng said his agency currently offers glamping trips around Shanghai, at the Norden Camp in the northwestern Gansu province, and Hailar in the Inner Mongolia Autonomous Region, depending on the season. The Hailar trip, for example, includes biking and dining in a Moroccan-style tent.
Lately, the glamping trend hasn't just proven beneficial for tour operators, but also for new businesses outside the travel industry.
Dong Jiangwei and his wife opened their restaurant Yan Wai last year after realizing a growing appetite for "outdoor aesthetics" among many young consumers. The eatery offers seasonal food items served on portable camping dinnerware, as diners sit against a backdrop of projected views of nature.
Though Yan Wai doesn't identify itself as a camping-inspired restaurant, some diners have left messages on consumer review platform Dianping, saying they just visited for the camping-like experience.
"The rise of glamping is associated with people's improved living standards," said the fashion editor turned restaurateur, whose love affair with camping started after a trip to the picturesque mountainous city of Shangri-La in the southwestern Yunnan province five years ago.
Meanwhile, international conglomerates and domestic entrepreneurs are also trying to cash in and appeal to the glamping crowd. According to business data platform Tianyancha, over 19,000 camping-related businesses, such as campsites and camping equipment vendors, were founded since September 2020, three times more than in the previous three years.
Most recently, Spanish fast-fashion brand Zara launched a glamping collection in China on Sept. 21, coinciding with the Mid-Autumn Festival. The brand's glamping look book offers glamorous outfits for women and men, selling fleeces, boots, and ponchos that double as blankets, in mostly earthy hues.
But despite a growing appetite, not everyone feels they're meant for the woods, regardless of whether it includes a splash of glamor.
Wu Lan, a Shanghai-based designer, said he splurged 1,000 yuan on a night — similar to what a four-star hotel would cost — in the tent with his partner for a glamping trip in Shanghai's suburbs last October. For someone not keen on outdoor activities, the 30-year-old said he had looked forward to the experience, only to be met with disappointment.
"The organizer, which runs a boutique fashion shop, didn't have any experience," Wu told Sixth Tone. "Our tents were so close to the others that we could hear everything they were talking about at night."
Editor: Bibek Bhandari.
(Header image: Children play with an inflatable balloon at a camping site in Beijing, Aug. 21, 2021. Hou Yu/CNS/People Visual)