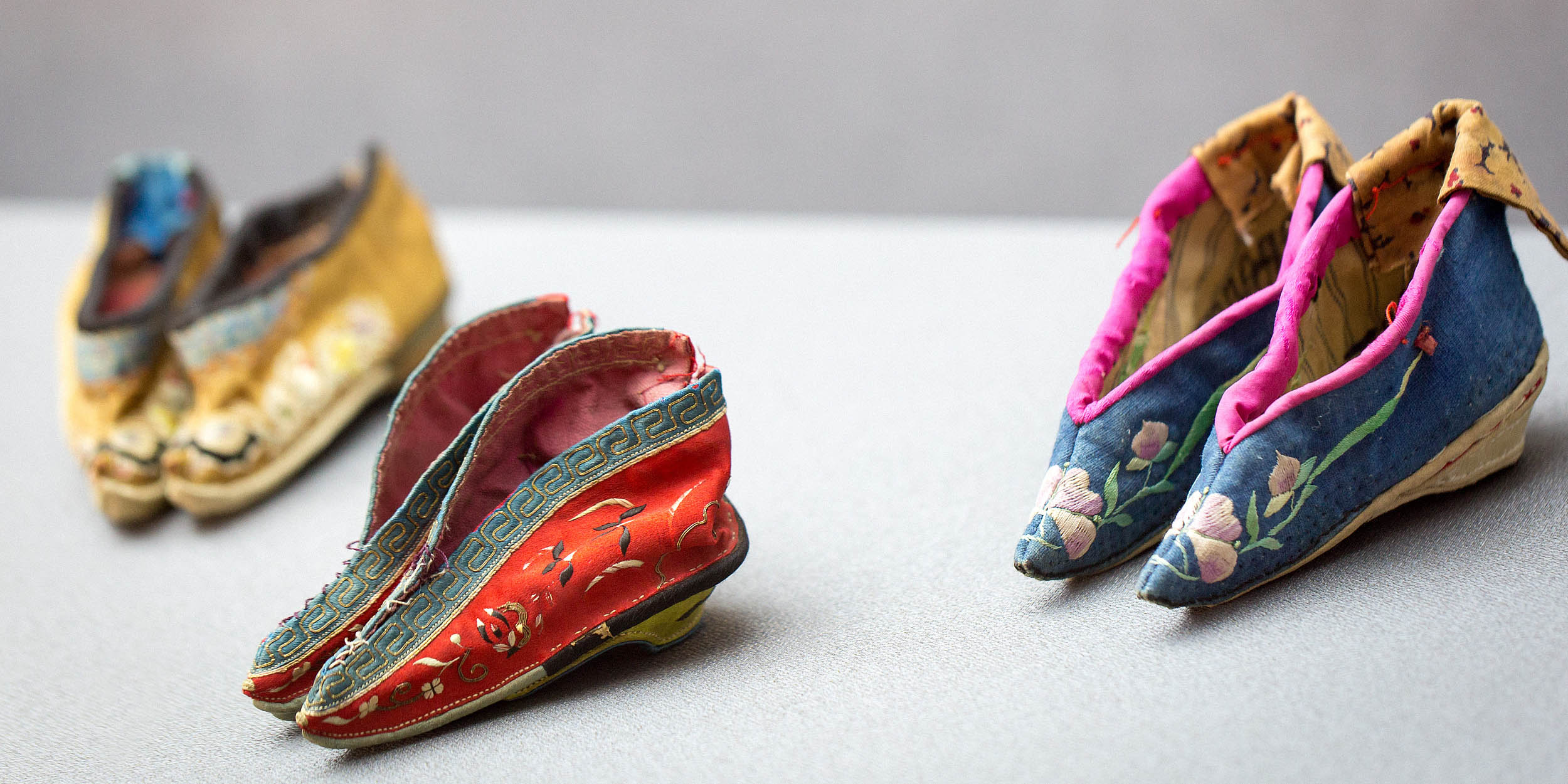 NEWS
Chinese Netizens Condemn Sale of Foot-Binding Shoes
Several e-commerce platforms were found to be selling items relating to the practice of foot binding, which was outlawed in 1912.
Chinese netizens and cultural experts have slammed domestic online platforms selling foot-binding items, a century after the traditional practice was outlawed in the country.
Several vendors on Chinese e-commerce sites, including Alibaba's second-hand trading app Xianyu, were found promoting and selling foot-binding products, usually used to alter the shape of women's feet for aesthetic purposes, domestic outlet Shangyou News reported Tuesday. Experts say the resurfacing of the practice is "counterculture" if the foot-binding footwear is intended for daily use.
"We should condemn the sale of foot-binding footwear, which shows a decline in cultural forms, cultural psychology, and cultural behavior," Zheng Jinsong, deputy curator of the Southwest University Museum in Chongqing, told Shangyou News.
With origins dating back to the courtesans in 10th century China, foot-binding customs forced many women to squeeze their feet into tiny shoes and turned them into "three-inch golden lotuses" in order to increase their marriage prospects. The practice, which existed for over 1,000 years, was banned in 1912, though it continued to exist in secret.
However, along with the rise of controversial "feminine virtues" classes that ostensibly aim to reinforce Confucian values, foot-binding has found new supporters over the past few years. Many have voiced their support on online forums and shared their foot-binding experiences in QQ messaging groups.
On Xianyu, where individuals can trade used items, a variety of foot-binding products were on sale, including floral-embroidered shoes, socks, and cloths. One vendor, who claimed to sell traditional embroidery items, was selling customized foot-binding footwear costing up to 1,500 yuan ($220).
The products had been removed from the platform as of time of publication, and it's unclear if the sale of foot-binding items is illegal.
Zheng said that foot-binding footwear being touted as historical items should instead be placed in museums and condemned the commercial sale of such footwear. He warned that it may negatively impact teenagers seeking to imitate the practice for aesthetic enhancement purposes.
Although foot-binding is not relevant to current times and opposed by many, a large number of women still find themselves under immense pressure to adhere to traditional beauty norms. Many women are either trying unsupervised drugs to lose weight or undergoing risky procedures to change their facial and bodily features.
On microblogging platform Weibo, many users said they were appalled to find foot-binding items being sold online, while some called it "twisted."
"It's painful just to see photos of this footwear," said one user, adding that stores selling such items should be shut down.
"How could anyone think binding feet in the shape of hooves would be beautiful?" another Weibo user commented.
Editor: Bibek Bhandari.
(Header image: Foot-binding shoes. VCG)