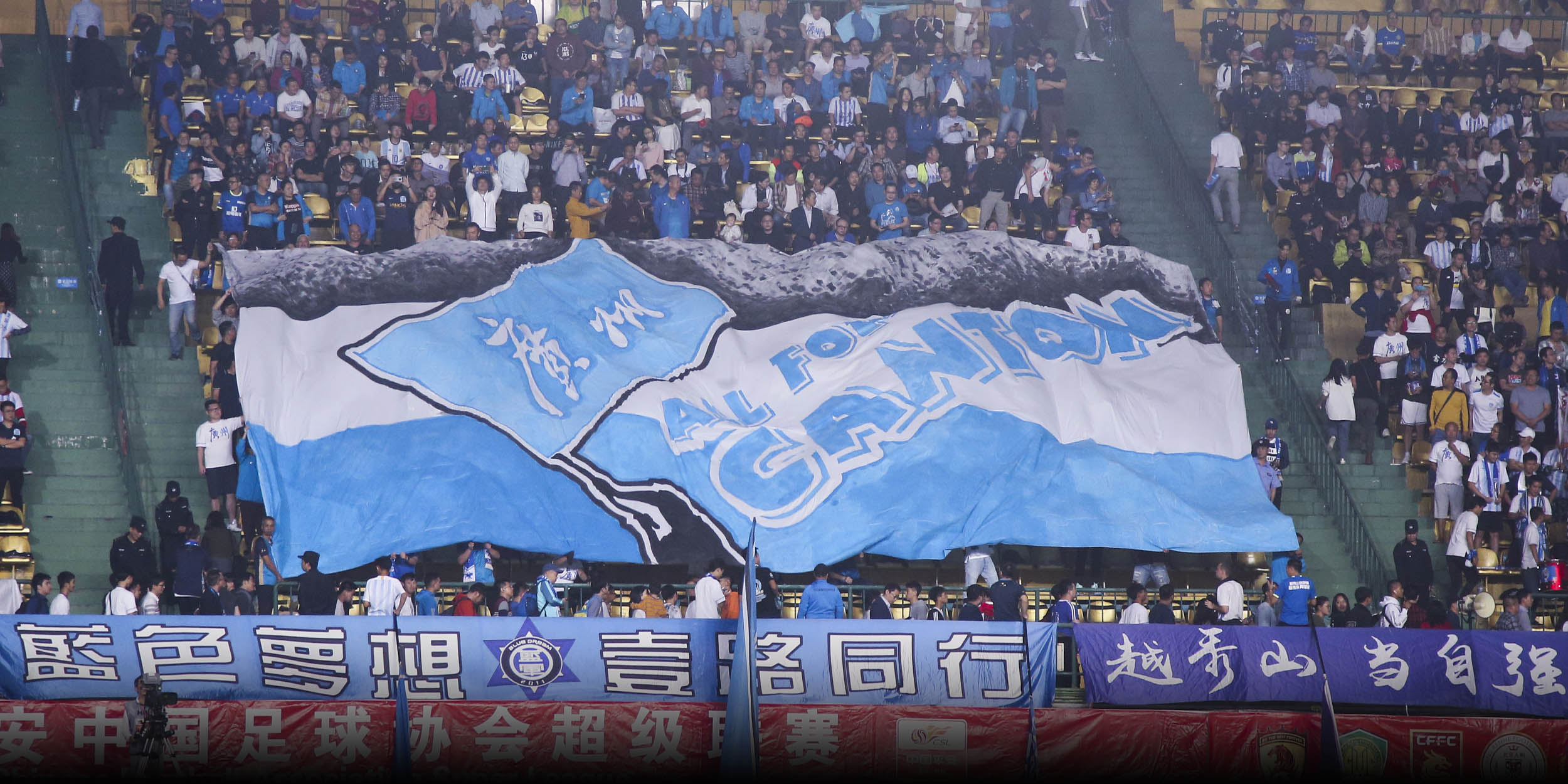 NEWS
Two Clubs Fold as Chinese Soccer Chaos Continues
Eight Chinese soccer clubs have been prohibited from joining this year's season due to unpaid wages or other financial irregularities.
Eight Chinese soccer clubs have been barred from joining this year's season due to unpaid player wages and other financial irregularities, adding more chaos to the ongoing fiasco of the country's soccer scene that is overshadowed by financial woes and corruption.
Guangzhou City F.C., a Chinese Super League team sponsored by property giant R&F Group, said they weren't allowed to take part in the upcoming season after failing to settle debts with some of their players, according to a statement Wednesday. The 12-year-old club said it had been facing operating difficulties since 2021 and has "suspended operations."
That same day, Shaanxi Chang'an Athletic F.C., who started a crowdfunding campaign to pay off their debts earlier this year, announced they would dissolve following the ban. The club said it was unable to "keep alight the spark of Shaanxi's professional soccer despite doing our best."
Of the 53 applicants, the Chinese Football Association only selected 48 teams to participate in this year's professional soccer matches, officials said in a press briefing Wednesday. In addition to the Guangzhou and Shaanxi soccer clubs, Kunshan F.C., who made it into the country's top soccer league for the first time four months ago, also exited due to a lack of investment from their main shareholders.
Despite its lackluster performance, Chinese men's soccer was viewed as an emerging force during the 2010s. Its development was buoyed by the country's big companies, especially real estate giants, investing heavily in professional clubs and attracting superstar players into the league, including Argentine player Carlos Tevez and Marek Hamsik from Slovakia.
But the fortunes reversed as many investors stepped back due to the pandemic and real estate crisis. The colossal debts of several clubs soon became unmanageable after their backers became reluctant to underwrite the losses.
Since 2020, a total of 39 professional soccer clubs have folded in China, according to media reports. In 2022, Chongqing Liangjiang Athletic F.C., one of the country's oldest professional clubs, exited from the Chinese Super League and ceased operations after reportedly amassing 750 million yuan ($109 million) worth of debt and leaving some of their players unpaid for over a year.
Besides the deepening financial turmoil, Chinese soccer is also undergoing an anti-graft crackdown — authorities have been investigating eight senior officials, including Li Tie, the former coach of the men's national team, since November. On Monday, China's anti-graft chief said the country would ramp up its efforts in tackling corruption in sport, especially soccer.
On the day of the official announcement Wednesday, videos on social media showed fans of Shaanxi Chang'an Athletic F.C. flocking to the training ground to bid farewell to the club's players. A day before the announcement, several players and coaches had signed a petition asking the Chinese Football Association to allow them to play and vowing to cooperate with the club in addressing its financial difficulties.
"We hope the next soccer team in Shaanxi will take our strength and avoid the detours we've taken," the club said in its statement. "The fans should be what they're running for."
Editor: Bibek Bhandari.
(Header image: Fans of Guangzhou soccer club during a game in Guangzhou, Nov. 27, 2019. VCG)