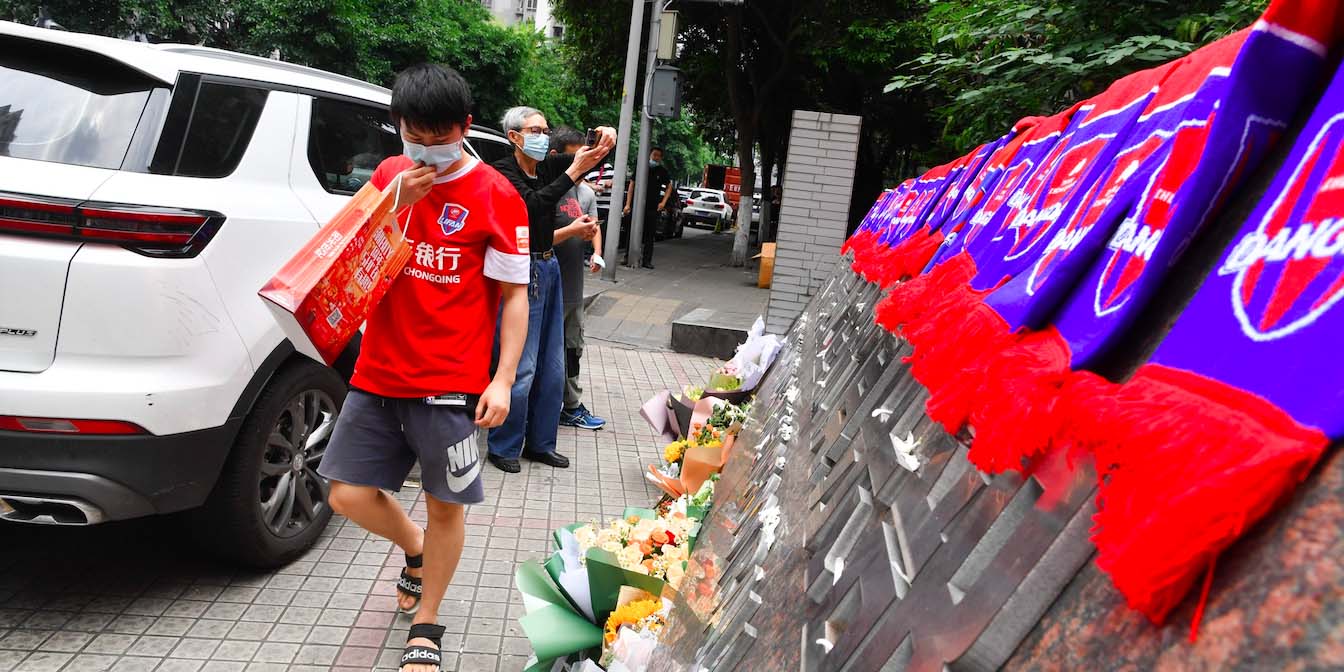 NEWS
Chinese Soccer's Financial Woes Deepen as Another Club Folds
Chongqing Liangjiang Athletic had reportedly not paid players for over a year due to its massive debts. Some were forced to moonlight as delivery drivers to make ends meet.
Chongqing Liangjiang Athletic F.C., one of China's oldest professional soccer clubs, has become the latest Chinese Super League team to collapse under the weight of enormous financial losses.
The club announced it was disbanding via a statement on May 24. It had reportedly amassed debts of 750 million yuan ($110 million) and had failed to pay some players' salaries for over a year.
The demise of another major Chinese team, which follows the collapse of Jiangsu F.C. weeks after winning the title in 2020, underlines the dire financial situation facing the CSL, which just a few years ago had ambitions to become the world's top soccer league outside Europe.
CSL clubs — many lacking established fan bases but flush with cash from wealthy corporate owners — paid astronomical sums to lure elite players and coaches during the late 2010s, with Oscar, Hulk, Carlos Tevez, and Marek Hamsik among the stars to relocate to China during the boom.
But the COVID-19 pandemic and the Chinese real estate crisis sent the CSL spiraling into a debt crunch, as many of the clubs' backers came under financial pressure. Around three-quarters of CSL clubs are owned by companies linked to the real estate sector.
Chongqing Liangjiang's reversal in fortunes was especially dramatic. In 2016, the club — then named Chongqing Lifan and estimated to be China's ninth most valuable soccer team — was acquired by Wuhan Dangdai, a huge Chinese conglomerate with businesses spanning the pharmaceuticals, biotechnology, and education sectors, among others.
The company proceeded to pump over 3 billion yuan into the club over the following years. In 2018, Chongqing was reportedly close to signing the legendary Spanish midfielder Andres Iniesta. Former Manchester United player Jordi Cruyff coached the team during the 2018-2019 season.
However, the club's ballooning debts became unsustainable during the pandemic, with Dangdai itself thought to be in financial trouble. Some of Chongqing's players reportedly went unpaid for over a year, and no players have received their 2022 salaries.
In May, the players refused to train for a week in protest at the wage arrears. They also delivered a letter to the club's management pleading for a solution, domestic media reported.
"Not having been paid wages for over a year, most of the club's employees are struggling to maintain their normal lives," the letter read. "After work, many deliver takeout or work as Didi drivers, rely on credit cards, or spend their savings to make ends meet."
The players said they were willing to forsake their salaries owed to them before May 2021 and would accept gradual repayment of the remaining amounts to reach a solution. 
However, after takeover talks with the Chongqing municipal authorities broke down over the club's unpaid debts, Chongqing Liangjiang was forced to announce its dissolution.
The news has been greeted with dark humor by Chinese sports media. Chen Xuyuan, president of the Chinese Football Association, said last year that Chinese soccer must become "gong yi zu qiu" — soccer that provides service to society. Commentators wryly observed that the goal has already been achieved, given that Super League players are now playing for free.
It is expected that Dalian Pro will replace Chongqing for the upcoming CSL season, which is due to kick off on June 3. However, uncertainty lingers over the futures of the league's other teams.
For the third consecutive season, CSL games will be played under a "closed-loop" system similar to the one used during the Beijing 2022 Winter Olympics. The games will be hosted in just three cities: Dalian in northern China; and Haikou and Meizhou in the south.
Feng Zhen, a veteran Chinese soccer journalist, told Sixth Tone that the finances of many CSL clubs remain in a perilous state, as clubs have failed to build a solid commercial foundation. Even giants such as Shanghai Shenhua and Beijing Guoan are not safe, he said.
"They have solid fan bases and plentiful media resources," Feng said. "Seemingly nothing can happen to them, but it only seems that way."
Editor: Dominic Morgan.
(Header image: Fans lay flowers at the entrance to the Chongqing Liangjiang Athletic F.C. training center, Chongqing, May 24, 2022. IC)