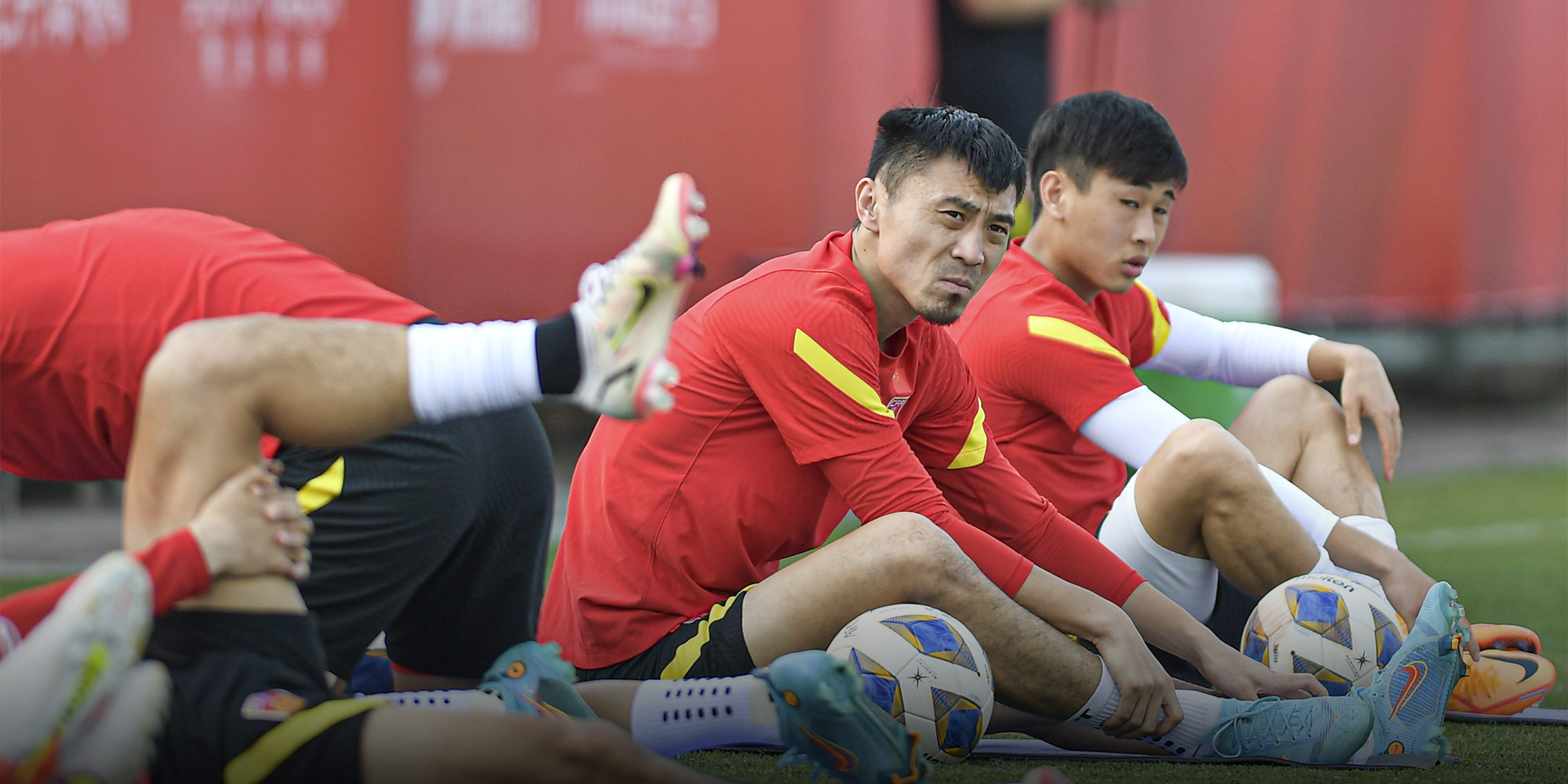 FEATURES
As the World Cup Nears Its Climax, Chinese Soccer Hits Rock Bottom
China has set a target of winning the men's World Cup by 2050. But after a year of scandal, on-field failure, and financial crisis, that goal has never felt more distant.
Domestic soccer has long been seen as a national embarrassment in China, a newly-fledged sports superpower where a patriotic public now expects only victories and gold medals. But the year 2022 has been especially cruel to Chinese soccer fans.
China has set itself the target of winning the men's World Cup by 2050. That goal, however, has never felt more distant than it does today.
The Chinese men's national team did not just fail to qualify for Qatar 2022; it only managed a single win this calendar year — a 1-0 victory over Hong Kong — and suffered humiliating losses to Vietnam and Oman. (The coach who presided over much of this failed campaign, Li Tie, is now under investigation for corruption.)
Instead, China's fans spent the opening weeks of the World Cup watching their arch-rivals Japan and South Korea pull off a series of impressive performances, including stunning victories over Spain, Portugal, and Germany.
But the failures of the national team are only part of the story. In recent weeks, many Chinese fans have been equally concerned by the chaos unfolding in the country's domestic leagues.
The Chinese Super League has suffered a catastrophic reversal of fortunes in recent years. During the 2010s, the league was widely seen as a coming force in global soccer. China's biggest companies acquired clubs and spent lavishly, luring a string of superstar players including Oscar, Carlos Tevez, and Marek Hamsik.
Then came the pandemic and the Chinese real estate crisis, and the bubble burst in spectacular fashion. CSL clubs' debts quickly became unmanageable, and their backers — many of them under financial pressure themselves — were less willing than before to underwrite the losses.
Several clubs did not survive. Jiangsu F.C. dissolved just months after winning the Super League title in 2021, after its owner ran into financial difficulties. Qingdao F.C. and Chongqing Liangjiang Athletic F.C. folded in the spring of 2022 for the same reason.
Other teams were unable to pay their staff. In late 2021, Sixth Tone reported that 12 out of 16 CSL clubs had fallen into arrears on player wages, with some players going unpaid for over half a year. The problems continued this year.
Several CSL clubs have been hit with point deductions for failing to reduce their wage arrears in recent months. Two teams — Hebei F.C. and Wuhan Yangtze River F.C. — have even been penalized twice for the same offense.
Then, on Nov. 17, came a news story that seemed to encapsulate the decline of Chinese soccer for many fans.
Beijing Guoan — one of the CSL's most historic and well-supported clubs — were dumped out of the Chinese FA Cup by Jingchuan Wenhui, a tiny, county-level team based in the poor, northwestern province of Gansu.
It was one of the biggest upsets Chinese soccer had seen in years — and it quickly became a symbol of how far the CSL's elite clubs had fallen. One soccer writer described the match as the moment "Chinese soccer lost its underpants."
Beijing Guoan are a juggernaut in Chinese soccer with a history stretching back to 1951. During the boom years, the club was valued at $167 million and attracted over 40,000 fans on average for each home game.
In 2018, Guoan were even able to outmuscle Spanish side Villarreal to sign the Congolese international Cedric Bakambu, paying the star's 40 million euro buyout clause. The forward went on to score 58 goals in 87 games, helping the club win a Chinese FA Cup title.
But those halcyon days are long gone. Bakambu was among the many foreign stars who left China last year, and Guoan now found themselves unable to beat Jingchuan Wenhui — a team from China's fourth division that was set up on a shoestring budget less than two years ago.
The club's fans were furious. After the match — which Jingchuan eventually won 5-3 on penalties — users flooded Guoan's feed on the Chinese microblogging platform Weibo with hundreds of comments.
"This is really embarrassing," one wrote. "How about setting up a game against our residential compound team some time?" another mocked.
Chinese media jumped on the story, delighting in the David vs. Goliath nature of the clash. Jingchuan Wenhui were described as a team of misfits, founded by a local stationery company owner who invested just 30,000 yuan ($4,300) to get the club up and running.
Jingchuan's players were reportedly a bunch of journeymen amateurs: the goalkeeper, Cui Tonghui, was a PE teacher at the local high school; one of the defenders sold apples for a living; a forward was a beef vendor. Cui had reportedly been fined 130 yuan by his employer for taking time off to play against Guoan.
This wasn't entirely true. It later turned out that Cui — the hero goalkeeper, who made crucial saves in normal time and then scored during the penalty shootout — wasn't a PE teacher, but a former professional who once played in Europe's lower leagues and coached at professional Chinese clubs before joining Jingchuan as a player-coach. The rest of the team were all promising youth players, whom Jingchuan were helping to develop for their parent club — the ambitious and well-funded Guangxi Beihai Jichi, who play in the Guangxi Football Super League.
But for Feng Zhen, a veteran Chinese soccer reporter, the distortions are themselves revealing: They reflected the media's desire to hype up Guoan's loss and use it as an excuse to pour even more scorn on Chinese soccer.
Jingchuan Wenhui declined Sixth Tone's request for comment.
There were some mitigating circumstances behind the loss. Xerman Lopez Figueiras, a fitness coach at China League One side Nantong Zhiyun F.C., told Sixth Tone that it's common in China for elite clubs not to take cup competitions seriously.
"The Super League clubs don't think the Chinese FA Cup is important," Figueiras said. "They do not value the trophy because the games bring no economic benefit, and so the clubs field young players."
What's more, competition rules bar Super League clubs from fielding their foreign players against sides from the third and fourth divisions. The smaller clubs, by contrast, tend to field their strongest possible teams, narrowing the gap in class, Figueiras said.
Yet some fans argue that Guoan's loss is still damning, as it reflects the CSL clubs' failure to develop youth academies capable of producing elite-level, home-grown players.
"One thing is clear: If you don't field foreign players, all Chinese players are about the same," one commenter wrote on Guoan's Weibo feed.
Beijing Guoan's future, like that of many CSL clubs, looks uncertain. The club has not been insulated from the CSL's debt crisis: During the summer, Chinese media reported that Guoan had fallen behind in paying players, with some owed up to 11 months of wages.
So far, Guoan have not faced sanctions, but that doesn't mean the problems have been resolved, Feng warns.
"They certainly still owe money in salaries, but they must have done good work with the players, getting them to sign (the right agreements)," he said.
For Chinese clubs, the worry is that the pandemic and the ongoing collapse of the league's finances will spark a longer-term crisis: one of waning public interest.
For almost three years, Chinese league and cup games have been played under a closed-loop system due to China's strict virus-control protocols. Players and staff commute within a bubble that includes the hotel, training base, and pitch. Matches are mostly held without spectators.
Now, China's abrupt lifting of COVID restrictions promises to bring some relief to the clubs, who may finally be allowed to hold matches in their home stadiums once more. (No announcement has yet been made on when this might happen.)
But how many fans will show up? According to Cameron Wilson, a Shanghai-based soccer writer and consultant, a post-COVID "apathy" toward domestic soccer has set in.
"No league in the world could have sustained that kind of damage without long-term effects," Wilson said. "The level of fan interest in Chinese football is low now."
In an ominous sign, many Chinese fans have been asking for refunds on the season tickets they bought before the start of the pandemic, said Wilson. But there are still some signs of hope.
"The fact that fans are berating Guoan for their loss is actually a good thing," he said. "It means they still care."
Editor: Dominic Morgan.
(Header image: Players from the Chinese men's national team take a break during a training session in Haikou, Hainan province, March 2022. VCG)