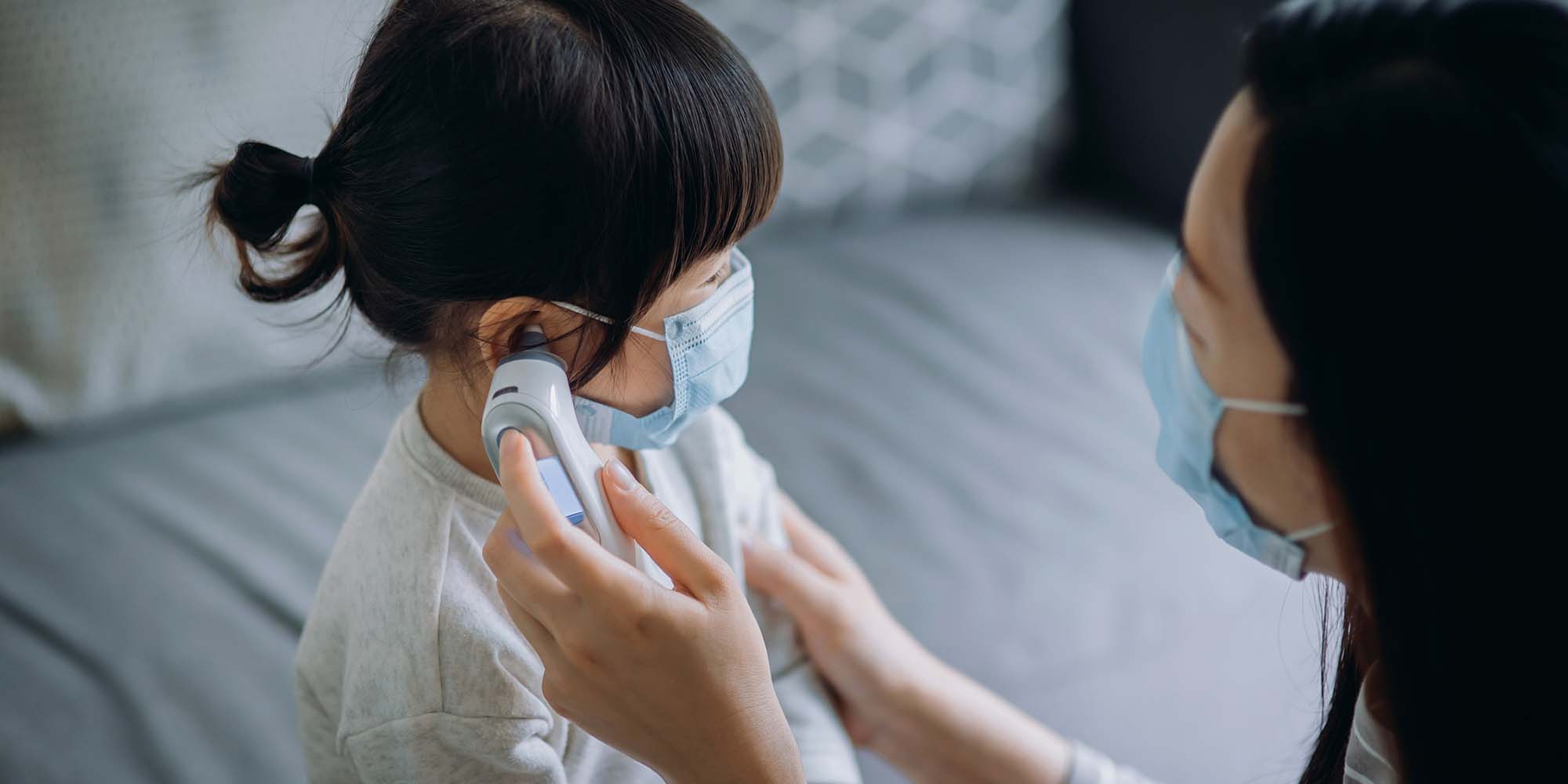 NEWS
Southern China Sees Uptick in Flu Cases
COVID-19 protocols have made it more difficult for patients to visit fever clinics or access relevant over-the-counter medicines.
Two days after her 5-year-old child was diagnosed with the flu last Tuesday, Li Xin and her husband also started to develop symptoms. But it has been almost impossible to access over-the-counter medicines as part of the government's monitoring of such medications under COVID-19 control measures.
"There's control of anti-fever and cold medicines," Li, who lives in Guangzhou, told Sixth Tone. "We can't access them from drugstores. Last time we took our daughter to the fever clinic, we had to queue for six hours. We're now too weak to wait in the crowd for that long."
While COVID-19 outbreaks have been making the rounds in several cities across China, thousands of children in coastal provinces in the country's east and south — Fujian, Guangdong, and Hainan — have been getting sick. At least seven children in the southern city of Shenzhen have been admitted to intensive care units — two of them have developed brain complications, while five others have been suffering from severe pneumonia, according to media reports.
Flu is caused by the influenza virus and is less lethal than COVID-19, though it can also lead to complications. An estimated 290,000 to 650,000 people die from influenza-related respiratory deaths annually, according to the World Health Organization.
In China, the flu kills 88,000 people every year, according to a 2019 study based on influenza cases between 2010 and 2015. Amid COVID outbreaks, authorities have been encouraging people to take flu vaccines to not only prevent complications from the virus but also to lower the burden on medical resources for coronavirus treatments.
Weekly data released by the Chinese National Influenza Center on Friday showed that 6.8% of outpatients in the southern provinces were suffering from the flu in the third week of June. The number was higher than the 4.3%, 3.1%, and 4.2% recorded for the same period in the past three years.
Kang Min, head of the infectious disease institute under the Guangdong Provincial Center for Disease Control and Prevention, told Sixth Tone's sister publication, The Paper, that anti-COVID measures in the past two years relatively helped in curbing the flu.
Due to the strict COVID-19 preventive measures, such as having to wear face masks, the number of flu infections had dramatically dropped in the country, according to the Chinese Center for Disease Control and Prevention. While there were over 3.5 million flu cases in 2019, that number dropped to 1.14 million and 420,000 during 2020 and 2021, respectively.
"This year, the flu (virus) has mutated while people's immunity has weakened," Kang said.
Authorities said the H3N2 Influenza A virus subtype was widely spreading in the coastal provinces this year. The same strain had widely circulated in Guangdong in the summers of 2015 and 2017.
According to the Chinese Center for Disease Control and Prevention, the flu outbreak pattern is decided by the northern latitude of a city.
In short, cities north of Shanghai typically see the flu outbreak during the winter months of January and February, while southernmost provinces witness outbreaks between April and June. However, regions in between Shanghai and the southernmost cities experience two flu seasons, one in winter and one in summer, each year.
Li said she has no idea whether her child has contracted the virus from the kindergarten she attends or the extracurricular sessions she enrolled her in. The mother said her daughter's kindergarten and ballet school both suspended classes after many of the kids were diagnosed with the flu.
In-person classes were also suspended in Nanning, the provincial capital of Guangxi Zhuang Autonomous Region, after many students got infected, domestic media reported.
An emergency room doctor from the Guangdong Women and Children's Hospital told Sixth Tone that they're receiving up to 700 patients a day, significantly more than the same period last year.
"It's double our average figure," said the doctor surnamed Hong. "It's been raining a lot recently, which might have made the situation worse. But it also has a lot to do with people's growing awareness to visit a doctor once their children develop flu symptoms — flu is not a cold, it can be lethal."
But visiting hospitals in many Chinese cities isn't as easy due to strict COVID-19 protocols. Anyone with fever or COVID-like symptoms can only visit government-designated fever clinics and then have nucleic acid tests to rule out having a coronavirus infection.
"We were not allowed to leave until the negative nucleic test results were out," said Li, who visited the hospital last Tuesday. "The results took more than four hours after our samples were collected."
On Thursday, health authorities in Guangzhou said that pediatric patients at fever clinics do not need to wait for the results of their nucleic acid tests if they have no previous COVID-19 infection history. But they're advised not to take public transport and to avoid outdoor activities until they get their negative results.
Similar measures have also been announced in other cities in Guangdong, as well as Fujian province.
Editor: Bibek Bhandari.
(Header image: Getty Creative/VCG)