As the northern hemisphere rolls into the winter flu season, China is seeing an extremely low rate of influenza infections, a major relief to health professionals who had worried about the possibility of simultaneous COVID-19 and flu outbreaks this year.
According to a weekly influenza report released Friday by the Chinese Center for Disease Control and Prevention, the country recorded just 21 influenza cases during the week of Nov. 30 to Dec. 6. The positive samples accounted for 0.2% of all specimens taken from some 9,600 people who visited domestic hospitals for flu-like symptoms. The rate is far lower than the 19% observed during the same week last year.
During November, China's CDC had reported fewer than 10 flu cases per week, while case counts last year numbered hundreds per week. Densely populated cities tend to be hardest-hit by infectious diseases like influenza, but according to Beijing Daily, a local outlet, the Chinese capital saw a reduction in flu cases of over 80% compared with last winter.
In recent weeks, China has also seen almost no influenza outbreaks — generally defined as over 10 cases stemming from a common environment, such as an office or day care center. From Dec. 2 to Dec. 8 last year, 227 outbreak clusters were reported across the country.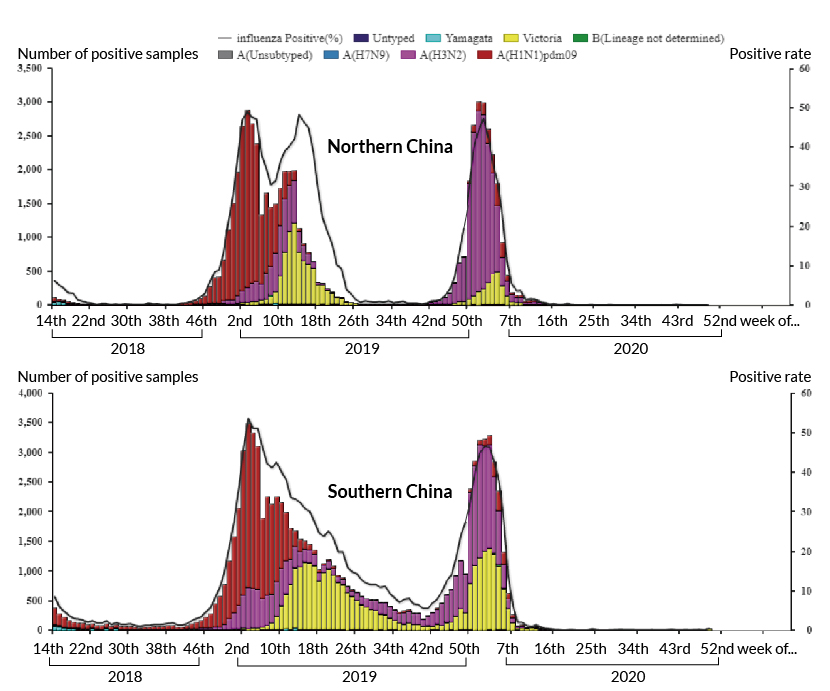 Charts from the Chinese CDC's weekly influenza reports.
In the fall, public health experts worldwide had warned of a possible "twindemic" during which influenza and the coronavirus would circulate simultaneously. Because the two viruses can cause similar symptoms, a double outbreak might hinder a country's efforts to identify and limit the spread of COVID-19, especially with China's flu vaccination rate only covering up to 4% of the population.
But experts said that social distancing and hygienic practices to reduce the risk of COVID-19 transmission — such as hand-washing and mask-wearing — have helped suppress influenza, too.
"Because of mask-wearing, you prevent not only COVID-19 but also the flu and other respiratory infections," Lu Hongzhou, an infectious disease expert at Shanghai Public Health Clinical Center, told Sixth Tone.
China's influenza surveillance network, consisting of at least 550 major hospitals across the country, also reported fewer diagnoses of influenza-like illnesses, such as the common cold, that could include similar symptoms like fever or cough.
The reduction in respiratory infection rates is noticeable among both children and adults, Lu said.
Other countries around the world have reported low influenza rates this year, too, according to the World Health Organization. The U.S. and Canada, for example, saw "exceptionally low" levels of flu compared with last year.
Though the flu season doesn't tend to peak until January and February, Lu feels confident that the curve will remain flat. "Health care facilities are prepared," he said. "My judgement is that there will not be a major influenza epidemic or a major second wave of COVID-19."
Editor: David Paulk.
(Header image: People Visual)