SHANGHAI — For years, Yu has been one of the few Chinese people who get their flu shots when the weather turns colder. It has always been a routine procedure. But this year, fears over how the coming flu season will compound the ongoing COVID-19 pandemic seem to have dramatically increased demand for the shots.
With this in mind, Yu left home early on Tuesday to visit her local clinic. From a distance, the 65-year-old could see a line snaking out of the clinic's front door.
When Yu had called ahead of time, she was told that only the first 100 people to show up would receive flu shot appointments. Clutching her purse, she rushed to join the line, accepting a small strip of paper from a clinic employee. In black, handwritten ink was the number "97."
"I was so relieved when I saw the note," Yu, who only gave her surname because she wanted to keep her medical information private, tells Sixth Tone.
Public health experts around the world, too, are worried about a "twindemic" — a situation where the coronavirus and influenza virus are both circulating among the population. Simultaneous outbreaks could push already-overwhelmed health care systems over the edge.
Though far less lethal than COVID-19, the flu can spread widely and lead to symptoms requiring hospitalization, and even death in a small proportion of cases. In China, flu and its complications are estimated to kill over 88,000 people every year. Nationwide infection figures are not available, but a study of Beijing residents showed that 10% of them contracted the flu in the 2017-18 season.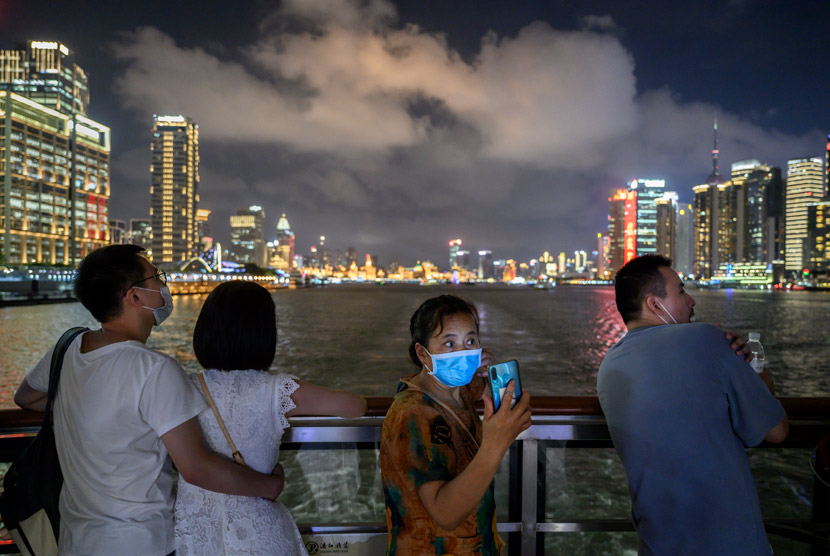 A woman wearing a face mask takes photos on the deck of a tourist boat on the Huangpu River in Shanghai, Sept. 1, 2020. Kevin Frayer/People Visual
China's COVID-19 outbreak is currently well-controlled, but without a safe and effective vaccine, health professionals are anticipating a coronavirus resurgence in the next few months. Respiratory viruses like the ones that cause COVID-19 and influenza are more easily transmitted in winter and spring due to a variety of natural and human factors.
"Cluster (COVID-19) infections from imported sources like what we saw in Beijing and Jilin are inevitable," says Lu Hongzhou, a leading virologist at the Shanghai Public Health Clinical Center, referring to two places that experienced outbreaks months after the disease was brought under control in China. He tells Sixth Tone that moving forward, he doesn't expect another situation as serious as in Wuhan, the city in central China that was locked down for 76 days to contain the disease.
Crucially, both viral infections produce highly similar symptoms: fever, sore throat, headache, and fatigue. A flu outbreak would therefore make COVID-19 control and prevention extremely difficult, Zhang Xiaoqin, a respiratory disease expert at Zhejiang Provincial People's Hospital in eastern China, tells Sixth Tone. Studies have also suggested that co-infections — relatively rare so far — make diagnosis more difficult, and increase the likelihood of severe symptoms and death.
"It's still inconclusive whether the flu makes COVID-19 worse," Zhang says. "But if more people can get the flu vaccine, it would make coronavirus prevention much easier."
Domestic health authorities agree. The Chinese Center for Disease Control and Prevention (CDC) released this year's flu vaccination guideline on Sept. 12, about a month earlier than last year. "The COVID-19 pandemic is expected to keep circulating critically around the globe," the guideline says. "The flu vaccine is the most effective approach to preventing the flu. (It) can reduce the harm caused by the flu and related diseases while freeing up medical resources."
Expecting an uptick in demand, the central government has greenlit over 58 million shots for market entry — more than double last year's number — to meet the potential surge. But interest this year is hard to predict, Feng Luzhao, an influenza vaccine expert with China's CDC and co-author of its flu vaccination guideline, tells Sixth Tone.
Demand may vary regionally, creating supply imbalances across the country. Xia Wen, a press officer at Shanghai's CDC, tells Sixth Tone that the city is expecting a shortage of flu shots.
At Yu's clinic in Shanghai, the Ruijin 2nd Street Community Healthcare Center, staff say they've limited the number of appointments because they have no idea when or how many of the vaccines will arrive. "The number of people who showed up this year is unprecedented," an employee surnamed Chen tells Sixth Tone. "I think it's because of COVID-19. People are scared of getting sick."
Adequately matching flu shot supply with public demand has always been difficult. Because the dominant influenza strain changes every year, pharmaceutical companies are afraid of producing too many vaccines, as they will likely be useless next year. Making vaccines — which usually involves cultivating viruses in large quantities of chicken eggs — also takes several months. As a result, it's nearly impossible to make up for sudden shortages, Feng says.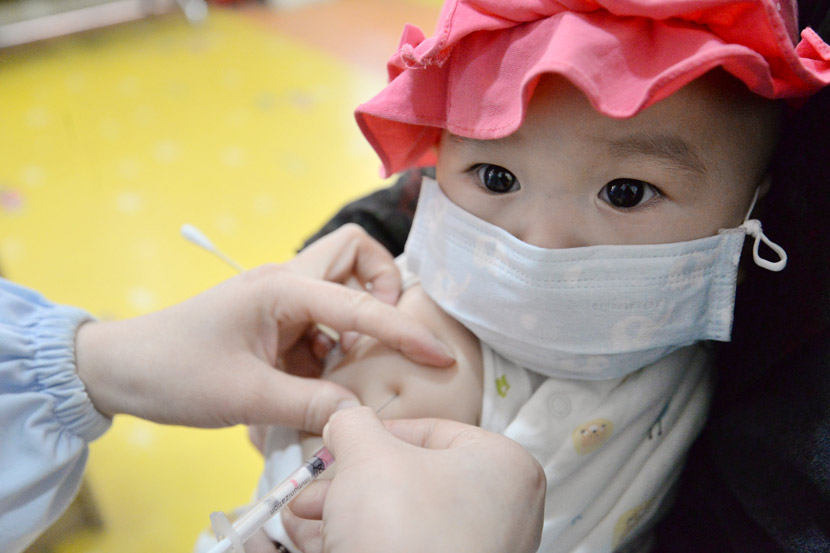 A baby receives a routine vaccination in Handan, Hebei province, April 25, 2020. Hao Qunying/People Visual
But Feng and other experts welcome the increase in demand for flu shots, noting that in previous years, too few people were inoculated — just 2% to 3% of the population. At 4%, this year's expected vaccination rate is still low, they say. By comparison, around 50% of the population in the U.S. receives an influenza vaccination each year.
China's flu vaccination rates are low for a variety of reasons. People lack knowledge about the disease and its dangers, says Feng, and there are no statistics that show the true scale of the yearly outbreaks. "Many deaths that are the result of influenza aren't diagnosed as such, because it's not the direct cause of death," he says.
Shots are unpopular, too, because many people in China will only seek treatment after they become ill, instead of taking preventive measures, says Zhang of Zhejiang Provincial People's Hospital. "A lot of patients don't even know some of the very basic information about flu shots, like when and where to get them."
Another barrier to higher vaccination rates is that shots are not covered by China's government-provided insurance, which is the only health care coverage most people have. China's social security policies state that vaccination is the purview of the public health system rather than the medical system, and vaccinations therefore fall outside of the scope of insurance.
China offers a total of 11 free vaccines that are mandatory for children, including those against hepatitis B and MMR (measles, mumps, rubella). For all other vaccines, including those against HPV and influenza, people usually have to pay out of pocket. In Shanghai, a flu shot costs 53 yuan to 136 yuan ($7 to $20).
Providing free flu shots would be prohibitively expensive for the government, says Meng Qingyue, a health economist at Peking University. "When you only have a limited amount of money, it makes sense to allocate the funds to prevent the most damaging diseases," he tells Sixth Tone. "But the current vaccine policy of (offering them) either completely free or completely charged is also not optimal."
In addition, the separation of China's public health and medical care systems means many health care facilities — such as local clinics — belong to one or the other, and as such cannot offer a full range of services. "The separation of the two systems makes getting vaccines a lot harder," Fang Hai, a vaccine policy expert at Peking University, tells Sixth Tone. Unlike in countries where both systems are integrated, Chinese people might find themselves unable to receive vaccinations at their usual health care facility, discouraging them from getting shots.
Fang hopes the government will start providing more financial support for influenza vaccines. "It would become a positive feedback loop," he says. Subsidized prices would give drug companies the confidence to increase production, which would in turn drive down costs and incentivize still more people to get vaccinated.
The experience from the Southern Hemisphere, where flu season is coming to an end, offers a silver lining. Precautions against COVID-19, such as wearing face masks and social distancing, have helped keep flu cases in southern locales to record lows, offering a glimpse of hope for people on the opposite side of the planet.
Editor: Kevin Schoenmakers.
(Header image: A man is injected with a flu vaccine in Zouping, Shandong province, Sept. 23, 2020. Guo Haitao/People Visual)