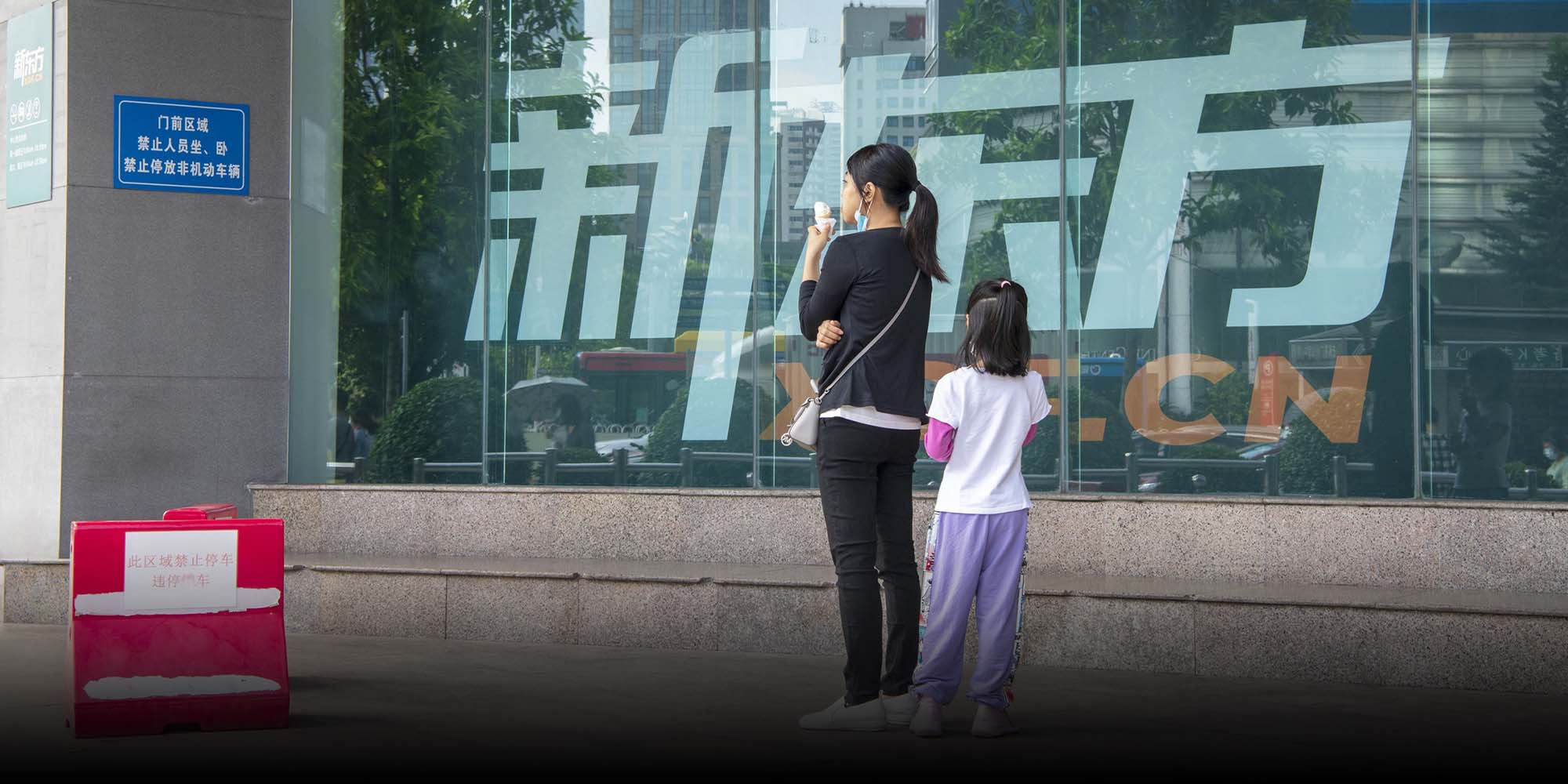 NEWS
New Oriental Is Switching From Teaching English to Selling Vegetables
Crackdown on the tutoring sector forces an education giant to take an unexpected turn.
Battered by China's after-school tutoring clampdown, the country's leading private education provider is moving into uncharted territory — the agricultural sector.
Yu Minhong, CEO of New Oriental Education and Technology Group, said Sunday the company will set up an online marketplace for agriculture products to make up for losses from the closure of its tutoring services. Yu said he will join hundreds of New Oriental teachers to help farmers in rural areas sell local specialties via livestreams.
In a livestreamed broadcast on video platform Douyin, Yu announced the company will shut 1,500 branches across the country. In September, domestic media reported the company was considering closing its tutoring service targeting primary and middle school students, as well as laying off some 40,000 employees by the end of the year.
China's "double reduction" policy announced in late July to reduce the academic burden on young children has caused a massive shakeup in the burgeoning tutoring industry. The government's decision has led to many tutoring companies to lay off staff en masse and transfer resources into teaching high school students, adult education, or vocational training.
Half a dozen industry insiders told Sixth Tone they supported New Oriental's decision to pivot to agriculture as a mechanism to keep the company afloat. They added the company could capitalize on the draw of some of its teachers who had become so-called influencers through their online lessons.
"It's not something every tutoring school can learn from," Yang Zhi, the founder of a Shanghai-based tutoring school, told Sixth Tone. "Many of New Oriental's teachers are born influencers, and livestreaming is a perfect way to transform their pedagogical skills into sales skills."
According to two former New Oriental teachers who taught English, the company mainly recruited individuals they considered presentable and engaging. One teacher, surnamed Mai, claimed some former tutors had turned to livestreaming platforms such as Douyin to make a living, only to gain popularity and make millions of yuan annually.
"The company's culture emphasizes becoming the students' idols," Mai told Sixth Tone. "It has a strict selection mechanism to help them find the right candidates."
Mai also suggested that Yu's move to e-commerce might be a forward-looking approach rather than a desperate move. So far, New Oriental is the only private tutoring company to officially announce its transition to e-commerce.
In October, social media platforms were flooded with rumors that Yuanfudao, backed by tech giant Tencent, was pivoting from online education to manufacturing winter jackets. Yuanfudao later clarified that the company will continue to focus on educational services and was investing in down jackets as a separate entity.
Mai and other teachers Sixth Tone spoke to said that while New Oriental's move into the agriculture sector might sound unusual, it could help the company in the long run.
"New Oriental has always penetrated the market downward — it went from a language school helping only elite groups to pass language exams and study abroad to becoming a tutoring giant targeting all Chinese kids striving for better academic performance," Mai said. "Once they gain enough popularity and trust among the rural population, why don't they sell farmers some professional training courses or English courses on Douyin livestreams?"
Editor: Bibek Bhandari. 
(Header image: A woman and a girl stand outside a closed New Oriental tutoring center in Guangzhou, October 2021. IC)