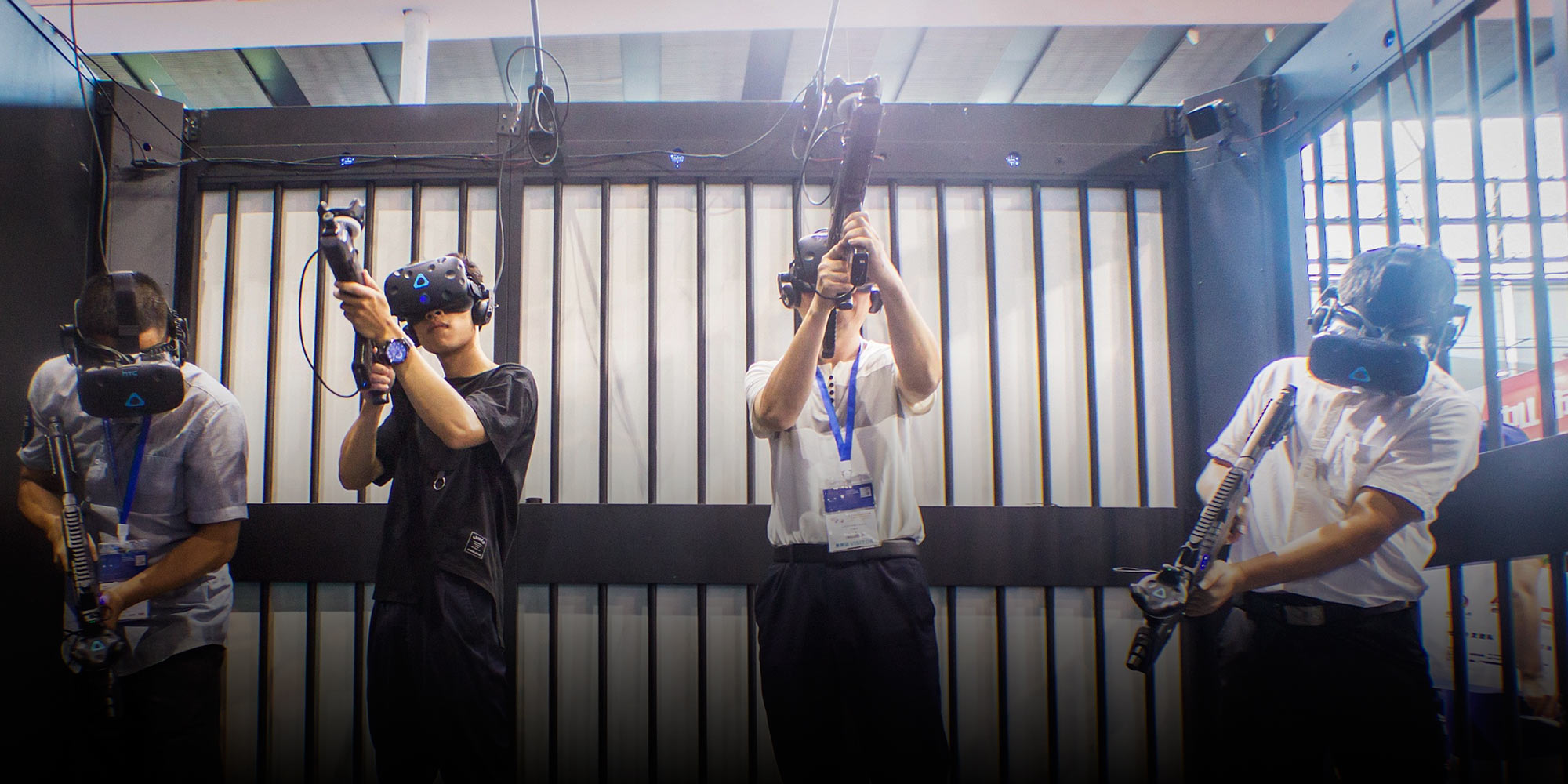 NEWS
7 Words That Defined China's Year in Gaming
Sixth Tone looks back over a manic year of highs and lows in China's gaming industry.
Last month, game developers warmly welcomed news that Chinese regulators would finally resume approving titles after a nine-month hiatus. But when the long-awaited list of 80 greenlit games was finally released on Saturday, it didn't contain a single title from the largest domestic developers, Tencent and NetEase.
This final twist was a fitting end to a turbulent year for the country's gaming industry, which saw both the soaring elation of victory for several Chinese esports teams and a "cold winter" of content crackdowns: Where major blockbuster titles were blocked, innocuous minigames thrived.
Here's our summary of the year's top gaming themes in seven words.
Chicken
Winner, winner, chicken dinner: The PUBG frenzy rages on.
Battle royale games — in which up to 100 duelers are pitted against one another until only one player or squad is left standing — were wildly popular in 2018. But while the West got hooked on cartoony free-for-all "Fortnite," Chinese gamers remained faithful to the title that popularized the genre globally: "PlayerUnknown's Battlegrounds," or PUBG for short. In China, PUBG is affectionately known as chiji, or "eat chicken," after the "Winner, winner, chicken dinner" message displayed to the contest's victor.
Chinese gamers rushed en masse to the PUBG battlefield in the second half of 2017 via the PC gaming platform Steam, prompting opportunistic local developers to craft their own clones in hopes of riding the coattails of the game's success. But in 2018, the game reached new heights after tech giant Tencent — which holds the rights to PUBG in China — developed and released two officially authorized mobile versions of the game in February.
The game's staggering popularity has spilled beyond an island of virtual bloodshed to real-life phenomena such as PUBG-themed graduation and wedding photos, PUBG-inspired beverages, and a PUBG-themed restaurant in Beijing. (A birthday cake featuring PUBG's tie-wearing mascot was even consumed at the Sixth Tone office.) In December, four primary school students in southwestern China's Sichuan province were caught playing make-believe PUBG in the mountains around their homes — with one child wearing a homemade version of the game's iconic frying pan butt-armor.
Frozen
Developers were chagrined as China's gaming regulator put approving new titles on hold for most of the year.
Lag — gameplay unexpectedly stalling or freezing — is a gamer's worst nightmare. But China's entire online gaming industry iced over for three-quarters of 2018. In March, regulators stopped issuing licenses for new online games following a major cabinet reshuffling and didn't resume granting them until late December. The impact was palpable in the gaming industry, which grew by just 5.2 percent in the first two quarters of 2018, compared with 26.7 percent over the same period the previous year.
In August, content complaints supposedly caused Tencent to pull "Monster Hunter: World" from its online gaming platform, WeGame, mere days after the title's launch. A gaming-focused media account on social media app WeChat labeled this "the darkest day" in the history of the industry.
Steam
The world's No. 1 online gaming platform won over hearts in China — and then broke them by bowing to regulators.
Steam is the world's largest gaming-focused digital distribution platform, allowing users to acquire vast libraries of video games with a few clicks of a mouse. The platform has operated in a legal gray for years in China, giving the country's gamers access to a trove of titles, many of which — like the lawless "Grand Theft Auto" series — would likely not have been approved by China's content watchdogs without considerable modifications. Bolstered by an influx of Chinese gamers who joined Steam to play the PC version of PUBG, the platform now has an estimated 30 million Chinese users.
While Chinese gamers had to have known that Steam's unregulated presence was ephemeral, they were nonetheless angered when the platform's Chinese version, managed by Shanghai-based game developer Perfect World, was launched in November. Some fans worried that the launch of a watered-down version of Steam would be a harbinger of the global version being banned, and they weren't shy in voicing their displeasure. "Get out of China, Steam China," read an upvoted comment below one article about the Chinese version's release.
Applets
Mini-apps are turning Tencent's all-purpose social platform into a gaming hub.
WeChat's applets — mini-programs that can be opened and used from within the larger app — were first introduced in January 2017. They exploded in popularity after "Jump Jump," a simple game that involves pressing down on the phone's screen to make a chess piece-like figure hop from one platform to another, appeared in an update to WeChat in December 2017. The game was an instant hit, birthing memes and reeling in big-time advertisers like McDonald's and Nike.
The game also whetted the appetites of WeChat's 1 billion-plus users for such applets: By May, WeChat's 500-plus minigames were being played by an estimated 457 million people. Other popular titles included a trivia faceoff criticized for "weak ideology," a collectible cat-breeding game, and an AI vs. humans Pictionary-like offering from Google, whose search engine is blocked in China.
In September, Tencent released a WeChat minigame as part of its annual "99 Charity Day" fundraising drive. Users played as a child trying to avoid a grim fate while walking home from school at night: When users paid for extra lives, the proceeds went to charity.
Alternative
Mobile versions of popular PC games were the most-played games of 2018, but a slew of less violent, more alternative titles also made their mark.
Though whether they should be considered "video games" is debatable, real-time trivia contests showered China's smarty-pants netizens with millions of yuan in prize money beginning around January. The same month, Chinese gamers were charmed by a virtual pet frog who would often abandon them to go on existential vacations all over Japan, sending postcards when he felt generously disposed.
Companies like internet giant Baidu drew on blockchain technology — now applied in China to logistics networks, intellectual property, and even chickens — to create video games. In February, Baidu's virtual dog-collecting game sparked debate about whether the cute-but-costly avatars could qualify as a cryptocurrency, the trading of which is banned in China.
Some indie games have even tried to effect social change. In May, a Chinese developer launched "A Gay's Life," a role-playing web game that offers people a glimpse of the struggles gay men face in contemporary China. As of mid-December, the game had been played around 1 million times.
Victory
Bolstered by the triumphs of homegrown teams, esports continues to gain ground in China.
This year may have been a rough one for developers, but it was certainly a win for China's competitive gaming scene. Local esports teams took first place at several high-stakes international tournaments, including the PUBG Global Invitational, several esports events at the Asian Games in Jakarta, the inaugural season of Clash Royale League, and the "League of Legends" World Championship. Each victory was met with a chorus of praise from netizens and even Chinese state media.
When Chinese team Invictus Gaming won the "League of Legends" title, university dorms across the country burst into raucous celebration. Social media, meanwhile, saw a plethora of memes from the tournament — particularly highlighting Invictus Gaming's flamboyant owner, Wang Sicong. After the young heir to real estate empire Wanda Group announced on Weibo that he was giving away over $163,000 to users to celebrate his team's victory, the post received a whopping 23 million replies.
In July — just as China's first batch of esports degree-seeking students finished their freshman year at university — the General Administration of Sport announced that China would soon play host to international tournaments for "League of Legends" and "PUBG." A month later, Chinese teams disappointed at The International, the top tournament for mobile online battle arena game "Dota 2," but fans took solace in the news that the global event would be coming to Shanghai in 2019.
Myopia
The authorities are thinking of the children — whether the children want them to or not.
Video game "addiction" among youth — often more broadly called "internet addiction" — has been a growing concern since internet cafés began popping up in Chinese cities in the early 2000s. The phenomenon led to the emergence of specialist treatment facilities, many of which were found to be poorly regulated and employing unorthodox, even violent treatment methods. Fears about the dangers of video game addiction peaked last year amid the explosive popularity of "Honor of Kings," which saw a number of deaths from overplaying. The game's developer, Tencent, was eventually pressured into adding anti-addiction measures to the game, including daily playtime limits for minors and a function that enabled parents to monitor screen time.
In August, the Chinese government suggested that the growing incidence of nearsightedness in young people was being caused by excessive exposure to video games, and that playtime should therefore be further controlled. Following the official notice, share prices of Tencent fell by 5.4 percent. The company proceeded to add more playtime-controlling features to "Honor of Kings," including mandatory real-name registration in September and a pilot facial-recognition login mechanism in October. In November, Tencent announced it was partnering with five mobile phone manufacturers to implement stricter anti-addiction safeguards.
In addition to playtime, game content has also fallen under tighter scrutiny. In December, state broadcaster China Central Television reported that a new committee had been formed to evaluate the ethics of online games, under the "guidance" of the Communist Party's publicity department. Of the initial batch of 20 domestic and international titles it evaluated, nine were banned from sale in China.
Editor: David Paulk.
(In-text GIFs: All found online and re-edited by Fu Xiaofan and Tian Xuanning/Sixth Tone)
(Header image: Conference attendees play virtual-reality games during the GTI Asia China Expo in Guangzhou, Guangdong province, Sept. 12, 2018. Li Zhihao/VCG)