After being sued last week by the South Korean developer of hit battle royale game "PlayerUnknown's Battlegrounds" (PUBG), Chinese internet company NetEase announced Saturday that it is prepared to "safeguard the rights" of two of its most popular mobile games, "Rules of Survival" and "Knives Out."
"In the course of our independent development process," NetEase said in response, "we used two game engines that we spent many years researching and developing on our own initiative."
The statement comes days after PUBG Corporation, the rival game's developer, accused NetEase of copyright infringement, trade dress infringement, and unfair competition. "Commentators in the industry have characterized ['Rules of Survival'] as a copy, 'rip-off,' 'knock-off,' or 'clone' of PUBG," the studio said in the 155-page complaint it filed April 2 at a California district court.
In the legal document, PUBG Corporation argues that the two NetEase games copied elements unique to PUBG, including weapons, clothing, and even the general premise of parachuting onto an island populated by other bloodthirsty gamers eager to be the last man standing.
One example PUBG Corporation gives is the frying pan — one of PUBG's most iconic weapons. "The use of cookware as a melee weapon is highly uncommon in shooter type games," said PUBG Corporation in its complaint, noting that NetEase's "Rules of Survival" uses an implement with "the same shape and properties."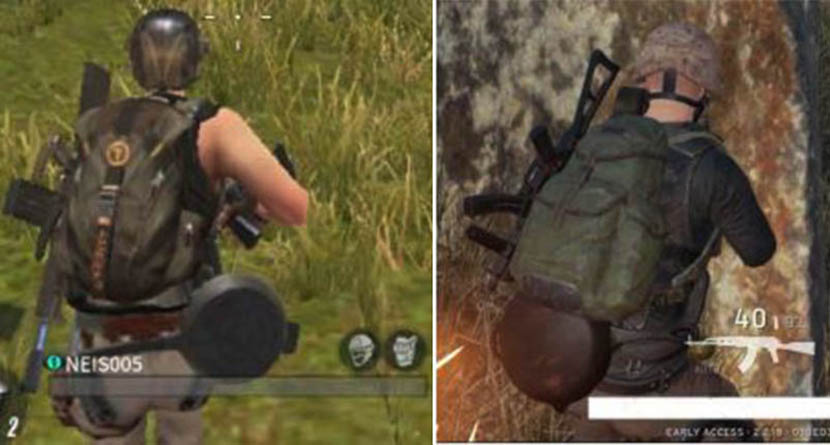 Frying pans worn as butt armor in 'Rules of Survival' (left) and 'PlayerUnknown's Battlegrounds' (right).
Since its beta release for Microsoft operating systems in March 2017, PUBG has become astoundingly popular around the world: Over 33 million copies of the desktop game have been purchased on online gaming platform Steam, and in February PUBG generated $103 million in sales — trailing the $126 million mark set by new mobile market entrant "Fortnite," an island battle royale title developed by American studio Epic Games.
Notably, PUBG Corporation has not filed a lawsuit against Epic, though last year it voiced similar grievances about "Fortnite" replicating elements of PUBG.
Epic is 40 percent owned by Chinese internet giant Tencent, the company behind social app WeChat and NetEase's main rival in mobile gaming. In September, Tencent acquired a 5 percent stake in Bluehole Studio, PUBG Corporation's parent company, for $65.4 million, and in November it was revealed that the company had won the rights to distribute the game in China. Tencent's long-anticipated mobile version of PUBG was officially released in China in February of this year — and worldwide after a strong reception. Currently, it is the second most popular game in the U.S. iOS App Store behind "Fortnite."
However, NetEase had already released a beta version of "Rules of Survival" in October. In iOS App Stores, "Rules of Survival" and "Knives Out" claim to have 150 million and 200 million users, respectively. According to NetEase's 2017 financial report, the company raked in 36 million yuan ($5.7 million) in profits from its mobile games, a 30 percent year-on-year increase.
Lily Che, a university student and mobile gamer, told Sixth Tone that she, too, sees plenty of similarities between "Rules of Survival" and PUBG. "Of course I support the authorized edition," Che said, adding that she and many of her friends deleted the NetEase game after Tencent released its long-awaited mobile version of PUBG.
You Yunting, an intellectual property lawyer at Shanghai DeBund Law Offices, doesn't think PUBG Corporation's chances of winning an intellectual property suit against NetEase are particularly high. "All shooter games have similar origins," You told Sixth Tone. "For example, one fundamental element of these battle royale games is 100 people landing on a deserted island. This type of gameplay isn't protected in the public domain."
As for game scenarios, maps, and weapons, it's hard for plaintiffs to hold others legally accountable, You said, as there's nothing prohibiting rival developers from mimicking some elements. "There may be trouble if such elements are highly similar, but companies like NetEase know how to navigate the law," he said.
When it comes to unfair competition, however, You believes PUBG Corporation may have a case, as "Rules of Survival" shows up in searches for "PUBG" and "PUBG game" in the iOS and Android app stores, respectively. "To conduct promotions under another's name is illicit competition," the lawyer said. "However, it's not that serious — a simple correction should be all that's required."
The battle royale genre — sometimes called chiji, or "eat chicken," in China because of the "Winner winner chicken dinner" message that alerts PUBG players when they are the last man standing — has become a popular way for millennial Chinese to mingle and socialize. Tencent-developed games, for example, often integrate with WeChat, encouraging players to recruit their friends or boast of their victories.
Despite NetEase's steady success, this is not the first time the company has been accused of copying other games. Earlier this month, the company's survival horror game "Identity V" rose to No. 1 on China's iOS App Store — but not without drawing attention from netizens for its resemblance to "Dead by Daylight," developed by Canadian studio Behaviour Interactive. On Saturday, NetEase responded to online accusations of plagiarism by saying that it will collaborate with Behaviour Interactive to bring "Identity V" to a global market.
Contributions: David Paulk and Kenrick Davis; editor: David Paulk.
(Header image: People visit the NetEase station during the 14th China Digital Entertainment Expo & Conference in Shanghai, July 28, 2016. IC)