A one-touch mini-game within social app WeChat has taken China by storm, and now companies may be paying millions of yuan per day for in-game ads, tech news site PingWest reported Thursday.
An image apparently leaked on Chinese social media earlier this week gives rates of 5 million yuan ($792,000) for one day, 10 million yuan for two days, or 20 million yuan for five days for ads within "Tiao Yi Tiao." By comparison, a 30-second spot during the Super Bowl — the most expensive airtime in the U.S. — costs around $5 million.
According to a press release from WeChat's advertising team, Nike and McDonald's were the first two companies to purchase ads in the game. But when contacted by Sixth Tone on Thursday, a member of the ad team declined to comment on the authenticity of the leaked image, saying only, "We don't disclose rates, I'm afraid."
A popular WeChat mini-game called 'Tiao Yi Tiao' has added product placements from Nike and McDonald's. According to a graphic apparently leaked online, advertising rates may start at 5 million yuan per day. By Zou Chengxi/Sixth Tone
"Tiao Yi Tiao" — or "Jump Jump" — is a mini-game accessible within WeChat, the Tencent-developed app that started as a mobile messaging service but has since grown into a one-stop-shop for booking planes, trains, and taxis, buying movie tickets, splitting the lunch check, and even paying utility bills.
Gameplay is simple: The player touches anywhere on the screen to jump from one object to the next, tapping for short jumps and holding down for longer ones. Each completed jump earns points, and jumps onto a sponsored surface — a Nike shoebox, for example — are worth more. Missing a jump lands you back at the start.
Initially, the game came under fire for bearing an uncanny resemblance to "Bottle Flip" from French developer Ketchapp. But the air was cleared in January when Tencent and Ubisoft, Ketchapp's parent company, announced plans to bring Ubisoft mini-games to WeChat.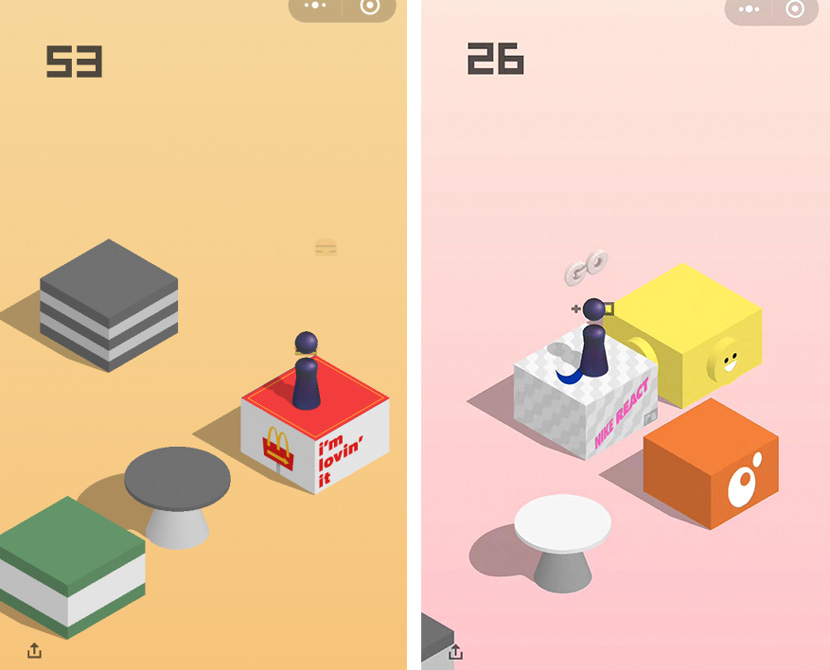 Screenshots of in-game advertisements for global brands McDonald's and Nike.
The game has become popular with diverse demographics, and even spawned real-life memes. On short video app Douyin, searching "Tiao Yi Tiao" returns 250,000 results. Some clips feature people hopping around on artificial lily pads or soft blocks, while others appear to show household pets playing — and even affecting exasperation when they lose.
WeChat boasts over 1 billion monthly active users, and nearly a third of them have played "Tiao Yi Tiao," according to PingWest. The mass jumping craze peaked during this year's Spring Festival holiday, when the game topped out at 28 million simultaneous players.
Contributions: Chen Na; editor: Qian Jinghua.
(Header image: A Nike shoebox is seen in the WeChat mini-game 'Tiao Yi Tiao,' March 3, 2018. VCG)