Baiyin, a city in arid Gansu province, was once the pride of northwest China. It rose out of the desert on the strength of its mining operations and became known as "Copper Town." But that was decades ago. With little history to its name, the only way outsiders refer to Baiyin now is "that place where all those murders happened."
The man believed to be one of China's most elusive serial killers was finally caught in August, after 28 years on the run. Between 1988 and 2002, police say he murdered, raped, and dismembered 11 women and girls. After decades of failed investigations, police eventually managed to trace the suspected murderer with the help of DNA testing.
Most of the killings happened in Baiyin, a city already down on its luck. Miners of the Baiyin Nonferrous Metals Company once walked the streets with pride. Today, however, the copper seams have run dry, and much of the city's former glory is caked with dust.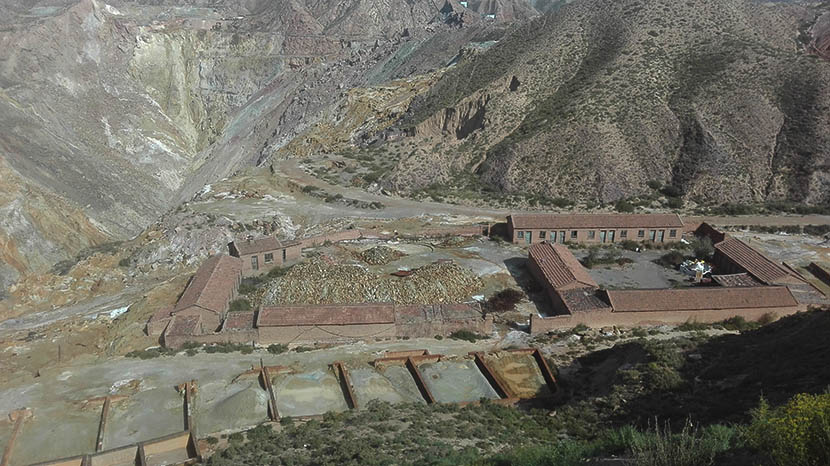 Old houses near an exhausted copper mine, Baiyin, Gansu province, Sept. 4, 2016. Zhang Wenli/Sixth Tone
In the 1950s, team 641 of the Ministry of Geology discovered that the area was rich in copper ore. Baiyin Metals set up its company headquarters in Haojia Creek, then a hamlet of just five households, now the city center of Baiyin.
Baiyin Metals carried out three massive explosions to lay bare the minerals beneath — a three-volley salute to usher in a new era. Young people from all over the country responded to a national call, left their home villages, and poured into Baiyin. On Oct. 1, 1959, the 10th anniversary of the People's Republic, Baiyin Metals' open-pit copper mine officially began operating.
Yan Chun, 33, was born in Baiyin. His grandfather came to the city from Hebei province, some 1,000 kilometers away in northern China, to become one of the company's first steam train conductors. Among his fellow recruits at the time were about 150 university graduates assigned to Baiyin from all over the country: experienced metalworkers from Shanghai and the country's industrialized northeast, demobilized Korean War veterans, and contract workers from villages around the province.
The climate was dry and trees were few. Frequent winds swept sand up from the ground and relentlessly hit workers in their faces. Drinking water had to be trucked in from the nearby Yellow River, and protective face masks were sought-after commodities.
Clad in near-identical black or blue overalls, and with their faces covered, longer hair was the only trait that distinguished the company's few women from the men. To address the gender imbalance in Baiyin, several textile companies around the country were ordered to move part of their production and staff to the city in 1965.
Back then, a woman now known as Grandma Zhang was 32 years old. She and her colleagues at the garment factory in Shanghai had heard about the rough conditions in Baiyin and were reluctant to transfer.  She only agreed after the company's leaders promised that her five children would be allowed to stay with her in Baiyin, instead of being sent to a rural village for several years, as was common practice at the time.
As Zhang's youngest daughter recalls the past, her eyes well up with tears: "It was rough. They only issued one pair of overalls each year, and it would be covered with patches." The monthly ration was mostly wheat-based, which the southerners weren't used to eating. Once a month the family would secretly take some of the wheat and barter it for rice.
Despite the hardships, those days were the heyday of China's copper town. A popular saying was that one in three bullets that the army shot came from Baiyin. When Deng Xiaoping, who would later become China's leader, visited the city, he famously said: "Working hard has become the spirit of Baiyin."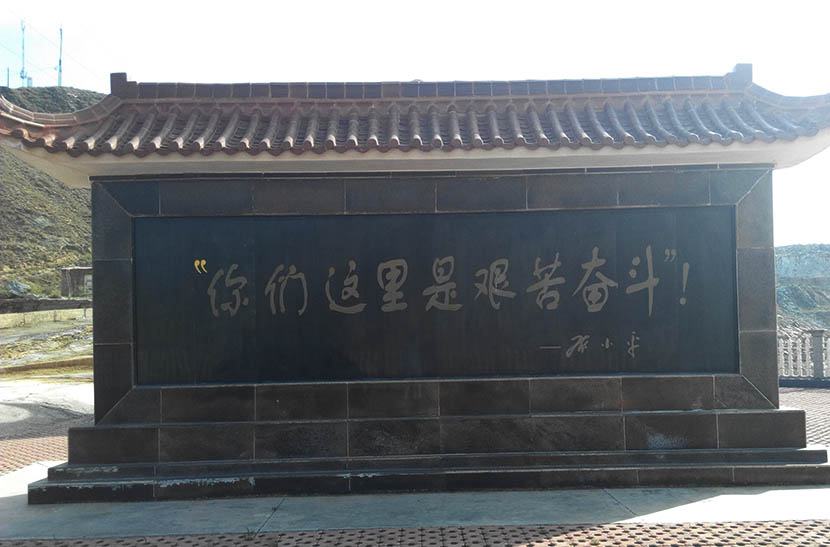 A monument near the mine reads, 'Working hard has become the spirit of Baiyin,' Gansu province, Sept. 4, 2016. Deng Xiaoping famously said this when he visited the city. Zhang Wenli/Sixth Tone
Ma Jian started working at the Baiyin Metals smelting factory as an apprentice in 1975. During those years, he was  making 27 yuan — then around $14 — a month. Jan. 1 of each year was known as "First Step Day," when he had to work overtime with all of his colleagues to churn out the new year's first batch of steel.
Ma set his eyes on the prettiest girl in the factory. They worked together, chatted, made up excuses to spend time with each other, and ended up a couple. A few years later, their daughter Tingting was born.
Tingting's mother was part of the city's "second generation." She was born in the Baiyin Metals hospital in 1958, and has lived on the same street in the city center for as long as she can remember. One of her neighbors was a woman known as "Little White Shoes," one of the victims of the rape-murders that would later shock the city.
The 1980s was the golden era for the smelting factory. The employees received extra foodstuffs, a luxury at the time, as well as frequent bonuses. Overall, they enjoyed better benefits than other workers in the city.
Baiyin Metals employees were the city's trendsetters: They were the first to have perms, turtleneck sweaters, bell-bottom pants, whatever was popular at the time.
"You could just tell," said Yan. "The people of Baiyin were different from those of other parts of Gansu." He'd seen an Apple computer when he was only 6 or 7 at the school where his mother taught. There were also computer rooms with carpeted floors in the factories, which even had their own TV station for evening programming.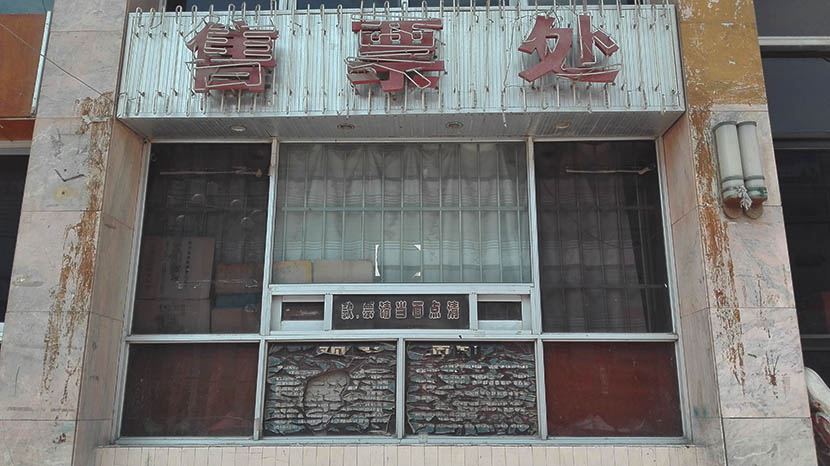 A box office that sold tickets for movies and live performances in the 1980s, now abandoned, Baiyin, Gansu province, Sept. 4, 2016. Zhang Wenli/Sixth Tone
It was a tight-knit community. People visited each other frequently, doors were hardly ever closed, and children would simply get a meal from a neighbor's house if their parents got stuck at work. The men met to play chess, the women to knit.
By 1989, Baiyin had become the second-biggest industrial city in Gansu after the provincial capital, Lanzhou. However, a few years later the city was hit by a resource crisis. The copper mine was drying up, and industry profits plummeted. By 1990, Baiyin's unemployment rate was on the rise, a trend that continued to accelerate.
With the economic downturn, the state-owned employees lost their happiness and their pride. By the '80s, unguarded piles of lead and zinc lined the road. By the late '90s, people were trying to get their hands on every piece of ore they could to sell to scalpers for a little extra income.
People left their once-desirable jobs. Some went back to their hometowns, while others sought out relatives who might help them get another job. Still others stayed behind to weather the storm.
Yan had just finished primary school then, and he had started to notice that some families were better-off than others. "When we were kids, we used to all be the same," he said. "Nobody was rich or poor. Everyone played together. Seemingly out of the blue, someone's parents would disappear for a couple of years and return with a Volkswagen Santana." He remembers clearly how popular video games had become by the early 1990s. But a game console cost at least 300 yuan, and his father's monthly salary was just over 100 yuan.
In 1996, the Baiyin municipal government started to reform state-owned enterprises. In the same year, Yan's father opted for early retirement from the mining industry and became a pig farmer. Many people in their 40s retired around the same time.  If the older generation chose to retire early, a "retirement replacement" scheme allowed their children to fill their posts at Baiyin Metals.
In 1998, four murders shook the city. Police were knocking on doors in the middle of the night. The schools no longer held evening study hall. Employees at Baiyin Metals had their fingerprints taken, and husbands or male colleagues accompanied female employees home after work. 
The only thing that hung over the city more than people's horror at the murders was the uncertain future. There was a perpetual sense of restlessness in the city. Teenagers formed gangs and fought each other on the weekends.
Baiyin Metals had stopped hiring new employees by 1990. There were once more than 2,000 people in the department of transportation alone, but now there are only about 600 left. "There hasn't been much profit in the last 10 years," said one of the remaining employees who goes by the name Old Yang. "We've just been trying to keep things running. Now we're thinking about maybe transitioning into a logistics company instead."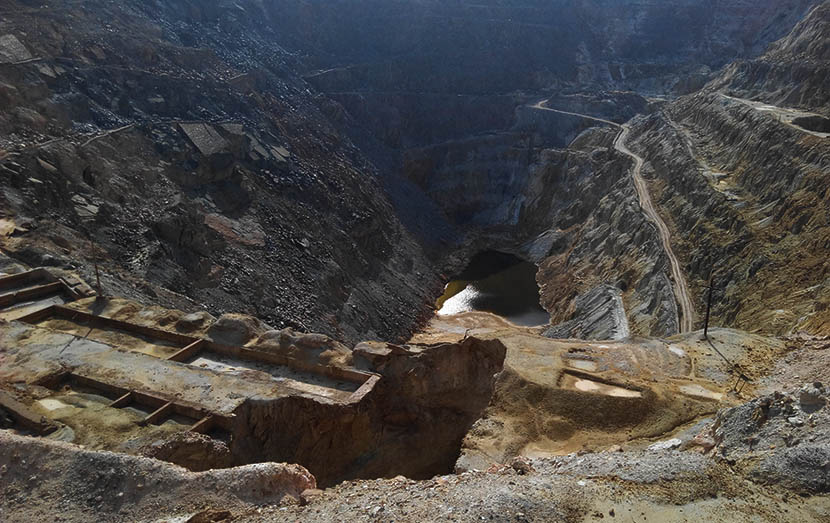 An exhausted copper mine in Baiyin, Gansu province, Sept. 4, 2016. Zhang Wenli/Sixth Tone
In March 2008, Baiyin became one of the first so-called resource-exhausted cities in the country. "The debt, environmental degradation, and overall financial situation in Baiyin are among the worst of any city in history," one government document read. "It is a very troubled city."
While the first generation gave up their roots and families to be in Baiyin, and the second generation dedicated their lives to the city, the third generation is now fleeing in droves.
Yan relocated to Lanzhou after graduating from university. He works in software engineering and lives a carefree life. Baiyin was no longer a part of his life plan. "When I was in college, I wasn't sure where I would end up," he said, "but I knew I wouldn't stay in Baiyin. My fate never belonged there."
With the steady decline of Baiyin Metals, most of the second-generation workers today hope their kids will leave for bigger cities and find better lives. "We're like migratory birds," Tingting said, "flying off to more promising places."
Yet Baiyin Metals is still the safe haven of many families. Old Yang's son works in Nanchang, a city in China's east. He doesn't want him to come back. "Let him try, as long as he has the strength," he said of his son. "One day, if he's tired of it, he can still return. His mom and I will still be here."
After living in Xian, northwest China's largest city, for many years, Tingting is now working in Beijing. Even though she feels like there is no going back, she said she still loves Baiyin deeply, and that she misses the sense of community in her hometown. When the serial murders made headlines, she actively rallied her friends to share an article on social media that painted the city in a better light. 
Tingting's mother now lives with her daughter in Beijing, but life in Baiyin, she said, was better. In the small city, it was easier for her to buy things. She knew everyone and never felt lonely, as she does in Beijing. Tingting said her mother tries to chat with neighbors like she did in Baiyin, but that this is considered odd in the big city.
For Yan, the concept of home is elusive. "Baiyin is my hometown, but it has no history, culture, or dialect." He pauses, then adds, "I've always felt like a place needs to have its own dialect for it to be a true hometown."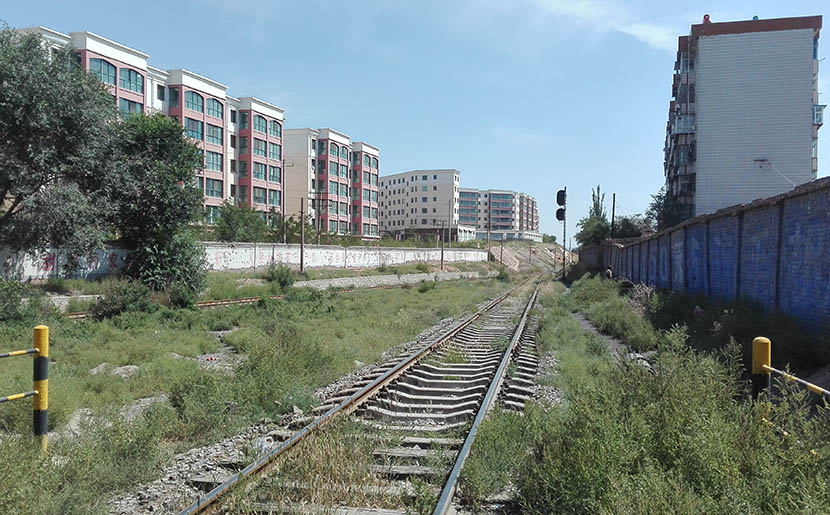 The railway connecting various departments of Baiyin Metals, Baiyin, Gansu province, Sept. 4, 2016. Zhang Wenli/Sixth Tone
Baiyin Metals is still in operation, but the grounds look desolate. The company's own commuter train runs about a dozen times a day, down from 50 daily trips during the golden era.
At 3:15 p.m. sharp, an old, green train leaves the station. The carriages rattle past the transportation department, the lead and zinc plant, the smelting ovens, all the way to the copper mine, their final stop. The factories along the way are deserted. Office buildings, covered with slogans from the 1980s, stand empty. Of half the windows only the frames are left, once more giving free rein to Gansu's dusty winds.
With contributions from Shang Fangjian.
A Chinese version of this article first appeared in Sixth Tone's sister publication, The Paper.
(The given names of Ma Jian and Ma Tingting have been changed in accordance with their requests for privacy.)
(Header image: A man sits on a train connecting downtown Baiyin and the copper mine, Gansu province, Sept. 4, 2016. Zhang Wenli/Sixth Tone)