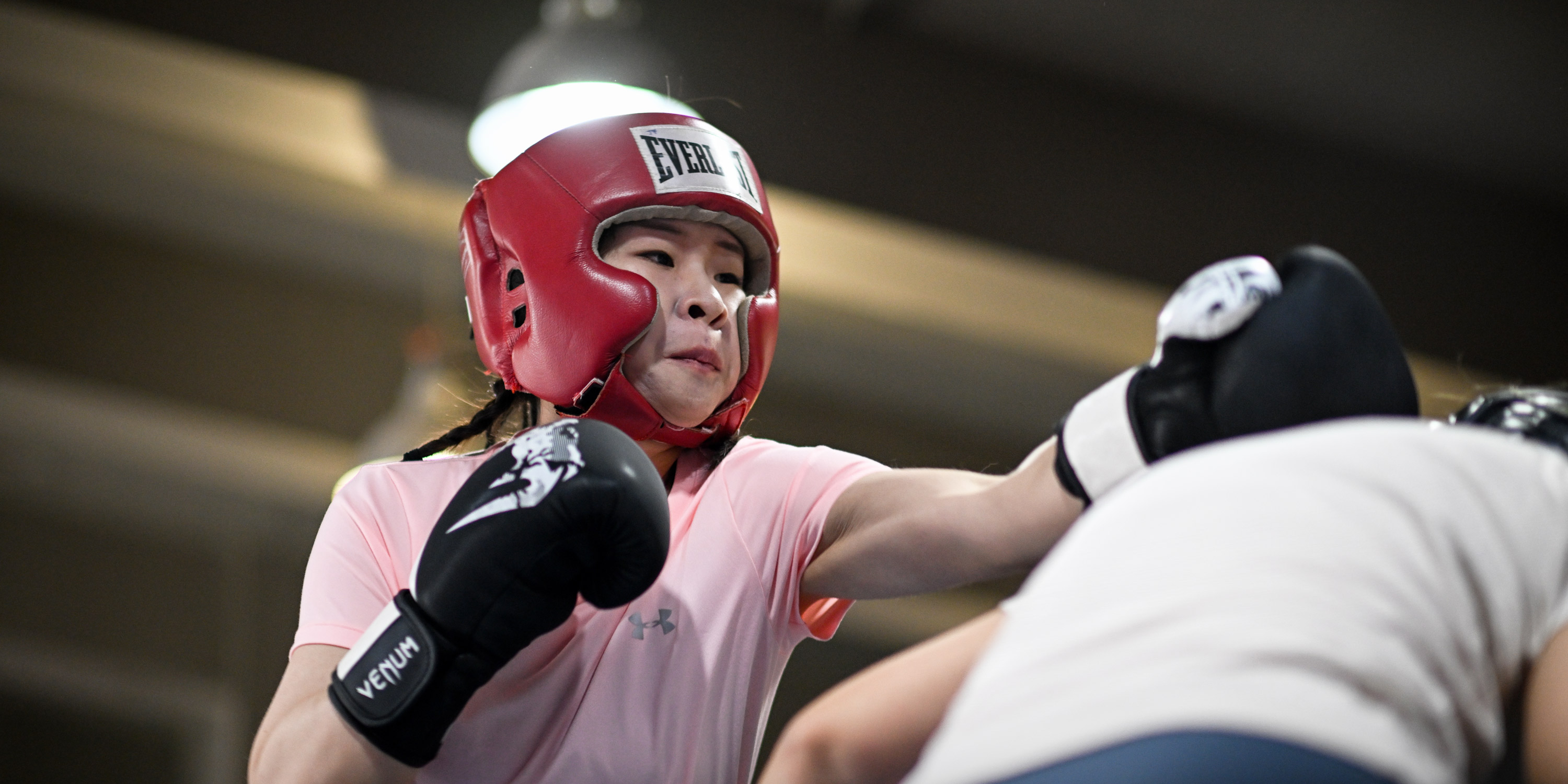 FEATURES
Tired of Being 'Warm and Soft,' China's Women Step Into the Boxing Ring
Young Chinese women are increasingly seeking to break out of traditional gender norms. For many, that starts with building a muscular physique — and learning to kick some butt.
SHANGHAI — At 6 p.m. on a Tuesday evening, dozens of women stream through the doors of Mao's boxing gym in downtown Shanghai.
Mostly in their 20s and 30s, the women have just got off work or school — and are ready to kick some butt. After helping each other put on their hand wraps, they spend the next two hours working the pads and punch bags, their shouts and yells filling the room.
"I never imagined how popular this training spot would become when I started out 13 years ago," Gong Jin, the owner of the all-female gym, who prefers to go by the name Mao, tells Sixth Tone.
Boxing has exploded in popularity among Chinese women in recent years, as the country's young females seek to break out of traditional gender norms and adopt a new doctrine of female empowerment.
Rather than trying to appear slender and elegant, women are increasingly posting videos of themselves pummeling heavy bags and showing off their newly toned physiques to social media.
Many claim the sport has given them a new sense of confidence, helping them feel physically stronger and better able to defend themselves.
The trend has inspired a wave of mockery and criticism from some conservative Chinese men. But women are pushing back strongly, with many embracing the label "female boxer" as a badge of honor.
'Muscular women'
Boxing gyms across China are reporting an uptick in female members. Feiyi Tiger — one of the country's leading gym chains — said that women made up 70% of its members in 2021. Boxing coaches based in Shanghai, the northern city of Tai'an, and Haikou in southern China all told Sixth Tone that they had more female clients than ever.
Mao, who founded Shanghai's first women-only boxing gym after retiring from her professional boxing career in 2010, said that business has been so good that she recently opened a second location.
For many women, a big part of the attraction of combat sports is the chance to achieve a more muscular physique. Until recently, the dominant beauty trend in China prized women who were bai shou you, or "pale, slim, and youthful." But that is now rapidly changing.
Mixed martial arts star Zhang Weili has played a big role in this. When she became China's first Ultimate Fighting Championship (UFC) champion in 2019, Zhang's powerful body became an object of fascination on Chinese social media. So did her fearless attitude, famously telling one interviewer: "I don't think women should be defined in a certain way … She can be everything."
Chen Qianyi, a Chinese gender equality advocate, tells Sixth Tone that Zhang has since become a role model for women across the country. She has popularized a new idea of femininity — one that combines physical strength with confidence and self-possession.
"We didn't have this kind of powerful, aggressive female icon in China until Zhang's legendary victory," says Chen. "To many, Zhang shone a light on women entering combat sports."
Now, Chinese women are muscling up like never before. According to Chinese e-commerce platform JD.com, sales of "strength sports equipment" to female users skyrocketed 65% year-over-year in 2021.
On Xiaohongshu, China's closest equivalent to Instagram, the tag "muscular women" has received more than 140 million views, with most of the top posts featuring women flexing their biceps and sharing their workout routines.
Boxing is a favorite sport for women trying to achieve a toned physique, according to Chen. It's tough, but not too tough.
"Trying MMA like Zhang Weili may be hard," Chen says. "Boxing can be easier and fun."
Other women are taking up boxing as a way to teach themselves self-defense. Like many other countries, China has seen a string of high-profile gender-based violence incidents in recent years. Every boxing coach who spoke with Sixth Tone confirmed that these attacks had played a significant role in driving up female membership.
"Whenever an extreme gender violence case breaks out, we welcome a wave of new students," says Mao.
One coach based in the southern Hainan province, surnamed Wang, shares that he has added a women's self-defense class to the schedule at his boxing gym, as so many worried parents were asking him about classes for their daughters.
A 20-year-old college student in Shanghai, surnamed Yu, tells Sixth Tone that her father signed her up for a course of classes at Mao's boxing gym. Her voice trembles slightly as she explains that she often struggles with anxiety.
"My father thought boxing could at least help me learn how to protect myself," says Yu.
Several other members of Mao's gym say they first started attending for similar reasons. On one wall of the gym, the students have posted a hand-written sign that reads: "Hit me as hard as you can. I will fight back."
Taking on the trolls
The students are equally defiant when it comes to facing down any ridicule or abuse they receive. There is still a real stigma attached to women's boxing in China, with many perceiving the sport as unfeminine.
And the opposition to female boxing has intensified in recent years, as the sport has become more associated with radical feminism. The Chinese word nüquan can mean both "female boxer" and "feminism" when spoken out loud, and over time anti-feminist groups have adopted the term as a way to mock radical feminists — implying that they are overly militant.
Liu, a 24-year-old from the northern city of Tianjin, regularly takes to social media to mock "female boxers" in his spare time. He is a member of one of China's largest anti-feminist online groups on the forum site Baidu Tieba.
"The messy and ridiculous look of Chinese feminists shouting out their slogans is very much like the way boxers throw punches randomly," says Liu, who declined to reveal his full name for privacy reasons. "It's ugly and funny."
Many others are doing the same thing. On the social platform Weibo, a search for the keyword "nüquan" produces only a handful of posts about real women's boxing matches. Instead, the results list is dominated by angry screeds responding to recent gender-related news stories.
The barrage of insults, however, only appears to be boosting the popularity of women's boxing. Some Chinese feminists have begun referring to themselves with pride as "female boxers" and encouraging others to take up the sport.
Peng Qige, the co-owner of a store selling feminist merchandise on the Chinese e-commerce platform Taobao, tells Sixth Tone that one of her most popular items at the moment is a sticker featuring an icon of a clenched fist — a symbol for female boxing.
"We made this sticker to encourage everyone to reappropriate the definition of nüquan in everyday life," says Peng. "Nüquan shouldn't be a bad word. Instead, it should be a badge of honor for those battling traditional stereotypes imposed on women."
For Chen, the growing popularity of women's boxing in China is opening up more opportunities for women. "It frees women from the trap of weakening themselves and encourages them to actively rely on themselves and be powerful and independent," she says.
Mao, the boxing gym owner, echoes this point. When she first started boxing as a teenager in China's elite sports school system, the other students used to make fun of her for doing "men's stuff," she recalls.
At first, the comments stung, but Mao kept training and gradually grew to love the way boxing made her feel. Many of her students are now embarking on the same journey, she says.
"Boxing has supported the most fragile part of me," says Mao. "I hope this gym can help more women experience the same feeling. They can and should feel more powerful."
Editor: Dominic Morgan.
(Header image: Boxing lovers competes with each other in Shanghai, Oct. 22, 2023. Courtesy of Mao's boxing gym)