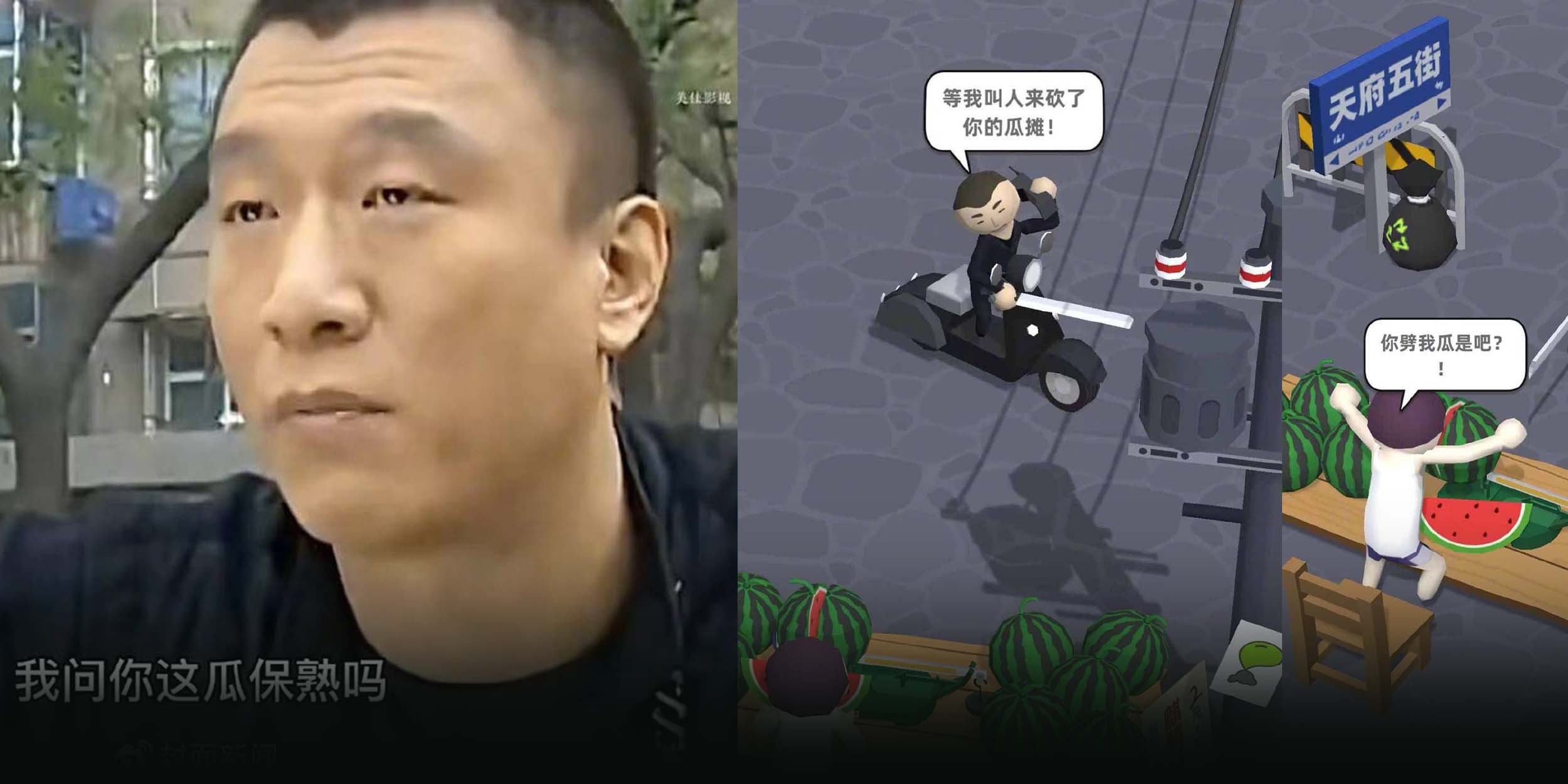 NEWS
Actor Sues After Gangster's Classic TV Lines Used in Video Game
Everyone's a gangster until a real gangster walks into the room.
Is it legal to take classic lines from a TV show and use them in a video game without authorization? That is the question being debated in China's first copyright dispute over lines spoken in a film or TV series.
On Monday, the dispute between famous Chinese actor Sun Honglei, 53, and two gaming companies was heard at the Chengdu Internet Court. The actor accuses the two companies based in Beijing and Chengdu of using his voice taken from a television series he starred in in their video game without authorization. He is demanding 500,000 yuan ($68,457) in compensation.
The PC game, "Watermelon War," available on Steam, sees players sell watermelons and try to protect their watermelon stands from gangsters. Launched in 2021, the game is "based on a popular Chinese video," according to the game description.
The game's storyline closely resembles a scene from the 2003 hit gangster TV show "Vanquish," in which the villain Liu Huaqiang, played by Sun, kills a watermelon stall owner. The game includes audio of the exchange between Liu and the stall owner in the TV show, which have become classic lines often shared by netizens in recent years in the form of memes.
According to a local Sichuan outlet, the case has been rescheduled to an undisclosed date.
China's Civil Code protects people's "portrait rights" from unauthorized usage. For voice rights, the Civil Code says to "refer" to the relevant provisions on the protection of portrait rights.
However, according to domestic outlet Cover News, the defendants are arguing that Sun's voice is not the same as his portrait, especially as his lines were delivered in a TV production more than two decades ago.
It is also not clear that the lines were delivered by Sun himself, the defendants argue. In Chinese TV series, it is common for actors to have their lines dubbed by specialized voice actors.
Liu Minxuan, a senior partner at Allbright Law Offices in Shanghai, told Sixth Tone that the case hinges on whether the voice can be proven to be Sun's, and whether the voice can be recognized by many people.
"Because I think people will know the voice is Sun's as soon as they hear the lines, so I think it is very likely that [the companies' actions] will be deemed as rights infringement. Also they used the voice to make money, another premise for the court to deem it infringement," said Liu.
There have been growing calls for stronger copyright protection of sounds and audio in recent years, especially as AI has made it easier to isolate and overlay audio. 
In May, a video recreating the voice of Singaporean singer Stefanie Sun using AI sparked heated discussion, with state broadcaster CCTV suggesting that the singer's rights were infringed. On popular video platform Bilibili, AI versions of popular singers Cyndi Wang, Faye Wong, and Jay Chou covering different songs have attracted millions of views.
Editor: Vincent Chow.
(Header image: A screenshot shows Sun Honglei in the drama "Vanquish"; right: a screenshot from the game. From Weibo)