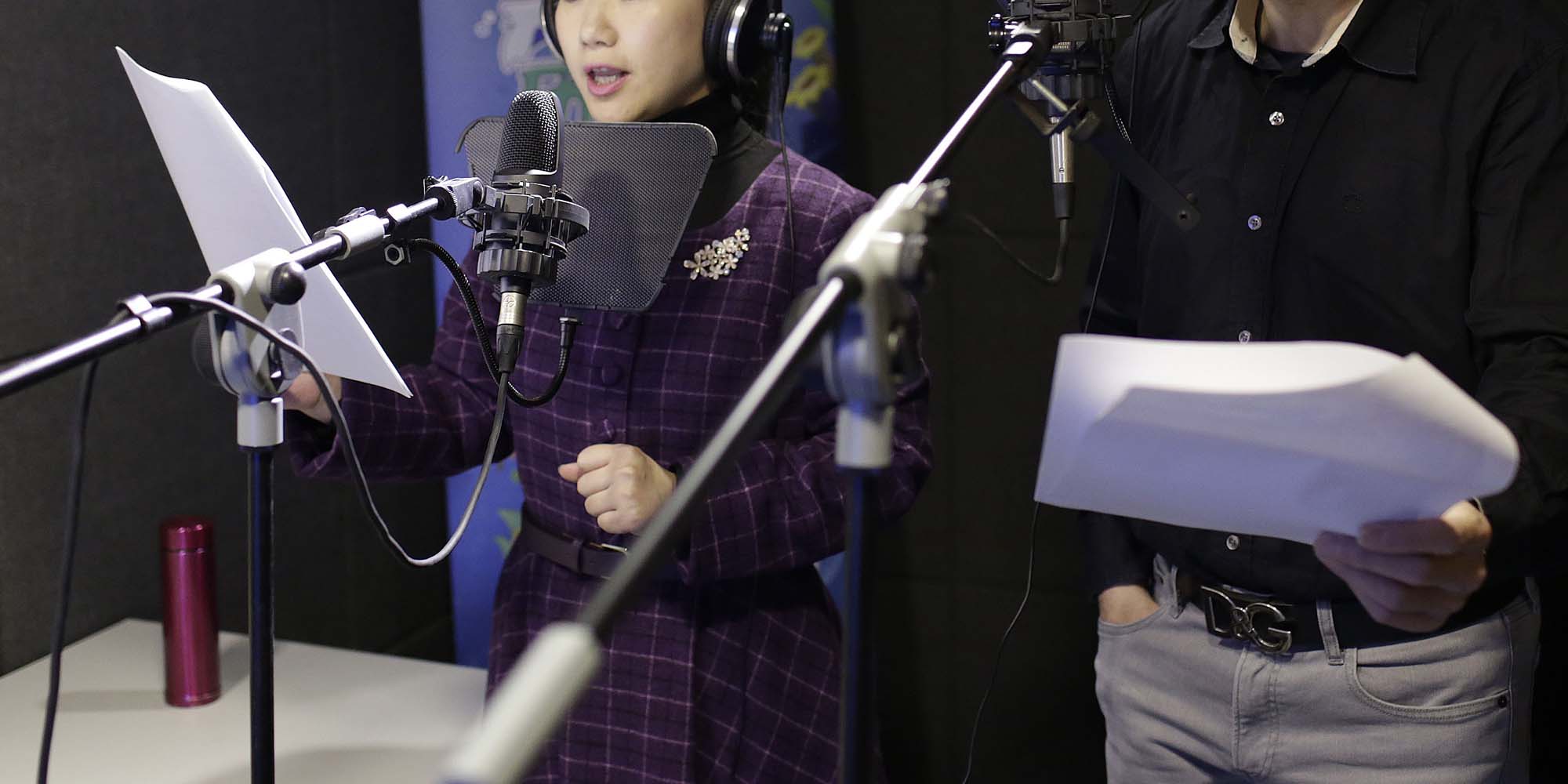 FEATURES
Q&A With Voice Artist on Why Dubbing Will Never Die
Jiang Guangtao says China's voice artists have poorly trained actors to thank for their booming business.
Tune into any of the soaps, period dramas, or Sino-Japanese War series that dominate daytime TV in China, and there's a good chance the words spoken by the actors you see will have been replaced with those of voiceover artists. The end result: clinical enunciation void of regional imperfections, eerily silent background noise, and speech that is often noticeably out of sync with lip movement.
There are a number of reasons why TV producers choose to dub the voices of their actors, says leading voice artist Jiang Guangtao, and these range from excessive background noise on-set in China's crowded production complexes to the occasional need to follow orders from the country's media regulators to change dialogue content post-production.
But perhaps the reason most telling of the state of China's TV and film industries is the caliber of today's actors, whose substandard deliveries mean voiceover artists are left tidying up after them.
When asked how he copes with having to dub the voices of poorly trained actors, Jiang is initially very diplomatic. But when pressed, he pauses. "Wait a moment," he says. There is the sound of movement on the other end of the line. When Jiang starts talking again, it's clear he's found a quieter place to talk.
"In the past 20 years, if all of China's actors were outstanding — if their performances were all good and their lines were all OK — then dubbing actors like me would have […] found it tough to survive," Jiang says. "I'm thankful for these actors who aren't good enough in the eyes of viewers for having helped the voice-dubbing industry be so good for so long."
Then there is the requirement by the State Administration of Press, Publication, Radio, Film, and Television (SAPPRFT) that all words in television be spoken in a standard Mandarin void of regional accent. Regulations emphasize the importance of this when a television show depicts a national leader; Mao Zedong, for instance, had a notoriously thick Hunan accent, but on TV his lines are delivered with flawless pronunciation. When the Mandarin of actors is not up to scratch, producers will call upon voice actors like Jiang.
The soft-spoken 40-year-old got his big break in 1999, when he was picked to voice the role of Leonardo DiCaprio's character on the Chinese DVD release of "Titanic." Since then, he has taken on the voices of Frodo in "The Lord of the Rings" and Sam Witwicky in "Transformers," as well as characters in TV shows, anime, and computer games.
In an interview with Sixth Tone, Jiang explained why voice actors are in such high demand, spoke about the chaos of China's premium film studios, and speculated on why the future is looking bright for China's dubbing industry. The interview has been edited for brevity and clarity.
Sixth Tone: As a voice actor you are integral to a production, yet your role is very much removed from the limelight. What is the appeal of the profession?
Jiang Guangtao: I like things that are more creative. Today, animations, computer games, and audiobooks make up more of our work. The director's inspiration is expressed through the dubbing actor's voice, and the audience can experience the soul that has been created behind the scenes. This soul comes from the voice actor.
When I entered the industry, it was 1995, and I was working at the Changchun Film Studio. At that time, dubbing was mostly done on foreign films. Later in my career, I realized there were lots of animations, as well as national television shows, that needed dubbing. I didn't realize that many of China's actors needed other people to help them dub their lines.
Sixth Tone: Why does the voice of an actor so often need to be dubbed over in post-production?
Jiang Guangtao: Maybe the actor adjusted the script, or didn't remember their lines correctly, and it's not discovered until later. Or maybe there's trouble with an actor's enunciation — there are lots of potential problems.
In China, movies and shows have to be approved by SAPPRFT. If SAPPRFT thinks something is reactionary, violent, bloody, erotic, feudalistic, superstitious, or one of the many things they want to avoid, we have to address this and make corrections.
There are many other problems. For example, the location where the shooting is taking place might be too loud, or the shooting process might not be well-arranged, or the general standard of work might not be high enough. All of these lead to baffling situations where the only solution is dubbing.
Sixth Tone: Aren't modern-day production centers like Hengdian in eastern China's Zhejiang province well-equipped for dealing with issues like background noise?
Jiang Guangtao: Hengdian is quite a small place, and these days it's very crowded. At Hengdian, in one place there might be someone shooting something about the war of resistance against Japan, while in another area, a crew might be filming an old romance, while over here is something else, and over there is another — it's an awkward situation.
Hengdian is a tourist spot, and every day it welcomes lots of tourists. Frequently, when dubbing a film you will hear the tour guides shouting on the recording, because Chinese tour guides use loud speakers. It's annoying for the actors.
Sixth Tone: Dialects and even regional accents are banned in television, something to which the ubiquity of dubbing is sometimes attributed. Is a little regional flavor really that bad?
Jiang Guangtao: China is huge, and the difference between the dialects of each place can be very big. Even Chinese people can't understand other Chinese people if they're not from the same place or belong to the same linguistic group. It's such a headache. That's why SAPPFRT has this requirement.
China is actively seeking collaboration with foreign TV and film production companies — for instance, with Hollywood — while actors from other Asian countries like Thailand, Malaysia, South Korea, and Japan will often film with us. I once saw a series that had people from northeastern China, Taipei, Hong Kong, Thailand, and South Korea. In China, we have a saying: "A chicken talking to a duck." It's at times like these that the importance of voice actors is so evident.
Sixth Tone: What is the relationship between the caliber of actors in China's TV and film industries and the work that you do as a voice actor?
Jiang Guangtao: I can't judge and say people are bad or good, because I once also tried to do regular acting. As a layperson, it's very easy to comment on someone else's performance and say it's bad. If you are an insider, though, then you know how difficult the work actually is. Everyone's thoughts on a performance are different, so I can't say whether it's bad. Dubbing is my job, and all I can do is put all my effort into turning a performance around.
In the past 20 years, if all of China's actors were outstanding — if their performances were all good and their lines were all OK — then dubbing actors like me would have had to rely only on foreign-language films and animations for work, and we would have found it tough to survive. I'm thankful for these actors who aren't good enough in the eyes of viewers, for having helped the voice-dubbing industry be so good for so long.
Sixth Tone: Other than poorly trained actors, what else has made the voice-acting industry as healthy as it is today?
Jiang Guangtao: Before, there were more TV shows to voice and not as many games or animations, but in the last two years — particularly this year — the number of games and animations has increased a lot. Things seem to have suddenly exploded. From this, we've got a much larger number of fans than we had before, and we have more opportunities to step out from behind the scenes and participate in shows and events.
These days, young people watch a lot of Japanese animation, play Japanese games, and like the characters in them. All these characters are voiced by actors, so when people love a certain character, they will also love the voice, and this will make more people want to do this kind of work.
When animations are being promoted, they often don't have a star, and the director may not be well-known, so more and more voice actors will make public appearances. If you see someone is not particularly attractive but they are still able to take the stage, the effect on ordinary people can be infectious.
(Header image: Two voice actors dub for cartoon characters at a studio in Guangzhou, Guangdong province, Dec. 6, 2016. Li Zhanjun/Southern Metropolis Daily/VCG)