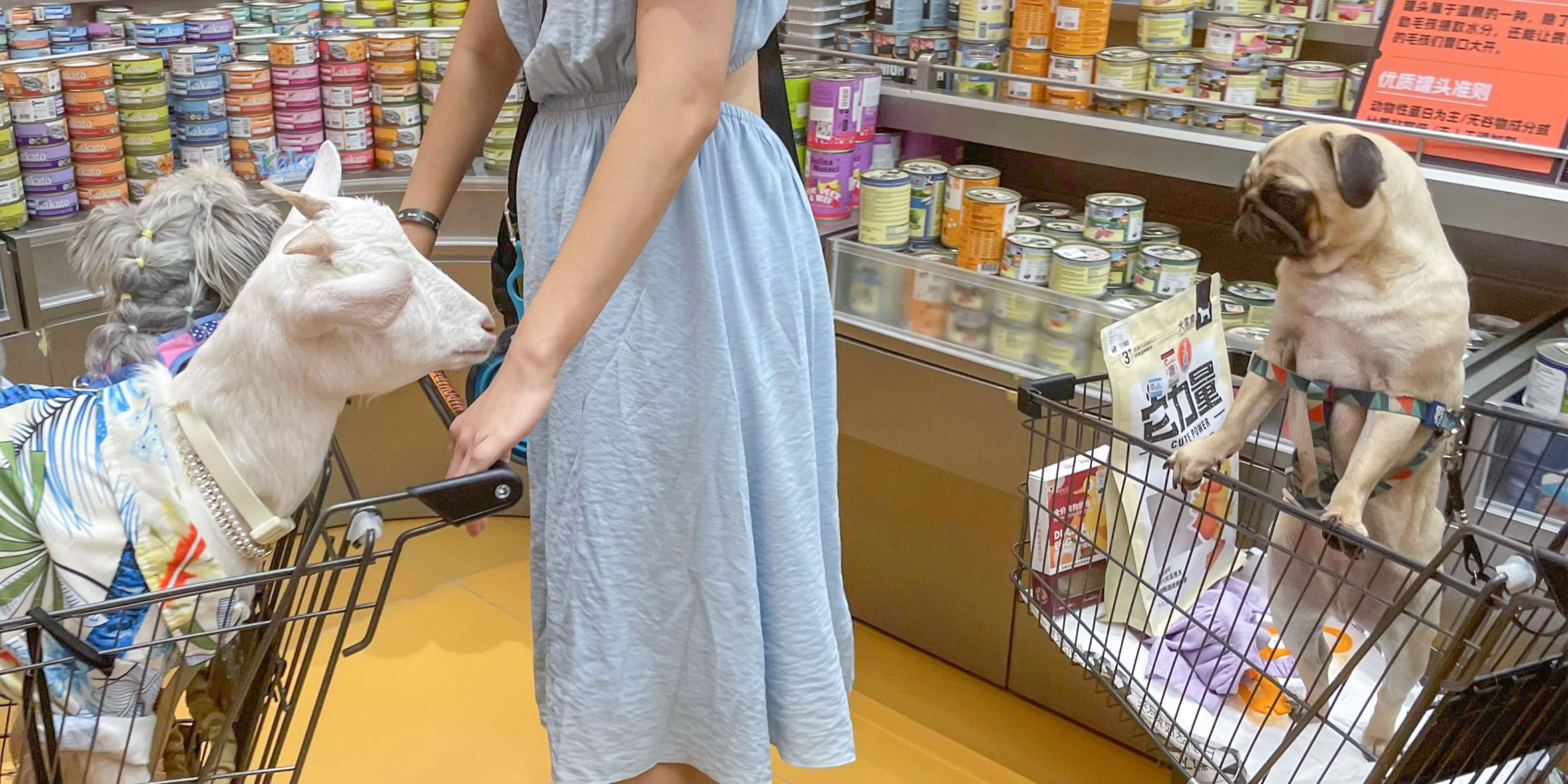 SIXTH TONE ×
The Superstore Betting on China's Animal Attraction
As pet stores in China go, Marsmart is somewhat of an anomaly — not least because it's often the pets that are browsing the aisles.
It's 9 o'clock on a warm Tuesday evening at The Box shopping mall, in central Beijing. While most stores are closing their doors, the aisles at pet supermarket Marsmart are still busy with customers.
Mia, who lives nearby, is browsing the clothing racks for a new outfit for her Maltese, which looks on passively from its dog stroller. Mia prefers shopping in-store, as it allows her to test the shape, design, and fabric on her pet. "It's really difficult finding something suitable online," she says, holding up a new arrival from brand Mookipet priced at 80 yuan ($11).
Meanwhile, her neighbor, Li Yue, checks the store's food section, with its imported brands such as New Zealand's Ziwi, priced at 370 yuan for a 1-kilogram bag. Her toy poodle Kiki, also beside her in a stroller, can eat only hypoallergenic pet food.
In a domestic pet industry long dominated by small community-based businesses offering animals for sale or grooming services, or both, alongside a limited selection of retail products, Marsmart certainly stands out. The company launched its first store in Beijing's Baiziwan area late last year before opening a second location at The Box this July. Both outlets cover about 500 square meters and are more in keeping with those found in the United States and developed European countries: No live animals, just shelves upon shelves of food, toys, and other products.
So far, the model is proving a success with Chinese customers. Could this herald a new phase in the country's pet industry?
Furry friends
One thing is for sure: China's pet economy is growing rapidly. The domestic market saw a compound growth rate of 20.2% from 2015 to 2020, and this year it is expected to be worth 592.8 billion yuan, Xinhua News Agency reported, citing figures from market analyst iiMedia Research.
Naturally, this is attracting investment. As of July, China had 97,740 pet stores nationwide, almost 13% more than at the start of 2023, according to Pethadoop, which tracks the industry. Information released at The One Pet Show, a trade fair held in Shanghai, also shows that the number of outlets doubled between 2019 and 2022, although the closure rate was as high as 40%.
Until recent years, brick-and-mortar pet stores in China consisted of either small community-based operations, less than 100 square meters in size, or large stores in older commercial malls selling live animals, fish, and a range of supplies. Analysis from investment firm Jinding Capital suggests those in the latter category generally make a monthly profit of 50,000 to 100,000 yuan.
Marsmart bucks the trend in more ways than one. Not only does it not sell pets or offer grooming services, but figures provided by the company show that its store at The Box alone rakes in up to 1 million yuan a month and is working on a 14% profit model.
Wang Jingqi, one of the company's co-founders, puts its early success down to the layout of its stores, which are designed to be "a living space for pets and their owners," and the fact that Chinese businesses and commercial districts have become a lot more pet friendly.
Inside, Marsmart's stores have spacious aisles, allowing plenty of room for dogs to interact or pass each other safely, with many shelves at "sniffing height" to allow pooches to pick out items for themselves. A coffee bar also offers refreshments to customers while providing sensory stimulation for animals.
Outside is often a hub of activity. On that Tuesday evening at The Box, pet owners and other shoppers sat in camper chairs in front of Marsmart, drinking coffee, chatting or watching the world go by, while nearby, young people — some also with dogs — practiced their dance moves or honed their skateboarding skills.
Shopping malls and other businesses are increasingly tapping the potential of China's pet market by planning events and activities that target customers with pets, such as frisbee-catching contests for dogs, and DIY craft workshops that teach visitors how to make fun outfits and toys for their furry friends.
"Even three years ago, businesses didn't pay any attention to the consumption power of pet owners. Now, many large-scale retail developments are including pet-friendly services at the planning stage," says Xu Xinrui, founder of HiPawLab, which works with commercial enterprises to organize pet-themed events. She cites the example of Rail In, a brand-new mall in Shenzhen, Guangdong province, that provides special signage and support services for shoppers with their pets.
When Marsmart opened its store at The Box, it organized a pet market at the mall that attracted a total of about 200,000 visitors over two weekends.

Competitive edge
Of course, while Marsmart may put other brick-and-mortar stores in China in the shade, its biggest challenge will be competing with e-commerce sellers. With the cost of rent and other overheads, the relatively high in-store prices could prove an inhibiting factor for consumers used to online bargains.
According to the company, customers on average outlay 200 to 240 yuan per transaction, with their typical first spend in the region of 600 yuan. It has launched a membership program to help shoppers save money on certain products, and it estimates that active members visit two to three times a month.
In addition to stocking more than 5,000 standard products available via e-commerce channels, to offer something different, Wang explains that about 10% of the goods at her stores are exclusive items, with new products arriving every month to keep things fresh. They also stock goods from higher-level brands at either the same price or slightly cheaper than through a brand's official website.
Still, Wang accepts that the company will need to strive to keep prices competitive, especially for common products. Data from Euromonitor show that just over 61% of pet food was purchased online in 2021, up from 45% in 2018.
Based on trends in the U.S. pet industry, which saw small retailers start to withdraw from the market amid a shift toward comprehensive superstores in 2011, a recent report by Hejun Consulting suggested that the Chinese pet market could see changes in its consumption channels around 2025.
However, others point out that, due to differences in the development of their markets, Chinese consumers did not have the same habitual relationship with large retail superstores as those in the U.S. or Western Europe before the widespread availability of e-commerce. This could continue to put brick-and-mortar stores at a disadvantage for some time.
Despite an uncertain future, Wang remains confident. She estimates that in any major Chinese city, at least 10% of residents will be pet owners. "That's plenty of potential for a city to accommodate three or four of our kind of pet superstore," she says.

Reported by Qi Ludan.
(Due to privacy concerns, some interviewees have been given pseudonyms.)
A version of this article originally appeared in Hu Xiu. It has been translated and edited for brevity and clarity, and is republished here with permission.
Translator: David Ball; editors: Xue Ni and Craig McIntosh.
(Header image: Consumers at pet supermarket Marsmart in Beijing, 2023. From Hu Xiu)