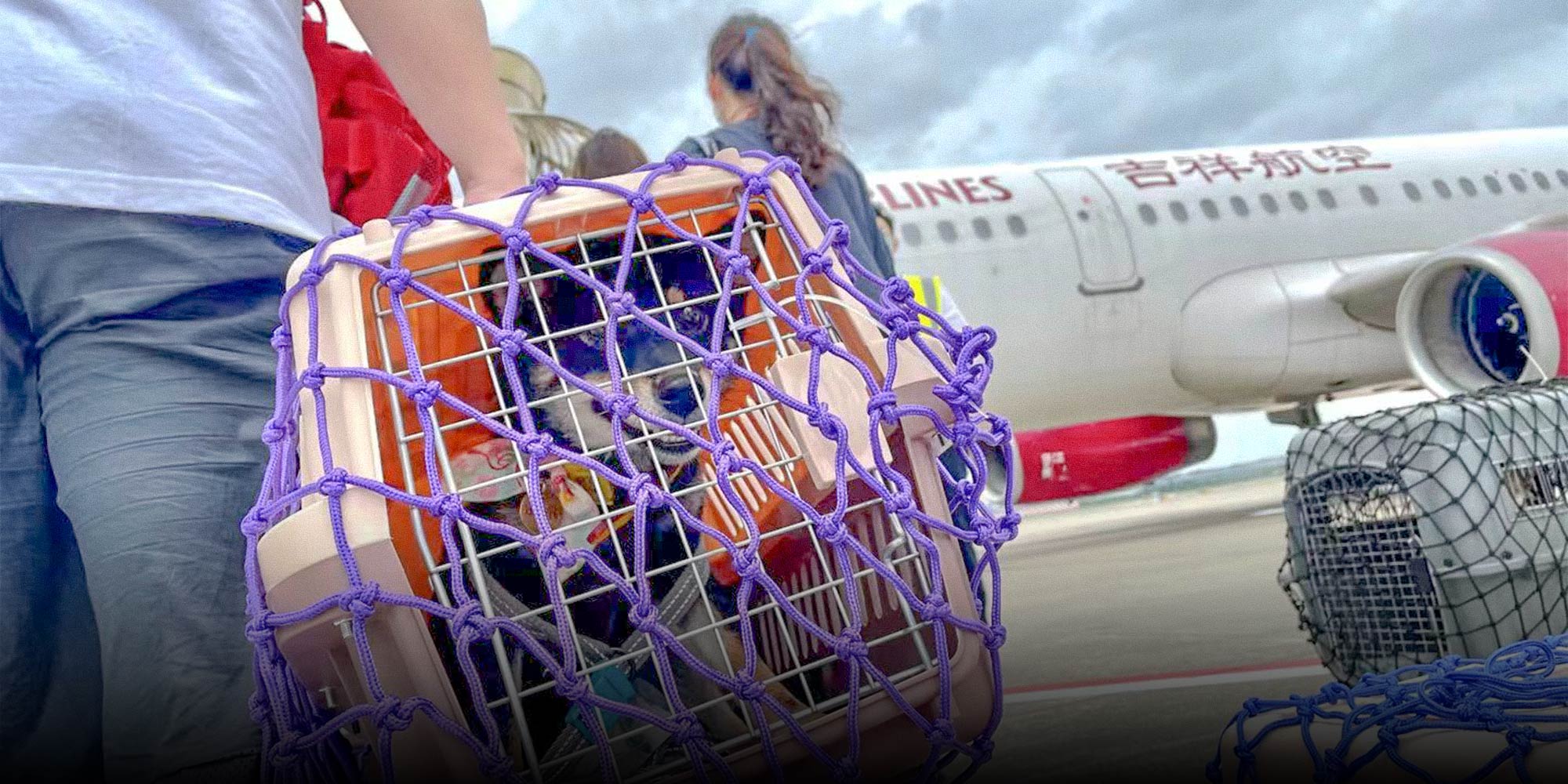 NEWS
Chinese Tour Operators Are Now Offering Pet-Inclusive Vacations
Businesses are tapping into a lucrative market, promoting chartered flights and animal-friendly accommodations at exotic domestic destinations.
SHANGHAI — Wang Jia previously left her dog at foster care centers during holiday travels, but this year her beloved pet joined them on their four-day trip from Shanghai to the eastern Zhejiang province.
"I like traveling, but it's sad to leave my dog behind," Wang told Sixth Tone on Thursday.
Wang is among a growing group of pet owners who now travel with their furry friends, thanks to an increase in animal-friendly tour groups catering to such needs. Over the National Day break, the 27-year-old traveled with a group of 20 dogs and their owners, visited a local ancient town, swam in a river, and ended their day at a five-star pet-friendly hotel.
"It's worth every penny," she said, referring to the 3,000 yuan ($465) accommodation charges for the entire trip.
The size of China's pet market doubled between 2015 and 2019, with the industry's value reaching 295 billion yuan last year, according to consultancy firm iiMedia research. Data showed nearly 70% of pet owners in China are millennials with relatively high income and academic degrees.
The rise in pet ownership has also fueled demand for services tailored toward animals. A survey from home-sharing platform Xiaozhu showed that pet-friendly homestays had 23% higher occupancy than other types of accommodation as early as 2018.
Zhu Bing, co-founder of pet travel company Banchongyou, told Sixth Tone they have already cooperated with over 30 hotels nationwide to create pet-inclusive tour packages.
"Many hotels are suffering from the impact caused by COVID-19, so they want to be more open to pets," she said. "They have found that people traveling with their pets is a huge consumer market."
Newly started in March, Banchongyou offers trips for customers and their pets at locations nearby Shanghai. Their itinerary primarily includes idyllic sites, which they say are favored by both pets and their owners.
"People and their pets in Shanghai are exposed to a noisy and fast-paced lifestyle, so they want to relax in nature," Zhu said. "Traveling with the pet satisfies the spiritual needs of the owner and the pet and promotes a more intimate relationship between them."
Zhu added that they plan to offer charter flights for long-distance travel in the future. Meanwhile, another pet travel company, iBabyGO, is already offering such services. After a six-month preparation, the company whisked 118 passengers, along with 66 dogs, from Shanghai to the beach town of Sanya in the southern island province of Hainan in May.
"It was fully booked just two weeks after we released (the plan)," Xia Xuying, co-founder of iBabyGO told Sixth Tone.
A round-trip economy class ticket for the trip costs 4,500 yuan per pet, allocating them a seat in the cabin. The canines, however, must be less than 32.5 kilograms and hold valid pet registration and immunization certificates, and must stay in the animal carry case for the entire journey.
Airports in Shanghai and Sanya have now opened a "pet green channel," and arranged dedicated personnel to complete check-in and inspections.
Luo Yi was among the first travelers who flew to Sanya with her husband and their shiba inu named Curry. The family shelled out 13,500 yuan for air tickets alone and stayed at resorts that allowed dogs and also hired a pet photographer to document their beach holiday.
"Traveling by air with Curry and having her sit next to us in the cabin was an experience that money couldn't buy," the 28-year-old told Sixth Tone. "All the travelers were cooperative because we wanted the event to be successful so that more people can fly with their dogs in the future."
Meanwhile, pet travel operators like iBabyGO are eventually looking to expand their destinations. The company's co-founder believes that more businesses are likely to introduce similar services, adding that clear pet travel-related policies would make such travel easier for everyone.
Last month, the company organized its second chartered flight from Shanghai to Sanya, and is organizing two trips to Changbai Mountain in northeast China for December. Currently, nearly all reservations have been made by dog owners.
"We hope that next year, the policy accommodating pets on non-charter flights will gradually open up to help more pet owners realize the freedom of flying with their pets," iBabyGO said on its post announcing its Changbai Mountain trip.
Contributions: Chen Congcong; editor: Bibek Bhandari.

(Header image: Curry, the shiba inu, waits to board the plane, 2021. Courtesy of Luo Yi)