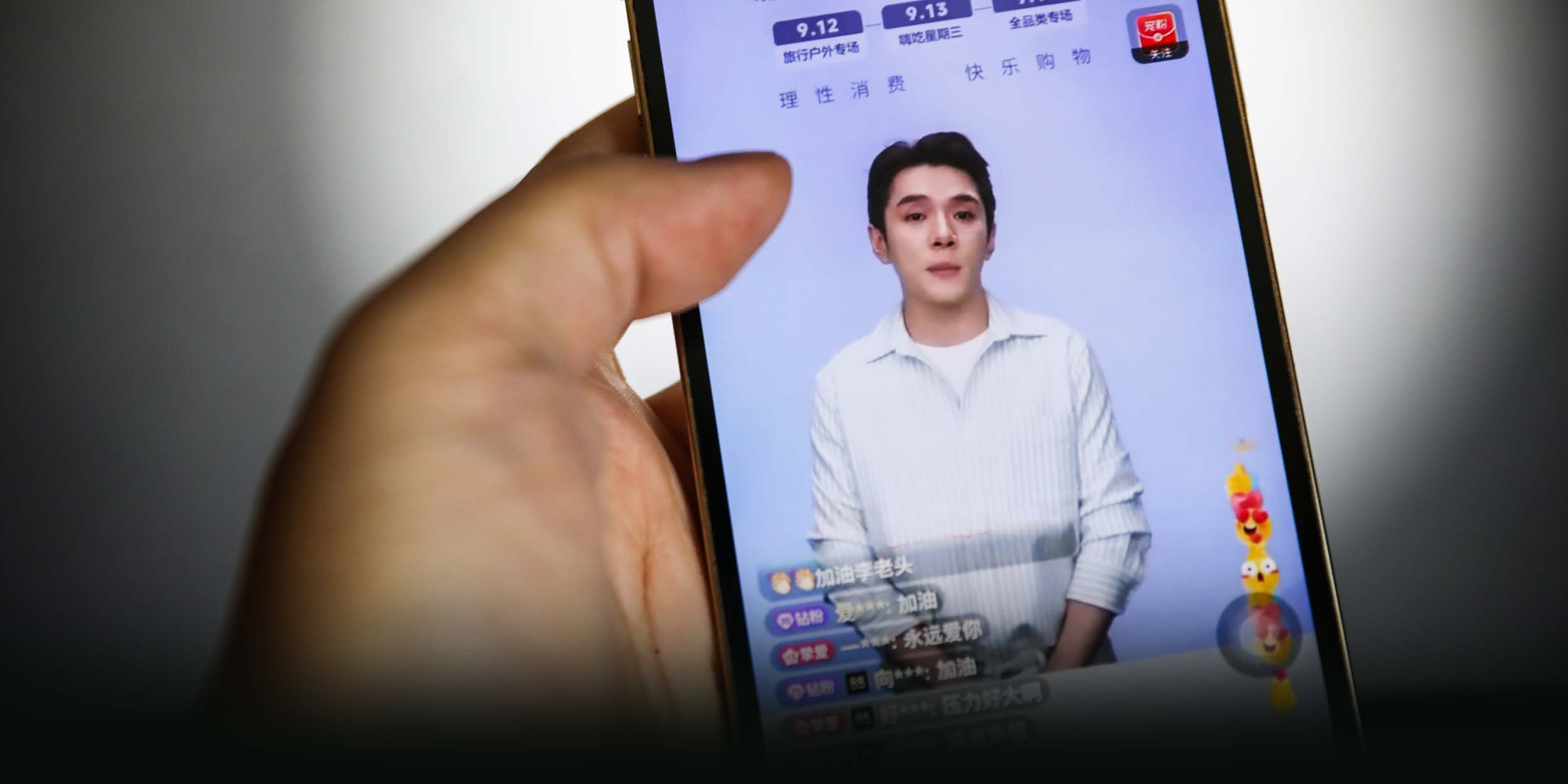 NEWS
Following Rant, China's Biggest Influencer Accused of Being 'Out of Touch'
Known for being a livestreamer whose low prices connected him with fans, Li Jiaqi is now being roundly criticized for failing to grasp consumer sentiment.
China's biggest e-commerce livestreamer Li Jiaqi has lost more than a million followers after remarks he made about the price of an eyebrow pencil led to accusations of him being out of touch with the public.
Known as "The Lipstick King" in China, Li stoked controversy after he asked a viewer whether they were "working hard enough" after the viewer commented that a 79 yuan ($10.80) eyebrow pencil was too expensive during a livestream Sunday.
Despite making a tearful apology in a livestream the next day, Li has lost over one and a half million followers in total on microblogging platform Weibo and Taobao Live, Alibaba's livestreaming platform, as of Tuesday afternoon.

"I am actually a makeup counter salesperson myself, and I deeply understand that everyone's work life is tough and not easy," Li wrote in an apology post on Weibo.
However, many netizens are still criticizing the 31-year-old, whose down-to-earth reputation earns him tens of millions of viewers each livestreaming session, for being out of touch with his customers.
"You're making money from ordinary people, yet you still mock ordinary people for being poor," reads the top comment under Li's apology post, with 770,000 likes.
Netizens have also attacked the product manufacturer, domestic brand Florasis, by comparing the pencil's price with that of gold — 985.71 yuan and 468 yuan per gram, respectively — although this does not factor in any free refills for the pencil. Other popular makeup brands in China sell for around 20 to 30 yuan per pencil.
Fan Huijie, a fashion influencer on Xiaohongshu, was disappointed by Li's remarks, especially as people's finances have taken a hit since the pandemic began. "What he said makes him seem insensitive and out of touch," Fan told Sixth Tone.
State media have also weighed in, with CCTV calling for livestreamers like Li to be more humble.
"Every business is reliant on ordinary consumers who carefully manage their spending. Once they lose their grounding and forget their commitment to providing a good service, they are destined to be rejected and phased out," the state broadcaster commented.
However, some fans like Shi Yingjie are defending Li. She likes buying beauty products from him because he offers lower prices. "Does it mean that the prices have to be lowered every time he sells products for them to be considered good value?" she said.
The controversy comes at a time when the government is trying to boost consumer confidence amid a slow post-pandemic recovery. According to the National Bureau of Statistics, the year-on-year growth rate of China's consumer price index in July was negative for the first time since January 2021. 
Meanwhile, the trend of seeking out "cheap alternatives" for a wide range of products has grown popular in recent months as consumers are becoming more price-conscious.
"It's possible that people's expectations of value for money have increased compared to the past," Zou Yunhan, a deputy director at China's State Information Center, told CCTV on Monday.
Editor: Vincent Chow.
(Header image: Li Jiaqi cries and apologizes to the public in a livestream, Sept. 11, 2023. VCG)