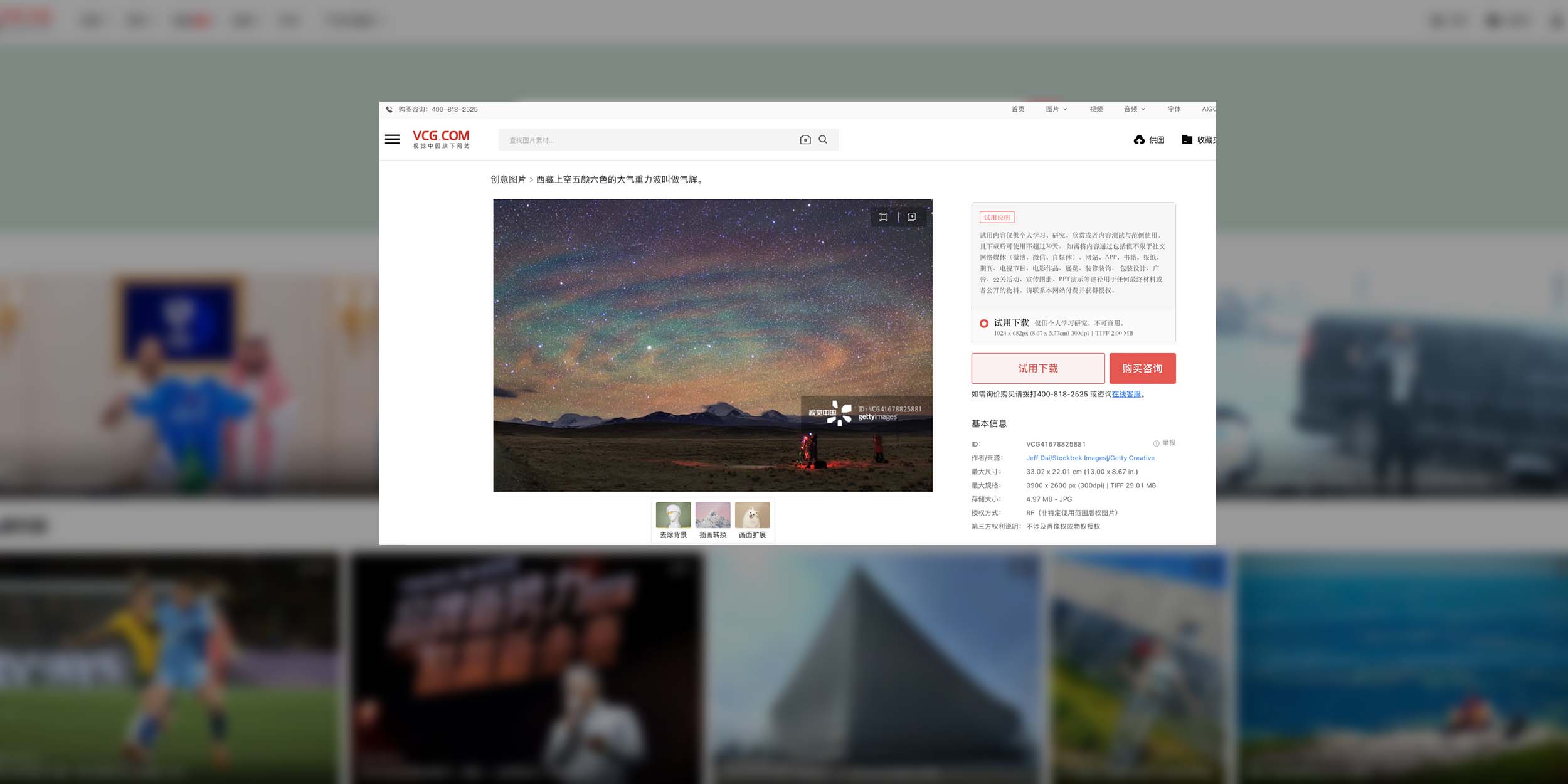 NEWS
Photo Agency Demands Compensation From Photographer — For Using Own Photos
VCG has demanded up to 86,500 yuan ($11,856) in compensation after a photographer published his own photos on his WeChat public account.
Visual China Group, China's largest stock photo provider, has been plunged into a fresh controversy after a well-known photographer revealed that the company has demanded compensation from him for publishing his own photos. However, the company maintains that it has the exclusive rights to use the photos.
The controversy arose on Tuesday afternoon when Dai Jianfeng, a Chongqing-based professional astrophotographer, posted on microblogging platform Weibo that VCG had accused his company of publishing 173 photos on its WeChat public account, in violation of copyright law. In its email, VCG demanded Dai either pay 51,900 yuan as compensation, or pay 86,500 yuan as a "usage fee" for the 173 photos.
Dai expressed outrage in his Weibo post. "I've neither collaborated with VCG on any of these photos nor uploaded the photos to VCG, so how did VCG get the copyright?" 
The company issued a statement on Weibo the same day, saying that it holds the rights to the photos. It said that Dai had licensed the 173 photos to Stocktrek Images, a U.S. stock photo provider, which licensed the photos to Getty Images, for whom VCG is the exclusive distributor in China. VCG therefore has "complete sales rights" for the photos, it said, calling the case a "misunderstanding." 
Dai dismissed VCG's explanation in another Weibo post on Wednesday, saying that he has received verification from Stocktrek Images that VCG does not hold the rights to his photos. According to domestic media outlet Cqnews, Stocktrek Images confirmed its licensing deal with Getty Images but said it has also now informed Getty Images and VCG that Dai's work cannot be used by VCG. 
As of Wednesday evening, Dai's photos cannot be found in VCG's library.
The controversy has dominated social media discussions, with several related hashtags garnering more than a billion views on Weibo since Tuesday. 
Two lawyers at Shanghai Zhenghan Law Firm specializing in intellectual property disputes told Sixth Tone that VCG's demand for compensation may be legitimate. 
"The photographer would indeed need to pay the fee if VCG secured the licensing (of the photos) from their creator or copyright owner, and the licensing excludes the use (of the photos) by the creator or anyone else — meaning it was an 'exclusive license' under copyright law," said Chen Shuyuan, a lawyer at the firm.
But that would only be the case if each of the licensing deals exist and the license is exclusive. "If any of the steps are missed, the copyright and compensation claims would be groundless," said lawyer Zhu Siheng.
Established in 2000, VCG owns more than 400 million pieces of digital content, including photos, videos, and music, according to its latest annual report. 
The company has been embroiled in nearly 200 lawsuits in the past six years, according to enterprise database Tianyancha. Most of the cases involved the company suing others for copyright infringement.
In 2019, the company sparked public outcry when it claimed copyright ownership of the first-ever photo of a black hole released for free by the European Southern Observatory. At the time, the state broadcaster CCTV called VCG a "malignant tumor" in China's intellectual property market.
In 2020, a Beijing law firm accused VCG of fraud by misrepresenting its collaboration with Getty Images. VCG denied the accusation. 
China has seen a growing number of intellectual property cases in recent years, with the Supreme People's Court reporting last year an average increase of 24.5% each year since 2013. The government has rolled out measures to strengthen copyright protection, including the passage of the Civil Code in 2021, which increased punishments for copyright infringement. 
Editor: Vincent Chow. 
(Header image: A photo taken by Dai Jianfeng, which VCG is claiming the rights to. From @Jeff的星空之旅 on Weibo)