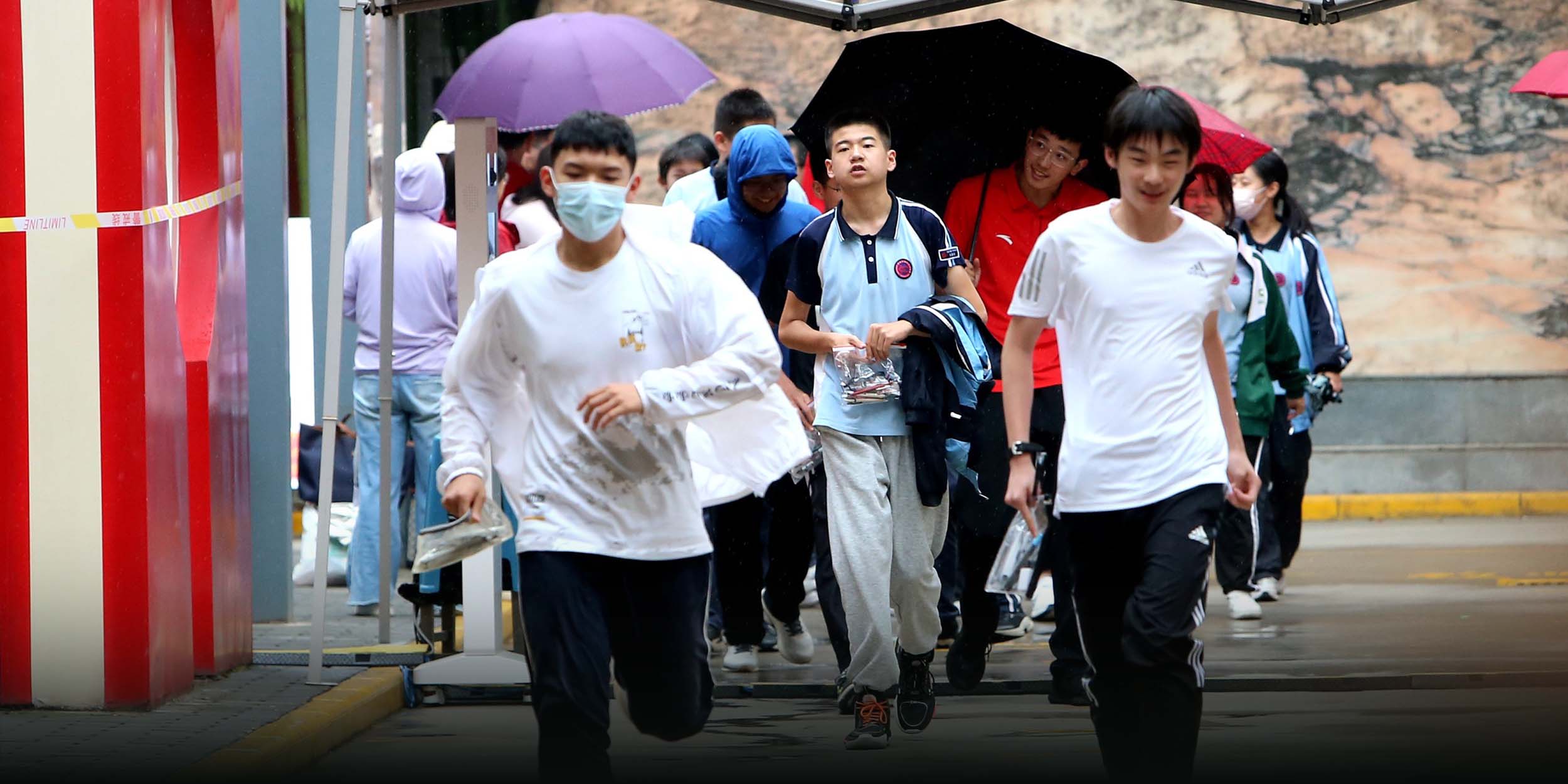 NEWS
Zhongkao Fallout as Backlash Against 'Returning Students' Triggers Official Investigation
Xi'an has relaxed its household registration requirements to attract talent in recent years. Now authorities are investigating whether out-of-province students are taking advantage of the system to improve their exam chances following parents' complaints.
In recent weeks, cities around China have begun announcing the results of this year's high school entrance examination, or zhongkao, the hugely important milestone for Chinese children that can determine their future prospects. Some families are happy, some less so — and now some parents are even crying foul.
Over the past week, parents in the northwestern city of Xi'an, capital of Shaanxi province, have been seeking answers from local education officials over claims that a large proportion of this year's zhongkao takers there were students from other provinces. Since results in the city were announced last Friday, rumors have circulated that up to 40,000 of the around 100,000 total zhongkao takers in Xi'an were such students.
These students study in schools outside Xi'an but have their household registration, or hukou, in Xi'an. The city has one of the country's most relaxed hukou systems following reforms in 2017 to attract talent. The policy also allows for Shaanxi parents working in another province to send their children back to take the zhongkao in their hometown, hence the name "returning students."
On Tuesday, Xi'an's education department responded to the controversy by clarifying that 3,608 "returning students" took the city's zhongkao this year, accounting for only 3.5% of the total takers.
The official figure has not quelled parents' anger, however. The main concern is that these "returning students" are depriving local students of educational resources, making it more difficult to get into good high schools. This is despite the admissions rate for regular high schools in Xi'an increasing from 63.13% in 2022 to 66.83% this year.  
 
China has a general policy of sending half of middle school graduates to regular high schools while the other half either go to vocational school or drop out. But the Xi'an parents' worries extend beyond getting into good high schools, as they also worry that "returning students" would make the national university entrance examination, or gaokao, three years later more competitive for their children.
"Gaokao migration" is a known phenomenon in China, as high school students try to take the gaokao in places where they have a better shot of getting into a good university. The Ministry of Education has cracked down on the practice. 
The latest controversy focuses on "zhongkao migration," with much of the blame placed on parents in neighboring Henan province.
The acceptance rate of regular high school admissions in Zhengzhou, the capital of Henan, has been almost 10% higher than in Xi'an since 2021. This suggests that parents of "returning students" from Henan are motivated not just by getting into a good high school but also university, as the admission cutoff scores for undergraduate universities in Shaanxi have been lower than in Henan in the last three gaokao exams, despite both provinces using the same exam papers.
These educational disparities and Xi'an's hukou reforms have caught the attention of local educational agencies looking to make a profit. According to local media reports, various agencies in Henan target their services at students registered as residents in Shaanxi, while others provide consultancy services to help students register their hukou in Shaanxi.
In a commentary, Xiong Bingqi, the deputy dean of the 21st Century Education Research Institute, suggested that the controversy is a result of regional disparities in educational resources. He calls on local officials to disclose "returning students" statistics to the public to increase trust, and to ensure that admissions rates do not drop.
"It is necessary to not mislabel students as 'returning students' if they are not so, as it not only affects the implementation of talent recruitment policies but also undermines the fairness of the high school entrance examination," Xiong wrote.
On Thursday, Xi'an's education department and public security bureau launched an investigation to verify the qualifications of every "returning student."
"We sincerely thank the students' parents and the public for their concern and support for Xi'an's education work," the education department said in its announcement.
Editor: Vincent Chow.
(Header image: Students leave an exam site after exams finished in Xi'an, Shaanxi province, June 17, 2023. VCG)