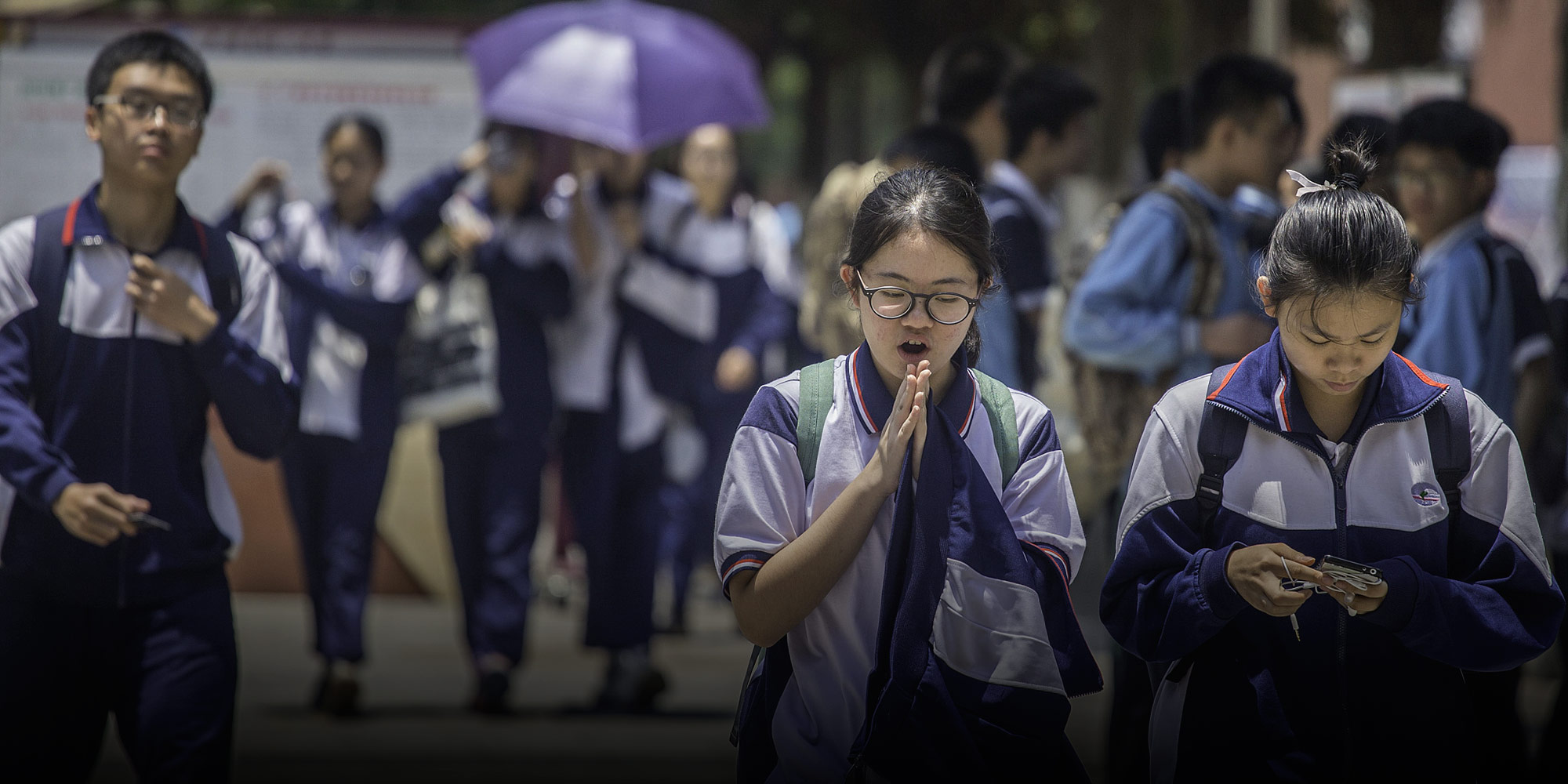 VOICES & OPINION
One Test Labels 30 Million Chinese Kids Failures. That Must End
China's High School Entrance Exam is designed to ensure 50 percent of students will fail, but that shouldn't doom them to an inferior education.
Many popular narratives about China's education system center around the dreaded "gaokao" college entrance examination, with its military-style cramming and rote memorization in test-prep factories. However, there is scant attention paid to another test, earlier in Chinese students' educational careers. At the age of 16, students in China take the High School Entrance Exam (HSEE), or zhongkao, a test that's crucial in determining the trajectory of the rest of their lives.
Students who fare poorly on the HSEE will either drop out of school or choose to study in a vocational or technical secondary school. The divergence among destinies can be stark. I passed the zhongkao for entrance into a regular high school and eventually became the first person in my family to go to college. Most of my friends had to enroll in vocational schools, while others dropped out to work in local factories that assembled "Made in China" products for the world. They were often labeled as chasheng, meaning "bad students," and they ultimately never escaped their working-class status.
For years, I believed that something significant separated me from my peers; that they were ultimately to blame for their poor performance in a meritocratic system and, thus, for their professional failings. But this was far from the truth. In fact, it's the deliberate result of a system that causes people to internalize their failure rather than blame their circumstances.
In order to balance the country's educational resources and to meet the needs of a changing labor market, China's Ministry of Education dictates that roughly 50 percent of all students taking the HSEE should fail the exam each year. Put another way, no matter how hard test-takers try, it has been predetermined that those in the lower-scoring half will only ever have the option to go to vocational school. There are no alternate paths for them to receive a university four-year degree once they flunk out of the academic track at age 16.
Even with the dismal current employment landscape for college graduates, Chinese families still mostly associate academic success with long-term financial security. Despite the employment rate for graduates of vocational schools being as high as 95 percent, vocational education is still perceived as an option for failures.
The HSEE originated in the early 1980s when China started wide-scale structural reforms in its secondary education system. In responding to the new shape of the labor market after Deng Xiaoping's reforms, the Ministry of Education implemented the HSEE to produce secondary-school graduates "who were neither overqualified nor undertrained." In its 1993 "Outline of China's Education Reform and Development," the State Council proudly announced that vocational students made up more than 50 percent of all high school students. In 2012, the Ministry of Education reiterated that "regular high schools account for a ratio roughly the same as that of vocational schools in the education of this stage." Currently, there are 30 million Chinese students enrolled in all types of vocational and technical schools.
Although the pass rate varies geographically and year-to-year, the overall national HSEE pass rate has remained at roughly 50 percent since 1993. This number has never been a secret to the public, but when I shared the test's fail rate with Chinese intellectuals, few of them had ever heard about it. The only group that seemed aware of the set failure rate was middle school principals, though they generally seemed somewhat blasé about its significance.
This collective indifference is troubling, since a great deal of moral judgment accompanies poor grades. Test scores in China, as the University of Sydney's T.E. Woronov argues in her 2015 book "Class Work: Vocational Schools and China's Urban Youth," "condense and represent social value... Young people increasingly are their test scores." Consequently, people feel they can judge the moral goodness of these teenagers as easily as they measure their grades. Half of all young people in China are thus perceived as "failures" due to the HSEE cutoff.
When the educational system sorts students into binary categories, people ignore the considerable efforts the other half of students are making. Rather than making institutions accountable, we simply believe it is these students who are to blame for not working hard enough and losing the chance to achieve upward mobility. However, such cultural biases are primarily produced at the institutional level. In "Who's Afraid of the Big Bad Dragon," University of Kansas professor Yong Zhao suggests that the Chinese government emphasizes individual effort, and makes students believe that excellence only comes from their nuli — diligence. Instead of leveling the playing field for students with diverse backgrounds and strengths, the government successfully transfers the responsibility for ensuring individual success to the family and eventually to the student.
The consequences of negative labeling are significant. Vocational students are likely to internalize those cultural biases and blame themselves for being deficient compared with their more-successful peers. They frequently fail to progress in their learning after enrolling in vocational schools, which are often their first time in an unmonitored environment, without their parents or familiar teachers around to guide them. Researchers have found that, relative to academic high schools, attending vocational high school substantially reduces a student's general skills, does not improve their specific skills, and increases the likelihood of them dropping out, which is especially true for disadvantaged students. These circumstances then often lead to a downward spiral where students eventually care little for their education and future prospects.
Xu Xifa, once a vocational student in a construction engineering program in the northeastern province of Shandong, told me that only about 20 percent of his classmates really cared about their schoolwork, and the rest of them either chatted on cellphones or slept in class. An English teacher at the Quzhou Technician Institute lamented, "My students don't have any clear learning goals. They are obsessed with video games. They are disaffected and nonacademic." Sleeping in class is common enough that it has become more or less accepted. Never was Napoleon's adage about China being a sleeping giant more true than in a Chinese vocational school.
Male teenagers in vocational schools socialize through cigarettes, video games and group violence. My 21-year-old nephew, Bai Ruiwen, studied at the Zhejiang Construction Technician Institute. He was involved in several incidents of group violence on campus, in which his clique attacked over 20 students with bricks. He said, "In my school, no one learns to be good. At such a young age, we are easily influenced by the environment."
Although the high employment rate of vocational school graduates indicates that these young people can get a job when they graduate, they often find themselves working in the low-end service sector and changing jobs frequently. Horizontal job mobility, however, doesn't equate to upward mobility. Vocational students find and change jobs according to short-term, instrumental logic that usually doesn't lead to a professional end point. Xu did not like construction engineering, so he decided to be a fitness instructor after he graduated. Bai was sent to work in a small elevator company as an apprentice, but after six months he left the industry for good to work in a local e-commerce company that sells milk powder, cereal and bras on Taobao.
Despite the dire prognosis, I'm convinced that vocational education has a crucial role to play in China's future. In 2013, the State Council's "China 2030" report declared the country's economy would transition from "Made in China to "Innovated in China," which would see the creation of a skilled and knowledge-based labor force. From 2005 to 2013, the central government appropriated around $200 billion to develop vocational education and pushed industries to embrace Germany's widely lauded apprenticeship system.
However, such stated aims will be difficult to realize if the stigma surrounding vocational students remains. To resolve this problem, several changes have to be made. First, vocational education should not be seen as a byword for failure, a broader definition of success is essential. The work needed to change cultural biases needs to begin at the institutional level. One such example of changing attitudes is Singapore, which has implemented a successful national vocational education program known as SkillsFuture.
Second, the government needs to systematically regulate and monitor the quality of vocational high schools. Due to the lack of accountability, vocational students in different schools and regions have vastly different educational experiences. Implementing a credentialing system, as proposed by Stanford University's Rural Education Action Program, is necessary in order to ensure the government's investment pays off in student outcomes.
Most importantly, the educational system needs to encourage diverse strengths and aspirations instead of eliminating individuality. This means we must allow students to demonstrate their passions and capabilities through means relevant to their personal interests, not simply through test grades. This also requires institutional arrangements to be made to allow some vocational students to return to the academic track if they aspire to attend a four-year university. Only when the other half of China's youth are no longer labeled as failures and their individuality is celebrated will they finally wake up — and only then will China have the chance to shake the world.
This article was first published on Caixin Global, and has been republished with their permission. The article can be found on their website here.
(Header image: Students exit the testing hall after taking the High School Entrance Exam in Guangzhou, Guangdong province, June 17, 2018. Tan Qingju/Southern Metropolis Daily/VCG)