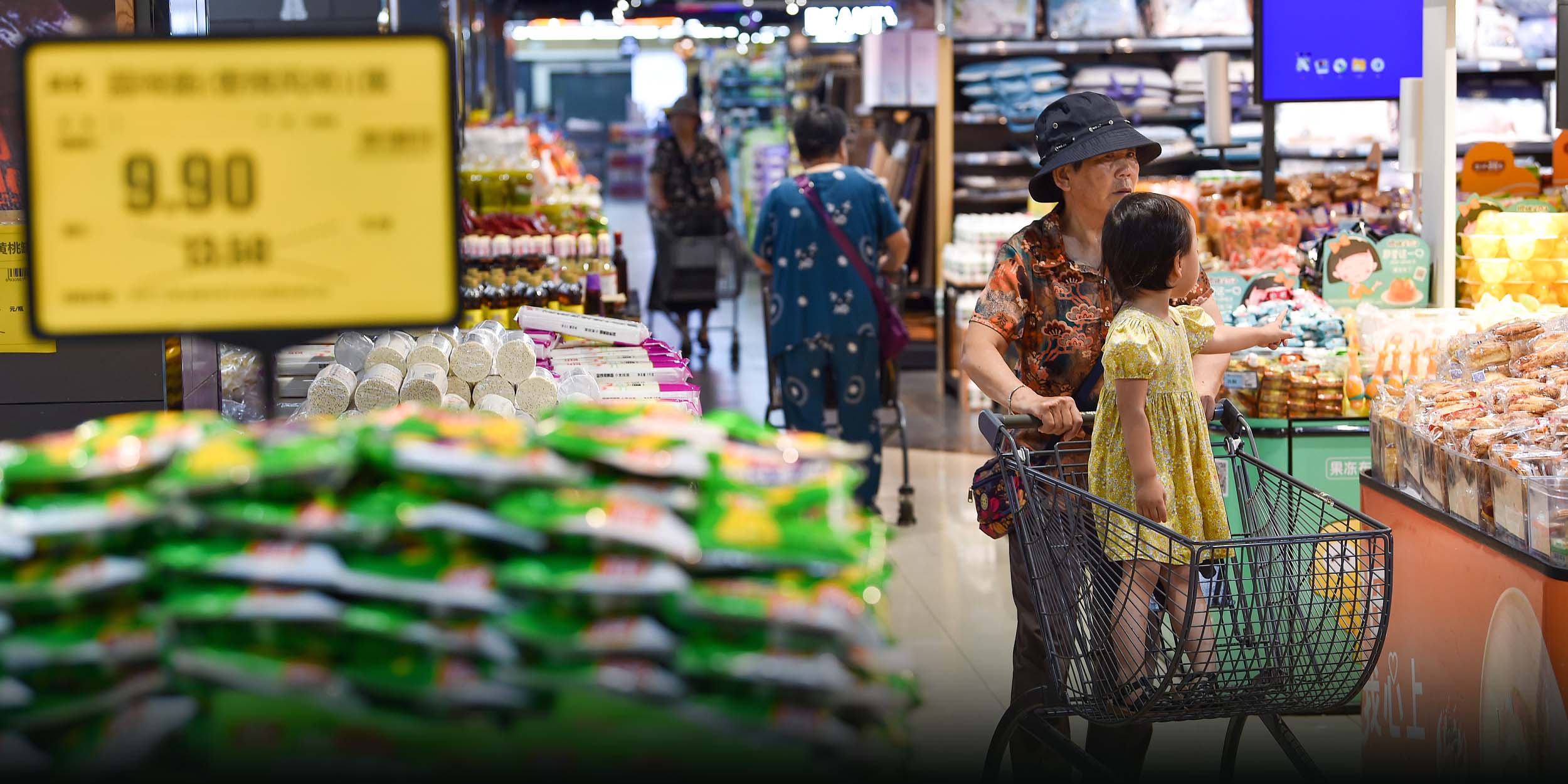 NEWS
Price Drops Beckon for Money-Conscious Chinese Consumers  
Prices of meat and vegetables are flatlining in China despite serious disruptions to supply. Consumers are happy, suppliers less so.
Prices of food and services in China are falling despite unprecedented heat waves disrupting supply this summer. While consumers may be happy with a broad price drop, the trend is less positive for suppliers amid falling consumption. 
In June, China's consumer price index, which measures the overall change in a wide swath of prices for goods and services, was 0% year-on-year — the lowest level since March 2021, according to the National Bureau of Statistics. 
On a monthly basis, the CPI in June decreased 0.2% from May. The decline in the CPI was mainly driven by a drop in food prices, especially pork, which fell 1.3% from May and 7.2% year-on-year. 
Pork is a staple of Chinese people's diets,
making up
around 60% of total meat consumption in China. Pork prices are a major part of the CPI, which is even jokingly referred to as the "
China Pig Index
" by Chinese netizens. 
The falling pork prices have a significant impact on the livelihoods of farmers. Mo Ge, a pig breeder from the central Henan province, highlighted the continuous volatility of pork prices in recent months, which has led to a lack of confidence among farmers. 
Pork prices are falling despite heat waves across China disrupting supply. Wen Bin, chief economist at China Minsheng Bank, told local media Economic View that the heat waves may exert limited upward pressure on meat and vegetable prices, but CPI might still turn negative in July.
Prices of both beef and lamb also fell in June, a 3.4% and 1.7% year-on-year decline, respectively. Li Kunyan, a resident in the northeastern Heilongjiang province, confirms that beef prices have slightly fallen, but regional price differences are still more important for her as beef is sold at around 40 yuan ($5.58) per 500 grams in her hometown in comparison to around 60 yuan per 500 grams in Shanghai. 
Given the price difference, Li brought over 10 kilograms of beef with her when visiting her daughter in Shanghai in June.
"Compared with beef, pork is much more affordable," Li said. She added that she could enjoy "pork freedom" now, referring to the popular meme indicating one's ability to purchase products without a second thought. 
Boosting consumer demand for food and services has been a top priority for Chinese policymakers following the COVID-19 pandemic. The government has set a target of around 3% inflation in average consumer prices this year. 
Consumption has yet to recover to pre-pandemic levels, however, with consumers choosing instead to save more. Some economists predict a stronger rebound in domestic consumption in the second half of the year.
Editor: Vincent Chow. 
(Header image: Shoppers at a supermarket in Nanjing, Jiangsu province, July 10, 2023. VCG)