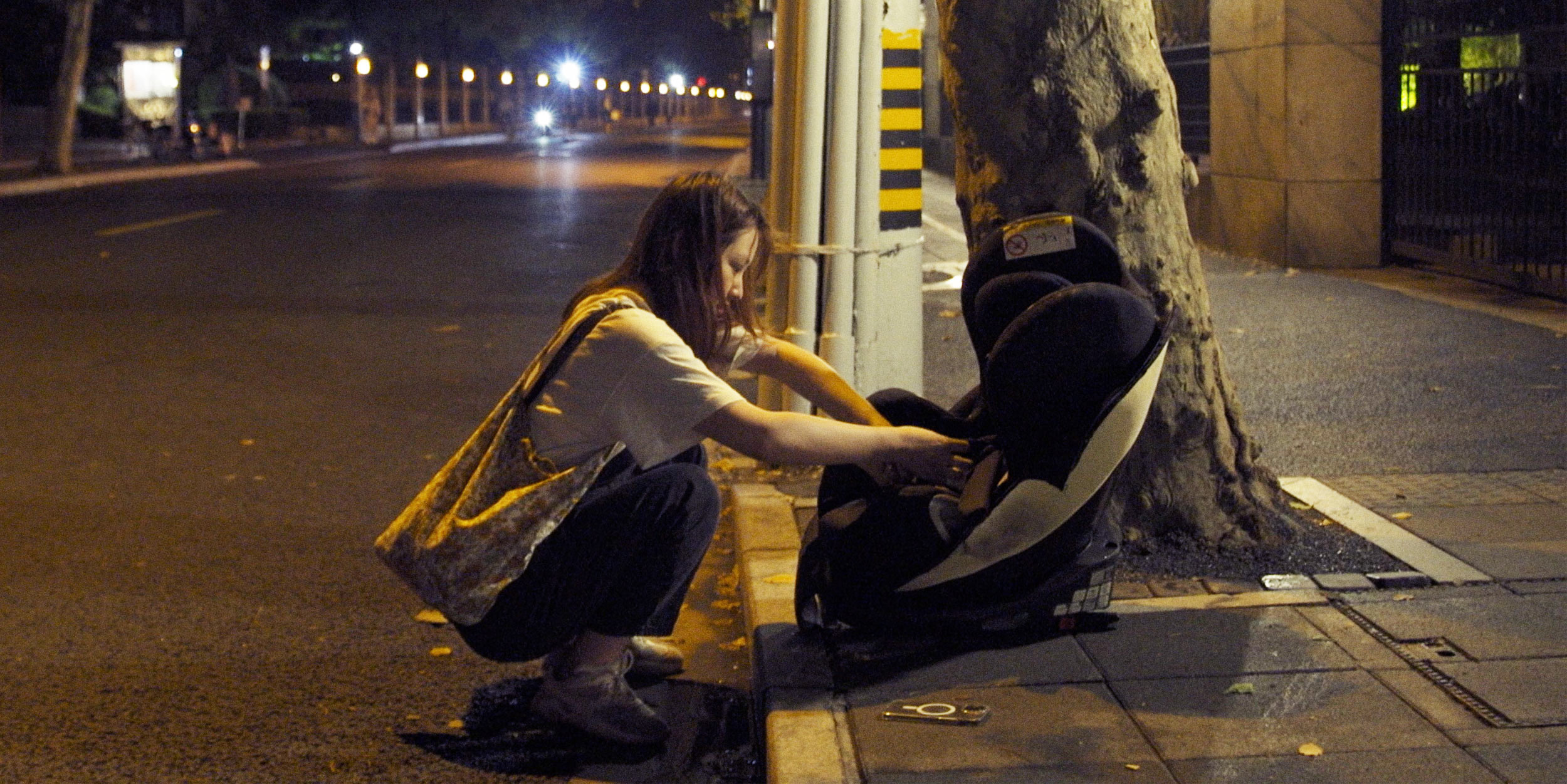 FEATURES
Stooping Takes China by Storm as Zoomers Scour the Streets for Junk
Cash-strapped young Chinese have developed a sudden passion for furnishing their homes with discarded items found on the street. Their parents are horrified.
SHANGHAI — After darkness falls, Zhou Yuxian hops on his bicycle and cruises the streets of downtown Shanghai. It's not just for exercise. He's out hunting for "treasure," he says.
The 27-year-old is among China's early adopters of "stooping" — a subculture where people leave unwanted items on the street for others to pick up and take home.
Zhou's apartment is covered with random objects he found during late-night rides: bamboo poles, lamps, reams of colorful ribbons. Recently, he was excited to discover an abandoned toilet on a street corner: It's now being used as a plant pot in his friend's office.
Until recently, most Chinese consumers would have considered the idea of furnishing their homes with other people's junk bizarre, or even shameful. But Zhou says his generation doesn't see it that way.
"We can wear luxury brands and pick up 'trash' at the same time," he tells Sixth Tone. "It's not contradictory; it shows a very fashionable attitude."
Stooping has its roots in New York, where there is a long tradition of people leaving unwanted furniture on the stoops of their apartment buildings. The name "stooping" was coined in 2019 by a couple from Brooklyn, who set up an Instagram account sharing photos and locations of discarded items in the city. The feed — Stooping NYC — has amassed nearly half a million followers.
Now, the movement is rapidly taking off in China. Since last summer, stooping groups for more than 12 Chinese cities have formed on the social app Xiaohongshu, and posts about stooping have attracted millions of views on the platform. Group admins say they've been amazed by the number of people joining.
In some ways, China was always likely to be fertile ground for stooping. Though older Chinese traditionally shun second-hand goods, this isn't the case for the country's younger generations. The market for used goods here is predicted to soar from 300 billion yuan ($42 billion) in 2015 to 3 trillion yuan by 2025.
Like elsewhere, millennials in China tend to be eco-conscious and short of cash. Younger Chinese were hit particularly hard by the pandemic, which pushed youth unemployment to record highs. Thrift and vintage stores have been gaining popularity in major cities for several years.
"It's a growing trend," says Zhou. "People of the older generation prefer to break things and throw them away rather than let other people use them. But as education levels rise, I believe people are slowly embracing reusing and recycling."
But the event that truly kickstarted China's stooping craze was last year's anti-COVID lockdowns, which as elsewhere in the world led to streets filled with belongings abandoned by former residents who decided to move elsewhere. 
Chen Jiaorong — the pioneer of stooping in China — recalls walking around Shanghai's former French Concession after being released from lockdown last June, and noticing more trash appearing on the sidewalks each day. She felt it would be a terrible waste if all those household items ended up in landfill.
Then, the 27-year-old remembered her time as a student in London, where she'd seen an elderly couple leave a few used chairs on the road with a note reading "free to good house." She decided to try the same thing. 
From then on, Chen began taking photos of any furniture she found and posting the images on Xiaohongshu, tagging the locations so that people would know where to find each item. She also attached a sticker of a pair of googly eyes to the object to give her followers a laugh.
"Stooping isn't just picking up trash," Chen says. "My goal is to make it trendy and fun."
Soon, Chen found she needed to set up a dedicated Shanghai stooping account to make it easier to keep track of everything. The account now has over 38,000 followers, and Chen says she receives hundreds of messages about stooping every day.
Not everyone is supportive. Chen regularly finds herself asked passive-aggressive questions: "Why do you pick up everything?" "Why do you post such dirty things?"
Her family was also bemused by her behavior. Chen had a "normal" marketing job, her mother often reminded her, but her social feed was giving the impression that she was a professional "garbage collector." It might put her at a disadvantage in the dating market, she warned.
But Chen has shrugged off those concerns. "From the beginning, I knew that people would not be able to accept and understand it, and I don't want to force them to," she says. "I just hope that my stooping can send a message that discarded items can still be useful and can be recycled for those in need."
Her persistence appears to be slowly paying off. When Chen's cousin, who lives in east China's Zhejiang province, recently began decorating her café, Chen was amazed to hear her mother suggest that she buy a used coffee machine to save money.
"I think I have brainwashed my mom into being less prejudiced against second-hand goods," Chen laughs.
Chen's own home is a shrine to stooping: Everything from her shelves to her dinner plates was found outside. She has also built a small tea garden outside her apartment out of old wooden bed frames, chairs, and other waste.
"As young people often rent in major cities, we don't want to spend too much on furniture or decorations," she says.
Chen Dashu, who isn't related to Chen Jiaorong, has also been impressed at how quickly stooping has caught on in China. The 43-year-old set up a stooping account for the city of Ningbo — a smaller city around 200 kilometers south of Shanghai — in October last year, after seeing other groups gain momentum on Xiaohongshu.
Unlike most Chinese stoopers, Chen Dashu is also a veteran of the second-hand goods industry. He runs a second-hand goods store in Ningbo — a two-story Aladdin's cave containing thousands of objects he found, exchanged, or bought. His prize possessions include a 2,000-year-old brick and some furniture from the early 20th century, he says.
After years in the business, Chen Dashu is able to make a decent income from his collection. He sells to other antique enthusiasts, as well as hotels, restaurants, and cafés that want to give their businesses a more retro feel. The store sometimes generates over 100,000 yuan per month in revenue, he says.
For Chen Dashu, stooping is a useful adjunct to his business. When local houses are slated for demolition, he often visits the site to salvage any objects he can. But large furniture is too big for him to move, and on several occasions he has watched construction crews smash beautiful objects to pieces in front of his eyes.
"I kept thinking that what doesn't work for me might just be what someone else wants," says Chen Dashu, who speaks with Sixth Tone using his nickname Dashu, or "Big Tree," for privacy reasons.
Now, he helps others rescue those kinds of objects using Xiaohongshu. His stooping account already has over 5,600 followers, and he also operates five separate groups — each with 500 members — on WeChat, another social app. He believes that COVID-19 and China's growing focus on environmental policies are the main reasons behind stooping's sudden popularity.
"More young people are carrying a mindset of being eco-friendly and conserving resources," says Chen Dashu.
Though stooping is strictly not-for-profit, Chen Dashu argues that there is no problem with selling used goods as well. The two things can exist side-by-side. "The basic rule is not to throw away or smash things, which is a shame," he says.
Chen Jiaorong has arrived at a similar view. In her stooping groups, she has noticed a growing demand for second-hand goods, so since March she has also been organizing flea markets in Shanghai once or twice a month. 
Han Chensi, 34, set up a stall at one of Chen Jiaorong's flea markets with her friend in May, after following Chen's account for a few months. "We had low expectations and thought we'd donate the pieces to a second-hand store if we couldn't sell them, but they almost sold out," Han tells Sixth Tone.
In addition to stooping in her local neighborhood, Han likes to buy and sell second-hand goods at local events. "The number of these activities has increased in the past year due to the decline in consumption," she says. "Also, people are becoming more aware of recycling."
Zhao Jun, a 25-year-old from Ningbo, is also a convert to flea markets. A sales executive, he has seen his salary cut by a third due to the tough economy, and he has had to set himself a monthly budget of 3,000 yuan. "It works for me because I swap things with others or stoop for what I need," he says.
A while back, Zhao noticed an empty black suitcase with a broken handle lying next to a trash can near his home. After examining it, he took it home and gave it a thorough clean. He is now using the case, which he has lined with ice pads, as a summer bed for his dog and cat.
For Zhao, stooping doesn't signify a lower standard of living. He believes that many young people find fulfillment in turning found items into something useful. "Instead of downgrading my spending, stooping has helped me become a more rational consumer," he says.
Editor: Dominic Morgan.
(Header image: Chen Jiaorong checks a piece of furniture she found on the street in Shanghai, June 2023. Lü Xiao/Sixth Tone)