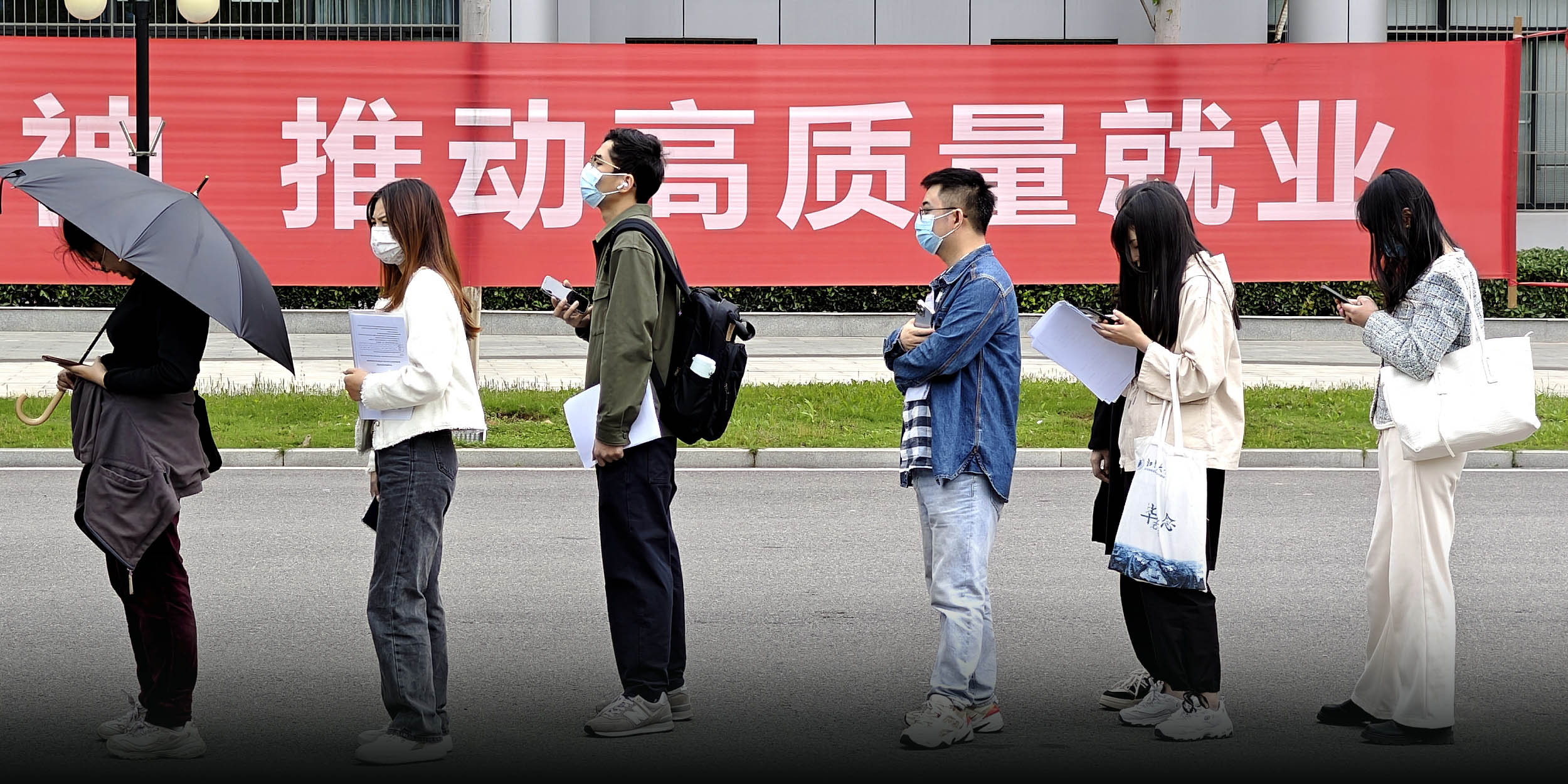 VOICES & OPINION
Young, Educated Chinese Can't Find Work. Are Colleges to Blame?
Poor links between universities and employers make it hard for schools to give students the skills they need to succeed on the job market.
For many graduates of the class of '23, landing their ideal job can seem daunting. Unemployment among young urbanites hit unprecedented highs last summer, and China began rolling out stimulus measures and hiring targets months ago in preparation for another challenging graduation season.
China's 1999 decision to expand access to higher education produced a more educated workforce and helped fuel the next decade or so of growth. But now, many highly-educated young Chinese are questioning whether college degrees still make them competitive on the job market.
Employers seem to be wondering the same thing. If you ask companies why they're not hiring, they'll insist the problem isn't a lack of jobs. Rather, it's a shortage of workers with the skills they require. According to them, China's universities simply aren't doing enough to help their students to succeed on the job market.
In a forthcoming study, Lu Yao, Wu Xiaogang, and I attempted to ascertain just how serious this problem is. We found that 24% of graduates suffered from a "vertical mismatch"— that is, they were over-credentialed for their current positions. Those who graduated from average institutions of higher learning, whose grades were mediocre, or who had a poor grasp of English were the most likely to be affected.
Meanwhile, 34% suffered from a "horizontal mismatch" between their degrees and the job market, meaning they were engaged in occupations that had little relevance to their fields of study. Interestingly, the biggest victims weren't humanities majors, but graduates of niche science, engineering, and agricultural studies programs.
Unfortunately for this year's class, these percentages are on the rise. In keeping with our observations over the last decade, each annual cohort has faced "historic" difficulties in finding work.
The underlying reason for this disjuncture between applicant qualifications and employer needs is a low degree of what sociologists term "school-to-work linkage" — that is, the degree of association between education and occupation in a given country or region.
The model high "school-to-work linkage" country is Germany, where enterprises and schools work closely to train future talents under the country's dual apprenticeship system. One study of the United States, Germany, and France found that the higher linkage between schools and the workplace, the greater the impact of educational qualifications on individual salaries and lower the risk of unemployment.
Currently, however, there is a weak linkage between education institutions and the labor market in China. And as the number of college grads exploded post-1999, the relationship between educational qualifications and success on the job market has faded, much to the chagrin of students born after 1980.
This disjuncture is a structural problem. In the 1980s and '90s, degrees were rare, and grads had little trouble finding work. As access to higher education increased, the number of degree holders rose accordingly. This created the educated workforce China needed to grow its high-end industries, but the speed of the expansion was a double-edged sword, as schools struggled to maintain quality and turn out graduates with the skills they needed to succeed.
Following the expansion of enrollment in 1999, universities and vocational colleges focused first and foremost on quantity: expanding campuses, hiring new faculty, increasing publication requirements, and recruiting more students. It's only in the last 10 years that Chinese institutes of higher learning have begun to prioritize improving the quality of education and research as well as optimizing the organization of their departments. In the meantime, employers have learned that degrees are not necessary indicative of relevant expertise, with the result that young graduates have more and more trouble finding suitable jobs.
Second, postsecondary institutions tend to suffer from path dependence when it comes to developing new majors, which causes their programs to be at odds with the needs of employers. New institutions emulate more successful and famous colleges, leading to the homogenization of school curricula. In turn, the most common programs and majors end up having more weight in the school evaluation system, encouraging their spread to other schools. This path dependence can paralyze institutions, leaving them unable to adapt to a rapidly evolving job market.
More broadly, market-oriented reforms have profoundly influenced China's occupational structure. This upgrading of the occupational structure helped accommodate past cohorts of university graduates. However, the digital revolution of the past few years has given rise to new job categories and career paths — and left schools scrambling to keep pace. Schools don't yet teach the skills currently in high demand, leaving students in the lurch when they hit the job market.
There's little chance that these issues will resolve themselves anytime soon. In the meantime, companies need to adjust their standards and focus on training new hires to meet their needs. As China's population shrinks, the country has no choice but to upgrade its industrial structure and stop relying on cheap labor to produce profits. Doing so will require companies to overcome their excessive preoccupation with cost effectiveness in favor of investing in research and development and honing their capacity for technological innovation.
With a new technological revolution taking the world by storm, research in many postsecondary institutions now lags behind the industry forefront. In the future, schools and companies must foster stronger linkage and closer ties, or risk the gap between academia and the workplace widening further.
Translator: Lewis Wright; editors: Cai Yiwen and Kilian O'Donnell; portrait artist: Wang Zhenhao.
(Header image: Students wait in line at a job fair held at Jianghan University in Wuhan, Hubei province, April 27, 2023. VCG)