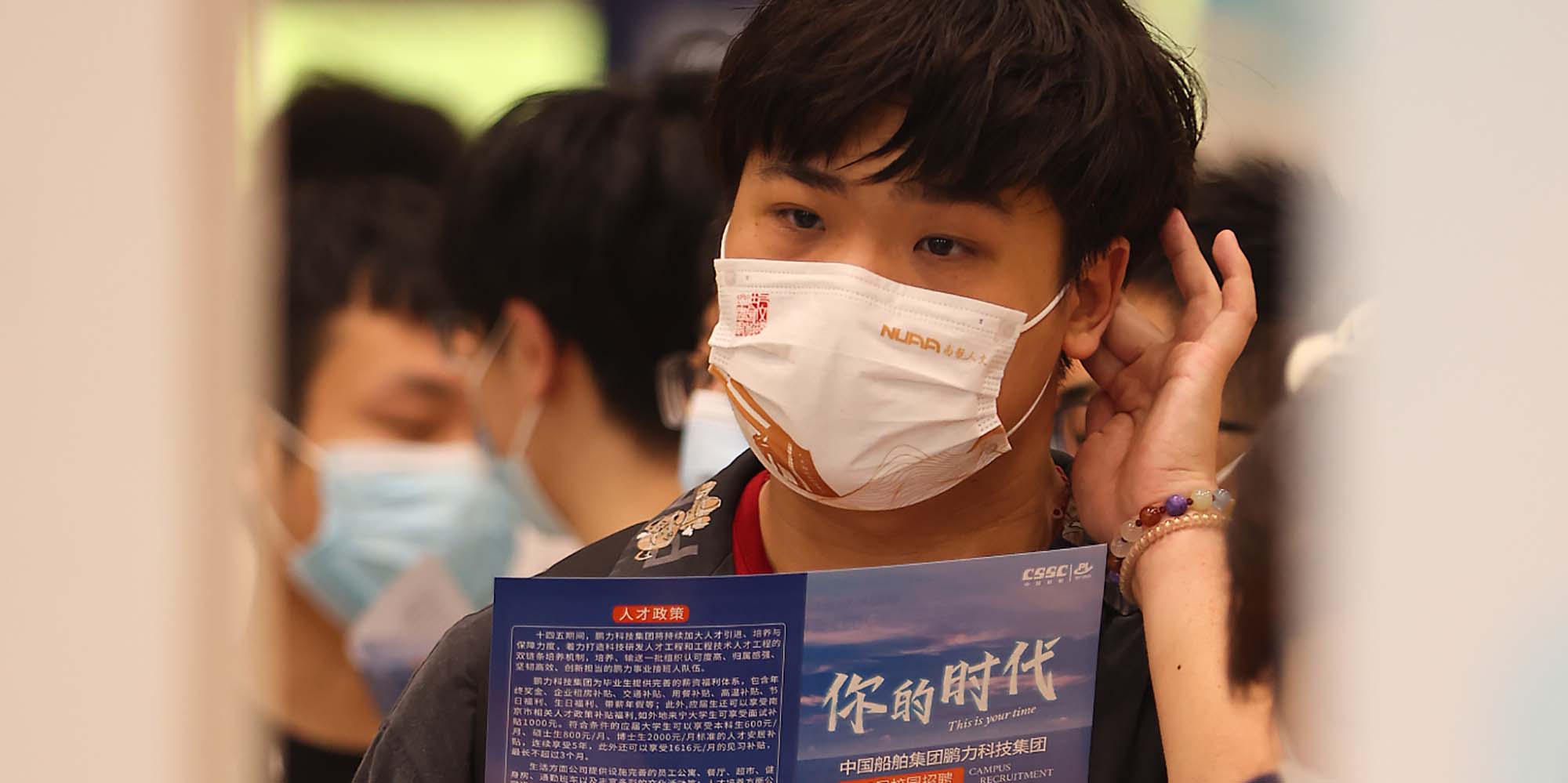 NEWS
China's Youth Unemployment Rate Sets a Record, Again
Top officials blame a slow economy and a growing demand for job security.
With one out of every five young urbanites out of work, China is facing a new kind of epidemic: joblessness.
The official jobless rate for urban youths aged 16 to 24 rose 0.6 percentage points to 19.9% in July, the highest figure since China's National Bureau of Statistics started publishing youth employment data in 2018. It is the fourth consecutive month that China has logged a new youth unemployment record, highlighting the challenges officials face as they try to stimulate a flagging economy.

Fu Linghui, a spokesperson for the NBS, said in a press conference Monday that a slow economy and lingering COVID-19 lockdowns have made it harder for young urbanites to find work, particularly in the hard-hit services industry. He also cited a mismatch between worker expectations and available positions, as more young Chinese prioritize stability when looking for work.
The overall urban unemployment rate was 5.4% in July, down slightly from the previous month. Zhang Chenggang, a director at an employment research center affiliated with the Capital University of Economics and Business, told domestic business outlet Yicai that it is unusual for the youth unemployment rate to be triple the overall unemployment rate. According to Zhang, the experience of other countries suggests a youth unemployment figure double the overall rate is more typical.
The worrisome data comes as a record 10.76 million college graduates enter the job market. With small and medium businesses hit hard by the pandemic and massive layoffs in key sectors, including education, real estate, and tech, young job seekers have found it increasingly difficult to find suitable positions.
Zheng Wenmin, a Shanghai-based job seeker who graduated from a local university this June, told Sixth Tone that new job postings, especially from larger, more established firms, had been hard to come by on major job-hunting platforms this summer.
Although Zheng said she has lowered her salary expectations, she has yet to land a job with one of her preferred firms. "The market remains highly competitive after the campus recruitment season," Zheng said.
The grim private sector job market has made the public sector more appealing. This is particularly true of bianzhi: state sector or state sector-adjacent jobs with lifetime employment contracts and good benefits. A record-breaking 2 million people signed up for the national civil service exam last fall, while in a survey conducted by the job search platform 51job, around 40% of respondents said they preferred the bianzhi system due to its stability and benefits.
Others are putting off looking for work in favor of pursuing a higher academic degree. More than 4.5 million people took China's postgraduate entrance exam last year, another record-breaking number.
Still, despite the tough job market, Zheng told Sixth Tone that she's determined not to settle for less than her ideal position. "I know what I've got and I will focus on myself," she said.
Editor: Kilian O'Donnell.

(Header image: College graduates look at job postings at an employment fair in Nanjing, Jiangsu province, May 29, 2022. Yang Bo/CNS/VCG)