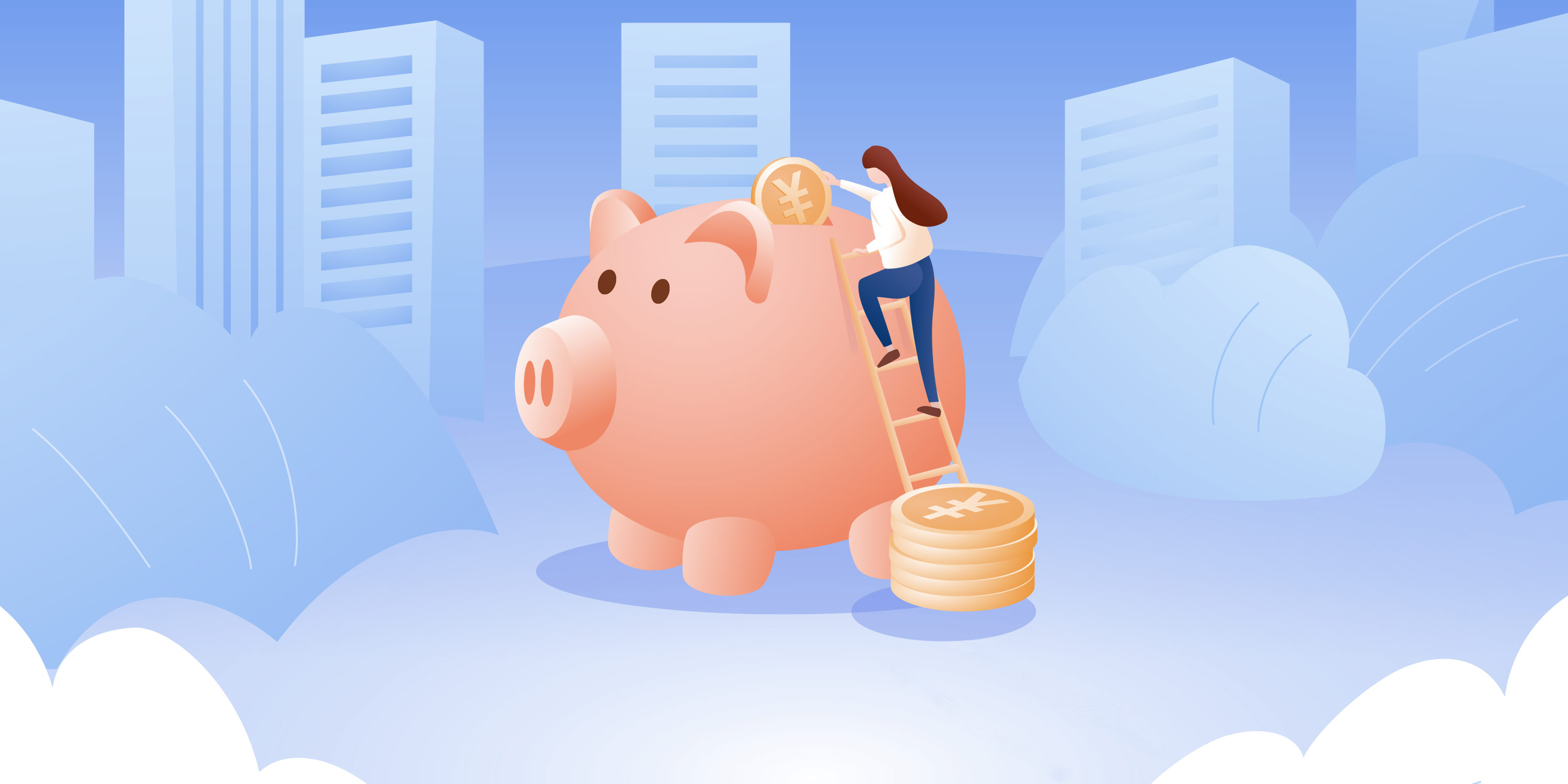 SIXTH TONE ×
Have Savings, Will Travel: Chinese Youth Go the Extra Mile for Higher Interest
Millennials in China today are traveling far from home to earn a few thousand yuan extra in interest as they go from big spenders to big savers.
On May 12, Xiang Linran woke up early and drove for hours from Taizhou in Jiangsu province to Shanghai with one goal in mind: to deposit her savings in a bank with a higher interest rate before the offer expired. She found that banks in different cities offer varying interest rates on savings accounts. By choosing a bank with an interest rate of 3.5%, she would earn an extra 2,000 yuan ($276) per year in interest with a three-year deposit of 200,000 yuan, or 6,000 yuan extra for 500,000 yuan.
Xiang doesn't consider herself a financial expert but knows that compared to riskier investments such as equities or investment funds, putting money in the bank is a safer bet with more stable returns.
She made it in time, as a month later interest rates fell below 3% for five-year term deposits at all national commercial banks.
The low interest rate environment has prompted some young people to travel to other cities to lock in higher interest rates for their deposits. Following a recent trend of "special forces travel," which describes young people traveling intensely with as little time and money as possible, these young bank depositors are dubbed "special forces" for going around the country to earn more in interest.
Dong Ximiao, chief researcher at Merchants Union Consumer Finance Company, explained that regional differences in supply and demand, customer investment preferences, and saving habits played a role in the varying interest rates offered by different banks. Branches of the same bank also have varying assets, liability profiles, and marketing strategies, resulting in the "demand and pricing of deposits not being completely consistent."
More prudent than ever with their asset management, young people in China are comparing interest rates of different banks and have become less keen on spending. For these big savers, moving their savings around for better deals is the best strategy they can have amid declining income.
The Paper spoke to three young bank depositors, who recently traveled to other cities seeking higher interests, to get a glimpse into how today's millennials have changed their spending habits.
An Bin, 27, biotech worker
After my large financial investment was set to mature in April, I was inspired by an online article about young "special forces" seeking higher interest rates nationwide for their savings. The next day, I took the high-speed train from Suzhou to Shanghai to deposit my money in the Bank of Jiangsu and went to the branch closest to the train station. The bank offered a 3.5% interest rate for a three-year term deposit.
I canceled my old bank card from Jiangsu province and registered for a new one in Shanghai. This allowed me to enjoy the benefits from Shanghai without having to travel back there. Opening a new account only required a transfer on my cell phone and activating the card took about 20 minutes.
After making the deposit, I felt like I had completed the task of excluding myself from future fluctuations in interest rates. I'm a follower of the "Financial Independence, Retire Early" movement and I dream of retiring at 40. In my city, a debt-free person is expected to have 2 or 3 million yuan saved up before retiring.
My family taught me to make plans from an early age and I want to prepare myself for future crises. Nothing helps me feel more secure than putting money in the bank. Every month, I put aside some money, saving up to 70% of my earnings. I also make regular deposits to ensure I receive interest regularly to pay for my daily expenses. Although I made some money from the stock market in the past, the current sluggish market deters me from investing further.
The pandemic over the past few years made me realize that I need to be better prepared for uncertainties, so I began to prefer more stable investments such as fixed deposit savings. However, interest rates for such deposits had been falling over the past year, from 3.5% in April 2022 to 3.25% in November. The trend prompted me to transfer over 200,000 yuan in one lump sum to my new bank account instead of making several small deposits over time.
Some of my older peers in the biotech industry can earn up to one million yuan per year. Despite their lucrative income, they lead a rather frugal lifestyle and avoid spending too much on social events or impulsive purchases beyond their means. People who I come across at work are often less materialistic and focus more on their personal growth instead, which I find inspiring.
I feel differently about spending now. I couldn't save a dime the first year I started working as I was a big spender who wanted the finest things to enjoy life. Many of my peers were the same.
But the more I earn, the less I want to spend now. I think more about improving myself and enjoying delayed gratification. I don't want to be consumed by consumerism.
My passion for long-distance running has also helped me change my spending habits. The gratification from spending money is similar to finishing a 100-meter sprint. It is intense but fleeting. But when I run a half marathon, completing more than 20 kilometers gives me greater satisfaction than from sprinting.
Now I splurge on big items only. For necessities like electronics, I buy the top of the line. I also invest in expensive running shoes to encourage myself to keep up with my hobby, which benefits my health and personal development.
As for food and entertainment, I keep it as simple as possible. My biggest expense is coffee. I also keep a small circle of friends and budget around 2,000 yuan a month for social events.
When I'm still young, I hope to build up more social resources and connections to increase my income, so I can become more proactive in earning money. In this way, I won't be so tired.
Xiang Linran, 28, office clerk
I never really paid too much attention to financial planning and I put my monthly salary in an account that didn't pay interest. But when I read on social media in April about a bank in Shanghai offering a 3.5% interest rate for three-year fixed deposits, I went for it.
The 3.5% interest rate was only available for those opening an account in Shanghai. On the afternoon of May 12, my husband and I drove for a few hours to Shanghai from Taizhou, then took a taxi to the bank at 9 a.m. the next day.
There was a long line outside the bank — mostly young people from other cities — even before the bank was open. Surprised by the crowd, the bank manager said it was the last day of the offer and that the interest rate would change the next day.
The 3.5% interest rate offer was very simple since it only required one transfer. There's very little risk in making a three-year term deposit. When the term is up, I can withdraw the money directly at a branch near my home. A deposit of 500,000 yuan in this bank pays me 5,000 to 6,000 yuan extra compared to the interest rate in my hometown, so the trip was worth it.
For the first two years, I only made 2,000 to 3,000 yuan per month. I used to spend my entire paycheck every month. But spending didn't make me happy. Only after I saved some money and saw my savings grow did I feel better.
But watching every penny can easily lead to anxiety. Unlike some of my friends who only leave themselves a few hundred or a thousand yuan for expenses each month, I want to shop sensibly and save sensibly.
My husband and I paid off a small apartment with support from our parents. We don't have a mortgage or a plan to buy a new home. Since we had some money saved up without any plan to spend it, we decided to put it in the bank.
This time we took out almost all our savings — 50,000 yuan from myself and 300,000 yuan from my husband — to make a deposit in the new bank. Our goal is to plan for our future, especially for our 3-year-old child.
We figured that if we can save money every month as planned, we will have it easier later. For example, my parents had set aside 200,000 to 300,000 yuan for medical emergencies. I realized then how important it is to have some savings at the ready.
With my husband's much higher income, I can save up to 50,000 yuan a year with my salary. I feel it's better to work hard while young to have it easier when getting old.
After we deposited the money at the bank with a higher interest rate, my husband and I — feeling relieved — took our child to the aquarium to enjoy the rest of the day. When we were driving to Shanghai that day, I kept imagining the days traveling with my husband after working hard for a few more years and when our child gets older. I'd be happy with wherever we go.
Su Ya, 29, office clerk
In May, I read on social media about a bank in Shanghai offering a relatively high interest rate for deposits. The article mentioned long queues on weekends, so I decided to travel there from Suzhou during the week. There was no queue when I arrived and in 30 minutes I deposited 200,000 yuan for three years at a 3.5% interest rate.
The bank lowered its interest rate right after I made the deposit. I felt fortunate to have made the right choice.
I managed to save up a bit after working for some years. With my parents' help, I made the down payment on my first home two years ago, but I haven't started renovating it. Since I haven't spent the money set aside for renovation, I wanted to deposit it somewhere safe to avoid risks.
I don't know much about asset management. Once, I made an impulsive decision to make a one-time investment of 100,000 yuan, believing it was low risk. I ended up losing several hundred yuan, which was more than I could handle. I focus on stable returns now and even paid off part of my mortgage early.
After getting a mortgage, I became less willing to spend. I used to buy a few handbags every year, but now I don't even shop that often. The only item in my shopping cart for the big sale this month is sunscreen. I set aside some money for things that I prioritize, such as good food, traveling, eating healthily, and taking one or two trips every year.
After the three-year period is up and I get back my deposit and the interest, I hope to be able to afford a larger home.
Reported by Yuan Lu and Zhou Yufan.
An Bing, Xiang Linran, and Su Ya are pseudonyms.
A version of this article originally appeared in The Paper. It has been translated and edited for brevity and clarity, and published with permission.
Translator: David Ball; editors: Shen Yitao, Xue Yongle, and Elise Mak.
(Header image and icons: Shijue and fedrunovan/VCG)