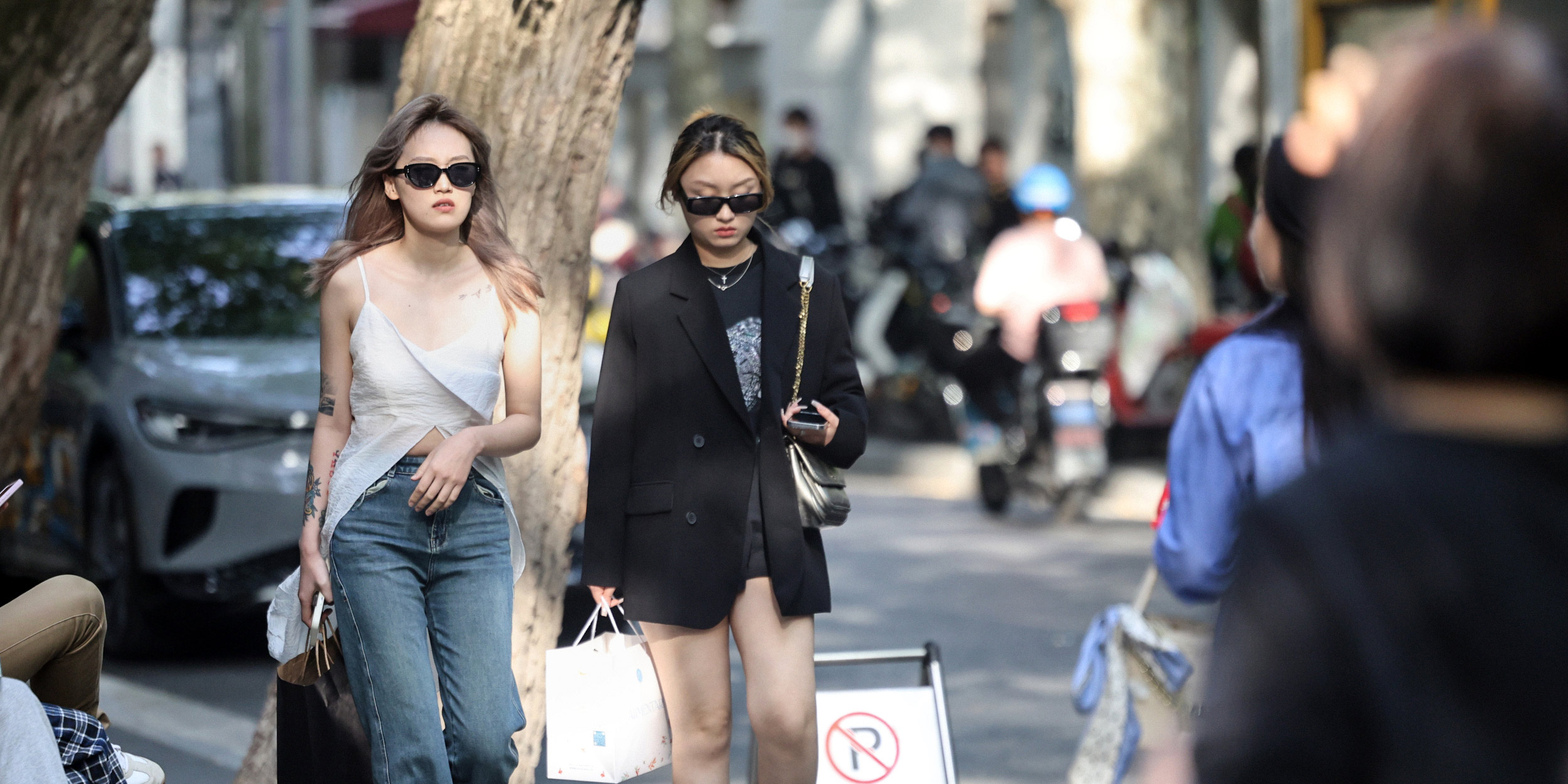 FEATURES
Beyond Saving: In China, Young Shoppers Are Locked Out of Luxury
Over a period of four years, the price of luxury goods has almost doubled. But with their salaries stagnant, young consumers are now forced to decide between indulgence and financial stability.
SHANGHAI — Not too long ago, the aspirational dream of owning luxury goods in China was tantalizingly within reach for many. Whether a high-end handbag, belt, or watch, they were symbols of refinement and achievement — a tangible reward for the upwardly mobile that justified months of saving and sacrifice.
But amid rapidly changing supply and demand dynamics, rising production costs, and inflation, luxury brands are now pivoting back to the elite in a bid to maintain exclusivity, and thus preserve the allure that once made them iconic. 
It's left young Chinese consumers staring at a harsh reality: Each year, the price tags of luxury goods soar higher and higher, but their incomes remain stubbornly stagnant.  
Hong Mengyue, 31, still recalls the first time she saw a Chanel bag. It was at her home the day after graduation, when a classmate brought over a Chanel bag worth about 30,000 yuan (then about $4,830). It was a gift from her parents, and she wanted to keep it safe from Hong's cat. 
"She asked if she could put her bag on my bed. That's when I realized the huge gap between her bags and mine," laughs Hong. That was nine years ago, but the memory still hasn't faded. 
While working at an advertising company in Shanghai, Hong delved deeper into the world of fashion and luxury. She realized her classmate owned the iconic Chanel Classic Flap, a sleek black bag with silver chains. Hong vowed to buy one. 
When she made that decision in 2019, the price of a small Classic Flap was 38,000 yuan. Now, its price has almost doubled to 71,800 yuan. "But my salary didn't see any change," says Hong, speculating that it was primarily due to the economic downturn in the wake of the COVID-19 pandemic. 
Across China, the price surge in recent years isn't limited to Chanel or handbags — it's affected all luxury brands. In December 2022, Hermès hiked prices by 5%-10%, while Dior, Gucci, Louis Vuitton, and Saint Laurent announced varying increases of their own.
The hikes stem from the country's significant influence on the global luxury market. Over the past decade, its millions of consumers powered the Western luxury market, ushering in the emergence of a thriving daigou business, where overseas shoppers purchased products at lower prices. It meant sales within China collapsed. 
In response, luxury brands, led by Chanel in 2015, reduced prices in mainland China in a bid to bridge the sales performance gap between different regions.
This adjustment in pricing worked, and soon Chinese millennials began driving the luxury market. According to a 2018 UBS Group survey, millennials were willing to put aside about 20% of discretionary income to purchasing luxury goods.
Another report jointly released by Tencent Marketing Insight and Boston Consulting Group found that in 2021, the post-'90s generation accounted for nearly half of consumers.
While some are just rich enough to afford luxury goods without batting an eyelid at the price tags, for most even a single purchase requires careful consideration and substantial savings. 
It's why such purchases are often reserved for significant milestones like anniversaries, graduations, or holidays. For women, it usually starts with a bag or a necklace, and a watch or a belt for men. 
But with the relentless rise in the price of luxury goods, more and more young consumers are now thinking twice.
Price fight
Among all, Chanel reigns supreme among luxury brands in China. According to a recent ranking by Singapore-based firm Agility Research, the French fashion house, scoring a remarkable 99 out of 100, secured the top spot out of 55 surveyed brands. Close behind were Dior and Hermès, with scores of 87 and 83, respectively.
Even despite criticism, some Chanel bags are remarkably popular. Take the Chanel 22, which was nicknamed the "garbage bag" last year but was still difficult to find in any Chanel store in China. 
The same bag captivated Hong, too. Earlier this year, after receiving her annual bonus, she visited a store to try it out. The bag looked stunning on her, but the salesperson told her she would be on a waitlist for months. 
As Hong and her boyfriend deliberated on the purchase, he noted that the bag was large enough to fit Hong's laptop. "Then the salesperson explained that the bag's straps weren't strong enough and suggested not putting in a laptop or even a tablet," says Hong. 
After exchanging a quick, embarrassed look, the couple left the store for a moment of respite. 
"Clearly, Chanel is meant only for rich people. Its designers wouldn't even consider the practicality of their creations for ordinary white-collar workers," she says. In March, the price of a medium Chanel 22 bag climbed by 3,300 yuan. 
In 2009, Fudan University conducted a study on luxury purchases among Chinese consumers. It found that with the effects of reforms and opening up that began in the late '70s, a "new money" class had emerged, propelling China into a massive market for luxury products. 
Newly minted millionaires idolized luxury brands, yet lacked a deep understanding of their essence: They were more than willing to buy and were highly susceptible to advertisements.
The study further revealed that 64% of consumers associated owning luxury goods with success, while just 1% saw it as synonymous with superficiality.
Amid the COVID-19 pandemic, the global luxury sector experienced its worst year on record, but China showcased its resilient consumption power. This was illustrated in 2022 when the Taikoo Li Qiantan luxury shopping center opened its doors in Shanghai. 
Housing an array of Western luxury brands including Balenciaga, Bulgari, Cartier, Gucci, Hermès, and Tiffany & Company, crowds eagerly lined up to splurge. 
According to Chanel, the price hikes stem from unspecified exchange rate fluctuations, changes in production costs, and the need to ensure its handbags cost roughly the same around the world.
"Raw materials are more and more expensive and costs are increasing, and we are affected by that and have no choice," said Bruno Pavlovsky, Chanel's president of fashion in a 2021 interview with the South China Morning Post. "If we want to stay as the ultimate luxury brand, we have to make sure to offer the best to our customers, and the best is more and more expensive."
Second-hand luxury stores have also felt the effects of constant price hikes. An employee at Shanghai's Lailai Luxury told Sixth Tone that scarcity drives up prices in the luxury market. 
If a particular bag is unavailable in stores, its second-hand counterpart can fetch an even higher price. According to the employee, a brand-new Classic Flap can sell for over 80,000 yuan, exceeding its original retail price.
Buyers sell to such stores for different reasons: For some, it's due to sudden financial setbacks, while others seek to generate extra income by reselling them. It's even spurred memes on social media that buying luxury goods is better than investing in the stock market since it outpaces inflation. 
Stealth wealth
The price hikes have also prompted some Chinese millennials to reevaluate their approach to fashion and luxury. 
The wealthy eastern regions of Jiangsu, Zhejiang, and Shanghai were once dominated by oversized Givenchy T-shirts, Balenciaga sneakers, and Chrome Heart silver rings. 
But a new trend has now emerged — the "old-money fashion style." 
This shift reflects a growing interest among Chinese luxury consumers in brands that prioritize the intrinsic value of luxury like Chanel, Loro Piana, Ralph Lauren, and Brunello Cucinelli. 
Rather than ostentatious displays of luxury, millennials now appreciate the timeless elegance, craftsmanship, and enduring quality that "old money" brands represent. 
"The notion of 'quiet luxury' has been picking up globally," says Marc-Olivier Arnold, chief strategy officer at luxury business consulting agency RTG Consulting Group. "There are many possible reasons for this, including that of pop culture (particularly TV shows like "Succession") and the overall economic situation."
Despite COVID-19 hitting global economies hard, luxury shoppers were less impacted and now likely to choose more understated options in a bid to appear more sensitive. 
"With overt shows of wealth largely being frowned upon and discouraged, wealthy Chinese consumers are naturally choosing to downplay their purchases and avoid unnecessary attention," says Arnold. 
Among middle-class consumers, a bag is often seen as the gateway into the world of luxury. And social media platforms have emerged as innovative sales and marketing channels to target young consumers. 
Luxury brands have leveraged WeChat's "mini programs" to establish online stores and create interactive features such as "red pockets" during festive occasions. According to the TMI and BCG report, mini programs have contributed to a 30% increase in sales. 
Additionally, the evolving concept of luxury has emphasized personalization and brand experiences, prompting brands to reconsider their product offerings, designs, and in-store experiences.
But a surge in complaints from consumers who have had less-than-satisfactory experiences in luxury stores has taken the sheen off. 
Ordinary walk-in customers often express feeling disregarded, as salespeople seemingly prioritize VIPs by providing them with preferential treatment.
A blogger named "George and his friends" gained over 100,000 followers on the lifestyle app Xiaohongshu after posting videos while posing as a salesperson at luxury stores. 
His posts garnered thousands of likes and hundreds of comments, particularly when he portrayed himself as a money-obsessed salesperson left dumbfounded when customers proudly displayed their credit cards and wanted to make purchases.
One follower, surnamed Yuan, told Sixth Tone that though he knew the blogger was exaggerating what really happens, such videos helped him to vent his anger at luxury brands.
Yuan, 32, recalls a similar incident from earlier this year, when he was shopping for a high-end bag on Valentine's Day, but decided to leave the store after being informed by a stony-faced salesperson that none of the bags were in stock. 
"While leaving, I could hear the salesperson saying that there's no way I could buy a bag at a luxury store by just walking in," he says. 
Focus group
Complaints of unequal treatment became even more apparent last year when unverified notes from an LVMH internal meeting triggered a public outcry. 
According to the notes, the French luxury conglomerate categorized customers into three levels: "super-high net worth," "high net worth," or "no income," who have a personal annual income of less than 3 million yuan. 
And though an LVMH board member denied the authenticity of the notes, it quickly went viral on Chinese social media. It left consumers, just like Hong, believing that luxury brands try to deter ordinary walk-in buyers so that they can focus on high-end consumers instead.
"All luxury brands have realized that core high-end customers are the key to survival and development," Zhou Ting, co-chairman of Yaok Group, which researches the luxury industry, tells Sixth Tone. "The brand on the top of the pyramid will have the best future. Chanel is the one most likely to take over from Hermès (presently, the top luxury brand in China)."
The country's consumer market is currently concentrated into four levels of consumption, explains Zhou: high-end consumers looking to upgrade, life necessities for high-end consumers, mass consumers looking to upgrade, and life necessities for mass consumers. 
Luxury brands tend to focus on the first two markets. 
"Before the pandemic, luxury brands used popularization strategies to grow by expanding their consumer base," says Zhou. But when the world economy stagnated amid COVID-19, luxury brands began relying more on high-end consumers again, she adds.
"High-net-worth customers with assets of more than 10 million yuan, constituting a mere three out of every 1,000 individuals in China, consume over 80% of all luxury goods." 
Arnold at RTG Consulting Group tells Sixth Tone that recent price increases are aimed at bringing profitability back to pre-pandemic levels and compensate for the potential losses incurred over the last three years. 
"That said, it will ultimately be up to the brand to decide whether profitability or revenues are more important in achieving its wider business goals," says Arnold, adding that persistent demand despite price hikes is a strong indicator of brand health. 
A recent RTG Consulting Group study on why young Chinese purchase luxury goods found that the top reason was self-reward and celebration — 74% of those surveyed agreed with this statement. 
It shows that rather than being primarily driven by external factors like status reflection, for this generation, luxury purchases are more about the internal, such as how they make the consumer feel.
"Brands will need to focus on capturing these emotions and understanding the types of messages that will resonate with these young Chinese consumers, internally," says Arnold.
The day after breaking up with her fiancé, Zhang Jie walked into a Dior store to buy a new bag, knowing well that it cost at least three months' salary. 
Weary from recent financial disputes over an upcoming marriage, mortgage, and the potential burden of raising a child, 28-year-old Zhang hoped a luxury bag would help put her worries behind her. 
And with prices ever increasing, she didn't want to wait. Her ex-fiancé didn't see it the same way. "I realized we were so different. He needs savings for a sense of security, and I just want to live in the moment," says Zhang, who used a pseudonym citing privacy concerns. 
"I don't need a man to buy a bag for me," she says. Quoting the line "I can love me better than you can" from the Miley Cyrus hit song "Flowers," she adds: "Well, a bag just proves that." 
Editor: Apurva. 
(Header image: VCG)