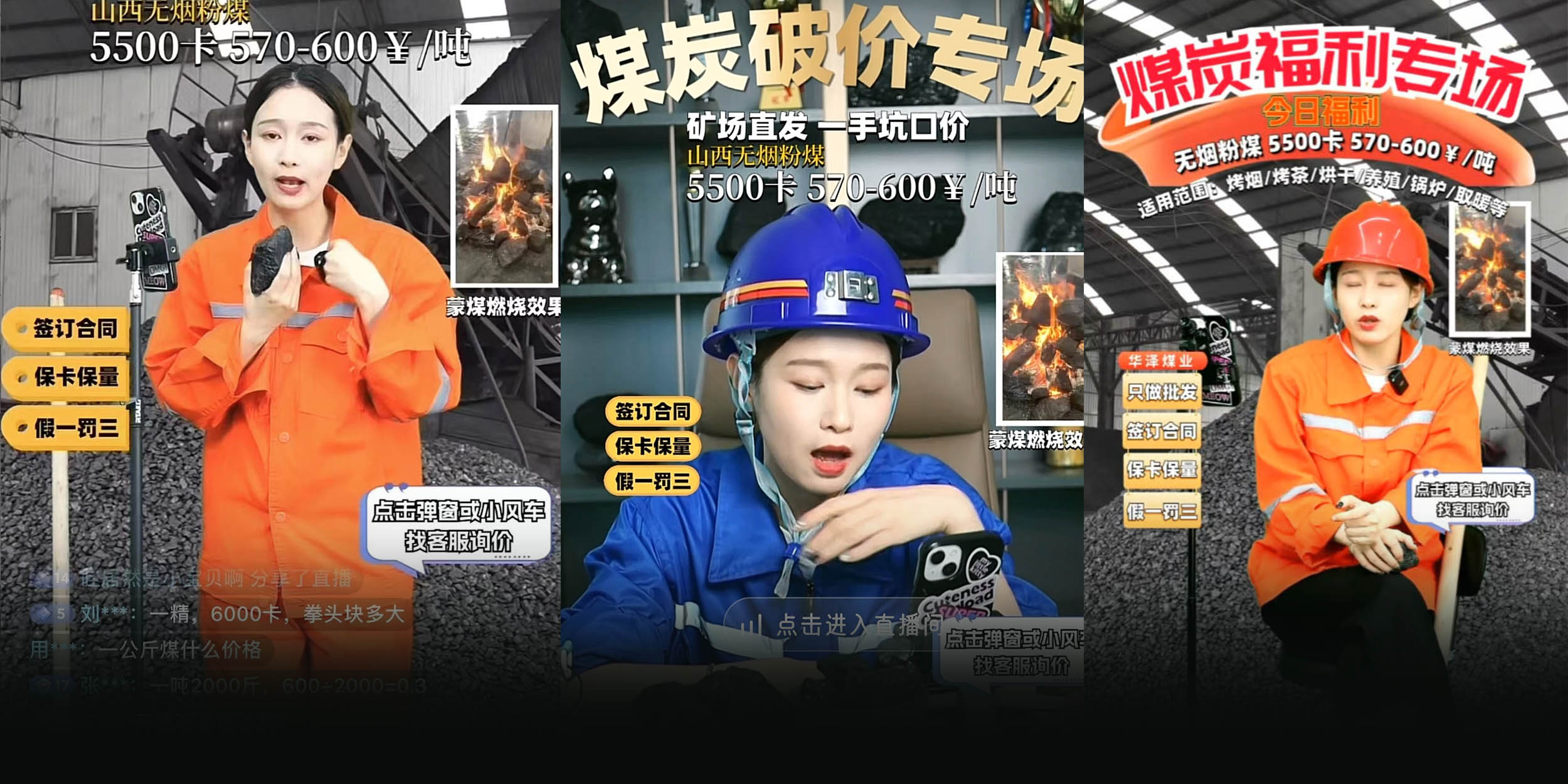 NEWS
On Douyin, Chinese Companies Sell Coal at Rock-Bottom Prices
With coal prices hitting their lowest in over two years, coal companies are turning to livestreaming platforms to find new customers.
With the supply in coal across China far outstripping demand, resulting in a significant drop in coal prices, some Chinese companies are turning to a new frontier to boost sales: selling coal on livestreaming platforms at unbelievably low prices. 
For five to six hours a day, most days of the week, Huaze Coal Company has been selling coal on Douyin, the Chinese version of TikTok, attracting thousands of viewers from across the country. 
Most livestreams feature a female anchor wearing a hard hat and a miner's jacket, while also holding lumps of coal in her hands. Though she sits in a studio, the background transitions between scenes of mines, coal warehouses, trucks, and factories. 
The anchor says the coal is sourced from four separate mines located in Shanxi province, Shaanxi province, the Inner Mongolia Autonomous Region, and the Xinjiang Uyghur Autonomous Region. All the while messages superimposed during the stream advertise coal dust with an energy content of 5,500 kcal at 570-600 yuan ($79.43-$83.61) per ton. 
The price offered is significantly lower than the market price. In comparison, 5,500 kcal-grade coal traded at 722 yuan per ton on China's National Coal Exchange Center last Friday.
Huaze Coal Company also offers coal per truckload, each weighing between 32 and 35 tons. The company highlights that the coal can be used for industrial drying, farming, boilers, and heating. 
During one livestream that Sixth Tone watched, several viewers expressed their willingness to purchase varying quantities of coal. Speaking to Sixth Tone on the request of anonymity, one member of staff said the company has responded to over 400 purchase inquiries per day since they began the livestreams. 
According to the member of staff, such low prices are possible since they sell coal directly from the mines, thus bypassing middlemen. "Ordinary members of the public can't buy from mine owners directly because the mines aren't willing to sell such small amounts," said the member of staff.
"Recently, there have been a lot of strange people and cyberbullies bothering us since we began livestreaming," they added.  
In another Douyin account run by Huaze Coal Company, the daughter-in-law of the company's owner walks around piles of coal in a warehouse while emphasizing that they offer high-quality coal to all customers.
"It's suitable for fertilizer and chemical plants. Whatever coal you need, I'll get it for you. Come to me for the pithead price," she says in one video. 
Incidentally, while four purchase links are available on the company's Douyin profile, the monthly sales of all four links remained at zero. However, the company told domestic media that they sold 8,565 kilotons of coal last year and have sold 731 kilotons this month. However, the company did not specify how much was sold through livestreams. 
Following Huaze Coal Company's livestreams, several smaller coal companies, mostly in Shanxi, have quickly followed suit to sell coal on Douyin. However, their prices aren't as low as those of Huaze Coal Company.
Despite rising power demand caused by scorching heat across China, coal prices have hit their lowest level in over two years, signaling an oversupply in the market. 
Domestic coal production is running nearly 5% ahead of last year, according to reports, while imports have experienced a significant surge of 90%. Prices are dropping since unwanted coal stocks are accumulating at mines due to power plants running out of storage space. 
Editor: Apurva. 
(Header image: Screenshots show livestreamers selling coal. From Douyin)