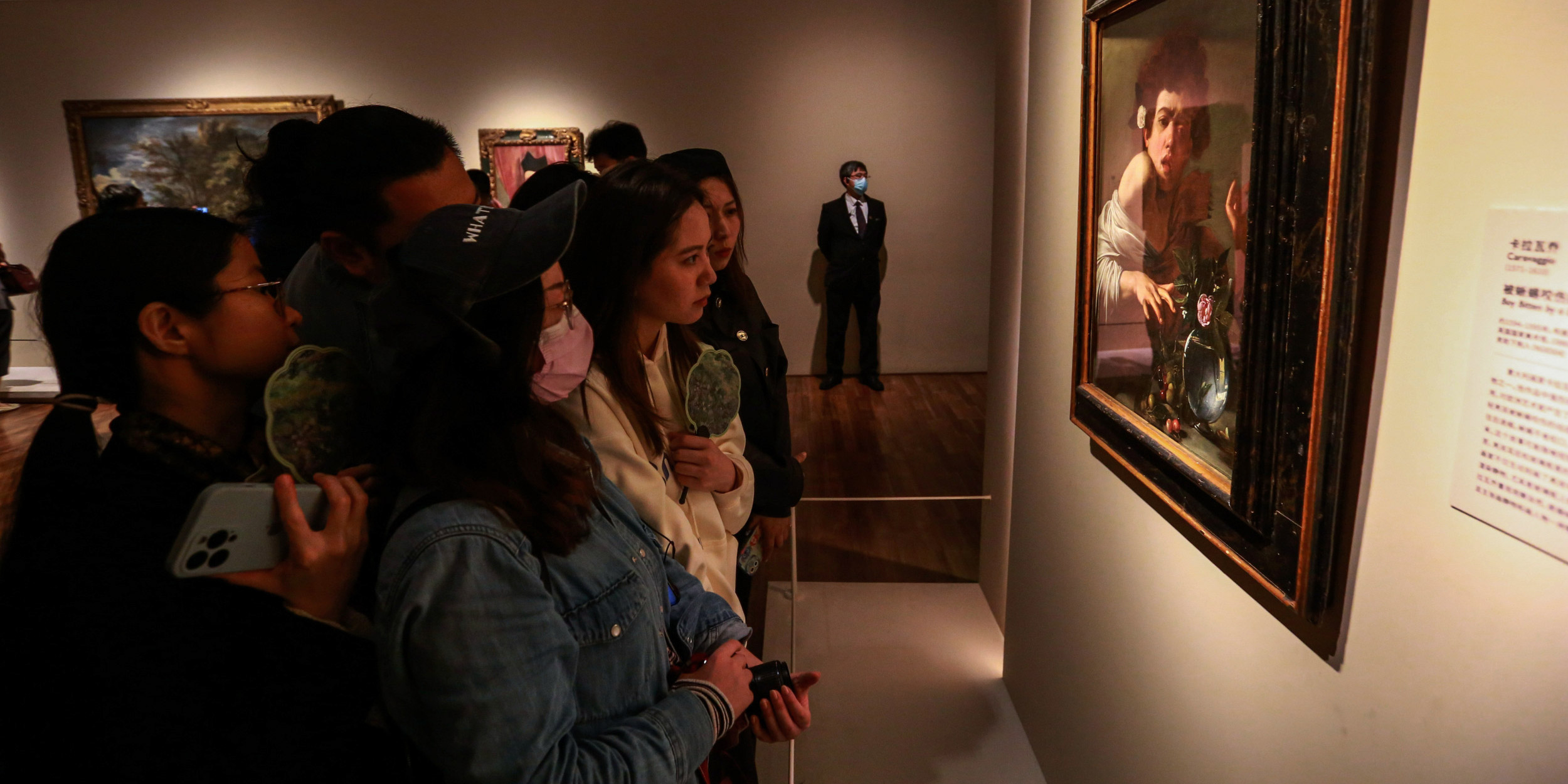 Q & A
What Was China's First Museum?
According to historian Xu Jian, the answer is more complicated — and more controversial — than you might think.
In the early hours of May 7, a small crowd congregated at Shanghai's People's Square, right at the heart of the city. Armed with umbrellas against the rain, they formed a long line that snaked out of the doorway to the Shanghai Museum and spilled into the surrounding square.
The crowd had been drawn by the promise of a night at the museum. For the first time ever, Shanghai Museum would open its doors for 24 straight hours, giving residents one last chance to catch the "Botticelli to Van Gogh" exhibit, which had brought some of the finest works in the collection of the National Gallery, London to China. Including that final night, the exhibit's Shanghai stop attracted more than 420,000 visitors in 98 days, a new record for a ticketed special exhibition in China. The 24-hour finale, which the museum branded "Sleepless Night: A Carnival of Art" featured livestreams that attracted 350,000 online viewers.
It was a reminder, if any was needed, that China remains in the grips of "museum fever," as domestic analysts have taken to calling it. Museum attendance numbers have skyrocketed in recent years, hitting more than 50 million nationwide over this year's five-day May Day holiday.
Cities across China have sought to cash in on the trend, opening lavish new museums — with or without a collection in place. To stay relevant in an ever-more crowded space, some curators have turned to innovative exhibits, longer opening hours, and new digital technologies.
Yet the majority of museums still struggle to effectively communicate the value of their pieces. Some have become little more than viral "check-in" spots, to be visited for a photo and nothing more.
Nevertheless, Xu Jian, the vice dean of the school of cultural heritage and information management at Shanghai University, believes China's museum industry is in the midst of a second "golden age." In his 2016 book, "Great Foundations: An Intellectual History of Early Chinese Museums," Xu traced the emergence of Chinese museums back to the 19th century. In the process, he challenged the mainstream narratives that China's museums were either a wholly foreign import or the product of a single Chinese patriot. Rather, they developed, first gradually, then rapidly, over the course of more than 150 years.
Last month, Sixth Tone sat down with Xu to discuss the historical evolution of Chinese museums, the misconceptions surrounding their origins, and the challenges associated with their growing popularity. This interview has been edited for length and clarity.
Sixth Tone: China's fascination with museums is a relatively recent development. When did the concept first catch on?
Xu Jian: The concept of museums did not originate organically within China. Throughout Chinese history, individuals have maintained a number of remarkable collections, but these cannot be considered precursors to today's museums. The institution of a museum is, in fact, a cultural import.
Its arrival in China can be traced back to a couple of points. First, after the Opium War in 1840, Chinese intellectuals and officials began studying Western society and became intrigued by museums. However, their understanding of the internal structure, spatial arrangements, and functions of museums was incomplete. Moreover, they had a hard time even finding suitable terminology in the Chinese language to express the concept of museums.
The second origin point was the emergence of Western communities in China. For Westerners, establishing museums was a means of exploring the world and was often intertwined with their colonial activities. One notable early example was the British Museum of Macau, which was later followed by institutions on the mainland, such as the renowned Zikawei Museum in Shanghai and the Royal Asiatic Society.
Sixth Tone: So the earliest museums in China were primarily established by Westerners?
Xu: It would be an oversimplification to say that Westerners were the sole driving force behind the establishment of museums in China. While these museums did have some impact on the intellectual and public spheres in the country, it wasn't a direct influence. It's important to recognize that these museums were mostly located in foreign concessions and only accessible to specific community members, which limited their overall impact on Chinese society. For example, if you wanted to visit the Zikawei Museum, you had to show a business card to the museum staff and ask for permission to enter.
Sixth Tone: Chinese scholars typically argue that Zhang Jian's establishment of the Nantong Museum in 1905 was the starting point for museums in China. How do you view this?
Xu: Zhang's efforts give us a glimpse into how Japan influenced the development of modern museums in China. He went to Japan and visited their exhibitions multiple times, which gave him a deep understanding of how crucial museums were to Japan's modernization.
When he came back to China, he suggested that the Qing dynasty (1644-1912) government follow Japan's lead and establish Chinese museums based on imperial collections. Sadly, his proposal was rejected. Not one to give up easily, Zhang then proposed setting up a museum under the Ministry of Education, only to face rejection once again. Still determined, he took matters into his own hands and started a museum in Nantong, closely connected to Tongzhou Normal College. This museum, tied to an educational institution, clearly showed the influence of Japan, and Zhang's diaries and the memoirs of others show that Gentarō Tanahashi, a trailblazer in Japanese museums, deeply influenced Zhang's ideas, methods, and theories.
However, it's important to understand that, like the Zikawei Museum, Zhang's Nantong Museum didn't have a massive impact on Chinese society. After Zhang passed away, the museum faced the risk of shutting down. It remained relatively unknown until the National Museum Work Conference on May 21, 1956, organized by the Ministry of Culture. This conference was a game-changer as it clearly defined the three crucial roles of a museum: as a place for scientific research, as a platform for social education, and as a home for preserving cultural and natural heritage. It also outlined two main objectives for all museums: serving scientific research and serving the general public.
During this gathering, Zheng Zhenduo, then director of the State Bureau of Cultural Relics, declared that the Nantong Museum had been China's first museum. It is safe to say that this conference and the accompanying statement elevated the stature of Zhang Jian and the Nantong Museum.
Sixth Tone: But from your perspective, its significance was somewhat limited?
Xu: It is undeniable that Zhang Jian played a pioneering role in the development of museums in China. However, in the larger context, the influence of the Nantong Museum remained relatively limited and it did not have significant ripple effects across the nation.
The true game-changers in the early history of Chinese museums were two institutions. The first is the Palace Museum in Beijing. Its establishment marked a transformative shift, turning the once imperial private property that held immense political and social significance into a national public treasure.
READ MORE: How the Palace Museum Survived World War II
The second is the National Central Museum. It went through quite a journey of its own, starting with Zhang Jian's idea for an imperial museum before evolving into the National Historical Museum during the Republic era. Eventually, that paved the way for the National Central Museum — today's Nanjing Museum — with its shiny new collections and academic support.
The Palace Museum was founded in 1925, while the Preparatory Office for the National Central Museum was established in 1933. These two pivotal milestones marked a turning point and ushered in an era of exponential growth for Chinese museums in the early to mid-1930s.
Sixth Tone: In your book, you describe this period as the "first golden age" of Chinese museums.
Xu: Yes. During the aforementioned National Museum Work Conference in May 1956, Zheng Zhenduo not only referred to the Nantong Museum as China's first museum but also declared that the pre-liberation Chinese museums were "few in number and of poor quality, resembling antique shops and flea markets." While studying the early history of Chinese museum development, I found that Zheng's words were not accurate, which motivated me to write "Great Foundations."
Chinese museums in the 1930s were characterized by both rapid growth and remarkable diversity. They encompassed various types, levels, and purposes, including specialized museums. Provinces like Shanxi, Henan, and Yunnan established museums that served as distinct political and cultural symbols. In cities such as Shanghai and Guangzhou, urban elites utilized museums as platforms to contemplate and express their unique urban characteristics and spirit.
Actually, the emergence of metropolitan-style museums in both Shanghai and Guangzhou can be attributed to the same individual, Ye Gongchuo. Ye adopted different strategies in constructing museums in the two cities. In Guangzhou, he emphasized local culture, while in Shanghai, he focused on positioning the city as an international metropolis.
Furthermore, during that era, museums played an exceptionally active role in social life, greatly increasing their visibility and paving the way for the establishment of museum studies and theories as a distinct discipline, laying the foundation for their second "golden age."
Sixth Tone: When did that second golden age start? And what set it apart from the first?
Xu: Globally, the second golden age of museums began in the 1990s. However, China entered this phase slightly later, around the year 2000.
One of the most visible shifts to take place during this golden age is in the architecture of museums. A new wave of construction projects were undertaken, integrating museum buildings into the development of central business districts in various cities. As a result, museums have become works of art unto themselves, helping to define the skylines of cities around the world.
At the same time, the operational model of museums has undergone substantial changes, with greater emphasis on serving the public. A notable milestone occurred in 2008 when China's public museums adopted a policy of free admission. This breakthrough can be seen as a major step in removing barriers to public access. As a result, museum visitation numbers have experienced exponential growth over the past 15 years.
Sixth Tone: It seems like the boom is only intensifying.
Xu: I'd agree with that statement. In recent years, China has taken the lead globally in building new museums. The opening of grand-scale museums such as the China Grand Canal Museum in Yangzhou, the Bronze Chariots and Horses Museum in Xi'an, the new buildings of the Zhengzhou Museum, and the Jingdezhen Imperial Kiln Museum have all garnered significant attention. Moreover, the upcoming openings of the Suzhou Museum West Pavilion, Shanghai Museum East Pavilion, and Capital Museum East Pavilion suggest that the craze for new construction isn't close to subsiding. Many cities in China have expressed an aspiration to become "museum cities."
Sixth Tone: Has the construction craze gone too far?
Xu: [Laughs] Look, I'm all for building more museums. The more, the merrier. The total number of museums in China reached 6,565 in 2022, and this number is expected to continue growing this year. That's unprecedented. However, considering how huge China's population is, 6,500 museums isn't necessarily a crazy number. When it comes to having enough cultural institutions to keep our society thriving and meeting the demand for cultural resources, we still have plenty of room to grow.
And while our museums have definitely gotten bigger and better, there's still more work to be done to strengthen and enhance their programming.
Museums aren't just fancy places to store and show off old stuff. They take history and bring it to life by making it relevant to our modern lives. Take bronze artifacts, for example. When contemporary museums exhibit them, it's important to think about how those bronze patterns influenced modern arts and crafts design, how the inscriptions on them have changed calligraphy styles over the years, or how the social ideas represented by combinations of bronze artifacts from different dynasties still resonate with us today.
In my view, Chinese museums face a challenge in effectively telling these stories. A lot of exhibitions out there are still stuck in the "look at this fancy artifact" stage. They lack the depth and context needed to really engage a broader audience.
(Header image: Visitors look at a painting of Caravaggio during the exhibition "Botticelli to Van Gogh" at the Shanghai Museum, May 7, 2023. VCG)