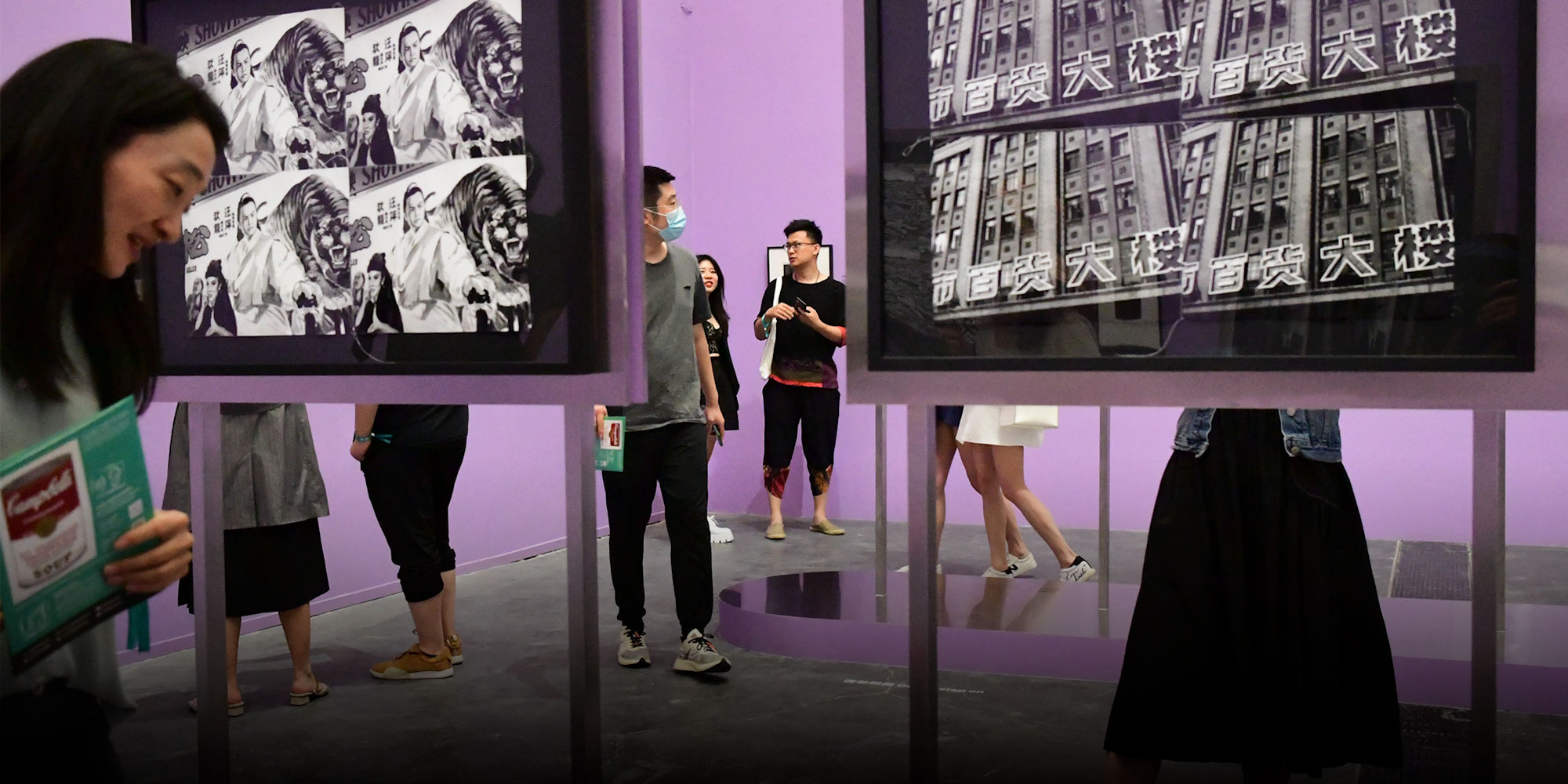 VOICES & OPINION
Can Private Equity Save China's Private Museums?
The UCCA Center for Contemporary Art is trying to thread the needle between going pop and selling out.
Late last month, one of China's best-known private art institutions, the UCCA Center for Contemporary Art, announced it would open a new branch in the southwestern city of Chengdu. The move is just the latest step in UCCA's ambitious domestic expansion: In addition to its first location, which opened in Beijing in 2007, the museum also operates UCCA Dune in the exclusive northern resort town of Aranya as well as a three-story exhibition space known as UCCA Edge in downtown Shanghai.
All three of UCCA's newest branches were founded after the museum's founders — the married Belgian art collectors Guy and Myriam Ullens — sold the institution to a consortium including the China-based private equity investment company Lunar Capital in 2017. UCCA's new owners have adopted an aggressive strategy to monetize the institution and its brand. Their first major move after taking over UCCA was to restructure its controlling entity to a multi-layered firm known as the "UCCA Group." The rebrand enabled them to adopt a more diversified approach to the business of art in China by combining UCCA's nonprofit contemporary art museums with a wide range of commercial activities.
In the absence of established foundations and donor networks, private Chinese art museums like UCCA remain largely dependent on constant "blood transfusions" from their owners or founders, most of whom have backgrounds in speculative industries like real estate or finance. This strain was one factor in the Ullens' decision to divest from UCCA, while other similarly ambitious museums' inability to support themselves has left them vulnerable to shifts in their owners' fortunes.
UCCA's new investors hope that their more commercial approach will help the institution stand on its own two feet. The UCCA Group has set up an ambitious for-profit wing, including not only gallery stores, but children's art education programs and new branding initiatives. It has also made full use of social media to promote contemporary art — and UCCA — to status-hungry urbanites. "The whole model is designed to promote creativity and mass market engagement, like engagement with tens and hundreds of millions of people, not just a small elite crowd," Lunar Capital partner Derek Sulger told me in a 2019 interview. UCCA's lofty reputation within China, he added, as well as its lack of viable competitors and the country's growing urban market, could help the institution achieve mass appeal. Sulger also mentioned plans to open a UCCA branch in every major Chinese city over the next 25 years, though he later stressed these plans were still in a preliminary stage.
UCCA's efforts to win over potential new visitors can be seen in the locations of its new branches: UCCA Dune in Aranya has become a popular tourist attraction, thanks to its social media-friendly exterior. The choice of Chengdu as the next branch location reflects that city's reputation for laid-back living and youth culture.
At present, however, the Shanghai museum may offer the best glimpse of Sulger's vision for the institution's future. The museum, which opened in May, is being registered as a nonprofit organization, and its exhibitions so far have been tasteful and aimed at art lovers. But the museum itself is just one piece of the puzzle. A bistro operated by the Italian restaurant Da Vittorio — another Sulger investment — is planned for later this year. Even the office building that houses the museum was developed by another UCCA Edge stakeholder, the Hong Kong-based real estate firm K. Wah International Holdings.
This model, in which museums act as landmarks or calling cards for the property developments that house them, has become increasingly common in China over the past decade. "In China today, there's a real need for content in real estate." Sulger said. "(People) want to go to something that looks more like the Mori Building in Japan, where you have the Mori Art Museum, a whole neighborhood with the hotel and the residences."
UCCA's commercialization efforts have naturally engendered controversy within the art world, as critics worry whether this icon of the Chinese contemporary art scene will migrate towards the kitsch aesthetic favored by so many other private museums on the Chinese mainland. The unique-looking UCCA Dune has done little to dispel these fears: Discussions of the museum tend to revolve more around what a good backdrop it makes for selfies than the quality of the art housed inside.
UCCA's investors have heard these criticisms, but they don't necessarily agree. "A lot of people would say, 'stay pure and stay super small.' The only thing I would say is that I see very little evidence that works," Sulger said. In his view, UCCA's current branding and commercialization model is the only viable path to sustainable development. "Smaller organizations have suffered because they have massive employee turnover. They are sub-scale. They can't attract shows like Picasso."
The summer 2019 Pablo Picasso exhibition UCCA Beijing was indeed a major success for the institution's new owners, attracting more than 400,000 visits in 70 days and generating an enthusiastic response on social media. The museum's current exhibition, "Becoming Andy Warhol," has similarly garnered widespread attention, and will rotate to the Shanghai branch later this year.
Ultimately, it likely doesn't matter whether the critics are sold on the idea of art museums operating as commercial ventures. But we should admit that the problem faced by their funders and founders is real: how is a serious, ambitious private museum to survive with no sustainable funding model and mounting competition — not just from other museums, but also from the internet and social media? This problem is not unique to China, even if its investors have provided the most radical solution thus far.
Translator: Lewis Wright; editors: Cai Yineng and Kilian O'Donnell.
(Header image: People visit UCCA's "Becoming Andy Warhol" exhibition in Beijing, June 2, 2021. Li Na/Beijing Youth Daily/People Visual)