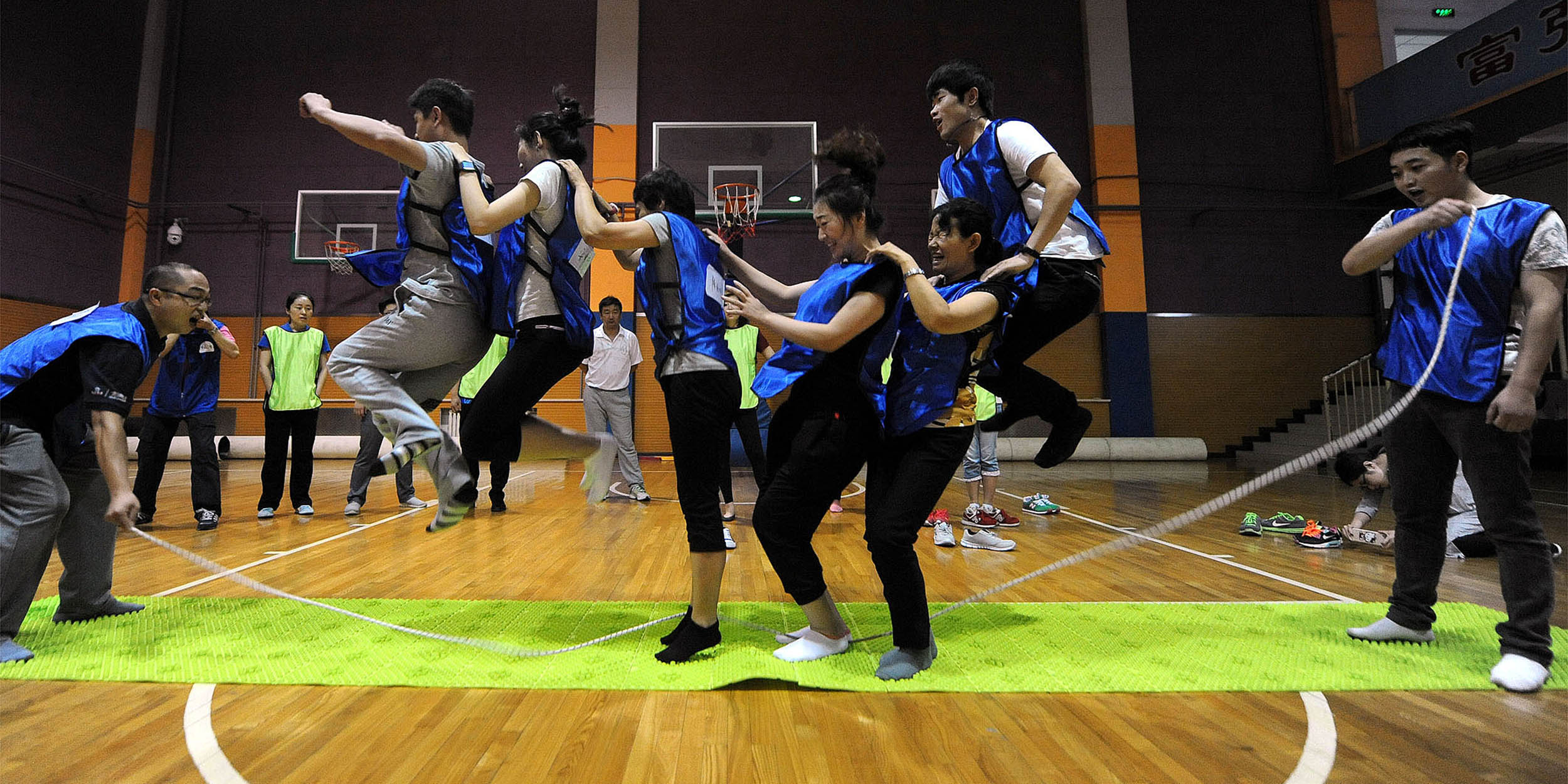 NEWS
Shenzhen Employee Fired for Refusing Company's Team-Building Event
Chinese companies often organize team-building events after work to improve camaraderie among colleagues, but employees have long complained about the extra burden these activities place on them.
An employee's alleged termination of contract for not participating in one of her company's team-building activities outside work hours has sparked heated discussion online, prompting state media to denounce the practice.
Team-building events, or "tuanjian," are common occurrences in Chinese enterprises, ranging from evening meals to sightseeing trips over several days. Seen by upper management as important for fostering teamwork among colleagues, these events have long been criticized by employees unhappy about their frequency and demanding nature. 
In the latest incident, the employee, surnamed Zhou, claimed she was laid off by her undisclosed employer in the southern city of Shenzhen on June 8 after refusing to join a tuanjian event held after work the previous day. She complained of arriving home late after a long commute and deemed the activity "a waste of time," according to domestic media reports. 
Screenshots of chat records show that Zhou was required to participate in three team exercises and a team dinner every month, with the company evaluating participation on a weekly basis. Zhou has filed for arbitration following the dispute, according to media reports. 
In a commentary published Thursday, the Workers' Daily, the official newspaper of the All-China Federation of Trade Unions, strongly criticized the practice and called on employers to respect employees' wishes. 
"If a company really fires a worker for not participating in 'tuanjian,' it might seem to be a defense of the company's interests, but in fact it brings shame to the company and exposes the mindset that employees should be obedient unconditionally," it said. 
The incident quickly gained traction online, with netizens sharing similar experiences of being pressured to join team-building events at their workplaces and being punished when they refuse. Some complain that they would also feel marginalized if they refuse to participate. 
On social media, posts and videos mocking such activities and providing tips on how to avoid them have become widespread, with some racking up thousands of likes and comments. 
This is not the first time that a dispute about afterwork activities has grabbed headlines. In 2021, a real estate agent surnamed Cui in the southwestern Guiyang City was sacked for not attending his colleague's birthday party for fear of contracting COVID-19.
There is growing pushback among Chinese employees against grueling workplace cultures, especially young Chinese. In recent months, netizens have targeted various workplace practices for criticism, including messages from bosses sent after hours and being forced to share work-related content on personal social media accounts. 
Editor: Vincent Chow. 
(Header image: A team-building activity in Beijing, Sept. 8, 2015. VCG)