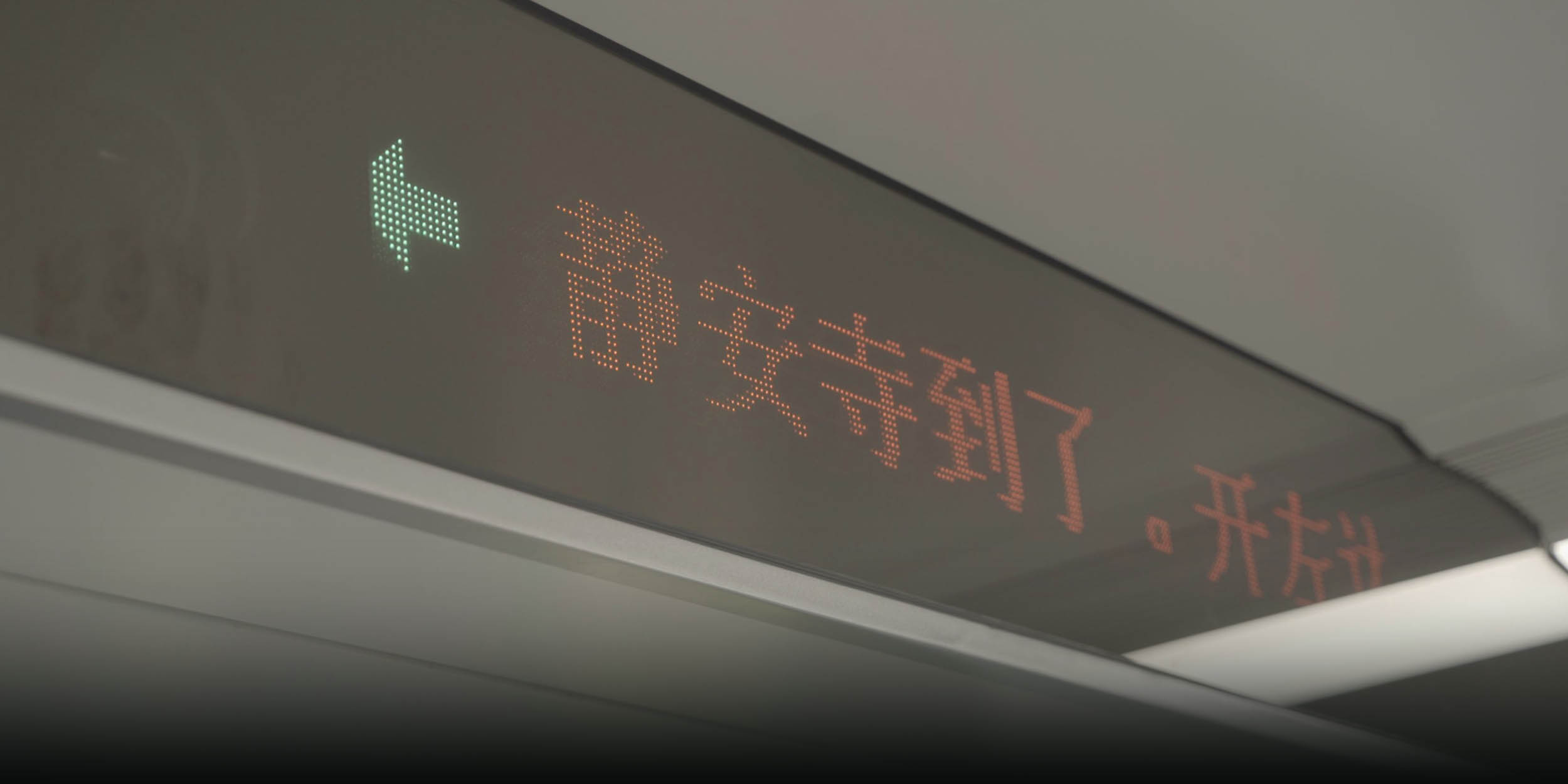 NEWS
Shanghai's Most Recognizable Voices
Few people are more emblematic of Shanghai than its metro's Mandarin, English, and Shanghainese announcers. They reflect the best of this bustling metropolis, so proud of its heritage while deeply welcoming of visitors.
Editor's note: This is the last of a four-part series to mark the Shanghai Metro turning 30. Read part 1, part 2, and part 3.    

Jin Lei is not technically the first Mandarin voice of the metro — that honor goes to another TV presenter — but hers was certainly the first to leave an impression on the city's residents. 
A Shanghai native, forty-nine-year-old Jin began her career at Radio Shanghai in 1995, hosting the morning news program. When her predecessor left to study abroad in 2003, metro staff hurriedly tried to find a replacement — and Jin was the perfect fit. She was already making a name for herself as one of the most recognizable voices on Shanghai radio, earning her the nickname of "Shanghai's No. 1 Voice."
With the rapid development of Shanghai's Pudong District, which now hosts the financial hub Lujiazui, Jin wanted to present to both residents and outsiders an open-minded Chinese woman with "a blend of finesse and force" through her voice.  
"Shanghai is a very inclusive city. While retaining its own identity, it has taken in many tourists, students, and workers from all over the country, who together make up the new Shanghai," she said. 
Shanghai is China's most international city as well as the most attractive city for domestic migrant workers. As of 2022, among Shanghai's 24 million residents, over ten million are from other provinces in China.
Jin's voice is one of several that have accompanied millions of commuters on the Shanghai Metro every day. Though not many people may know their faces, almost every Shanghai resident and visitor will recognize their voices.
The current Mandarin announcer is Sun Chang, in her 40s, who is also a veteran Shanghai radio presenter. Born in China's northeastern rust belt, Sun came to Shanghai in 2000 "to see wider roads." But it was the underground tunnels that left their mark on her. 
"The Shanghai Metro helped me explore the city, from the beginning to today," she said. "The greatest impression it has left me is that I'm serving others."
When she records announcements about line or station suspensions, she slightly bows her head. It's a habit she's developed out of respect for the passengers, she said.
The feeling of guilt became constant during the pandemic as there were constant changes to metro operations. In normal times, Sun would have more time to record announcements about operational changes at the metro. Typically, only one per month is needed. But at the height of the pandemic, she received new recording assignments almost every day. 
"During the pandemic, I was told that I could just send them voice messages (instead of professional recordings) because it was quicker," said Sun. 
In April last year, Sun was presenting on the radio as usual when she received an urgent message from Shanghai Metro asking her to record a new announcement about the suspension of virtually the entire metro system. Her phone kept buzzing as new instructions came. 
After finishing work, Sun raced to the nearest recording studio from her office to  record the short, but heavy, announcement. Tears welled up in her eyes as she recalled that difficult period. She apologized for the inconveniences brought to the city's residents because of the sudden changes.
For both Sun and Jin, welcoming outsiders to Shanghai is one of the most fulfilling parts of the job. Sun first started recording the Mandarin announcements around the time of the Shanghai Expo in 2010, which saw a record number of participating countries and international organizations, as well as a record visitor attendance: 246 and 73 million, respectively. The event had a designated subway line in service, which required a bunch of special announcements. 
Before the pandemic, Shanghai hosted almost nine million international visitors a year. Many of them would have relied on the voice of Wu Siyuan, Shanghai Metro's English announcer, to navigate the city. 
"My voice in the broadcast may be a short companion to someone's journey. Therefore I kept telling myself: You have to bring your best for the passengers," said Wu. 
The most difficult part of the job is the integration of Mandarin and English pronunciation, Wu said, as most English station names retain their Mandarin pronunciation. An English graduate, Wu works hard to make the English and Chinese words sound as smooth as possible when combined together. 
His perfectionist attitude has won him praise online. Fans call him "the anchorman with the standard English accent" and the "station announcer Adonis." He now runs a company teaching English pronunciation with a "standard English accent," after years hosting both Mandarin and English radio programs in Shanghai. 
While Wu welcomes visitors with a language they understand, retired broadcaster Niu Meihua, 57, welcomes visitors with a language they most probably don't. For the last few years, visitors taking the metro from Shanghai's Pudong International Airport will have heard Niu's Shanghainese voice blared out of the loudspeakers.
"It's always sweet to welcome newcomers and returnees with the local language," said Niu. 
Shanghainese is a dialect spoken in Shanghai and nearby areas, with over ten million estimated speakers. Though its grammar is similar to Mandarin, it has a unique pronunciation as well as vocabulary. 
The growth of Mandarin as the standard dialect nationally has reduced the use of Shanghainese in the city. However, some people, mostly the elderly, do not speak or read Mandarin and therefore find it difficult to use the metro system, according to Niu.
Advocates have pushed for years for the introduction of Shanghainese in the city's public transport system. As many elderly people still prefer using the bus over the metro, the dialect was first introduced across the city's public bus system in 2013. 
That same year, Shanghainese was adopted on Line 16 of the metro, then expanded to Line 17 in 2020. Both lines primarily serve suburban areas of Shanghai, with relatively long distances between stations, which allows for more time between stations for announcements in three languages. 
A Shanghai native, Niu is happy to see Shanghainese recognized as a key language of the city. Having worked as a Shanghainese radio host since 1983, her life's work has been keeping her native dialect alive, which she regards as a symbol of unique Shanghai culture.  
But it has not been a completely smooth introduction. Part of the challenge has been formalizing something that is, by nature, informal. There is no standard written form of Shanghainese, meaning that its usage can vary from person to person and in different areas of the city. 
Despite her years of experience, Niu was still left unsure about the Shanghainese pronunciation of some station names. Following consultations with local scholars, she decided to go with everyday pronunciations instead of more formal ones. 
Another issue has been convincing the metro company to allow for more deviation from the original scripts, which are written with standard Mandarin in mind. Some of the announcements simply "don't sound as good" because of the differences in sharp and rounded sounds between Shanghainese and Mandarin, she said. 
Although she still had to stick to the original scripts, there is no doubt that Shanghainese is becoming increasingly heard in the city's public transport system. What's more, scholars and city representatives are pushing for the adoption of the dialect across the entire metro system as a way of protecting the cultural heritage. 
"Language is the root of culture. Shanghainese broadcasting on the metro conveys what Shanghai means," said Niu. 
In her retirement, Niu produces Shanghainese listening materials for her almost 3,000 followers on the audiobook app Ximalaya. Like the other voices of Shanghai Metro, the announcer job was just one part of Niu's larger lifelong commitment to language and public service. 
"Those who have contributed to building this modern city should have their voices heard," she said.
Editor: Vincent Chow. 
(Header image: Wu Huiyuan/Sixth Tone)