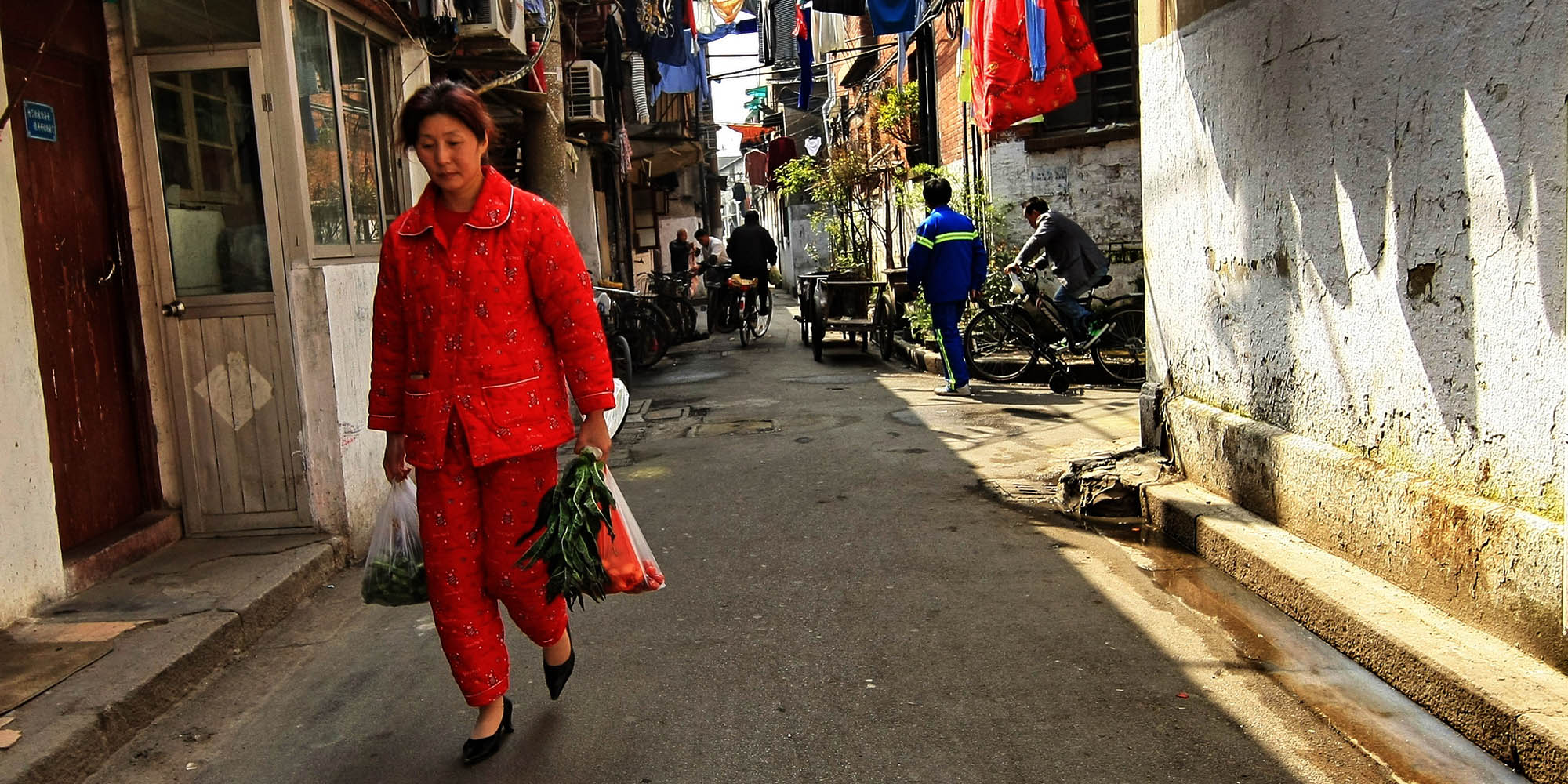 FEATURES
The Life and Death of Shanghainese
Local language in steady decline as city becomes more diverse and cosmopolitan.
Every Sunday in Shanghai's Yangpu District, parents sit on tiny chairs waiting for their little ones to finish an extracurricular English class. Their 6-year-old kids are happy to be called by their English names — Alice, Oscar, and Patrick — during these lessons. Yet as these children absorb English on top of their primary language of Mandarin, their parents are aware that another language is being lost.
Despite being born and raised in Shanghai, none of these kids can speak the local dialect of Shanghainese very well, and this doesn't sit well with their families, who come from one of the last generations able to speak the language fluently.
Shanghainese is one of dozens, possibly hundreds, of local languages spoken in China. In a country whose government only actively supports one language – Mandarin — no one knows the exact figure. To further complicate communication between Chinese people, many of these dialects are mutually unintelligible, each with distinctive vocabulary, grammar, and pronunciation. To Mandarin-speaking Beijingers, for example, Shanghainese can sound as foreign as Russian.
Xi Qiong, Oscar's mother, tells Sixth Tone her son's first words were in Mandarin. "Mandarin is his natural inclination," she says. In music, television, movies, and on the streets, Mandarin is ubiquitous. Two years ago, television stations across China were ordered to use only Mandarin or risk being taken off the air, unless the languages used were those of ethnic minorities, which Shanghainese is not. But perhaps most importantly, Mandarin is the language used in schools nationwide, which means kids have little exposure to local dialects outside of their homes.
"I often speak to Oscar in Shanghainese, and though he can more-or-less understand me, he replies in Mandarin because he finds Shanghainese difficult — he always pronounces things wrong," she says. "If we're at home we can correct him without it being a problem, but if we're out of the house he might be afraid of people laughing at him, so he's not willing to try."
[node:field_video_collection]
The Shanghainese dialect belongs to the Wu family, one of the nine main Chinese language groups spoken in the country. In total, the Wu family of languages is spoken by some 70 million people — close to the 77 million or so native speakers of French. But increasingly, even children from Shanghainese families are speaking Mandarin as a first language.
In the early 20th century, the Chinese government selected Beijing Mandarin as the basis for a standard national that would enable people across the country to communicate in a common tongue. In 1919 the Dictionary of National Pronunciation was published, and over the following century, the government promoted Mandarin in education and media, to the point that Mandarin is now the official language of China.
Patrick's mother, 36-year-old Zhu Ya, remembers fondly that when she went to school, students were free to speak Shanghainese until junior middle school. Then things began to change. "Our teachers started to require us to speak Mandarin, even though they, too, were Shanghainese," she says.
From the early '90s, students were routinely punished for using their local dialects in schools, and as recently as 2011 a student from a Shanghai middle school was reportedly forced to write an 800-word apology for speaking Shanghainese during class. "We can only speak Mandarin in class according to local student norms," the letter read. "I'm sorry that I have made such a serious mistake in class."
Today, the next generation of Shanghainese speakers is faltering. "For those of us under the age of 40, none of our children can speak Shanghainese very well," Zhu says. "When Patrick speaks Shanghainese, it sounds like pidgin Shanghainese, it sounds foreign — there is definitely not an authentic feel to it."
If drastic changes aren't made soon, Shanghainese will die out within 50 years, according to Wu language preservationist Wu Wei, 22. "Family is the last line of defense," he tells Sixth Tone. "But many parents have no awareness that language is an important aspect of cultural heritage, so now the Wu languages are at a critical point."
China's officials heavily promote Mandarin as the country's official language, which leaves little room for local languages to flourish, says Gong Qunhu a linguistics professor at Fudan University in Shanghai. "The government doesn't encourage people to use dialects in any situation," he says, "and there is no evidence that the government is really trying to preserve them at all."
Technically speaking, it is possible to translate most Shanghainese phrases into Mandarin, although there are certain sayings that simply do not have satisfactory equivalents. For example, xi ge ge, with its vivid pronunciation, describes someone who is perhaps a little kittenish, and a bit thick-skinned, but generally likable.
Lin Anjing, a 38-year-old Shanghai native who works in IT, agrees there are certain nuances and subtleties that can only be expressed in the Shanghai dialect. "When my husband and I argue, for example, it's so much easier to speak Shanghainese," she laughs.
In order to preserve the local dialect, Wu Wei founded a language platform on WeChat that offers access to Shanghainese-language resources, from videos to music to sound recordings, and serves as a sounding board for tackling the issue of language preservation. The group now has more than 10,000 members.
The idea for the platform came to Wu after he met a Shanghainese grandfather and grandson in a local park. "In the beginning, the old man spoke to the boy in Shanghainese, but the boy would always look frustrated and respond in Mandarin," he says. "Now the old man has given up and just speaks to his grandson in Mandarin."
Shanghai's success as a modern metropolis is one of the major reasons for the downfall of the local language. The wealthy city is a hugely popular destination for people from other parts of China, and the world, who come seeking a new life.
The Shanghai municipal government this year announced that of the city's 24 million residents, more than 40 percent are migrants. This high proportion means that locals feel obliged to use Mandarin in everyday interactions so that no one feels excluded. "Even two Shanghainese people will speak Mandarin when they first meet, because it's impossible to tell if someone is a local," says Zhu, Patrick's mother.
Speaking Shanghainese can still provide some advantages, however. Oscar's mother Xi recalls an incident when she was stopped by a police officer for illegally carrying a passenger on the back of her bicycle. The officer had initially yelled at her in Mandarin, but after he heard her mumble to herself in Shanghainese, his demeanor changed, and he let her off with a verbal warning. She says people seeking employment will also be given preference if they can speak a bit of Shanghainese.
Although Shanghainese has lost much of its mainstream value, there are migrants who still believe in the value of learning the local dialect. Calling themselves "New Shanghainese," they are actively trying to learn the language.
Wang Chun is a 30-year-old teacher at Spring Education, a cram school in Yangpu District. Attracted by the image of an international metropolis bursting with opportunity, she moved to Shanghai five years ago from China's northeastern Liaoning province.
"As a child I watched so many TV shows and movies about Shanghai," Wang tells Sixth Tone. "Shanghai seemed so far away, so mysterious, and so prosperous." Though Mandarin is adequate to get by, she says she would love to learn Shanghainese so that she could have more intimate conversations with locals. She also imagines it would make her dealings with government departments more hassle-free.
But Wang admits she faces an uphill battle because her home dialect and Shanghainese are not particularly similar. "For me, studying Shanghainese is like starting from scratch," she says. "It's the same as learning a foreign language."
Many long-term migrants come to understand Shanghainese but can't speak it themselves. For John Wu, a 41-year-old from the southwestern province of Sichuan who has lived in Shanghai for nearly 20 years, understanding Shanghainese has become second nature. "Dialects are a vehicle of culture, so if you really want to know the local culture, you need to know the local dialect to some degree," he tells Sixth Tone. "In that sense, it creates a kind of cultural barrier between those who understand it and those who don't."
However, Wu admits there are few practical benefits to learning the language beyond cultural insight. He feels there is no discrimination against those who don't speak Shanghainese. In fact, he says what he fell in love with was the city's fairness and inclusiveness.
For those who want to learn the dialect systematically, there are still a few resources online, including dictionaries and educational videos. Or you can follow Shanghainese musicians such as Lu Chen, and his previous band Top Floor Circus, or television shows such as "Agony Uncles."
Language preservationist Wu Wei says drastic changes need to be made to ensure the survival of local languages like Shanghainese. He suggests introducing compulsory Wu language and culture classes at local schools, using dialects on local TV and radio stations, and trying to lessen the "forced passion" for English that some parents instill in their children, among other things. "The Wu language family is the soul of southern culture," he says. "If these languages disappear, so too does our culture."
Additional reporting by Wang Lianzhang and Wu Haiyun.
(Header image: A woman walks at an alley with vegetables in hands, Shanghai, April 6, 2010. Yu Xiangjun/VCG)