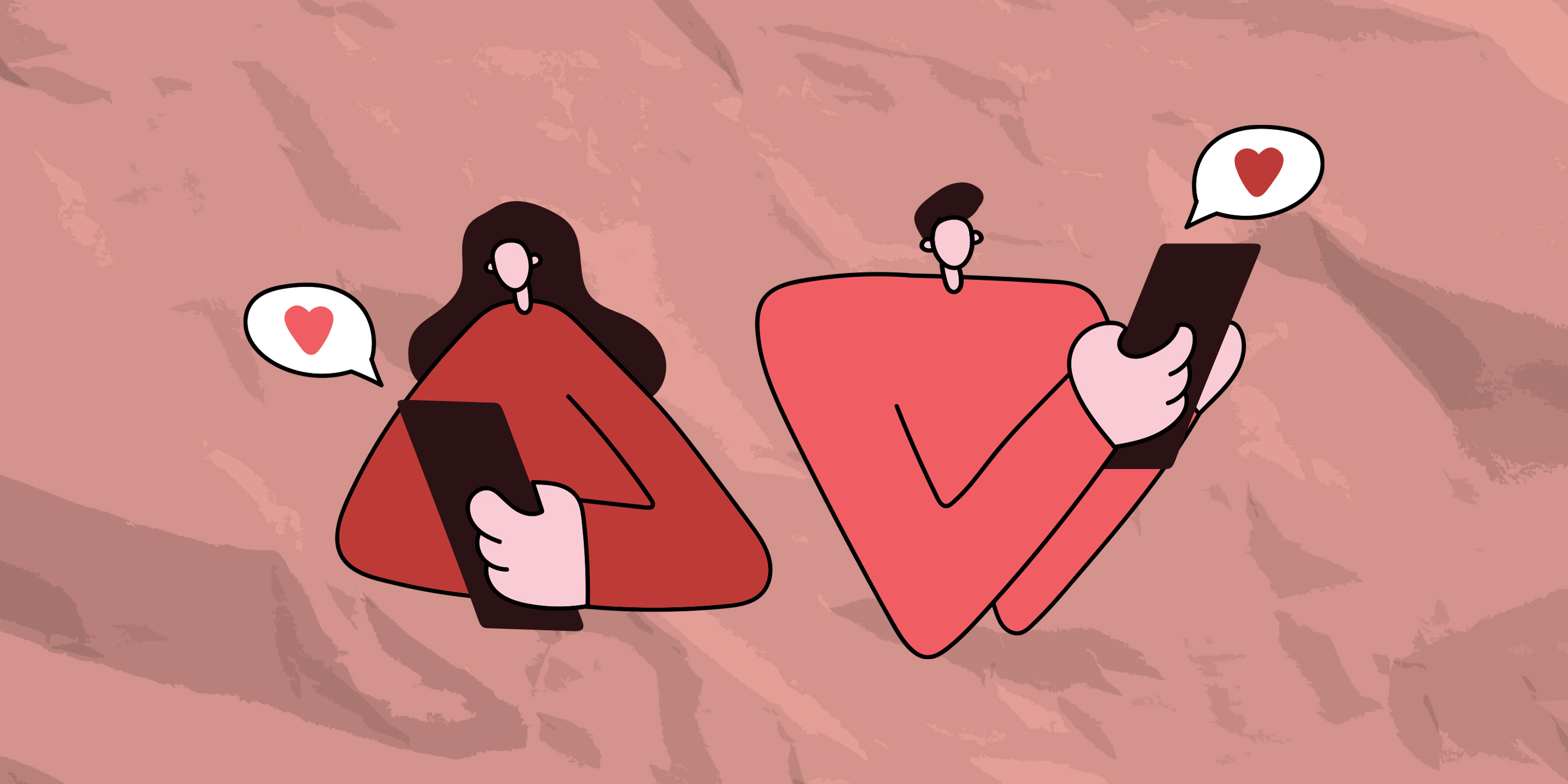 VOICES & OPINION
China's Online Daters Look for Love, Marriage, and Sometimes Both
The country's online dating scene is a complex mix of old values and new needs.
At first glance, there's something inherently modern-seeming about the world of online dating. In contrast to traditional matchmaking services, platforms promise an almost bottomless pool of prospective partners. But has what we want out of a relationship changed, too?
Scholarship on this question is surprisingly scarce, especially outside the Western context. But fieldwork conducted by my research partner, Qian Yue, and I suggest that underlying all the high-tech hype lies an uneasy marriage between traditional needs and new desires.
Based on interviews with 29 unmarried people in Shanghai, we categorized our research participants' partner searches into three distinct patterns: xiangqin, or marriage-focused matchmaking, dating, and mixed. For all the differences implied by those terms, the end goal of almost all our participants was the same: marriage. Intimacy in China is still characterized by near universal marriage and near universal childbirth within marriage. Users of xiangqin-focused platforms are merely more direct and instrumental in their approach, while daters emphasize the importance of romantic love and shared interests to any eventual marriage.
This distinction can be seen from the ways various platforms market themselves. At the time of our fieldwork, the popular xiangqin platform Jiayuan had branded itself as a "serious website for marriage and love." The use of "serious" and the placement of "marriage" before "love" hint at the priorities of its users. Another xiangqin platform, Zhenai, pointedly marketed itself as a "matchmaking and marriage-oriented site." By contrast, popular dating apps like Momo and Tantan prefer to brand themselves as "social apps" and do not promise a particular outcome.
Yet, perhaps the biggest takeaway from our research is that online dating practices are highly stratified — and that new forms of dating may be reinforcing, rather than challenging, traditional gender divides. After Mei He finished her master's degree in the United Kingdom, the 27-year-old returned to Shanghai and began looking for partners on the popular xiangqin platform Baihe. But she quickly found the site's male users too traditional — and too desperate — for her tastes: "Some of them were in a rush … They wanted to get married within a year." (To protect the privacy of our research participants, we have given them all pseudonyms.)
The men that Mei He encountered on Baihe fit the classic profile of xiangqin platform users, and not all women were put off by their straightforward approach to dating. Qing Niao, a university graduate from a working-class background, saw the platforms — which, unlike dating apps, charge a high fee — as a good way to narrow down her options. "The most thrilling thing they said when they promoted the dating service to me was: 'our service is pricy,'" she recalled. "Those men who are willing to pay for it are looking for a serious relationship leading to marriage, plus they have high financial ability."
Another interviewee, Ma Lili, was even more direct: "Chinese women want to marry up. A marriage can be considered a good marriage only if your situation can be improved by it."
The female users of xiangqin platforms we interviewed overwhelmingly prioritized a potential partner's financial circumstances. Male users, on the other hand, continued to emphasize looks. Da Shi began using Zhenai after a family member had success finding a partner on a xiangqin platform. Although he eventually adjusted some of his expectations, good looks were non-negotiable. "I used to prefer Shanghainese women from a similar family background, with good looks, good personality, and a common language," he said. "But now only one criterion remains unchanged: good looks. I no longer care about anything else. I expect her to be good-looking so that my future child's good looks are secured."
Interestingly, despite their focus on matrimony, our xiangqin interviewees all said that dating was a necessary prerequisite to marriage. Ma Lili's experience is instructive. After lowering some of her requirements, including a Shanghai household registration, she dated and eventually married a non-Shanghainese man with a master's degree from a European university, a good job, and a high salary. She described the relationship as reciprocal: After their marriage, he could use her household registration to buy property in the city, while she got her name on the deed. She was open about the fact that her husband valued her looks, while she valued his economic status. "A woman's appearance is vital," she said. "If you are good-looking, a man won't mind even if your family background, financial conditions, or other circumstances are not outstanding."
Although often associated with hookup culture, the users of dating apps expressed a very different set of priorities. Eight of our 10 interviewees in this group said they were looking for a romantic relationship leading to marriage. And one of their most sought-after characteristics was a "common language."
For the educated urbanites who gravitate toward dating apps, that often means an elite university education. Yan Zhen, a graduate of one of China's top universities, preferred to use HIMMR, a platform that markets itself as exclusive to graduates from good schools. "I don't mean to be offensive, but chatting with people from an ordinary university is indeed a bit more difficult," he explained.
Similarly, Pan Shuai, another graduate of an elite school, summarized his preferences as the "three goods": a good university, a good job, and good looks, with education prioritized over the other two. When asked if he could accept a woman who did not have a degree from a top-10 school, he all but excluded the possibility. "I expect my partner to be knowledgeable and intelligent, so that we will share a lot in common and have more effective communication," he said. "It is not something like, oh you like basketball and I like bungee jumping … it is more on the intellectual level, reflecting a person's 'quality' (suzhi). We need to at least have a common language."
This preference for similar educational backgrounds fits with the dater group's emphasis on the "expressive" functions of romantic relationships, including the achievement of romantic love and mutual understanding. But it is not always borne out by their actions: On Tantan, which emphasizes users' profile pictures, women tend to focus on potential partners' lifestyles, while men pay more attention to women's appearances.
The largest group in our study could best be characterized as "mixed." This group looked for partners who could meet both their instrumental and expressive needs. Shen Yi, for example, emphasized the expectation that any potential partner own a home, but also wanted someone with whom she shared a common language: "If the men I come across have an apartment but don't have a car, it is acceptable because I don't have to worry about buying a house. This (homeownership) is my baseline. Then comes a common language, like talking about movies that we recently watched and exchanging views, just to see if we have things to talk about." 
Xiangqin and dating are often held up as a study in contrasts: one traditional, the other modern. But our study suggests that the line between the two, at least in practice, is not always clear. Regardless of method, traditional gendered processes of mate selection are being reproduced online, as women seek to marry up in socio-economic status and men seek an attractive partner. This, in turn, may result in the reinforcement of existing social inequalities and gender divides, rather than their overthrow.
Editor: Wu Haiyun.
(Header image: Yuliia Afanasieva/VCG, reedited by Sixth Tone)