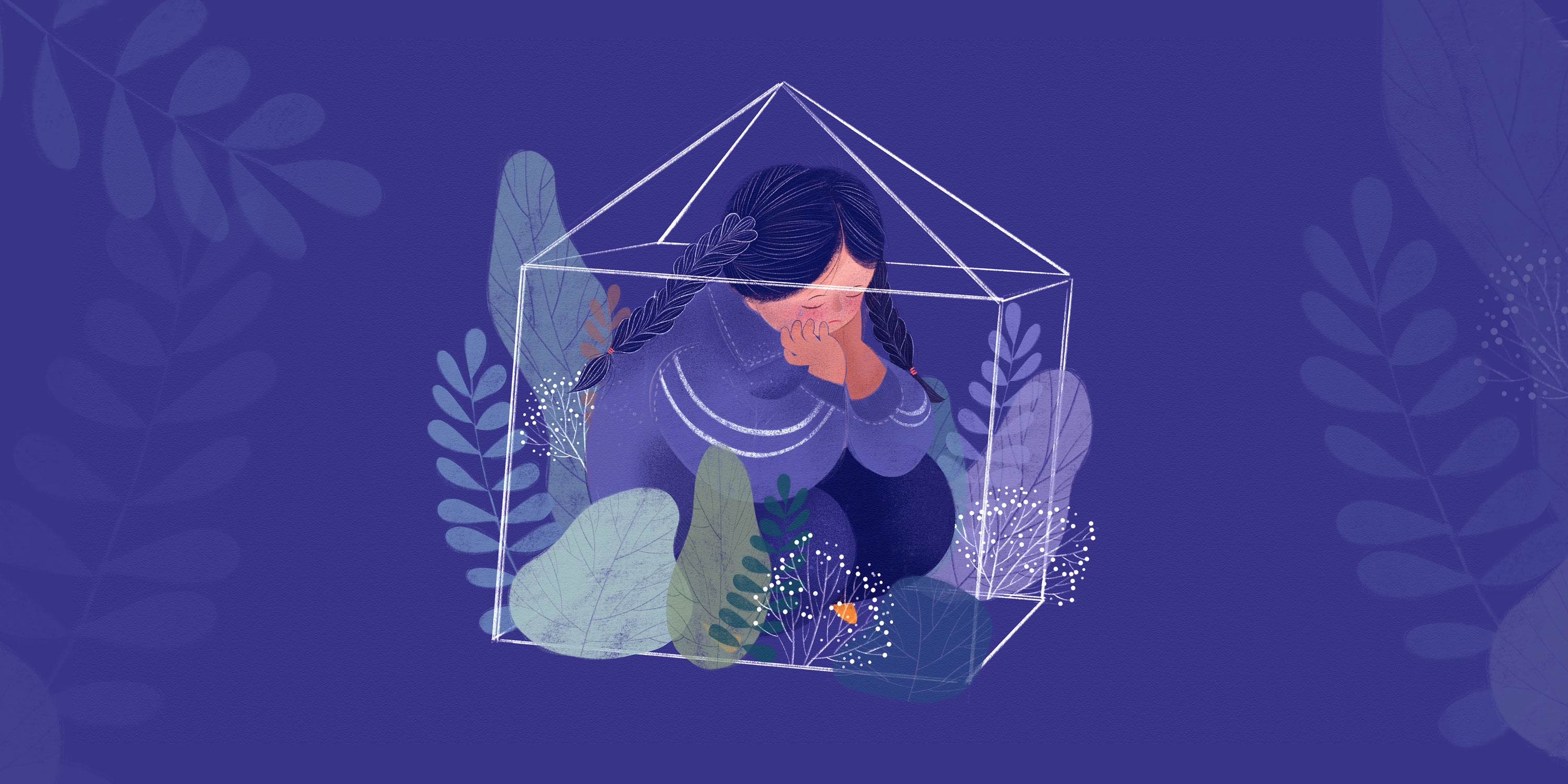 FEATURES
China Is Getting Seriously Worried About Student Anxiety
In 2021, China made reducing the academic pressure on students a top policy priority. But anxiety disorders in schools are still a severe problem — and appear to be affecting more children at younger ages.
SHANGHAI — Lu Beina thought it was funny the first time her 7-year-old daughter started mumbling about mathematics in her sleep. But when it kept happening, she began to worry that something might be seriously wrong.
"I naturally thought about anxiety, but then I doubted myself," Lu told Sixth Tone. "She's only 7! How could I link her situation to a mental health issue?"
Lu's first instinct was right: Despite only being in first grade, her daughter was already being ground down by the relentless academic pressure at school. Worries about math and English tests were stopping her falling asleep, waking her up early, and making her ever more withdrawn.
Many Chinese parents are confronting similar issues. Mental health issues among students have become a source of grave public concern in China, with many arguing the country's intensely competitive education system is making children unwell.
A nationwide study led by researchers at the Chinese Academy of Sciences in 2021 found that the prevalence of mental disorders among Chinese children aged 6-16 was as high as 17.5%. The past few months have been marred by tragedies: a spate of child suicides in Tianjin, a university student taking his own life in Shanghai. Though the causes of suicide are complex, the deaths have generated heated discussion on Chinese social media and added to calls for a culture change in the education system.
Chinese authorities have already introduced a series of policies designed to ease the pressure on students. In 2021, a sweeping campaign to reduce children's academic workload was launched, which included strict bans on private tutoring and excessive homework.
The problem, however, remains severe. Ahead of Mental Health Day — which is held on May 25 each year — Sixth Tone spoke with mental health professionals at Chinese schools and health clinics. They said that the academic pressure on many students has continued to increase since 2021 — and that they're seeing more children suffering from anxiety-related disorders at younger ages.
Shanghai's emergency psychological consultation hotline has seen a sharp rise in calls from students since its launch in September 2021. Initially, only one-quarter of calls to the service related to mental health problems among children or teenagers. Now, nearly 30% of calls come directly from students — some as young as 12 years old — and that figure only captures part of the increase, hotline staff told Sixth Tone.
"The 30% number doesn't include calls from parents, who reached us to inquire about their children's mental health," said Jin Jin, a manager at the hotline, who is also a specialist at the Shanghai Mental Health Center. "There were also many calls of that nature."
New tensions
The mental health professionals who spoke with Sixth Tone offered two reasons for the surge in demand for student psychological counseling. One is greater public awareness of mental health issues. 
Children's mental health has become a major talking point in China over the past few years. Schools and universities have been told to start screening students for mental disorders. Reports of student suicides have attracted huge public attention. This is making children and parents more likely to seek help.
"Some tragedies have happened close to us. If you pay attention, it's not hard to realize that such accidents happen quite often," one psychologist at a hospital in Shanghai told Sixth Tone. "This kind of news makes parents stay on alert — they take action when they observe things going wrong with their children."
The second reason is that the academic pressure on children keeps increasing. The pressure is coming from multiple sides: not only from schools, but also from parents. One mental health teacher at a school in Shanghai, who requested anonymity due to the sensitivity of the issue, said that parents are pushing their children hard from an earlier age than previously.
In the past, students would spend years cramming intensely for China's all-important college entrance exams, known as the gaokao. But these days, the run-up to the high school entrance exams, or zhongkao, can be almost as tough. Around 50% of middle school students fail the zhongkao and are forced to enter the vocational education system, and many parents are desperate for their kids to avoid this scenario.
"The success rate in the zhongkao has been consistent for years, but what has changed is the parents' mindset," said the teacher. "Going to a vocational school used to be acceptable, but most urban families today don't consider it an option anymore."
Parents are also transmitting more anxiety to their children for another reason: They themselves are more stressed than in the past. Since China banned private tutoring in 2021, many parents have started giving their kids extra tuition themselves. But balancing a full-time job with hours of math classes is easier said than done.
"With many tutoring services gone, parents are left in a panic seeking the right resources while they try to tutor the children at home," said the psychologist at the Shanghai hospital. "That has created new tensions between parents and children, and parents' anxiety can easily influence their children."
Jin, the counseling hotline manager, said that children in primary and middle school are particularly vulnerable to anxiety. She often sees cases of children developing emotional issues when they reach the third grade.
"During this period, kids start to feel peer pressure and become more self-driven," Jin said. "Young children are unable to manage pressure. They're afraid of getting criticized; they're scared of failing to live up to others' expectations; and they're worried that horrible things might happen. These can all trigger anxiety."
Losing the lottery
Then, there is the pressure coming from schools. Regular public schools don't usually try to foster a highly competitive atmosphere (though parents and students often create one themselves). But private schools — which teach 10% of China's students — are another matter. Their reputation often rests on their students' stellar exam grades, and they push students hard to achieve high scores.
The culture at some private schools has gotten even tougher recently. Over the past few years, 15 Chinese cities — including Beijing, Shanghai, and Guangzhou — have introduced a lottery-based admission system for local schools. This means that schools are no longer able to select students based on their academic ability; they must accept whichever children win a place via the lottery.
The policy aims to reduce the competitive pressure on kindergarten and primary students, while also narrowing inequality in the education system. But teachers and parents told Sixth Tone that it has had a side effect: Children with lower ability levels are now entering private schools that are under the same pressure to achieve elite exam results. Some schools are trying to resolve the contradiction by subjecting new students to a barrage of extra tests.
"Now, some beginners can't even do the most basic calculations or recognize the 26 English letters," one teacher at a private primary school in Shanghai told Sixth Tone. "This has left us teachers in a big panic ... We're under huge pressure, as are the students who are falling behind. To catch up, it's natural that we all have to work harder together."
It was just this kind of school that Lu's 7-year-old daughter walked into in 2022. Lu was delighted when she heard her daughter had won a place at a top primary school. She assumed her daughter would gain access to the best teachers, allowing her to sail through her exams with ease. But she soon realized things wouldn't be so simple.
"I thought it could free us from the burden of finding extra tutoring for our child," said Lu. "But it didn't turn out that way. Instead, we had to send her to tutoring classes so she could catch up with the school's requirements."
Within weeks, Lu's daughter was showing signs of strain. "She was in low spirits returning home," Lu recalled. "She told me they were having no breaks between classes because there were so many test papers to finish. She was reluctant to go to school in the morning."
Parents of children at other private primary schools describe a similarly relentless teaching style. "There are endless 'small tests' at the school before a major exam like the midterms or final exams," said one mother with a child in the third grade, who requested anonymity due to privacy concerns. "Most of the time, my son didn't bring home these test papers. He just told me, 'It's another day of intensive practice tests.'"
Lu soon became concerned about her daughter. She approached the school to check if the staff had noticed a problem, but was simply assured that her child was "doing fine." As Lu's daughter was in a class of more than 45 students, Lu suspects the teacher was overwhelmed and unable to observe each student closely.
Her daughter's anxiety continued to worsen. After her midterm exams in April, she began talking in her dreams, suffering insomnia, and complaining she had a stomach ache before leaving for school. Doctors insisted there was nothing wrong with her physically. 
But what shocked Lu most was when her daughter turned to her recently, and asked: "Do you still love me?"
"This suggests the child believes her value is determined by her grades," said Jin. "Academic learning is only a small part of a child's growth. But, sadly, our society today still evaluates kids mostly based on their academic scores."
Getting help
For Chinese parents like Lu, it can be difficult to work out how to find professional help for their children. Lu, who is 42 years old, was raised during an era when discussion of mental health was taboo. At first, she was unaware of how many resources are available in Shanghai.
"I didn't even know they had mental health teachers at schools," she said.
Most schools have hired trained counselors to help children experiencing emotional issues, as well as educate students about mental health. However, they are often severely overburdened. 
Zhang Linlin, who spoke under a pseudonym to protect her privacy, is a mental health teacher at a public primary school in Shanghai. She is responsible for over 1,000 students, which limits her ability to identify children with anxiety and depression.
"It's not just because our teachers are not experienced; but also because kids are good at hiding their real feelings at school," Zhang said. "They're more real when they're relaxed at home."
Many parents take their kids for counseling at local health clinics. These services, however, are also oversubscribed. The Shanghai Mental Health Center — which is cheaper than other clinics and particularly popular — has had to impose a four-month limit on how long patients can continue receiving therapy, to cope with the rising demand.
"We don't have enough experienced doctors to treat pediatric patients," said Jin. "You might be on a waiting list for a few months, or even over a year."
Ji Longmei, a Shanghai-based counselor who specializes in child and adolescent psychology, said her client base is growing, too. "The younger patients, aged around 8 or 9, have increased in the past few years," she told Sixth Tone. "The common roots of anxiety for this group include the worry they can't cope with their academic learning requirements. They are consistently in a very nervous condition."
A few days ago, Lu managed to reach an expert at the Shanghai psychological consultation hotline. She was assured her daughter's condition would improve with the right family support. Though Lu is incapable of changing the atmosphere at school, she is determined to do everything she can to help her daughter stay calm.
"I told her she doesn't need to aim to be number one," said Lu. "Being average or even below average is fine. And Mom will always love her no matter what — it has nothing to do with her grades … At the end of the day, I just want my daughter to be healthy and happy."
Editor: Dominic Morgan.
(Header image: Shijue/VCG, reedited by Sixth Tone)