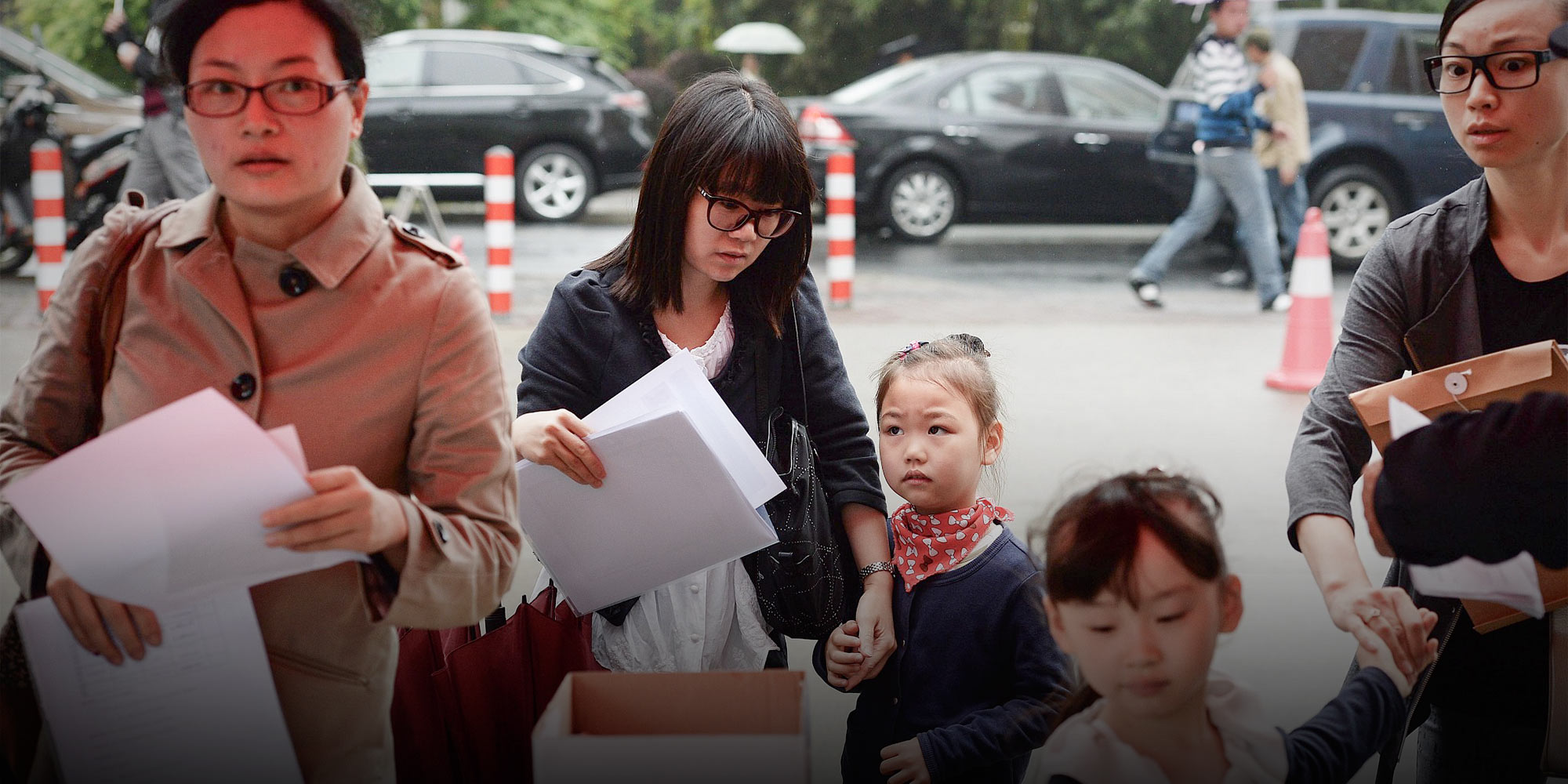 FEATURES
Randomized School Admissions Rattle Shanghai's Rat Race
Parents cry foul as sudden policy shift favors the simply lucky instead of the painstakingly prepared.
SHANGHAI — Usually, the parents Wu Xia speaks with are eager to enroll their 5-year-olds in her training center, where they are prepped for highly competitive primary school admissions. But, addressing a room full of clients on a recent weekend morning, she faced mostly frowns.
As their children sat in a neighboring classroom improving their math, reading, and interview skills, the parents wanted to know more about the government's new egalitarian enrollment policies. Some in the audience whispered that they rendered Wu's classes useless.
At stake is a thriving industry of businesses like Wu's that allow parents to give their child a leg up on the competition from a young age. Children who outperform their peers and gain admission to the city's best private schools will carry that advantage all the way to the all-important college entrance exams, the thinking goes. So it is that Shanghai parents start early with expensive classes, and it isn't unheard of for toddlers to have packed schedules.
This youthful rat race is a thorn in the side of China's government, which for some years has tried to lower workloads for the country's youngest, often with limited success at best. For many children, less homework and shorter school hours have only meant more time spent in extracurricular classes, as parents are loath to let their children fall behind.
The government's latest move — made public on July 8 by China's Cabinet, the State Council — requires private institutions that cover the compulsory education period of primary and middle school to select applicants at random whenever their number exceeds admission quotas, which is virtually always the case. Shanghai has said it will formulate specific local rules around the year's end, but the policy change promises to make intake interviews a thing of the past — and extra classes irrelevant.
After the parents' meeting, Xu Mengxin found herself some peace in the lobby of the training center while waiting for her daughter's class to finish. She is dreading the change. "I won't want to leave my child's admission to a lucky draw," she tells Sixth Tone, with a tired look. Xu explains she got out of bed at 6 a.m. to drive her 5-year-old daughter some 30 kilometers to the training center — the family's Sunday morning routine.
Xu feels conflicted about putting her daughter into cram schools. "On the one hand, I hope she can enjoy her childhood; on the other, I don't want her to be left behind academically," she says. "Can you imagine the anxiety when you learn kids of her age are able to recognize over 1,000 Chinese characters and read English stories on their own while your child knows none of that? They are peers, and eventually they'll compete in high school and college entrance exams together."
"It (the new policy) means you might not be given a chance to sit a test or an interview; you can only count on your luck," Shanghai mother Chen Mo says while waiting at a training center, where her 5-year-old son is being taught how to solve math problems usually given to children three years his senior. "This is pitiful for families like mine, who have invested a lot of our time and money into preparing our children for an admission test."
In the downtown district of Xuhui, where Chen lives, private primary schools enjoy much better reputations than their public counterparts. Their graduates score better academically, and a higher proportion of them manage to test into a desirable private middle school. While public schools admit students based on their household registrations, or hukou, private schools can set their own admission interview requirements. These conversations often include evaluating children on a range of skills, including math, reading, and English, as well as their manners.
As a private education sector researcher at Sinolink Securities, Wu Jingcao believes that private schools owe much of their advantage over public schools to being able to select more precocious children. "The new policy is apparently aimed at curbing the excessively early selection of students, which is the most serious problem," he tells Sixth Tone, adding that the government would prefer not to separate students until the high school entrance exams.
However, Xiong Bingqi, vice president of think tank 21st Century Education Research Institute, believes that turning admission into a lottery could compromise the nature of private education. "Worldwide, private schools provide more individualized education to supplement public education — families can choose their preferred schools, and schools can make their choices as well," Xiong tells Sixth Tone. "The lottery practice will, however, deprive private schools and families of such choices, which doesn't quite make sense."
Some private schools have faced criticism for pushing their admission advantage to levels considered unethical. One Shanghai school was reported to have turned away applicants whose parents were too fat, supposedly a sign of poor self-restraint. A private school in Guangdong province, southern China, caused a stir in 2017 because it would only accept children whose parents had at least a bachelor's degree.
Wu, the analyst, says that private schools gradually built their advantage starting some 20 years ago, but parents' anxiety over getting their children admitted into these schools started to rise sharply only around 2013: "That's when the social networking app WeChat started to get popular, and information exchange and access became much more convenient, at no cost," he says. "Anxiety spread almost virally among parents."
When the 11-year-old daughter of Shanghai mom Zhang was a preschooler, competition wasn't nearly as fierce. Zhang describes the current situation as "sick," citing families putting young children through grueling learning schedules.
"But it's what almost all parents are doing. It's pretty insane," says Zhang, who refused to use her given name out of privacy concerns. She believes the perversions are a logical result of the competitive education system. "It's unavoidable for parents to be realistic and simple-minded when judging a school based only on its average scores and where its graduates go to continue their studies," she says.
Before her daughter entered a public primary school, Zhang only ever signed her up for a dancing class. "That's why her scores from the first two years at school were not ideal," she says. "But that's fine. She caught up after the third year."
Zhang's daughter recently gained admission to one of Shanghai's best private middle schools after she did well on its tests. The mother admits they may not be able to luck out in a random draw, but she supports the new policy. "Something had to be done to stop what parents are doing to their young kids at the moment," Zhang says.
Cheng Lu, another Shanghai mother, however, doesn't question whether she should have put her daughter Jiajia through years of prep classes from the age of 3 — all the other parents did the same. "We only did what we could to make sure she wouldn't lose at the starting line," Cheng tells Sixth Tone.
Jiajia, now 6, spent most of her time outside of kindergarten attending reading and math courses, a workshop specializing in Math Olympiad, a Chinese character writing class, and English lessons. She also had a one-on-one English tutor, joined a chess club, and took piano and drawing classes.
During these years, Cheng, 33, has seen the prices of such classes nearly double, driven up by continuously surging demand. At one of these institutes, a cram course in the three-month period leading up to the admission interview season cost the family 40,000 yuan ($5,700). In the three years, the family spent more than 200,000 yuan total.
Cheng says she will never forget the struggle just one week ahead of the scheduled admission interview in early May, when Jiajia was suddenly struck by pneumonia. Cheng hesitated whether she should pull her out of the final week of classes, but eventually decided against it. During the day, Jiajia sat through the classes while running a fever; at night, she went to the hospital for IV drips.
With consistently good performances during simulated interviews at a training center, Cheng was confident Jiajia would do well during the real thing. In the end, however, her daughter failed to gain admission to the family's school of choice. A new policy last year aimed at making education more equal made applications for public and private schools simultaneous and required parents to forfeit their child's spot at their hukou-designated local public school if they applied for a private school. As a result, Jiajia is now enrolled in a school located a 5-kilometer drive away.
By introducing this enrollment risk, the policy worked to make private schools less appealing, cutting applicants in half for 2018 compared with the previous year. But some parents, including Cheng, interpreted this change in another way: Fewer applicants meant a higher chance of admission.
"While the girl remains innocent and happy, our family has been feeling the pain of the changing enrollment policies," she says. "And as more (policies) are coming next year, we might have to deal with more frustration in the future."
Though the Chinese education system's focus on testing has arguably resulted in very competitive childhoods, parents have remained supportive, because tests like the college entrance exams are merit-based and have proven resistant to favoritism. Random admissions undermine this, they say. In Xi'an, a city in northwest China where similar lottery enrollment policies have been piloted for two years, local families lament their focus on luck instead of merit. "It's hilarious that in today's modern society, school admission has to be determined by one's good luck. Fairness has been abandoned when people have to count on luck," wrote one Xi'an father in a recent article that went viral on WeChat.
According to the father, his daughter had consistently ranked among the top 15 among her 600-plus peers at a leading primary school in Xi'an, but she did not get lucky in the lottery for admission to a prestigious middle school. Even with the new system, more than half of all primary school graduates in Xi'an this year still chose to participate in the lottery for private middle-school admissions. Some parents say this ratio shows the imbalance of public and private education resources in the middle school stage, and question how a lottery practice can address the imbalance issue.
"All we want is a chance to sit an exam," says a Shanghai mother, echoing the father in the Xi'an article. Preferring not to be named, the woman has a child going on to fifth grade this September and will face middle school enrollment next year. "How can we expect things to be fair if the admission exams or interviews are completely gone?"
In any case, training center founder Wu isn't too concerned the policy change will result in a drop of students. Parents will still want their children to be the head of the pack. As she told the classroom full of concerned clients: "If a mother in Shanghai tells you that her kindergarten-age child isn't learning anything, I can assure you she's lying."
Editor: Kevin Schoenmakers.
(Header image: Children and their parents wait for face-to-face interviews for a private school's enrollment in Shanghai, May 10, 2014. VCG)