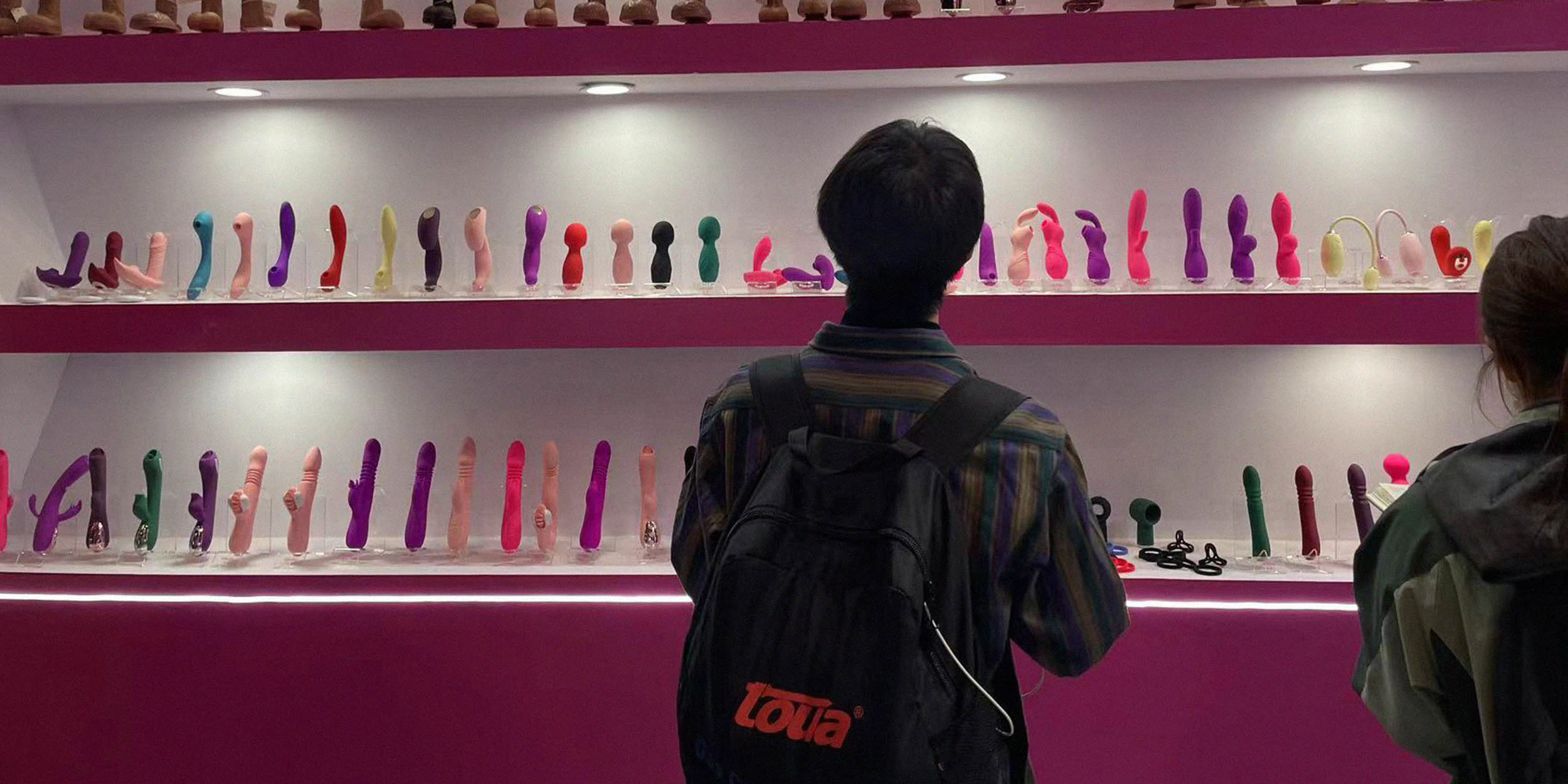 NEWS
How Women Are Reshaping China's Sex Toys Industry, Literally
China's adult product industry is changing, with women demanding more from the market. Companies are finally starting to listen.
SHANGHAI - With a wide smile on her face and bondage rope wrapped around her right arm, Zhiniao, 18, browsed around the array of vibrators and lubricants at the annual Adult Production Industry exhibition in Shanghai. 
By her side was her mother, listening quietly, reading brochures introducing the newest sex toys from around the world. Together, they were among 50,000 curious visitors who attended the exhibition at a convention center in Putuo District over three days in late April. 
In China, conversations about sex are often taboo. But Zhiniao, using a pseudonym for privacy reasons, told Sixth Tone that she began exploring her body in second grade and bought her first sex toy in high school. 
Zhiniao's open exploration of her sexuality was made possible in part by her mother's supportive attitude toward her choices. "As long as she's healthy, I'm OK with all her sex explorations," her mother, in her 40s, told Sixth Tone, requesting anonymity for privacy reasons. 
In stark contrast, her generation had little opportunity to talk about sex in public, let alone embrace it as part of daily life as her daughter does now, she said.
China's attitudes toward sex and sexuality have remained largely conservative, with sex education often facing opposition from parents. 
The lack of basic education even about periods and hygiene products further compounds this issue, making it challenging for young people to access necessary information. And simultaneously, feminist advocates who attempt to highlight these issues often encounter public backlash. 
The challenges notwithstanding, some, like Zhiniao, are carving out their own paths toward sexual exploration and open communication. And the recently concluded exhibition in Shanghai, where hundreds of sex toy producers flaunted their best products — with a significant number of products catering specifically to women — is a clear example of this shifting tide. 
The numbers underscore this trend. Data from consulting firm Zhiyan shows that sales of sex toys for women in China increased 114.4% and 67.2% in 2018 and 2019, respectively, far exceeding growth in the market for men. And in 2021, sales of sex toys for women on Tmall, a popular online marketplace, soared elevenfold year-on-year. 
The feminine touch 
These figures suggest that there is growing demand for sexual liberation and a willingness to explore new avenues of pleasure. That women are driving this demand is now influencing the design of new products, according to product managers at the Shanghai exhibition. 
Women are not just looking for pleasure, but also for discreet and creative options, said Liu Fan, product manager of Svakom. This year, Svakom showcased a range of sex toys designed to resemble everyday objects such as phones, plants, and pens.
"We are trying to diversify how our products look to attract clients and to dispel a sense of shame," said Liu, pointing to a vibrator designed to look like a classic yet chic camera. "Even if you place them openly in your living room, no one will suspect that they are sex toys."
Niu Cuishan, a 21-year-old student in Shanghai who owns more than 15 sex toys, told Sixth Tone that she's happy to see that toys at the exhibition are no longer "simple rubber-made penises."
"Toys today allow you to make up scenarios most suitable for you, as if you are playing with your fantasy or illusion," said Niu. "Some toys are just like unicorn horns, with glittering pearls and sequins."
The exhibition, held annually since 2004, was not always this way. 
In 2020, organizers drew sharp criticism after attendees found a sex game being sold that was adapted from "Fang Si-Chi's First Love Paradise," the influential Taiwan novel based on the real-life sexual abuse of the author by her teacher. 
"The exhibition used to be a freak show competing to objectify women to the extreme," said Wang Lan, a former editor for gender equality nonprofit Justice4Her Project who attends the exhibition every year. 
"I've been more than amazed to see that, instead of peddling men's sexual fantasies as they used to do, there were stalls giving real sex education this year," she said. 
This year, attendees circled around a large screen in the middle of an exhibition hall explaining human anatomy in detail. The brand that set up the screen, Osuga, regularly promotes sex education content on its social media channels, including information about contraception, the female reproductive system, and breast examinations.
"Seventy percent of our customers are picking their very first sex toy for themselves," said Gao, a product manager at Osuga, which has been selling sex toys on e-commerce platform Taobao since 2019. 
For Gao, sex education is a crucial part of the sex toys industry because of the stigma surrounding sex that exists in wider Chinese society. When sex is mentioned in public in China, it is always linked to negative things like celebrity scandals and sexually transmitted diseases, she said.
Eileen Chen, co-founder of Master4Fancy, a brand at the exhibition selling custom-made dragon tail-shaped dildos, entered the sex toy industry in 2020 after working at a gender equality nonprofit. She remembered logging on to the official account of the nonprofit every morning and seeing dozens of questions from teenagers asking about if and how they can enjoy sex.
"I get excited when I rub my legs together. Will that disappoint my parents?" was one of the most common questions asked. 
Women are told that sex is "dirty," said Chen, which stops them from learning about their bodies. "They shy away from talking about orgasms, about sex, and even about their period," she said. 
The lack of formal sex education has many young women turning to social media vloggers and influencers for information about sex and their bodies, particularly on popular platforms like Bilibili and Douyin.
DaLe, a sex toy reviewer with around 100,000 followers online, regularly shares videos and long articles introducing young women to the structure of the clitoris and other basic information. But much of this content has been taken down for being "vulgar" — a common occurrence in China. 
"The more I learn about sex toys, the more I know that (sex toys) should be part of the sex education system. They are excellent teaching tools, and have nothing to do with vulgar pornography," she told Sixth Tone. 
But while she agrees that sex toys have an important role to play in women's sex education, she also worries about the other "extreme" of young women feeling pressure to try sex toys for feminist reasons. 
"Women shouldn't feel that if they don't use toys, they are not independent or free or brave enough," she said. "To love and respect the choice of every girl while keeping all the choices open and available — that's what we should be doing right now."
Editor: Vincent Chow. 
(Header image: A man looks at dildos on display at Shanghai API Expo, April 22, 2023. Yang Caini/Sixth Tone)