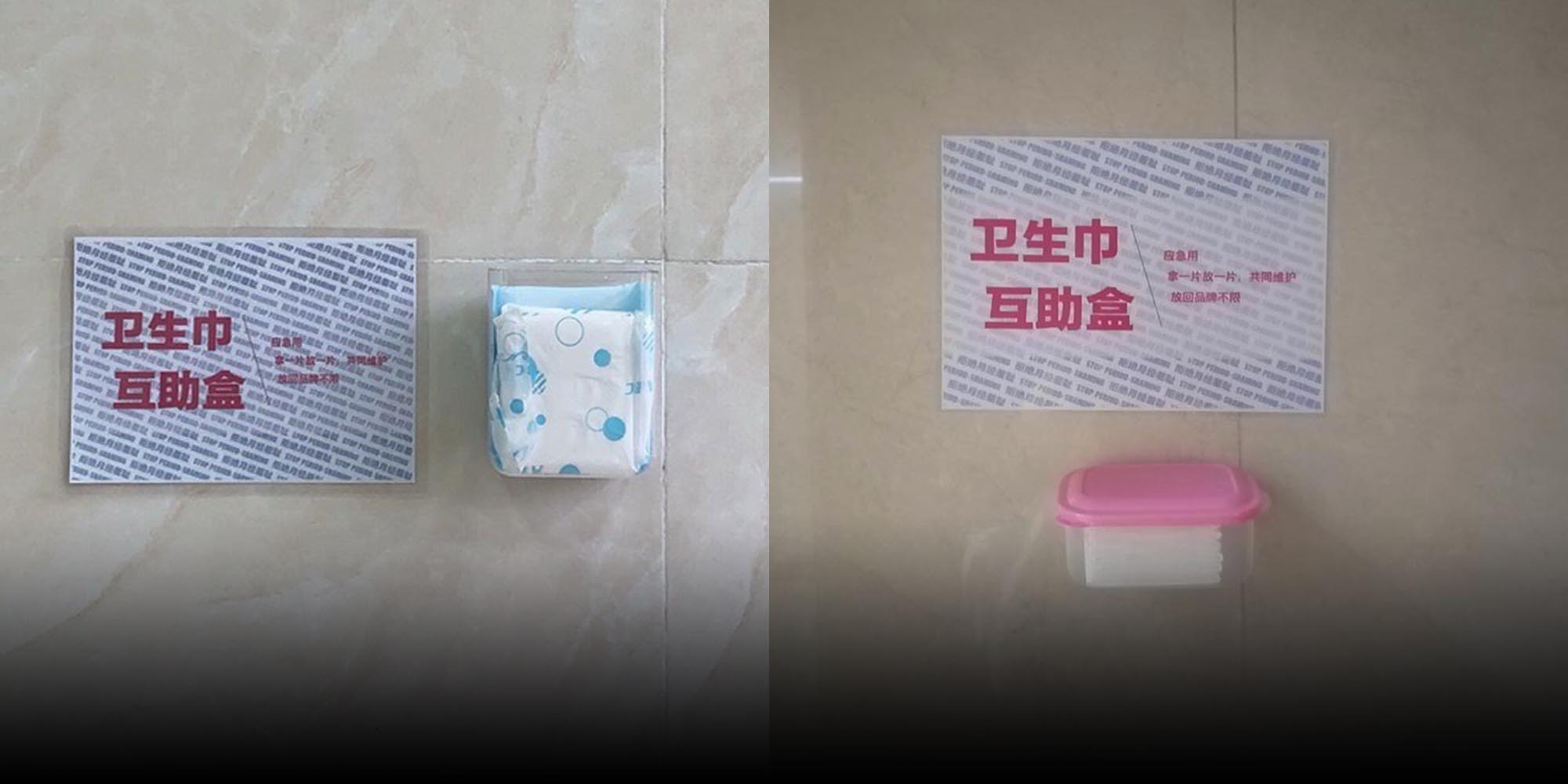 NEWS
Period Poverty Alleviation Campaign Takes Root on China's Campuses
A Chinese feminist group inspired female students at over 120 universities to support each other with free feminine hygiene products, but some young men can't resist bathroom-humor reactions.
Two weeks after a middle school teacher put a box of sanitary pads in her students' bathroom, a campaign to provide free menstrual products to young women and end "period-shaming" is sweeping across China's college campuses.
Spearheaded by gender advocacy group Stand by Her, volunteers at 126 domestic universities have begun setting up free sanitary pad dispensers in bathrooms, accompanied by posters calling for an end to the stigma against menstruation. The boxes are intended for emergency use, and those who take pads in times of need are encouraged to add one or two back in the future.
Xu Luming, a sophomore at East China University of Politics and Law in Shanghai, is reportedly the first college student to install such dispensers in her campus toilets. "Apart from rejecting period-shaming, I also want to promote the concept of mutual help among women," Xu told Sixth Tone.
A master's student surnamed Fei told Sixth Tone that she and her friends have received welcome support from students and staff alike since taking the campaign to their own campus of Guangxi University in southern China.
"I'm very happy that students at our school have reached out to me on (microblogging platform) Weibo, hoping to join us and set up more of these 'mutual help boxes' in other buildings," Fei said.
However, the campaign to fight period-shaming has also received criticism and even mockery from male students and faculty.
After student volunteers at Minzu University of China in Beijing created a poster with a slogan reading "no period shame," some sophomoric male students altered the design so that it appeared to endorse dispensing cigarette packs, with its new slogan reading "no smoking shame."
At yet another school, China University of Political Science and Law in Beijing, male students countered a campus sanitary pad campaign by setting up "communal tissue boxes" in toilets, along with a poster's satirical slogan against "ejaculation-shaming."
"This isn't funny at all, but cruel," read a viral commentary responding to the off-color parody campaign. "There is no comparison between our menstrual pain and your sexual pleasure."
Apart from the perhaps predictable reactions of some young men, the campaign against period-shaming has also been opposed by school officials.
A source familiar with the matter at Beijing Foreign Studies University told Sixth Tone that a professor, upon learning that journalism students were planning to write about the campaign for their campus publication, suggested they should instead "focus more on international affairs." Students at other universities, too, have reported instances of teachers or administrators prohibiting them from installing sanitary pad dispensers in bathrooms.
Jiang Jinjing — Stand By Her's founder, who led a campaign for donating feminine hygiene products to frontline medics in the central Hubei province during the worst of China's COVID-19 outbreak — told Sixth Tone she's accustomed to facing opposition from men on gender-related issues, and that such reactions reflect a pervasive anti-feminist sentiment in China.
"Throughout our history, men have always been at the center of every issue. They're used to being the leaders, including when it comes to women's issues," said Jiang, who is also known online by the name Liang Yu. "They feel uncomfortable about a women's movement, as this is something that doesn't require their opinion."
Despite being a taboo subject in China and elsewhere, menstruation has come to be addressed more openly in the country this year. In March, Jiang's campaign to supply frontline medics with sanitary products made national headlines. And last month, a screenshot of 100 off-brand sanitary pads being sold on e-commerce site Taobao for the suspiciously low price of 22 yuan ($3.30) went viral on Chinese social media, drawing attention to the enduring but oft-ignored issue of "period poverty," especially in rural parts of the country.
Correction: A previous version of this story incorrectly stated that China University of Political Science and Law was located in Shanghai. East China University of Political Science and Law is in Shanghai; China University of Political Science and Law is in Beijing.
Editor: David Paulk.
(Header image: A sanitary pad dispensing station in a women's bathroom. From @予她同行_Standbyher on Weibo)