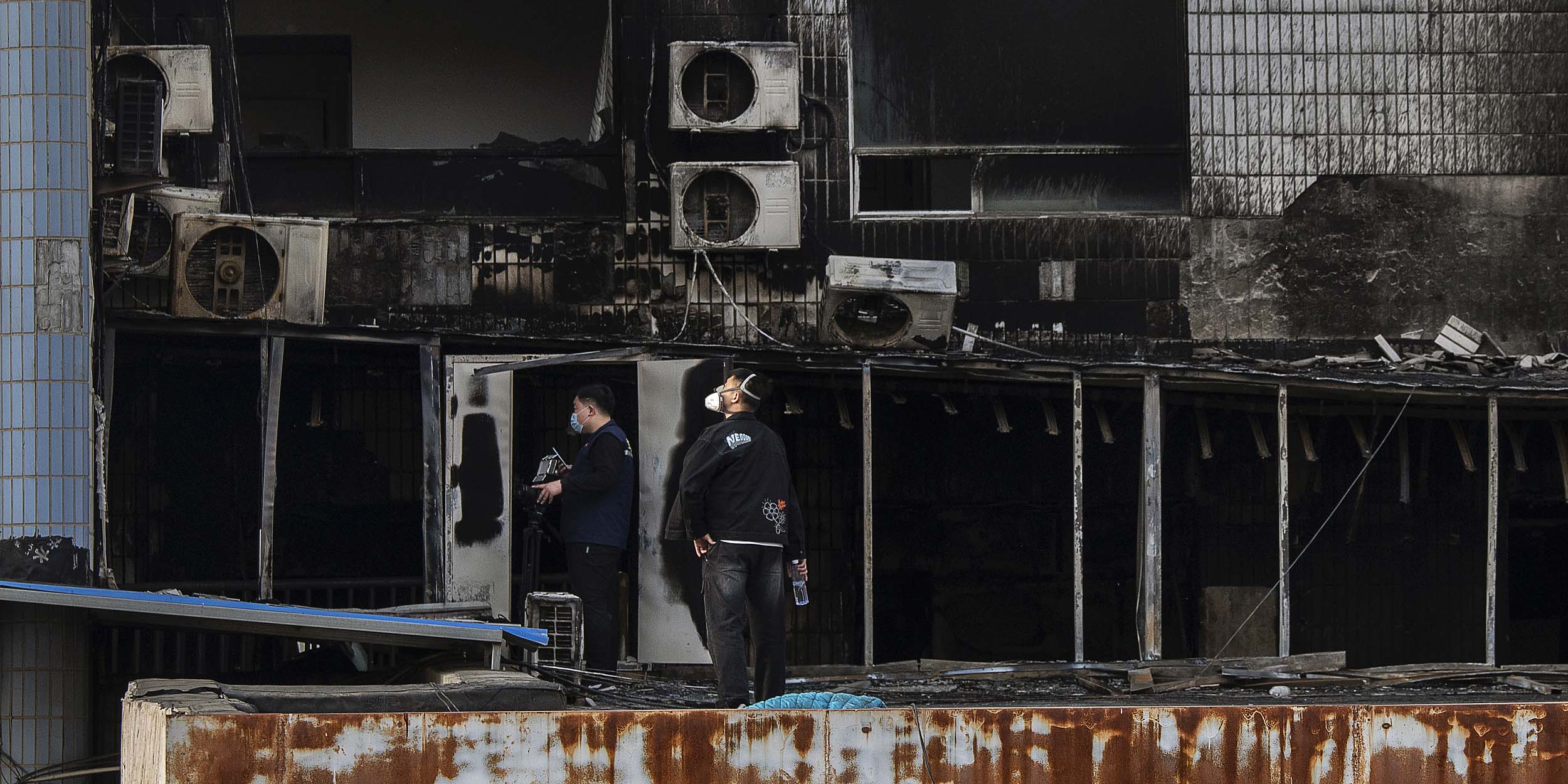 SIXTH TONE ×
Hubris and Heartache: Behind the Tragedy of Beijing's Deadly Hospital Fire
After 29 people died at a Beijing hospital, China searches for answers.
As night fell on April 18th, darkness engulfed the Beijing Changfeng Hospital. Charred beds and blackened walls lined the wards, a terrible reminder of the horror that had befallen the dozens of dead and injured in one of China's worst hospital fires in recent years.
Just hours earlier, the hospital in the western suburbs of the capital had been packed, with patients receiving treatment from doctors and nurses going about their work on an otherwise regular Tuesday.
Then, around noon, a fire thought to have been sparked by renovation work, broke out in the east wing of the inpatient department and quickly turned into an inferno.
Although local authorities said the fire had been extinguished by 1:33 p.m., in that relatively short space of time, 29 people, most of them seniors, had succumbed to the flames.
According to official reports, 26 of the dead were inpatients, ranging from 40 to 88 years of age. The other three victims were the family member of a patient, a caregiver, and a nurse.
As of Friday, 39 people injured in the fire were still hospitalized, including 21 in critical or serious condition, state-run Beijing Daily reported.
Now, even as many of the injured still fight for their lives, the search for who to blame has begun, with the spotlight squarely on the operators and administrators of the privately owned hospital, and the possible repercussions for the broader industry.
Just months ago, Beijing Changfeng Hospital had attempted to paint itself as an exemplar of fire safety, boasting in late February on its official website about having enhanced management of its fire safety protocols.
It also said it had ensured the proper functioning of its fire control systems, which it claimed had all met requirements in regular checks.
That now looks like a stunning and tragic example of hubris, with the post taken down in the wake of the deadly fire.
The day after the disaster, Beijing Changfeng was ordered to suspend its operations. Shares on China's over-the-counter stock market of the parent company, Beijing Changfeng Hospital Co. Ltd, were also suspended from trading.
Authorities have detained 12 people in connection with the fire, including the hospital's president, a vice president, and several individuals from the contractor carrying out the renovation work, said Sun Haitao, an official with the municipal public security bureau, at a press briefing on April 19.
"Flammable paint"
An initial investigation has found the fire was likely caused by "flammable paint" that was ignited by sparks as workers carried out interior renovations to the inpatient department, local authorities said at the briefing, adding that the probe continues.
Cao Gang, a lawyer at W&H Law Firm who participated in the drafting of China's Fire Control Law, said further investigations are needed to find out whether open flames were used during the renovation and whether the necessary approvals were obtained.
The type of combustible paint used and how it was ignited also needs to be studied, Cao told Caixin.
Caixin has learned that Wang Weifeng, head of the contractor in charge of the renovation, was among those detained by the authorities.
Located in a residential area in Fengtai district, Beijing Changfeng opened in 1993 and specializes in treating patients with hemangioma, which are non-cancerous tumors that generally occur on the surface of the skin, and other vascular diseases.
The hospital has 150 beds and 318 medical staff. At the time of the fire, there were 132 inpatients, according to the official briefing.
Beijing Changfeng is one of 20 healthcare facilities across China operated by Beijing Changfeng Hospital Co. Ltd. The company, controlled by businessman Wang Wenjie, was listed on China's over-the-counter stock market, known as the New Third Board or National Equities Exchange and Quotations Co. Ltd. (NEEQ), in 2017.
Financial troubles
However, the hospital chain has been struggling with mounting debt and ballooning losses after three years of strict pandemic controls. In the first half of 2022, the company's net losses expanded by 153% year-on-year to 32.64 million yuan, according to its interim report filed with the NEEQ.
Its debt had climbed to 462 million yuan by June last year, with its debt-to-asset ratio reaching 71.6%, more than five times that in 2016, according to the company's financial reports.
The worsening financials were seen by some as foreshadowing the disaster, as Changfeng Hospital pressured its facilities to cut costs.
"Measures to cut labor costs and compress work processes would inevitably result in various risks," said a former employee of the hospital chain, speaking to Caixin after the fire.
Those misguided priorities at Beijing Changfeng now appear to have been exposed in its obvious fire safety failings, sounding the alarm for greater scrutiny for China's broader hospital industry.
Beijing authorities for their part have pledged to learn from the incident and carry out a round of checks to eliminate fire safety hazards in local hospitals, nursing homes, high-rise buildings and underground spaces.
On April 21, the State Council, China's cabinet, sent officials to oversee the investigation into the fire, indicating the priority the central government has put on stamping out egregious shortcomings that cast the leadership in a poor light.
On the same day, two other hospitals managed by Changfeng Hospital, in Shanghai and Henan, were punished for fire safety flaws.
One of the facilities, Shanghai Cao'an Hospital, was ordered to suspend operations and carry out rectifications after the municipal fire department found major unspecified safety risks during an inspection on April 19, Caixin has learned.
Another, Xinyang Changfeng Hospital in Henan, was issued a similar rectification order after city authorities accused the hospital of blocking emergency exits and evacuation routes, according to local media reports.
"Thick smoke"
The consequences of failing to establish and maintain fire safety protocols were starkly apparent to those caught in the Beijing blaze.
Sun Qi was admitted to the surgical ward on the fifth floor of Beijing Changfeng's inpatient department on the morning of April 18th with a fractured foot.
At around 1:00 p.m., smoke began to billow into Sun's ward, he told Caixin. Hospital staff ordered everyone to evacuate, but neither the fire alarm nor the sprinkler system appeared to be functioning, according to Sun.
Helped by his brother, Sun reached the corridor only to find it was already filled with thick and choking smoke.
"The smoke was so thick I couldn't see my hand in front of my face," he said, adding that he did not see any open flames.
The main layout of Beijing Changfeng consists of two buildings connected by a skywalk. The east wing, where the fire occurred, is a seven-story building used for inpatient services, while the west wing is the outpatient building.
Video clips circulating on social media showed the desperation of those trapped inside.
Chilling images show heavy smoke pouring out of the windows, while several people were seen clinging to windowsills and exterior wall-mounted air conditioning units many floors above the ground, while others climbed down along pipes or tied bedsheets.
"When I arrived, I only saw black smoke, but no flames," a witness told Caixin. "Smoke was pouring out non-stop for a long time, almost an hour."
According to Beijing authorities, the evacuation was completed by 3:30 p.m. and a total of 71 injured were transferred to other hospitals.
Most of those "suffered from injuries caused by inhaling thick smoke, rather than burns," a doctor at Beijing Changfeng told Caixin.
Desperate search
Many families of the victims said they were not informed about the fire until reports started appearing on state media in the evening. Some said that they tried for a long time calling the city's general service hotline and the municipal health authorities to determine the whereabouts of their family members, with mixed results.
Kong Mei's mother was on the top floor of the building. Complications caused by diabetes meant she was non-ambulant and unable to take care of herself.
There were many elderly patients who had limited mobility in wards on the same floor, according to Kong's husband Liu Ce, who spoke to Caixin.
After hearing the news in the evening from media, Kong desperately tried to reach her mother by phone, but failed to get through. She and Liu rushed to the hospital, arriving after 9:00 p.m. and found many people gathered there also looking for news about their family members.
Hospital staff took their details, but didn't provide any information.
Kong called the city service hotline inquiring about her mother's whereabouts and was informed she had been transferred to Beijing You'anmen Hospital.
At around 1:00 a.m., Kong's worst fears were realized, when she finally found her mother's body in the morgue of Beijing You'anmen Hospital.
Cluttered corridors
Liu questioned if adequate assistance was provided to the disabled elderly patients during the evacuation. The corridor in the inpatient building was only a little over one meter wide and piled with boxes of medication, making it difficult to move hospital beds, according to Liu.
This contravenes accepted norms in the industry.
"The width of a hospital ward corridor should be at least enough to allow two beds to pass side by side and one meter is clearly not enough," a senior doctor at a large public hospital told Caixin.
Usually, most hospital beds come equipped with wheels, so patients can be moved about as necessary during their treatment. In the event of a fire they become crucial to allow staff to quickly evacuate incapacitated or otherwise immobile patients.
Medical staff can push the beds to better ventilated areas, but beds with wheels are more expensive to purchase, said the doctor.
Caixin visited wards on the fifth floor of Beijing's Changfeng's inpatient department and found that the beds did not have wheels.
The fire has put Beijing Changfeng, a previously little-known mid-sized hospital, and its operator under the spotlight.
According to publicly available records, Beijing Changfeng's parent, Changfeng Hospital, is controlled by Wang Wenjie, a former physician from Ezhou, Hubei province.
In 2006, Wang became the president of Beijing Fengtai Changfeng Hospital, which in 2015 was restructured into Changfeng Hospital through a corporate reorganization, according to public business records. In 2016, Wang became the chairman and general manager of Changfeng Hospital, according to public record.
In 2017, when Changfeng Hospital debuted on the New Third Board, it was operating 12 hospitals across the country including Beijing Changfeng, according to company filings.
The company claimed to be the largest private medical institution in China specializing in the treatment of vascular tumors.
According to an article posted on Beijing Changfeng's social media account in 2021, its parent had built a hospital chain numbering over 20 medical facilities.
Narrow margins
However, the company has operated on narrow margins. From 2017 to 2019, its combined profit was only 80 million yuan ($11.6 million), according to the company's financial reports.
The Covid-19 pandemic added to the already mounting pressures on the hospital chain. In 2020 and 2021, the private hospital posted a combined net loss of more than 62 million yuan, according to its financial reports.
During the same period, Beijing Changfeng was temporarily closed at the request of Fengtai authorities under Covid control policies.
To ease the financial strain, Changfeng Hospital has moved to offload assets. On April 12, the company announced sales of its entire stakes in two hospitals, in Changsha and Guangzhou, for a combined 20.4 million yuan.
Its woes have not gone unnoticed by investors, with the trading volume of Changfeng Hospital's stock on the New Third Board very low. The last transaction was in December 2021 at a price of 7 yuan per share, giving the company a total market value of 1.02 billion yuan, data from the NEEQ showed.
Part of its financial woes could be explained by its struggle to attract patients.
A former employee said the patients of Beijing Changfeng are mainly people living outside Beijing who seek better treatment in the capital, but are unable to get appointments at large public hospitals.
To attract patients, Changfeng Hospital has spent heavily on advertisements, internet promotions and marketing campaigns. In late March, Beijing Changfeng offered reimbursements for transportation for inpatients as part of a special promotion.
Cost cutting
Changfeng Hospital has been pressuring its institutions to cut costs. The company has been implementing cost-cutting measures in the nursing team and other areas, according to a former employee.
"Beijing Changfeng has put economic benefits first and problems will be exposed sooner or later," said a former employee. "Many inspections are rash and its management is definitely insufficient."
Compared to public hospitals, private healthcare institutions are more prone to financial difficulties since they do not have access to government subsidies, according to a source in the medical industry.
Even some public hospitals are struggling with financial strains due to the impacts of the pandemic, said the person.
Whether or not cost cutting measures contributed to the tragedy in Beijing remains to be seen.
Investigators have linked the deadly fire to renovation work in the inpatient building, with Zhao Yang, deputy head of Beijing's fire department, saying on April 19 briefing that the blaze was caused by flammable fumes from paint.
A subcontractor on the project was quoted by newspaper The Economic Observer as saying that several of his workers saw welding underway nearby a pile of garbage when they left the construction site on the morning of April 18.
The subcontractor declined to comment when contacted by Caixin.
Hospitals are among the key public venues that are required to pay special attention to fire control due to their complex architectural structure, high flow of people, heavy use of electricity, and stock of flammable medical materials, said Han Gongbo, a fire department official in Jiangsu province.
A total of 26 fires broke out in 23 hospitals in Beijing between 2000 and 2019, resulting in four deaths and one injury, according to 2021 statistics published by staff from the Peking University People's Hospital and the Peking University First Hospital.
A 2020 rule on healthcare institutions' fire control and safety management outlined detailed requirements on their use of open flame and electricity, and renovation work. The rule also stipulates that regular fire control inspections on hospitals undergoing construction and renovation must be undertaken.
But in reality, many hospitals have failed to strictly follow the requirements with lax daily management or proceeding with construction work without approval, said Han.
Caixin has sent questions to the local community office responsible for overseeing Beijing Changfeng's routine fire control inspections asking whether the hospital had applied to carry out the renovation and if the required inspections had been completed.
No response had been received as of the time of publication.
Sun Qi, Kong Mei and Liu Ce are pseudonyms.
This article was written by Xu Wen, Zhou Xinda, Hua Ang, Cheng Xi, Cui Xiankang and Han Wei, with contributions from Zhang Ruixue, Feng Huamei, Ge Xinghng, Xu Di, Jiang Moting and Bao Zhiming. It was first published by Caixin Global. It has been republished here with permission.
(Header image: Fire investigators inspect the scene of a deadly fire at the Changfeng Hospital in the Fengtai District, Beijing, April 19, 2023. Kevin Frayer/Getty Images/VCG)