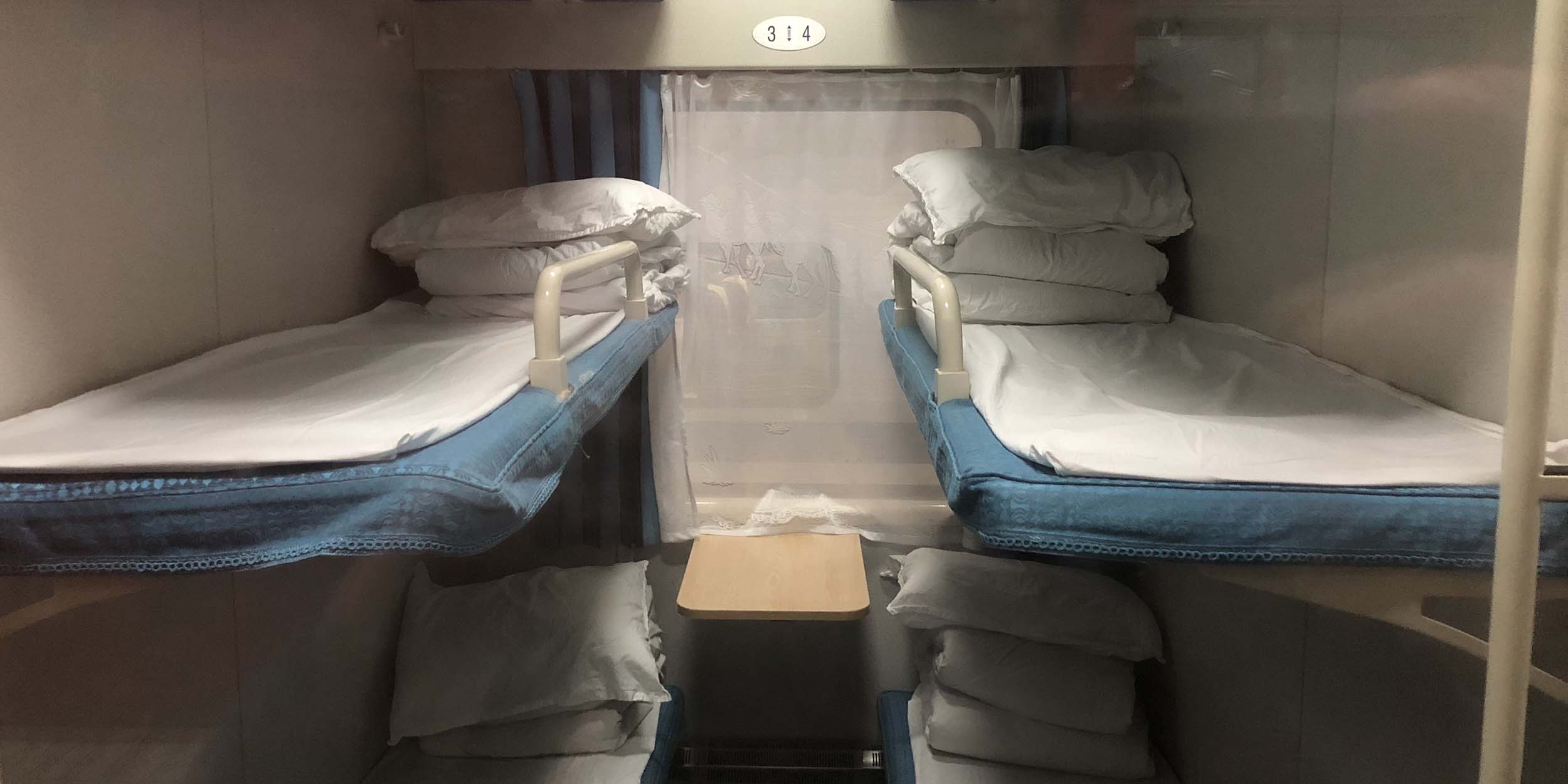 NEWS
Calls for Female-Only Compartments After Woman Placed With Three Men on Sleeper Train
Female-only sleeper compartments have been tried before, but were canceled soon after due to insufficient demand.
A woman's social media post about her experience of having to share a train compartment with three men has gone viral in China, reigniting debates about whether female-only compartments are needed.
In a post shared on the lifestyle platform Xiaohongshu on April 16, since deleted, an unidentified woman spoke about her anxiety after finding out that she had to share a small enclosed compartment with three male strangers on an overnight sleeper train. Though she eventually managed to change compartments, she nonetheless called for the national rail operator to prevent similar situations from happening again.
The post quickly trended on Chinese social media, with many users sharing similar experiences. A Weibo poll with 159,000 participants showed overwhelming support for allocating sleeper train seats based on sex, with over 76% in favor. Posts and comments complaining about "being locked in a cabin with three men" proliferated on Xiaohongshu, where about 70% of users are female, with some of the most popular posts receiving tens of thousands of likes.  
"I took the soft sleeper train back from Mohe the other day and heard a girl crying. She traveled alone and said she had been sexually harassed by someone. The train attendant took her away. Girls, don't take the soft sleeper train alone!" a popular comment read.  
Not everyone is on board with female-only compartments, however. Some Weibo users mocked the original poster for being "too fastidious," while others argued that a female-only compartment would be a form of discrimination against women. 
"Why are you calling for a step backward, to be protected like porcelain?" asked one Weibo user.
In response to growing public pressure, a China Railway spokesperson on Sunday told The Paper, Sixth Tone's sister publication, that they are looking into the matter.
"Passengers who purchase sleeper tickets cannot be 'perfectly assigned' because the number of people traveling in each train varies, and the ratio of male to female passengers in each car varies," the rail operator said.  
Female-only compartments have been tried in China before. In 2006, the first such compartment was introduced on the Beijing-Shanghai line, with two compartments of eight beds allocated specially for women. However, the trial was canceled within a few weeks due to insufficient demand, with the Beijing Times reporting at the time that not one train saw all eight beds filled during the trial period.  
Female-only compartments supposedly appeared again in 2015, but passengers were required to pay for four seats in one compartment and only if there were enough seats on the train to meet demand. Last year, China Railway was criticized for not selling menstrual hygience products on trains. 
There are signs that demand for female-only compartments will grow as women increasingly embrace solo travel. According to Ctrip, China's largest online travel platform, women account for 57% of solo travelers in the country — a trend captured by the increasing use of the phrase "She Travel" in recent years. 
Editor: Vincent Chow. 
(Header image: VCG)