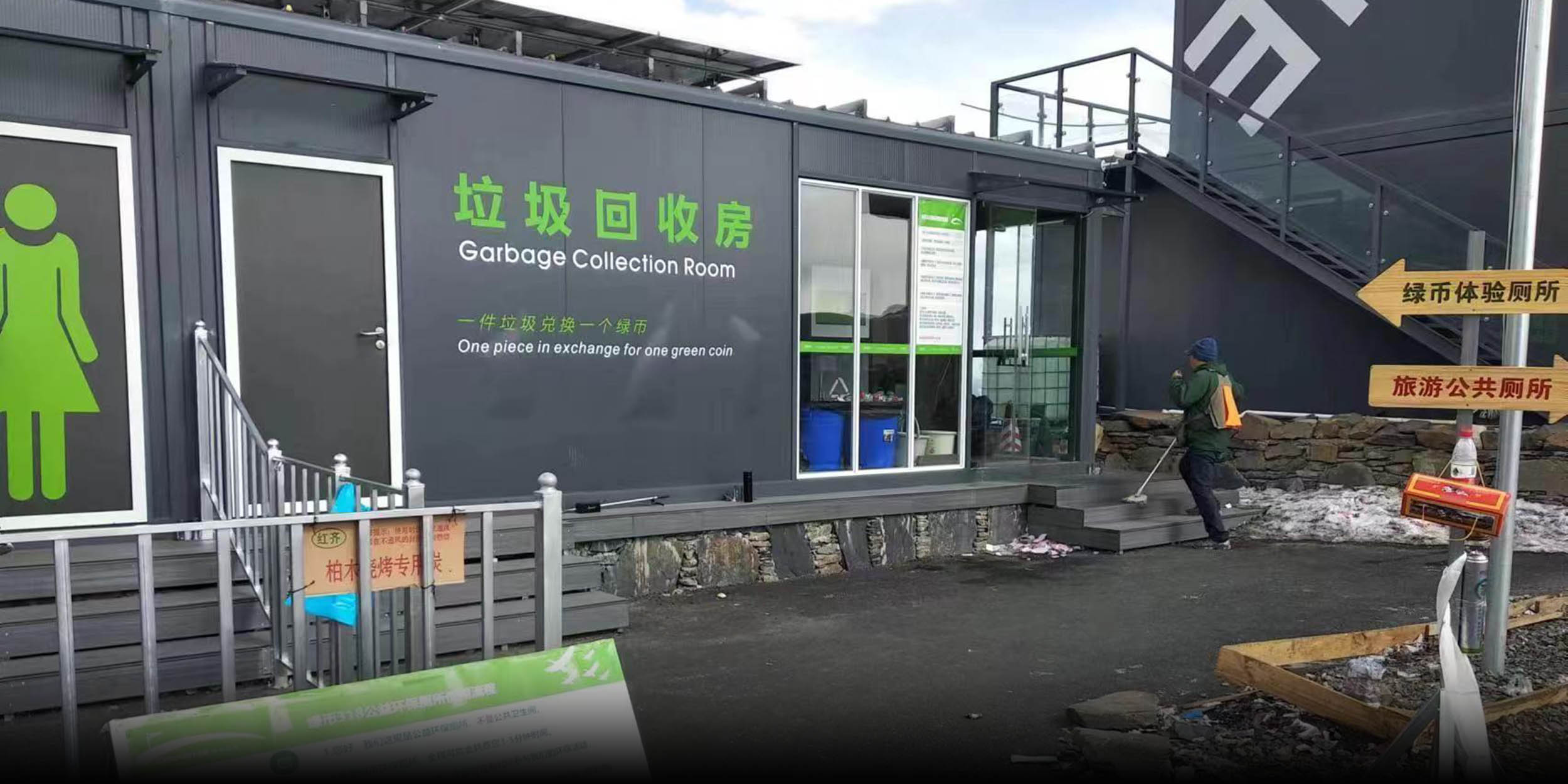 NEWS
Want To Use the Toilet? Throw Away Your Trash First.
The initiative in a scenic Chinese highway is part of an effort to tackle the growing pollution affecting the local ecosystem.
A tourist site in the southwestern province of Sichuan has come up with an unusual way to curb the growing environmental pollution in the area — trash for toilets.
Travelers to the Zheduo Mountain in the Garze Tibetan Autonomous Prefecture can now only use certain public bathrooms after they have disposed of plastic trash. The toilet requires people to dump empty bottles and other garbage in a vending machine-like box, which will then grant them access to "green coins" that they can use to unlock the toilet door.
Initiated by the Green River nonprofit, the toilet project is part of the Qinghai-Tibet Green Courier Station alongside the highway that connects Qinghai province and the Tibet Autonomous Region. The nonprofit said Sunday that the project aims to protect the area's fragile environment.
In recent years, tourism on the Qinghai-Tibet Plateau has led to an increase in trash, mostly from visitors and vehicles passing through the area. In 2021, photos showing discarded plastic, metal, cardboard boxes, dead cows, and sheep piled up at Hoh Xil National Nature Reserve by the Qinghai-Tibet Highway raised concerns about its environmental degradation.
Local governments and nonprofits have tried numerous ways to combat the trash problem along the highway, including capping the number of visitors to Hoh Xil, investing in low-temperature equipment for processing solid waste, and expanding waste treatment facilities.
"It took us 10 years to successfully explore the feasible 'highland linear waste collection model' along the Qinghai-Tibet Highway," Green River said in a post on microblogging platform Weibo. "The model has had a positive impact on tens of thousands of drivers and visitors passing by, encouraging them to collect and recycle millions of pieces of trash annually."
But some visitors who passed through the area and used the toilet seemed baffled by the new idea. One of them shared his experience on Douyin, the Chinese version of TikTok, saying that it was "impossible for visitors to always keep a bottle handy to use the toilet."
So far, the Qinghai-Tibet Highway has two such toilets and the nonprofit said it plans to expand the project. Both Green River and the region's tourism bureau are also trying to raise awareness about environmental pollution, and the special toilet was also featured in the hit reality show "Braving Life" three months ago.
"This is just a start … more green stations will be replicated in the future based on our exploration," Green River said, referring to the toilets.
Editor: Bibek Bhandari.
(Header image: A view of the Green Coin Toilet in the Garze Tibetan Autonomous Prefecture of Sichuan . From @绿色江河NGO on Weibo)